The Early Years .

Rather like Greenham Common , Torpedo Town sprung into existence on the back of a Peace Encampment, in this case the peace camp was in protest at the construction of the Stingray anti submarine torpedo factory at Waterlooville - hence the unusual "Torpedo Town " moniker the festival acquired .

The peace camp was established in 1982 and as you can see on the flyer on the right, there was a free festival held in August 1984 at Brambles Farm, but so far, we don't have any details about that festival at all, apart from the fact that it was small and held at the Brambles farm site .

It was 1985 that the first documented festival was held at Waterlooville, when The Poison Girls, Kanall Synikatet (Norway ),ACT , Roy Harper , David Eggleton, Red Flag, The Red, Wedding Present, General Belgrano, Anti -Sect, D.I.R.T, Dog On Dogma, Alibi, Fools Of Nature , The Starlings, The Probes ,Hawkwind and Ozric Tentacles were scheduled to play the event from the 9-11th of August .Camping was due to start on the 6th of August. One report says 7,000 people attended the 85 bash, but the flyer has the figure at 2000 so this might be a rather inflated estimate. The Brambles Farm site was abandoned in favour of Old Park Farm , a mere stones throw away, which explains why Brambles Farm is mentioned as being a consistent site in much of the literature.

It appears that there was the main stage at whatever site was being used and then a lower smaller stage on the common , free festivals often had a number of stages . The photos of Roy Harper at the 86 festival show a different set up completely . We think that in 1985 Harper actually donated the PA that was used, arriving and seeing totally inadequate sound reinforcement, he went back to London, loaded up his own rig and returned to perform his set. We also have a photo of Roy Harper playing in the door of a bus which is being used as a stage, so almost anything would pressed into service if it was few feet higher than the audience !

courtesy lucky Dave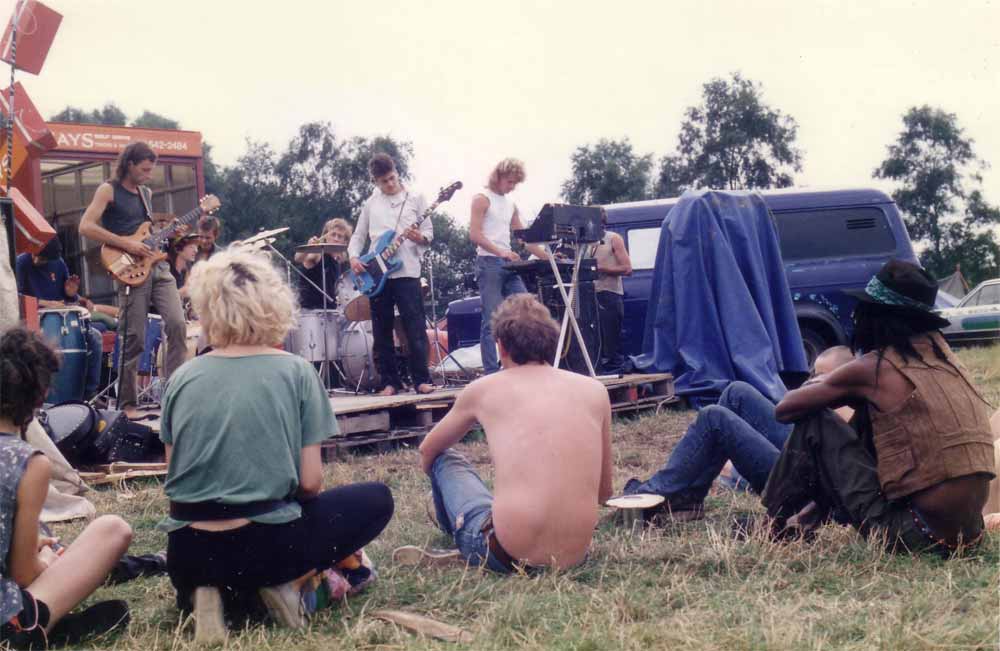 © Baz
Hi!
I was there in 1986 and jammed with the Ozrics on stage, and I am absolutely convinced that it is me on the keyboards with the thick blond hair in the pictures on this page:
http://www.ukrockfestivals.com/torpedo-town-free-festival.html I didn't really end up following a music career, but went to City University the next month to do a postgrad in music information technology and designed a mkII stereo sampler on the BBC Micro... Then I worked for Syco Systems repairing studio equipment for various stars, met wife got married and ended up working in the City doing desktop publishing and eventually a web design career...
Maybe it's not to late to restart music career again!
I put some compositions up on facebook,

Striking how my appearance has changed over the intervening years!

Best wishes,
Andy.
---
I was one half of Uncle Ian (formerly Uncle Ian and the Tooth Decay) who played at the first Brambles Farm Festival at Waterlooville in 1984, kicked off the festival in 1985 as mentioned in the newspaper article here:
http://www.ukrockfestivals.com/torpedo-press-2.jpg
and were attacked by Belgian punks at the 3rd festival in '86 which was held in Wickham.
My memories of the 1st festival is that it was in a field! A pretty muddy field although I think the weather was pretty mild. Myself and Mark Francombe (later guitarist with Portsmouth band Cranes) arrived in my dad's works Ford Escort van and set up under a sheet of plastic that was the stage. Unfortunately the organisers had tied one end of the sheet to an electricity pylon so the PA buzzed horribly the whole way through and our hair was standing on end by the nightfall!
Our set (which was pretty freeform and psychedelic) seemed to go down pretty well as we were asked to kick off the Festival the following year. I can't remember any of the other bands that played but I am sure I have got a poster somewhere that lists them.
These pictures are from that first gig in 1984 with a bit more history thrown in.

BTW that was the main stage that 1st year.
As mentioned we kicked off the 2nd Festival at 12 noon on a Saturday. There was a bigger proper stage at the bottom of the field, but it was quite wobbly and the tape deck we were using to play some of our rhythm tracks ala Cocteau Twins kept on stopping due to vibration! We met our new bass player (Rich Lewis) at the entrance to the site and, since he hadn't played with us before we played him the set on a cassette player in my car. Preparation enough I think!
Again I don't remember much about the other bands. I certainly don't think Hawkwind played 'cos I would have stayed to watch that. Ozric tentacles certainly did and Roy Harper. We probably didn't get the benefit of his PA since we were on first. He probably heard us and thought "we need a new PA!"
By the third festival it had moved to Wickham, got two stages (well stage two was a tarpaulin hanging off a truck) and bands were queuing up to play. We were on mid afternoon and had a 45 minute slot. Unfortunately it took us about 20mins to set up and then we were heckled by the next band - Belgian Punks - who basically kicked us off. Not a brilliant experience and we never went back.
Nick Elborough
---
| | |
| --- | --- |
| | Images courtesy lucky Dave |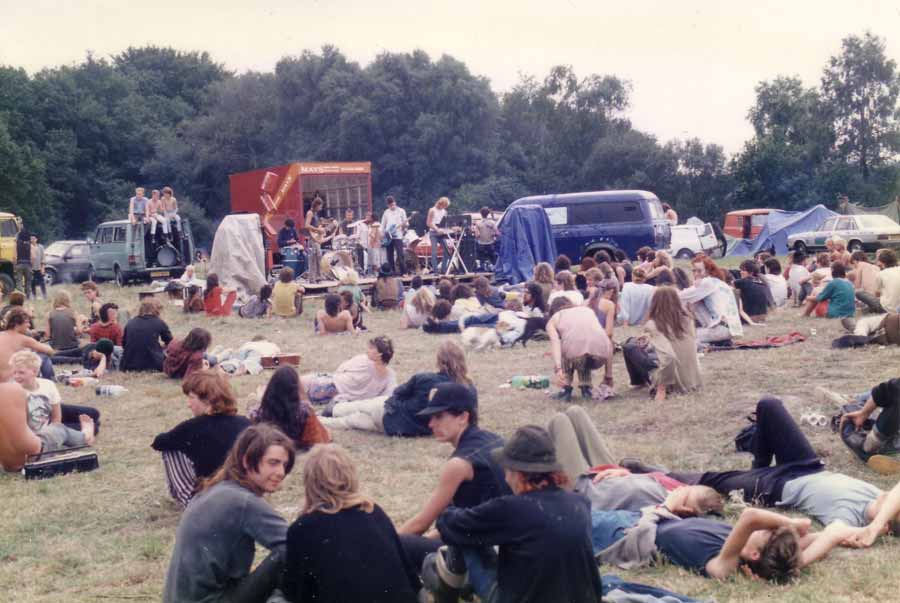 © Baz
Torpedo Town 1985.
My main reason for this mail is to give you my thoughts on the "Torpedo Town" Festival held at Brambles Farm, Waterlooville in 1985. I was there!
In fact, I was one of the early arrivals, having come up from Sidmouth Folk Festival to meet up with Alan Rundle having seen a flyer for the event ( Possibly at Elephant Fayre?). I remember the original plan was to use the land right next to the existing Marconi factory, but the local council had got wind of it and put a trench round the whole site. So it was decided to use the (disused) farmland next to the original site - Brambles Farm. A few of us descended on the farm via a hole in the hedge next to the main road and quickly set up camp - a few tents and a camp fire was all that was needed. I remember the police coming round and a few words from the "squatters handbook" were all that was needed to see them off. I cant remember what day this was, quite a few days before the festival, though, and it quickly grew as more people were able to come and lend support. At one point, the council came and tried to lower a skip (full of grit or sand?) on the farm side of the main gates to the field we were in, but a couple of us sat underneath it ( me included!), so they left it outside the gate, (blocking the public footpath). I went along to see the Citizens Advice Bureau ( in bare feet and stinking of smoke!) to ask about removing obstacles from footpaths and they advised me I was in my rights to do so! So, with the Police looking on, we donned shovels and emptied the skip into the ditch next to it! "we aren't stealing anything from the skip", I told the police," just moving it." When it was empty we managed to roll the skip over and out of the way.
The council made no other attempts to block the gate, but their attempts had backfired on them, because it alerted the local press to what was going on. This in turn led to the local radio and TV stations taking an interest, and I remember giving a tradio interview in which I asked for supplies of water and wood to be brought to us. The next day someone turned up with an inflateable dinghy full of water! I also remember it had beed an incredibly wet summer, the land was saturated, and any vehicles trying to get onto the site often got bogged down. When the "Convoy" arrived it was mayhem, Busses and trucks getting stuck allover the place. We had a whip round to get a local firm to come on site with JCB's and pull the vehicles out of the mud, but they ended up getting stuck as well! Eventually they got most (not all) vehicles moved, and the resulting huge ditches that were left became the (unofficial) latrines!!! When it came to the organisation of the festival itself, that too was mayhem. The PA hire company refused to do the gig having seen the publicity surrounding it, so we had to have another whip round to hire one from a local hire centre. I think it was the cheapest rig they had and was probably only 1 gig! (more on this later).
I must admit I dont remember too much about the event itself, (who does!), but I do know that the Ozrics turned up (friday or saturday?), and played an unofficial set from the back of their transit, which seemed to go on all night! The next day I spoke to Ed and asked him if they could do a stage set that afternoon, as everyone had been saying how good they were. I remember him saying they had never played on a "proper" stage before, and they didnt "do" numbers, they just jammed... Fine I said, it doesn't matter, just get up there and do your stuff!! I actually was doing the mixing for them when they played, (as i did for most of the bands that played).
When Roy Harper turned up, he took one look at the rig we were using and nearly fainted...and promptly got back in his car and left. I thought he had decided he couldn't do it, but someone said he had gone to get his own equipment! Sure enough, a couple of hours later, he returned with his own PA and his own technician, and I had the pleasure of being his technicians "assistance" for the gig. He went down a storm, and I certainly dont remember any bad feelings towards him. The pictures you have posted are NOT the 1985 gig, so I can only assume they must be 1986. But I can confirm that Roy Harper was definately at the 1985 festival.

Best wishes and keep up the excellent work!!!
Pete the Bus
(Peter Woodland)
Kent
Information on the 85s event is thin on the ground , we know Ozrics attended as there is an 80 minute tape recorded on 10th August as evidence.

When I was 17, I played in a band called ACT. We gigged around the south coast and could draw a crowd of a few hundred people, sometimes more in Southampton, Winchester and Portsmouth.


During the summer of 1985 we were invited to play a festival called 'Torpedo Town' on the outskirts of Portsmouth. So called 'Torpedo Town' because at the edge of the festival site there was a Marconi factory which made guidance systems for cruise missiles.


The headline band were Hawkwind on Saturday night. Onstage at midnight. Rock n' roll!. We played on Saturday evening (around 8pm) and again on Sunday afternoon. There were maybe 7 or 8,000 people there. We rocked. Large.Most of the crowd were travellers ( or 'crusties', or 'new age travellers' or cyber-hippies). They had dropped out of society and travelled the UK and Europe in beaten-up vans and minibuses and the like.

Subhumans at Torpedo Town 1985 courtesy Steve Bubble
My very first introduction to Roy Harper was at a peace festival, in the '80s - nicknamed the "Torpedo Town" festival, it was held at Brambles Farm, near Waterlooville, Hants, in protest against a weapons factory being built on the site.

One of the organisers, Alan Rundle (though back then we were acutely aware of avoiding hierarchy - no one person was ever identified as a main organiser) arranged for Roy to play - this was the era of Ozric Tentacles and the Poison Girls, if memory serves me right - and of course, for many of us young 'uns, we had no idea who Roy was. "Who's Roy Harper?", we'd ask. "Just wait and see" was all Alan would say.


The rest, as they say, is history.

As a footnote, I recall Roy turning up and taking a look at the PA, he immediately turned his car around and left the festival. He drove all the way home, which was in Clapham, London, I think, and returned with his own PA, which he lent for the duration.

Subhumans again at Torpedo Town 1985 courtesy Steve Bubble
---
We are suffering from a paucity of information about the really early years of this festival. By the 90s it had mutated into a Rave with Spiral Tribe and other sound systems attending . Wango Rileys was reputed to have been the resident stage and Jah Free was amongst those who helped perform at the festival, but we do not know in which years he performed.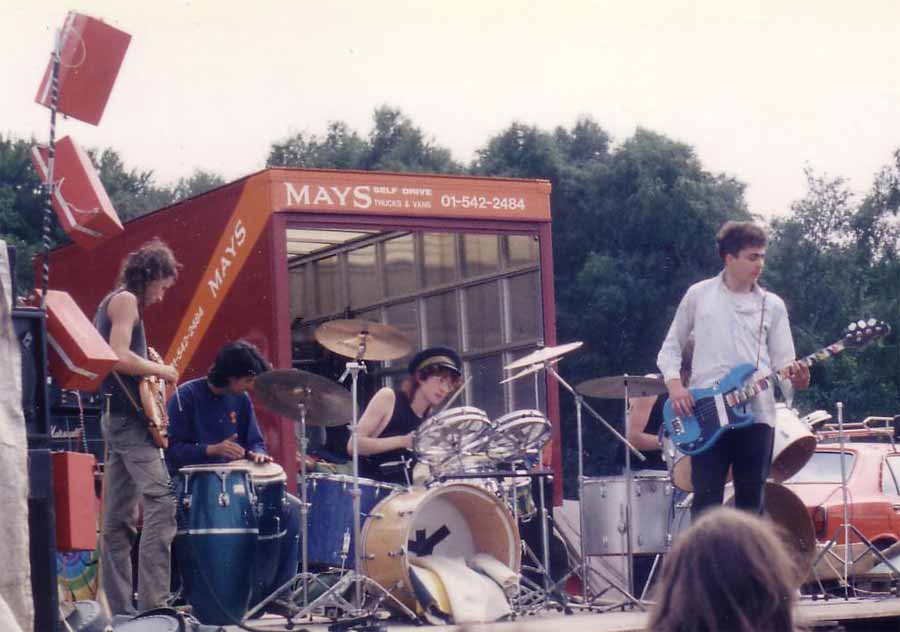 © Baz
| | |
| --- | --- |
| | The Wickham Common site 1986 © Lucky Dave |
Torpedo Town

Festival

August 8th-10th

1986

Wickham Common

Waterlooville

Hants .

The poster comes with an interesting tale

Hi guys,
have been meaning to send you this for a while.
I was keyboard player in the band 'Captain Pike and the Crucials " who played at the festival in 1986.We were due to play on a 'main stage' but it wasn't quite built when we arrived. As some of the band were not able to stay for the weekend, we looked about for an alternative place to play. There was a stage set up by a crew who if my memory serves me right were from Oxford.They had a p.a etc for there own band and they really kindly let us play there. I remember having a great gig.
The Oxford crew ran a club called the 'Mad Hatters' we played there later on and also for an outdoor festival they had.
Don't remember the other bands i'm afraid .I remember seeing Ozric Tenticles but that is about all.
Another memory is someone climbing right to the top of an electricity pylon, and living to tell the tale!
Please find the attached poster which I have cherished all these years.
Just for interest, two of 'Captain Pike' (and until recently 3) members still play together in a band called "Big Red Ass' At some point I will put some old footage of us on Youtube.
Really enjoyed the site.Great work.
Cheers. Mark.

Courtesy Mark Hoare
Bit of a mystery here ,sources have Roy Harper as playing at this festival in 1985 , but the newsletter we have been given that list him as playing is dated 1986 ! However, hes not featured on our poster. However from the info we have , it seems that Roy played here two years running.
Harper played in 1986, and had a huge row with people in the crowd, 'cause he had just signed to EMI. There is an audio recording of this set. The Ozric pics are also from 86, that's the Wickham Common site.
Kev Ellis
| | |
| --- | --- |
| All Roy Harper 1986, photos © Steve Tomalin | Roy pokes hisself in the eye ! |
According to Kev Elllis from the rather spiffing dub-electronika band Bubbledubble , Roy had a bit of a verbal dust up with sections of the crowd as he had just signed a recording deal with EMI , who we seem to remember had some connections with the munitions industry. This fired up Roy no end and he delivered a very fiery set which was recorded on tape ( we have a copy on minidisc, which we can't play so we can't confirm if this is true or not....).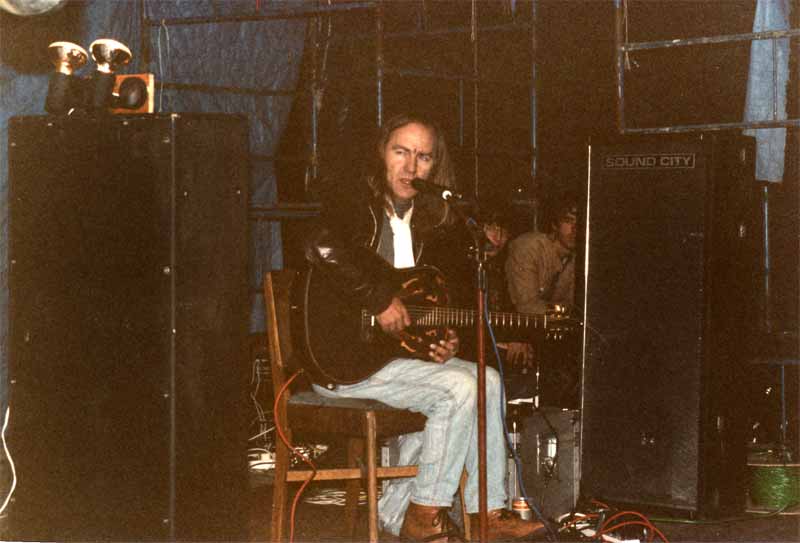 Roy Harper onstage 1986 at Torpedo Town Free Festival .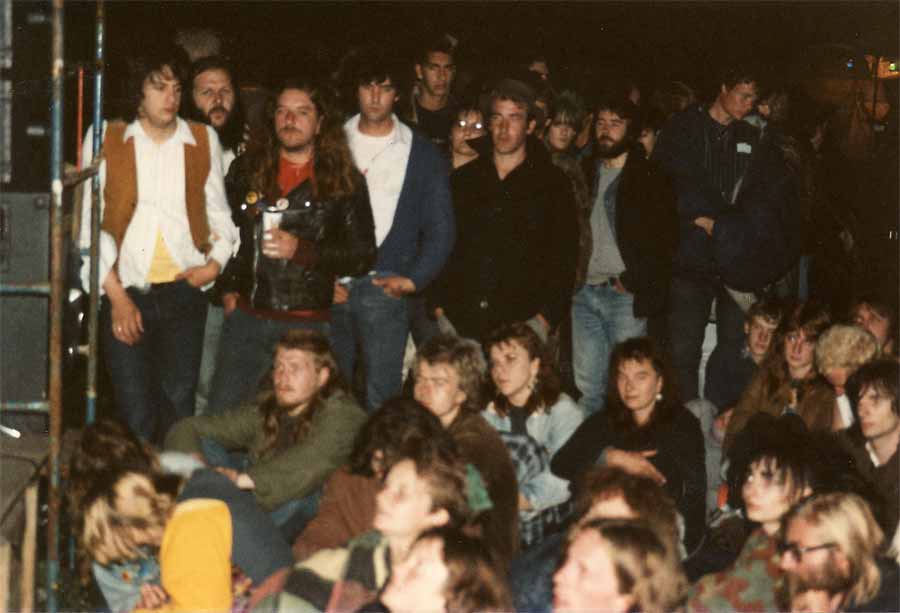 Roy's pissed off audience © Steve Tomalin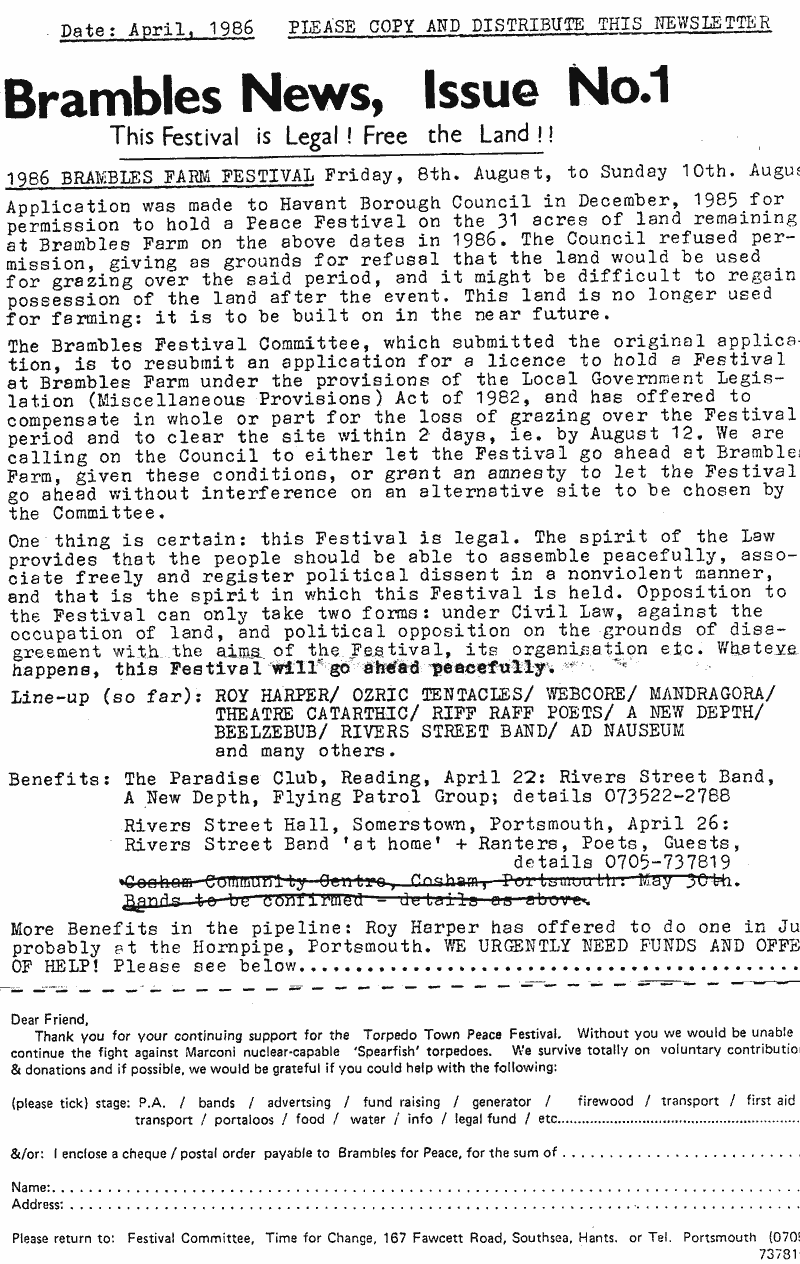 Newsletter and press cutting courtesy Steve Tomalin
Negotiations with the plod 1986

Captain Pike and the Crucials 1986

pics © Lucky Dave
The Convoy © Lucky Dave

I went to the Torpedo Town festival in '86. It was the first festival I ever went to. I had just left school and was working in a meat pie factory that summer. I didn't know anything about festivals really except that they were the place to see Hawkwind.

I hitched down to Waterlooville with a couple of mates and hung around until we met some likely looking people. The previous year's site, Brambles Farm, was a no-go so we ended up camped up with a load of other people somewhere above Waterlooville.

Next day we got a ride in a bus and we all set off in convoy of vehicles. I'm not sure if we knew where we were going but eventually we got to a big field. As we had been in the back of a bus I had no idea where we were but we were told it was called Wickham Common.

The vibe was great. I saw Ozrics, the Oroonies, Military Surplus (who later became RDF, I think) Purple Worm and loads of different bands playing different types of music. It was sunny and there were lots of people there including plenty of locals.

Roy Harper played and he got some grief off a punk who was shouting "only stupid bastards sign to EMI" which was a slogan at the time. (EMI had a subsidiary company that manufactured weapons parts). Anyway it didn't stop him playing and the crowd wasn't particularly on the punk's side as I remember. I bought an Urban Guerilla fanzine and a Green Anarchist magazine and took acid for the first time so obviously when I got home I ditched my job at the pie factory !

Roy Harper plays on improvised bus stage, Torpedo Town 86 © Lucky Dave
---
Its stated that Hawkwind appeared in 1987 , performing at least twice on the 8th August. there were no festivals held in 1988-89.