The Archive
Formatted at 1280 X 1020 res or higher -.Created May 2007.
Updated June 2021
The Archive is as usual interested in this topic as regards to it being an aspect of social history of the counterculture , traveller and rock festival scene of the 60s to the late 80s and does not condone or encourage the consumption of any substances ,illegal or legal which may lead to mental or physical incapacitation by those who consume them :-)
---
Treworgey Tree Fayre.

Liskeard, Cornwall

July 28-30th 1989

Scheduled acts

Gone To Earth, The Seers, Carter The Unstoppable Sex Machine, The Ululators, R.D.F, M.D.N.A ,Culture Shock,The Dark Side ,The Hypnotics, Loop.

---

Voice, Indecision , The Janitors, Gaye Bikers On Acid , No Alternative, Watershed Blues, Javelin Story, Rhythm-ites, Misty In Roots, Here and Now ,Croab Rua, Paul Metsers and Leslie Davis.

---

Florence and the Bears ,The Last Gang, Metal Groovers, Giant International , Dynamite Daylight, Beat Directors,Climax Blues Band, Nick Turners All Stars,The Trojans.

Unscheduled- possibly playing Wango Rileys stage

Hawkwind , Ozric Tentacles and others -DJ Jas. Blue Aeroplanes are on flyer but not on the program list

Flyer - thanks to Marpete !
---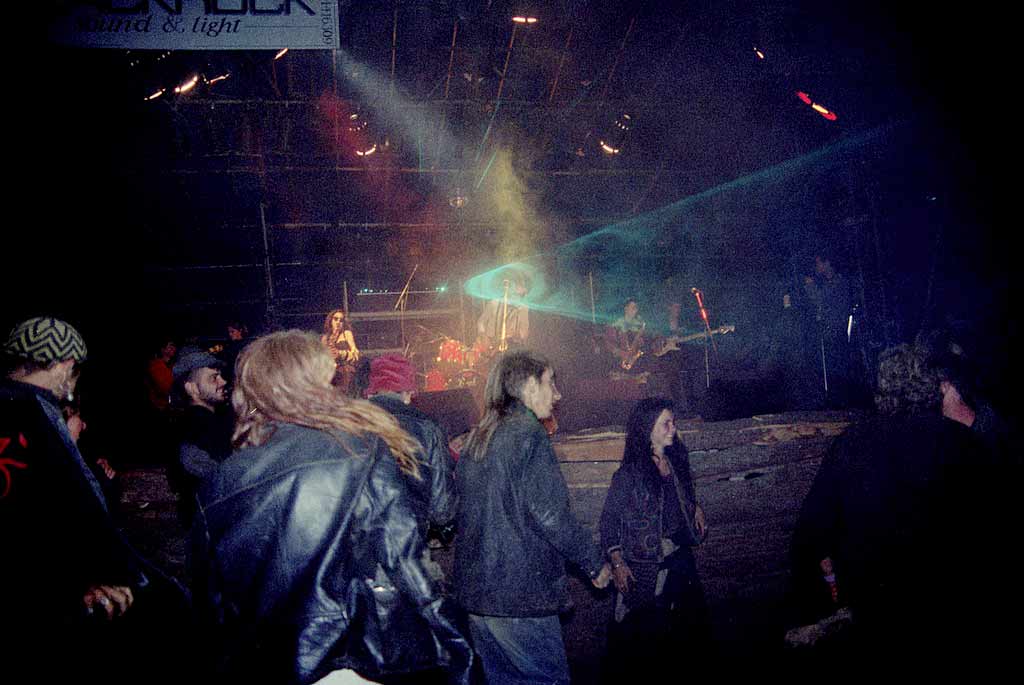 © Dick Short
---
---
Treworgey Tree Fayre has achieved almost mystical status amongst the proto acid house , late 80s traveller, free festival crew coterie, a paying three day Fayre that was chaotic, indulgent and anarchic, it seemed to mirror the events that happened to many festivals in the early 70s such as Phun City and Bickershaw, commercial festivals that fell apart and became free , either due to lack of fences or lack of security, or both !.
Precisely !

Photo © Marpete

Of course, it WASN'T the same at all.The musical soundtrack was very different, a mix of folk, reggae, blues, acid house, psych rock, punk and world music - and with very few major bands figuring in the line up . The people were a very different mix as well. Crusties, brew crewers, hippies, punks, weekend warriors , fashion mutants and travellers of all kinds. Also, although the festival was very badly organised ,it seems like the security stayed around for most of the time and made sure people paid to get in !

By 1989 the UK festival scene was a hybrid of 30 years of musical and sub cultural trends, all mixed up together so that it was hard to really define anyone as being a 'typical ' anything, whereas early 70s festivals were very 'samey' - often seas of denim and long hair. Probably the defining interest that almost everyone who was there seemed to share was the desire to get off their collective faces on as many different substances as possible. Legal or illegal.
Its perhaps no accident that Treworgey is often spelled as 'Treworgy 'by former attendees , as it seems it was a pretty apt term for the fayre, a mass bacchanalian rampage in the best sense. Although there were those who would disagree with that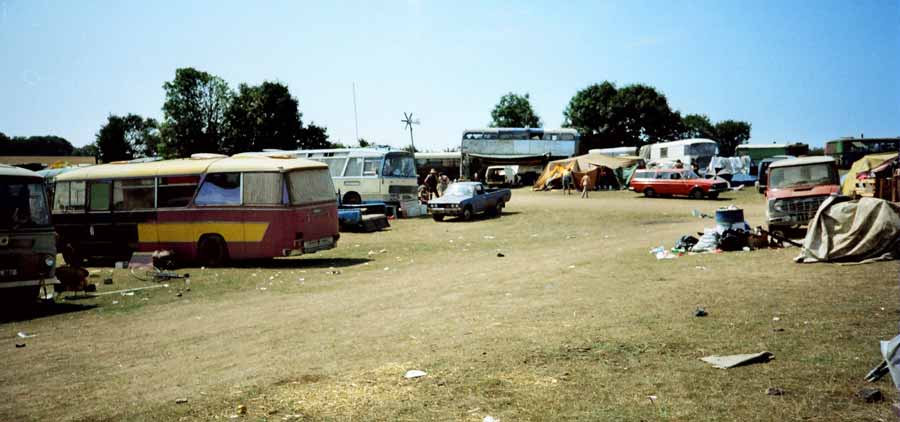 After the festival travellers vehicles hung around on site for several weeks © David Stooke
The Levellers: "We played at Treworgey. That was a mad one ... I was scared there, genuinely scared. That was too much, it was crazy - I like crazy - but people died there ... I'm glad I was there, but it doesn't go down as one of my greatest festivals."
At least one person died, a guy called scouse (and we have heard a child also died in a paddling pool drowning- can anyone confirm ?) in fact trying to find hard facts about Treworgey is like trying to find out the truth about the Holy Grail, its all a bit vague and nebulous, most people know they had a good time, but they can't quite remember why and if they had a bummer they probably can't remember why either , or they have spent the last 20 years trying to suppress it. We at the archive weren't there, so we can't help, but we have scoured the net and tried to put together as coherent ( ha, ha ) a report as possible, given that almost nobody can write more than a few sentences at a time about what "actually" happened there (except for the local Tory MP and we cannot expect him to hold an objective viewpoint ).
If one judges the organisational caliber of a festival from the festival program, then Treworgey looked very good. Beautiful graphics, lots of facilities,such as first aid, childcare, lost children's area, advice about safe sex, advice how not to take illegal drugs ( arf, arf) and a good site map.

However, perhaps the advice on the right about getting pissed was more on the right track. Gone were the days when hippies did only hallucinogens in pure circumstances, with booze looked upon as a poison and acid considered a sacrament . No doubt there were folks who still looked at it that way, but for many it was a question of necking down a few tabs, drain as much special brew as possible, smoke a few chillums and then see what else you could add to the mix . As one veteran Treworgey attendee wrote

" I know why you are lacking in accounts for e Fayre and Treworgey - we were all trollied!
Treworgey - well I was even more of a stoner by then and on the Special Brew and Special K (cider) so I was even more mashed, went with a blanket slept in front of the stage in the litter - woke up with some random land rover trying to run me over, didn't buy a programme didn't know most of the acts danced like a nutter and avoided going into the woods for a dump. Saw Ozrics and Hawkwind and discovered Ecstasy."
Treworgey . Photo © Marpete

We know that there was big traveller contingent present and that many of the people who were at the travellers field in Glasto moved on to Treworgey. It appears that a load of folks arrived early ( as was the travellers wont) and this possibly made it hard to get the festival organised.

...many travellers went to Treworgey from Glastonbury...Large chunks of it became a free festival immediately, and as the weekend wore on, and the organisation became more chaotic, the barriers began to come down. By Sunday, Treworgey had become one of the largest free festivals ever... Treworgey was a festival to remember.

It also showed how much talent and energy travellers can put into an event when they get the chance.

Alex Rosenburger
Possibly the festival organisation might have been sufficient if fewer people had attended, but since 40,000 piled in eventually, it all came apart at the seams as more and more people flooded into the area. Although there was a perimeter fence, there were insufficient loos which were all blocked for most of the weekend and apparently the water supply was polluted ( a dead sheep !). Busses were stuck on entrance roads, some others destroyed sections of fence and another one ran into the cabin at the entrance .
We used to think that the organisation of this festival deteriorated to such an extent that the security fell apart, but Neil reckons different
The 'arena' was heavily guarded all weekend, and there was just about zero chance of getting in without a wristband (or, as my mates and me had, the snippings off genuine wristbands sellotaped together to look like a wristband if no one looked too hard, which worked till about 8pm Saturday, when the gate security sussed it .... no Hawkwind for my mates and me, we had to make do with hearing over the hedge, while we stayed in the campsite).
Festivals are hard to organise , and were particularly hard to sort out in the late 80s. Even Michael Eavis, who had years of experience, had problems with controlling the somewhat anarchic travelling contingent at Glastonbury .The Treworgey crew had no chance as they had very little experience.
This was a paying festival..but the travellers did not pay if they got there early. I went with some mates from Coventry and we got there Saturday mid day ish.No sooner had we got inside then I met Richard & Therasa ..good mates.
Ann and Steve…some travellers we knew well were there with their bus & bar. Many good bands were down to play…Here & Now, Loop, Hawkwind, Nik Turner (I think). Brought our own hash, bought some speed that was crushed up slimming tablets…got some decent speed and acid later on.
Bishbosh
Security is always one of the key factors to this sort of event and heavy duty security is NOT the answer, you need people who will negotiate and be firm but fair. This wasn't the case at Treworgey - Bishbosh , an on/off traveller from Coventry who attended many festivals in the late 80s , has this to say about Treworgey security .
The security were a dodgy gangster crew from Bristol, They stole a quarter kilo of hash off one of the convoy. A large group of travellers assembled..many threats later the hash was returned (one ounce short). How do I know…well later I was to spend a couple of summers parked up with A**y who's hash they nicked.
Met many convoy heads I had previously met…Hippo Steve (who was good mates with Theresa from 85-86), I remember seein' Slob going mental about the stolen hash.
Most people seem to agree that Saturday was the day the wheels came off the cart ....

Another wild Cornish festival was Treworgey Tree Fayre which fell apart at the seams on the second day.

Joe

The security eventually retreated from the Travellers field, after they had ripped off a large quantity of hash from a convoy member and this led to a few confrontations . Eventually they were paid and left .

Its unlikely the organisers were prepared to look after the needs of 40.000. That's a lot of people to cater for when you have never held a festy previously .

Especially if half of the attendees are off their faces !

Unfortunatley the poor sod who organised the whole event lost a lot of dough , mostly due to people not being willing to pay the entrance fee .....

Photo © Marpete
There appear to have been numerous stages, a heap of sound systems arrived and set up, Nik Turner brought along his Pyramid stage and performed on that - possibly as well as the main stage ? Power went down on the main stage at one time and generators were used to power the travellers stages .
The main stage Photo © Marpete

me & some mates had a sound system we done small parties with & got tickets for the festy with the intention to set up a do, but our tickets were taken from us by bogus security & after setting up our rig & mutoid style creations, we were moved on by the real security. Luckily a friendly chap who knew one of our crew from the stonehenge days said we could set up by their tequilla bar. (thanks whoever u are) we had that sound system churning out the latest acid tracks 24hrs for 7 days!

Ozric Tentacles and Hawkwind played Wango Riley's travelling stage and there are tapes of both bands playing at one time or another. There's even a single camera video shoot of Hawkwind which has been ruined by crap ' trippy ' visuals that prevent one from seeing the band for most of the time .
Watched Hawkwind play on the Travellers stage, they played some really old songs I had never heard them play (I had seen them about 30 times since 1984). Loop played on the main stage,all I could see was dry ice and heads and guitars…mental trashy psychedelic noise.
Spent an excellent night sitting around the fire trippin' ..speedin' and drinking Special Brew…smoking' chillums and ranting. What a night !
Bishbosh
---
Local conservative MP Robert Hicks visited the site and commented in his somewhat subjective way .......
This year, in my constituency, a local farmer decided to hold such an event at Treworgey, a small hamlet just two miles north of the market town of Liskeard, over the weekend of 28-30 July. At least three weeks before it, individuals of a certain type, euphemistically described as travellers, began to arrive in the vicinity. The men dressed distinctively, in a way that I can only describe as having a certain commonality with paramilitary denim uniforms. They wore army boots without laces. (shock , horror !)

Their method of transport was varied, and included converted buses--single and double- decker--old ambulances, lorries, vans and even a pony and cart. Inevitably, they owned dogs. Their behaviour in the three weeks before the Treworgey tree fayre, in Liskeard and a neighbouring village called St. Cleer, can only be described as provocative. Local residents, particularly elderly people and those with young children, were genuinely frightened and appalled by their behaviour and as a consequence their presence required enhanced high-profile policing.

Of the 40,000 or so who subsequently attended the Treworgey tree fayre, the group of travellers who came in advance formed only a small minority of about 1,000. Unfortunately, because they came early, they set the tone for the event and conditioned local reaction and attitudes to the event. It is not without significance, as I represent a law-abiding electorate who are conservative with a small "c"--and, I hope, with a big "C" at election times--that they were horrified that such people could openly flaunt around Liskeard, with state benefits probably their only source of income. I do not intend to labour that point as I hope that the revised regulations introduced a couple of months ago may have the desired effect and that benefit entitlement will be tightened up for such people.

The source of the problems at the event was, I believe, lack of preparation and organisation. I said that 40,000 people attended. The vast majority of them were young people who wanted to spend a few days at a music festival in a lovely part of the world but, because of the lack of organisation, it displayed the usual characteristics--no running water and inadequate toilet facilities. I spent three hours at the event incognito on the Saturday evening. The few inadequate toilet facilities were not working. They were all blocked up. There was no running water and there were virtually no refuse collection facilities. There was also a lack of car parking areas. I could continue.
The weather was dry and dusty, and the effect of having 40,000 people in a confined area could only be described as squalid. At the time, I described conditions as those that one would associate with a shanty town on the edge of some Third world capital, and that was no exaggeration.
---
Well. it could have been a lot worse, it could have frigging well rained and THEN it would have been twice as bad .However, he makes a few good points, if you cannot provide water and toilets then you are up the creek and it appears that the organisers were well and truly there without a paddle and up to their necks in ordure .
Mr Hicks continued .......
Photo © Marpete

The effects of the event on our local community in south-east Cornwall were considerable. Again I provide a factual and not an exaggerated or subjective account. First, enhanced policing was required over the two- month period. During the event, 280 police officers were involved. To put that in perspective, that is the same figure, purely fortuitously, as the total police establishment for the whole of the eastern half of Cornwall. The additional cost of policing before, during and after the event over and above normal policing levels for the area was £191,000. That was the estimate provided by the chief constable of Devon and Cornwall.

The second effect was that the travellers came early and remained long after the event. That led to subsequent problems of trespass and illegal camping.
Naturally, when they were obliged to leave the site in question, they found the point of nearest weakness, which was either an adjacent farm or a common moor on the southern margins of Bodmin moor. Livestock and property were damaged. More than 60 animals had to be slaughtered in advance of the event, largely due to the activities of the dogs owned by the travellers. A couple whose home was right in the middle of the area were obliged to leave for about a week. When they returned to their home it was filthy. There were legal consequences. Some 310 arrests were made, 180 of which related to drug offences and 50 to public disorder. Finally, but not least, there was the inconvenience, annoyance and disturbance caused to the local population.
It is insufficient to say that local authorities have powers to lay charges against an organiser after the event. Caradon is doing that.
( shouts of " hear , hear, hang em, bounders" , etc, from assembled company )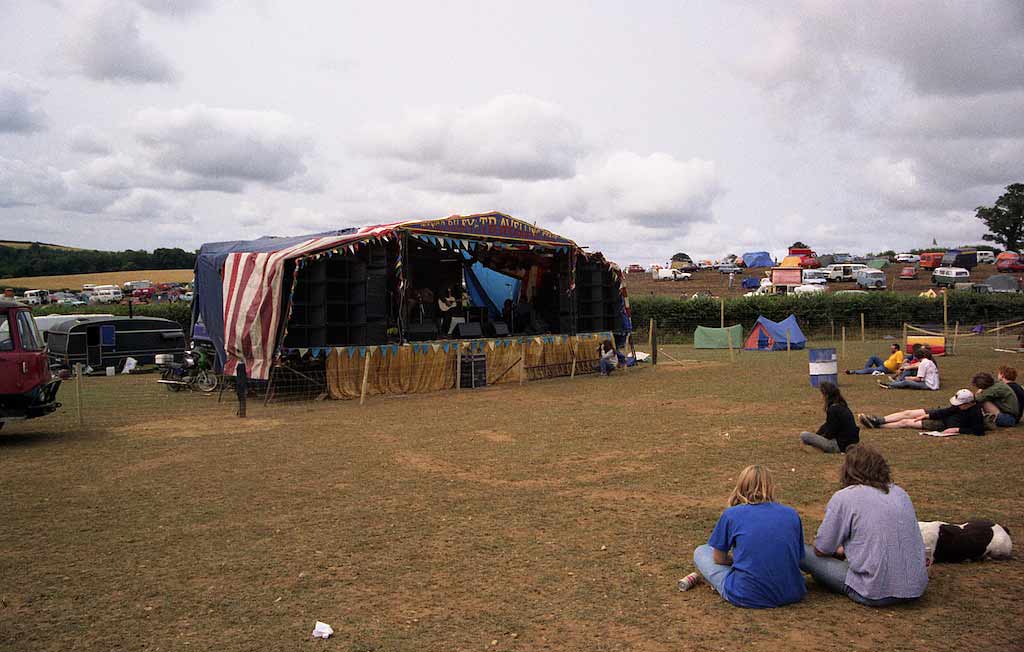 Wango Riley's Stage © Dick Short