The Archive
Formatted at 1280 X 1020 minimum - failure to view at this res may cause weird formatting , you have been warned !!!!!!!
Updated Jan 2016
This site is dedicated to the memory of Roger Hutchinson, who inspired me to delve deep into the magic of the free festival and who passed away Sept 3rd 2010.
R.I.P. Roger .....
For information on today's festivals see eFestivals.co.uk

Big BIG thanks to our sponsor Neil !

"Andy Roberts (author of Albion Dreaming) is now writing a book specifically about psychedelics and free festivals. He would welcome any information on this topic such as info on dealing psychedelics at festivals, prices, types available, methods of smuggling psychedelics in, photos of dealers' signs and basically anything related to psychedelics and free festivals. All contributors will be credited and no compromising information will be revealed! Please contact Andy
---
| | |
| --- | --- |
| 1967-1990. | |
---
Formby Point Free Festival.
Lancashire 1985-May 1987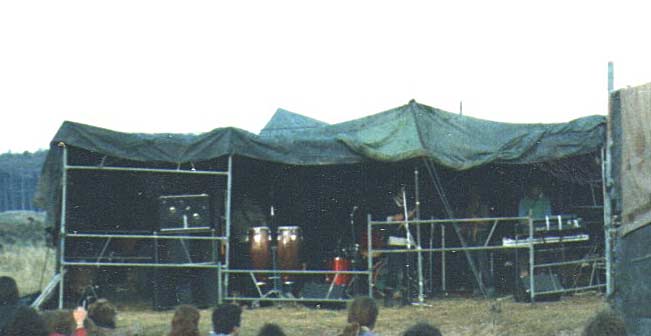 Unknown band onstage at Formby Point © Steve , who wrote ....
finally got the photo's of formby FAYRE FOR A HARE free festival in 87, this fezzy started in 85 and ran for 3 years till 87, the ozrics played in 87, the band i was in at the time was STONEBEAT, we supported the ozrics here as well as glastonbury 86.
Click on the link to see more free festival photos by Steve
Situated near Southport on the Lancashire coast, Formby Point is a well known nature reserve, which consists of a large area of beach, sand dunes and the pine woods which is part of the National Trust owned nature reserve, and which plays host to one of Britain's last thriving colonies of Red Squirrels. It was the site of one of the more obscure Free festivals of the middle 80s .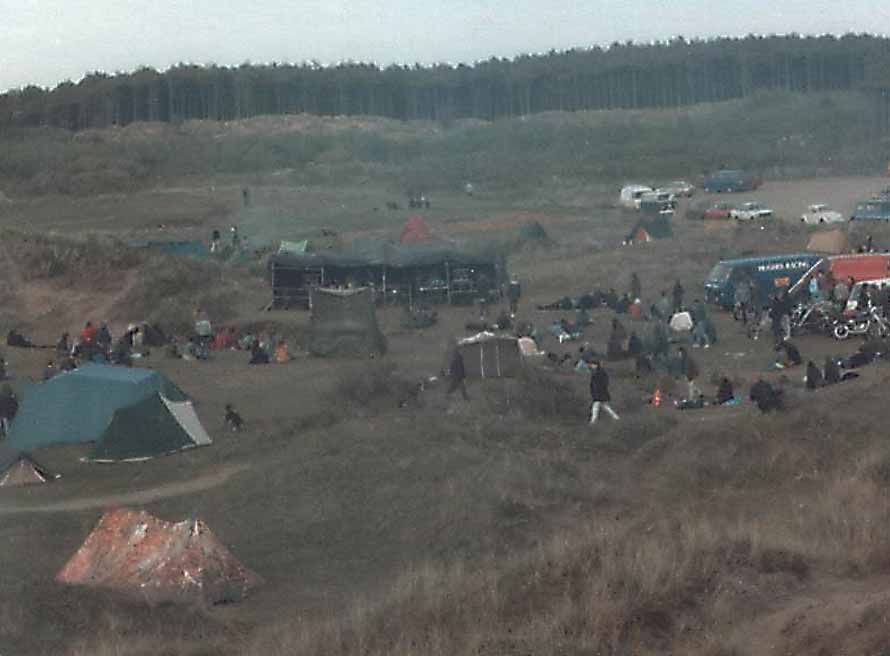 The stage at Formby Point 1987 © Herb.
Formby Point free festival in May 1987 was advertised as a weekend or just a one night affair. It was listed in either Festival Eye or a newsletter called Free Information Network (FIN) that you could get at the time. Ozric Tentacles were billed so myself and three mates went on bikes to check it out. There were quite a few people there with a a few old buses and other odd vehicles and a small music stage set up. Some other Bikers arrived and I remember a woman shouting at them because they started pulling up wooden posts to burn on a fire.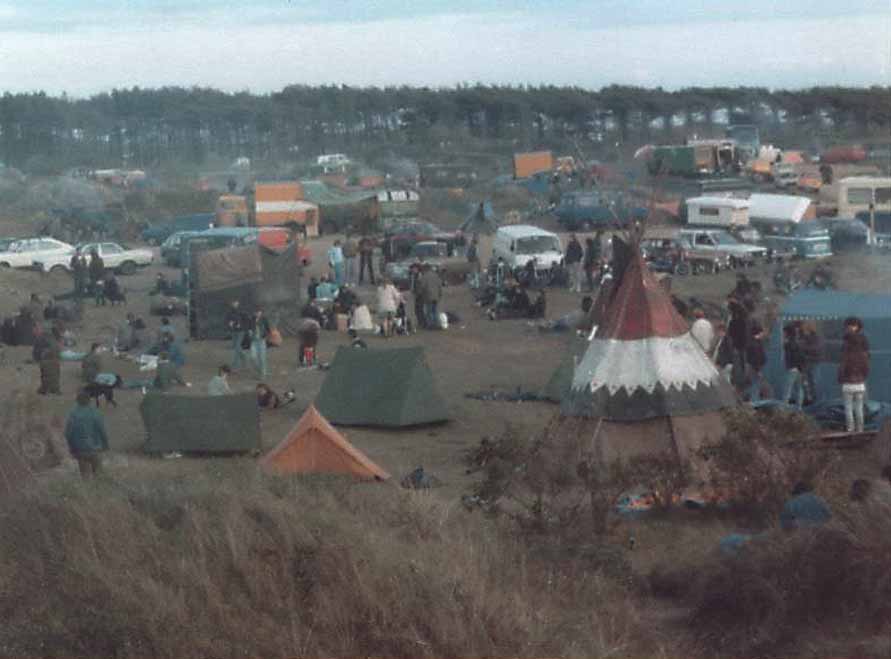 © Herb.
Later on in the evening there was a bit of trouble with some city lads and they had to leave the site under a torrent of abuse together with a brick through the back window of their car. Apart from that it was cool, it rained a bit and towards the end of the night as people drifted off to crash we moved closer to the stage and ended up sitting literally amongst the band. We think it was Ozric playing, you can just about see the congos in the picture of the stage and I remember a Moog synthesiser being used. The next day official looking people were handing out leaflets to everybody as they left which said that we had camped on some sort of nature reserve and the remains of our campfires would take years to disappear. In the next festival newsletter it was reported that the Police were ready to go in and clear the site but the owners (the National Trust maybe ?) had persuaded them not to.
Regards Herb
Decker Lin's smart double decker Leyland 'Titan' 479CFJ (1961) PD2A/30 .Massey body.Ex-Exeter 79. © Herb.
This festival was on a nature park next to the beach and sand dunes…Idyllic! At the time I was on industrial placement as part of my degree, working at…British Nuclear Fuels in Chester!. I was very happy working there (un-ethical but it was only a years contract..I was glad to leave two months later). I went on the sick so I could spend a long weekend at Formby, only 10 miles or so from where I was living on the Wirral.
I went alone to this, but soon met plenty of migrating Coventry heads. There was a Traveller Brew Crew element here as well but they just seemed content on getting pissed. Again I took my own hash and scored some 'Brown Dome' acid. This was F.A Cup Final day and Coventry City were playing Tottenham (favourites). I remember sitting around a Transistor radio with a few Coventry heads…Hippie Andy, Wayne and others, listening to the football, tripping and getting stoned on hot tongs..and Cov City, the underdogs, won the cup!. Not my team (Liverpool were) but I had lived in Cov for a couple of years so.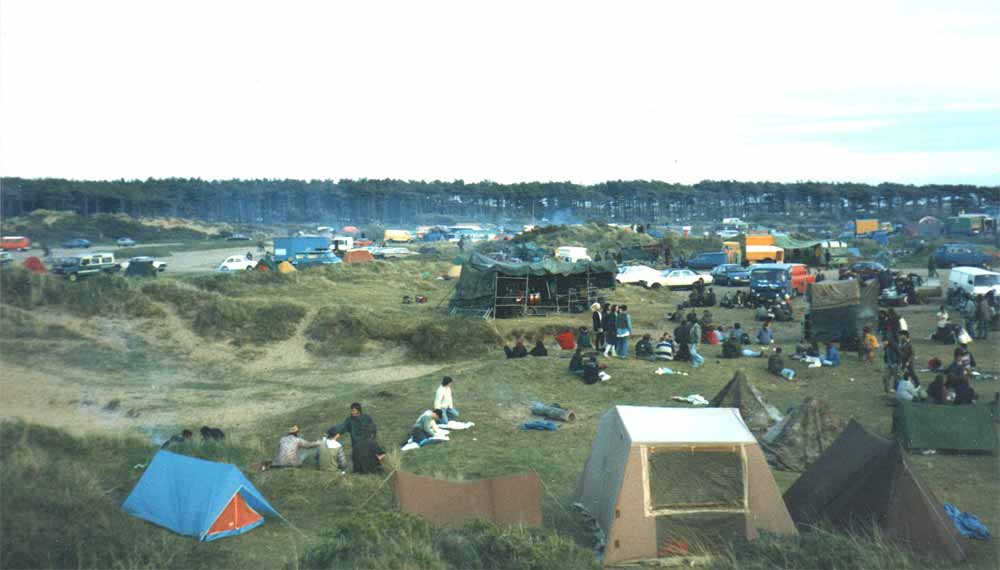 © Steve ,
Many bands played..Ozric Tentacles, …mad anarchic punk bands…"No More Fuckin Hippies" was one chorus I can recall, a heavy metal band played 70's covers (Sabbeth etc). The weather was wonderful and I met a couple of the Ozrics wandering around the beach whilst trippin. I asked when they were going to play…"When the sun goes down they said". It was more like when the sun came up again by the time they came on stage.
Overall a great festival…Fossel ( a well known convoy geezer) selling cold Special Brew from the back of a Land Rover with a megaphone!..Opium tea (the English wild poppy season is May-June) and scallies trying to sell drugs to the convoy for silly prices!
I met some great people at this festival , some of whom I was later to travel with when I went on the road..Luke, Danny, Planet amongst others. Danny's crews' neighbour, Dave made hash cakes….lovely when warm and rather more-ish. I had pitched my tent in the sand dunes..bliss.
Monday came, back home (less than ten miles) and went back to work Tuesday..still a bit spaced out!
Bishbosh
MXX 373 (1954) A smart little Guy NLLVP with ECW coachwork .Ex London Transport.

Later burnt out and rebuilt by a preservationist .© Herb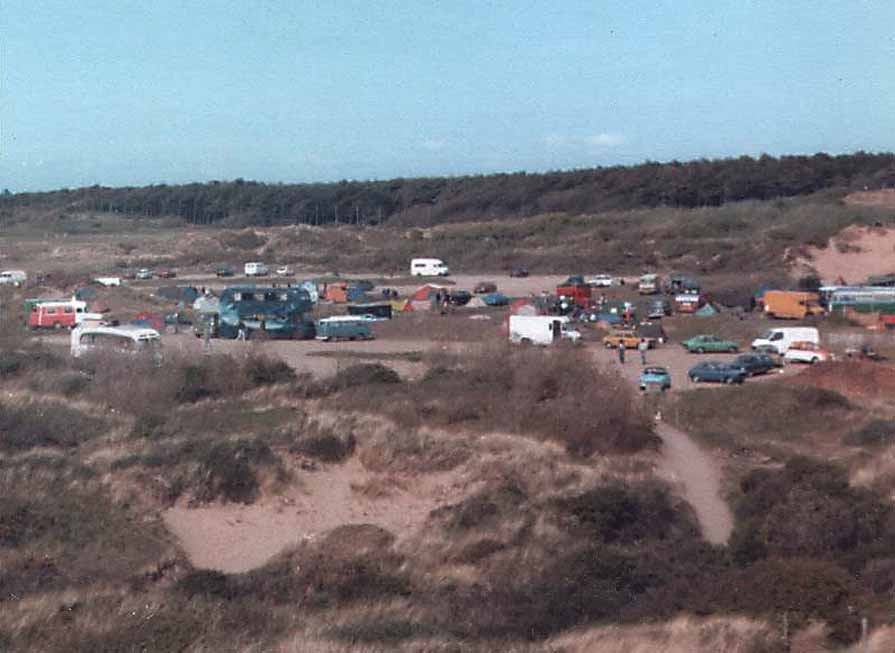 Nice sunny view of the site .© Herb
This list of festivals is in no way definitive and is being added to whenever new information turns up , therefore the site is constantly being updated . Information has often been gleaned from net scouring and therefore is almost definitely NOT completely accurate . If you can help with ANY information please do not hesitate to contact us using the link below .
---
Any info to add- well don't just sit there ! Contact us
Free festivals and small fayres held in the United Kingdom between 1967-90.
1967-69.
Main list of Free festivals 1970-1985
Free rock festivals of the 70s and 80s
Related Articles
The aroma of a free festival -by Roger Hutchinson
Dome construction instruction sheet (download-140k)-by Roger Hutchinson
Travellers Tales Convoy Steve's tale of how the freaks outsmarted the fuzz at Greenham common.
Zorch -House band for the free festival set ? A fanzine page on the UK's first electronic band .
Tibetan Ukranian Mountain Troupe-surreal pranksters of the Traveller community .
Acidia Lightshow Lightshow for Windsor festival and Stonehenge in the 1970s.
Traveller Daves Website - Chock full of of free festival photos !
Many, many thanks go to Roger Hutchinson , Big Steve , Roger Duncan, Celia, Will , Chazz, Jeza ,Chris Hewitt ,The Fabulous Time Tortoise , Peter Piwowarski - ( 70s music site/photos ) Martin S, Steve Austin ,Traveller Dave, Herb, Tim Brighton, Vin Miles, Haze Evans , Noddy Guevara, Chris Brown, Janet Thompson, David Stooke, Gary Gibbons , Nigel Ayers, Rich Deakin ,Glenda Pescardo,Justin Warman,Brian F, Steve Bayfield, Kev Ellis, Paul Seaton and many other minor contributors for their help in providing the archival material related to these free festivals which has at enabled us to construct the site .
Any info to add ?-well don't just sit there , Contact us
---