The Archive
Big BIG thanks to our sponsor Neil !

For information on today's festivals see eFestivals.co.uk
Last updated October 2013
Dedicated to Bill " Ubi " Dwyer, who was the main instigator of the festival .....R.I.P Ubi
---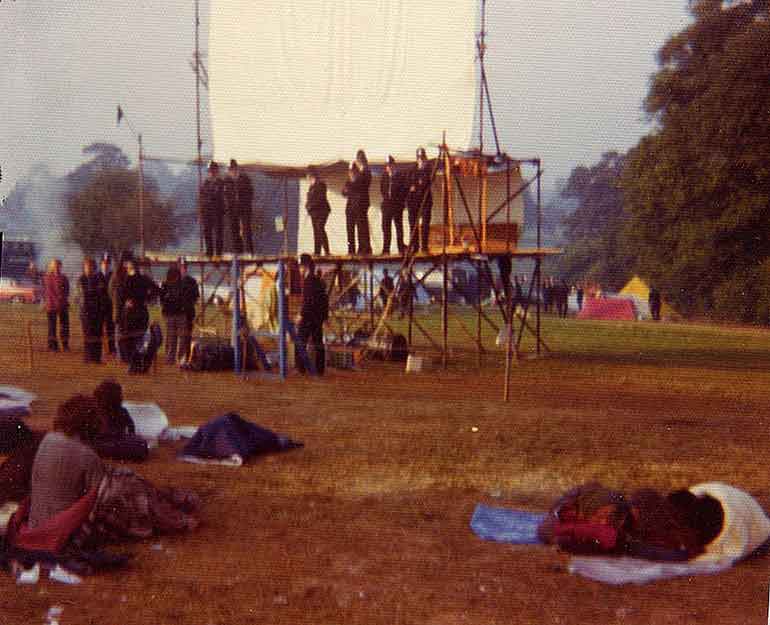 Stage C in possession of the police Windsor Free Festival 1974 © Steve Austin
The series of Free festivals held at Windsor Great Park between the years 1972 and 1974 were significant for a number of reasons . Firstly , they were the first lengthy UK free festivals that were reasonably well organised and which were held consecutively in one site. Secondly, the symbolism of the site itself - which was situated on crown land near the primary residence of the Royal Family -cocked a countercultural snoot at the establishment which was to prove increasingly embarrassing for the government. Lastly , the Windsor festivals were dogged by escalating interference and harassment by the authorities , which ended in violence at the 1974 festival , primarily due to the heavy handed tactics of the Thames Valley police. This led to a lot of bad press for the government which prompted a change in attitude from the establishment .

The granting of a free festival site at Watchfield by the Labour government in 1975 heralded the beginning of a decade where successive governments took a more hands off approach to the free festivals. It was only in 1985 that the Thatcher government once again allowed violent police tactics to be used on free festival patrons.

Because of these factors,as well as the wide scale press coverage that occurred after the violence in 74, the Windsor festivals have now passed into the realms of legend . These pages are an attempt to make some sense of the various viewpoints and events that took place over the years of the free festivals .The site features press articles ,many unique photographs taken by festival goers , recollections of a Freek Press member,links to bands that played at the festival, original documents from the organising committee and eyewitness accounts of all the festivals from 1972-74 .

For most of this I am indebted to Richard Arridge, who has made available his great collection of clippings of the event , (which he kept all these years instead of chucking them like most *sensible* people would have done ) and Roger Hutchinson, who took many photographs of the 1973 and 1974 festivals . In addition many others have provided their recollections of the events . They are aware that the events that resulted in the repression of a harmless gathering by the authorities should not be forgotten ,least it occur again.

Bill ' Ubi" Dwyer at Speakers Corner Hyde park 1973 © Vin Miles
To all of these intrepid travellers ,and to those, like Ubi Dwyer , (the father of the Windsor Free Festival) , who have fought the good fight and have now passed on , we owe our thanks.
Andy Roberts excellent new book Albion Dreaming has a section on Windsor with fascinating new information and is essential reading for Windsor attendees or those who went to free festivals in the 70s and 80s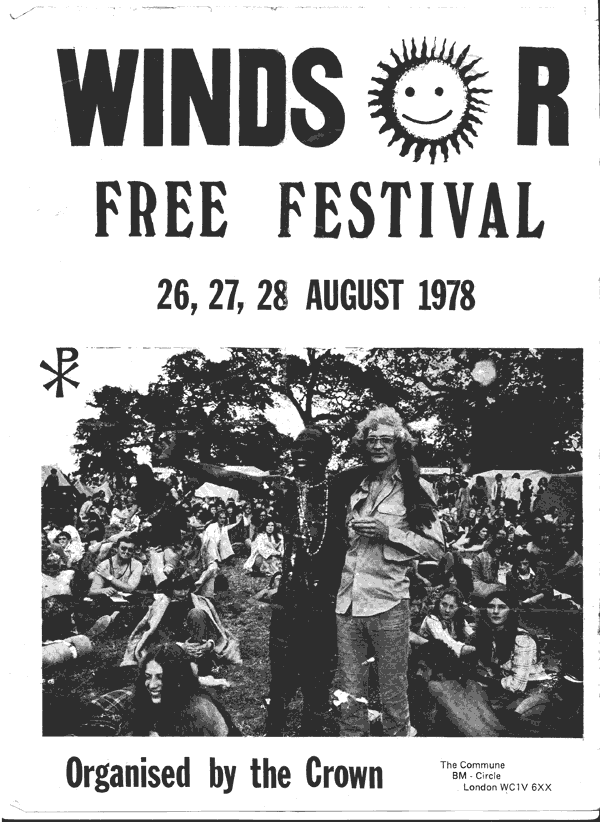 Someone was still trying to organise a festival at Windsor in 1978, it didn't happen and Ubi was in Ireland by this time- can anyone help ?
---
If you can contribute any memories, documents , photos or details of bands and recordings from Windsor, please
Free Festival links.