Formatted at 1920 X 1020 minimum - failure to view at this res may cause weird formatting , you have been warned !!!!!!!
Updated July 2021
For information on today's festivals see eFestivals.co.uk

Big BIG thanks to our sponsor Neil !

This site is dedicated in the memory of

who inspired me to delve deep into the magic of the free festival and who passed away Sept 3rd 2010.

R.I.P. Roger .....
---
Cissbury Ring

Near Worthing . Sussex.

August 23-25th 1980
---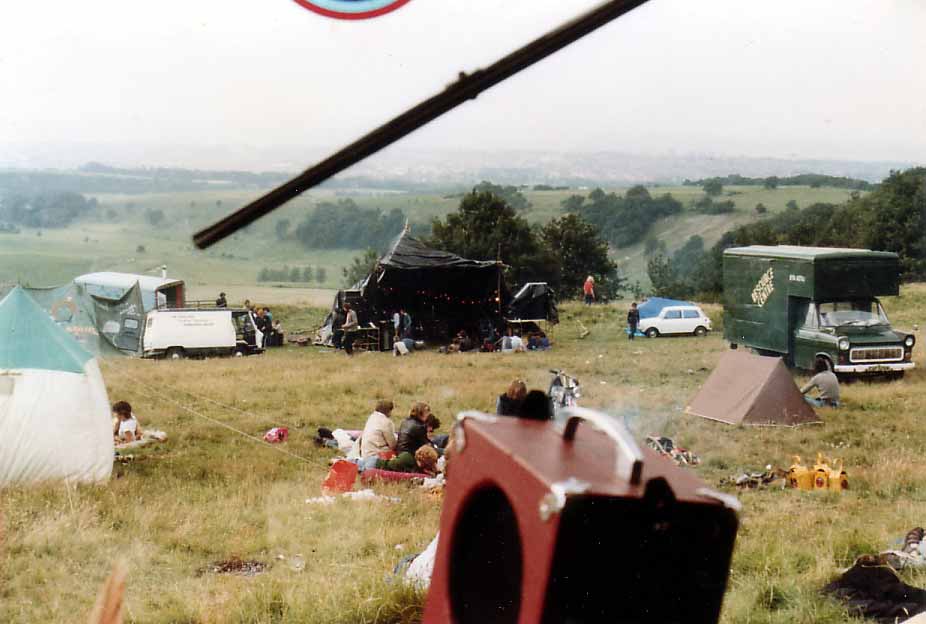 all photos © Steve Bayfield
Poster created by Nick Valentine

Cissbury Ring is an ancient hill fort on the South Downs, in the civil parish of Findon, about 5 km north of the seaside town of Worthing in the English county of West Sussex. It is the largest hill fort in Sussex and among the largest in Britain overall. The earthworks that form the fortifications were built around the beginning of the Middle Iron-Age but abandoned in the period 50 BC - 50 AD.Its also supposed to be haunted by various ghosts. oooheeeoooh.......

A small congregation of freaks were drawn to the Ring for a free festival in August 1980. It was a tiny festival as you can see from the phtographs kindly provided by the esteemed musician Steve Bayfield taken on the 24th August.

Peter Oaks writes :

The pics of Cissbury are quite a turn-up! The Festival itself was, as you can see, quite a cosy affair. It was situated on top of the ring itself: if you look closely at the first picture (With the "Main" stage) you can just see the inner rampart ring running behind the stage area in a line going left to right. Below was another outer ring and so on, running down into Findon Valley. We all lived in Worthing at the time and our band did actually play there but I cannot be exactly sure which year as we played up there whenever we felt like it, acoustically or otherwise! Just having a party, you know...most weekends.

When the Police moved in to ban the festival, we all moved to another nearby hill and carried on as normal ! ( The festival moved to Kithurst Hill, any reports ? )
Steve Bayfield writes :
This was a more local event from where I was living (about 40 miles away). I arrived on site in a Ford parcel van and met up with a friend of mine in a split-screen VW van, on the Saturday afternoon. The festival site was on the southern edge of a massive iron age hill fort, and offered spectacular views over a near-by golf course, with Worthing and the south coast in the far distance (see photo of guys rapping on top of the rampart). A small stage and a good sounding PA had been set up, and nothing else - no loos or catering outlets etc. We parked up with a good view of the stage (see photo) and settled in.
Above : people standing on ramparts - view southwards from the Downs.

I asked at a near-by camp if there was any dope for sale on site, and was promptly offered some "African bush" for a tenner. It looked O.K., so....a few minutes later I embarked on a 20-minute acid trip ! I then took a walk across the hill fort in a northerly direction. This place was BIG! ( 65 acres) As I wandered, I came across some standing stones, about 4 or 5 feet high (1.5 metres), which looked solid enough until I got right up to them, where they all turned out to be bushes... I was definitely "bushed" out...

A couple of bands played on the Sunday (24th August) and pretty well represented what was happening musically in 1980 (see photos). One, I believe they were called White Light, were into Rock and Blues, with a Hippy flavour, whereas the second band were definitely more from the late Punk/New Music school. The vibe was good. I left on the Monday, and headed down to visit friends in Brighton.
Hi people...
My name is Psymon Fallowfield-Cooper and I was one of the main organisers for CRFF from 1979 through until 1983... the festival you have the pics from was the last one to be held on the Ring, and in fact that one wasn't held on the ring as we used to, but the field just south of the ring.

The following year we were kicked off by the law and after a good game of cat and mouse we raced the police to a hill just south of the village of Storrington... this was a great one, the police had their vans parked up in the field next to us and we had quite a weekend of it... I can fill you in with more details if you want, but unfortunately no pics survive...

The final fest I was involved in as the organiser was held on Bignor hill in '83... This was a real coup for us as I was living literally at a hamlet called Madestone, a mile south of Bignor Hill. We had a secret route onto the site which the cops never discovered, so we were running gear on site all weekend. One of my group, Len, offered the cops to,play a game of rounders to determine whether we were going to move out on the Monday or not... LOL... of course they declined!
I'm not sure what happened to Cissbury Ring Free Festival after that, I believe there were several attempts to rebirth it, but I haven't been aware of any success in this...

The artist who created the posters is Nick Valentine, now lives in Wales.
The Worthing Gazette, the same year Steve was there, published a photo of myself on their back page, I was wearing a tail coat... not sure if that exists either.

B ands were Tonge, from Brighton... the Bats from Worthing... I honestly can't recall the names of any other bands that turned up... the sound system ws also from Brighton...
Zorch also played but can't remember which year that was... the year before we had Camel turn up and play for an hour or so... I got my years wrong I actually began organising it in '78, when we had a rather nasty run in with the Hells Angels, or at least those that considered themselves to be such! They were actually the Road Rats from London I believe, invited down by the Sussex Hogs, with whom we were on reasonable terms...
They obviously couldn't handle their drugs, because they began laying into the peaceful fest goers... one of our party, after a night of sheer hell, putting up with fractious little boys, throwing their toys out of their prams... anyway he went off walked down to Worthing and convinced the law to send support... not something I'd generally condone, however, it was wonderful to see two cops on Honda 175's turn up and throw the gang of about 60 members, off the Ring... of course at first they received nothing but jeers, but when one of the cops in a loud voice told them in no uncertain terms that if they didn't move off in the next ten minutes, all the illegal bikes, of which there were quite a few, would be taken off them... they were warned that two riot vans were waiting down the hill. Whether they were or not we didn't find out, because the bikers sullenly mounted their bikes and left... much to the relief of everyone concerned... we only numbered about fifty max that year...
Thank you for your informative site, many memories come flooding back, many faces I've forgotten. The Halcyon days eh?
Keep On Keeping It Real
Love and Light
Psymon
---
More info about the Hill fort at Cissbury here and here
and info on the locality and its history
---
Any info to add- well don't just sit there ! Contact us
Free festivals and small fayres held in the United Kingdom between 1967-90.
1967-69.
Main list of Free festivals 1970-1985
Free rock festivals of the 70s and 80s
Related Articles
The aroma of a free festival -by Roger Hutchinson
Dome construction instruction sheet (download-140k)-by Roger Hutchinson
Travellers Tales Convoy Steve's tale of how the freaks outsmarted the fuzz at Greenham common.
Zorch -House band for the free festival set ? A fanzine page on the UK's first electronic band .
Tibetan Ukranian Mountain Troupe-surreal pranksters of the Traveller community .
Acidia Lightshow Lightshow for Windsor festival and Stonehenge in the 1970s.
Traveller Daves Website - Chock full of of free festival photos !
Many, many thanks go to Roger Hutchinson , Big Steve , Roger Duncan, Celia, Will , Chazz, Jeza ,Chris Hewitt ,The Fabulous Time Tortoise , Peter Piwowarski - ( 70s music site/photos ) Martin S, Steve Austin ,Traveller Dave, Herb, Tim Brighton, Vin Miles, Haze Evans , Noddy Guevara, Chris Brown, Janet Thompson, David Stooke, Gary Gibbons , Nigel Ayers, Rich Deakin ,Glenda Pescardo,Justin Warman,Brian F, Steve Bayfield, Kev Ellis, Paul Seaton and many other minor contributors for their help in providing the archival material related to these free festivals which has at enabled us to construct the site .
Any info to add ?-well don't just sit there , Contact us
---