Formatted at 1920 X 1020 minimum - failure to view at this res may cause weird formatting , you have been warned !!!!!!!
Updated July 2021
For information on today's festivals see eFestivals.co.uk

Big BIG thanks to our sponsor Neil !

This site is dedicated in the memory of

who inspired me to delve deep into the magic of the free festival and who passed away Sept 3rd 2010.

R.I.P. Roger .....
---
Psilocybin-Festival.

Pontrhydygroes Dyfed #

September 6th-20th 1979. #

September 6th-21st 1980.#

Cantlin Stone. Powys

*September 4th-13th *

( unsuitable site -festival moved back to Pontrhydygroes ,see fws report below )
---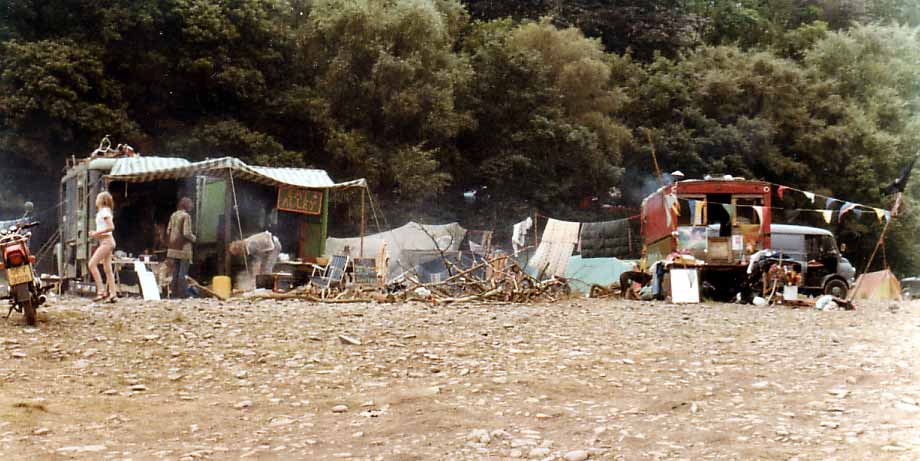 Semi legendary Eat Alley veggie burger stall receives a customer Psilocybin festival 1979 © Steve Bayfield
1979
| | |
| --- | --- |
| I travelled up to central Wales for this one with two guys I worked with - Andy and Steve - in a late '60s Bedford van. We parked up at the far western end of the festival valley, and they set up their tents. Later on Saturday 8th Sept, two lasses I had met earlier that year at Stonehenge and Glastonbury Fayre - Ness and Jo - arrived and set up their large "bell" tent nearby (see photo above ). Another '79 festival veteran from Brighton, known simply as " doormouse", had put up a bender in the middle part of the site. I don't recall any music or bands playing this year at the "Free State of Albion" as the place had become known. | A really beautiful site . |
The main event which usually happened 3 or 4 times daily was the arrival of the festival kettle - a blackened industrial sized affair, filled with magik mushrooms. The custom was to throw a few more shrooms inside, make as much tea as you all required, then carry it over to the next camp, etc, etc ...

On the Sunday night (9th Sept) a major incident took place. Some young dude, a short distance from our camp, had fallen asleep in his tent with a lighted joint, and consequently set the place alight ! He got out unharmed. My friend Andy (always the hero !) managed to rescue some of his belongings before he was driven back by the heat and flames. He asked the occupant what else he had left inside.
The reply was - " all my clothes....my food...my stash..my wallet and money...my bedding , and my camping stove !" At this point everyone gathered around took many steps backwards....within 30 seconds the first of two explosions ripped through the night. A 30-foot high fireball erupted, hurling burning molten plastic in all directions. Much of it landed on the river nearby, and, still burning, drifted eastward downstream, illuminating much of the festival site, to the accompaniment of many "wows" and "f- me, the river is on fire !!!". As luck would have it, nobody was injured and the fires that started on land were soon put out. Someone with a large tent offered him somewhere to sleep, and everyone went back to their camps again.

The rest of the festival was mellow, and largely uneventful, as I recall. I departed on Monday 10th Sept.

Steve Bayfield
---
Photo © Roger Duncan

Hi,
i was at the psilocybin festival in 1979. I hitchiked from doncaster through the night to get there- it took about 24 hours !

I took my guitar which disappeared and then turned up many days later minus a 'g' string !

I slept in the communal tee-pee, which appeared to be placed over fossilized tractor ruts. I can remember sleeping round them curled in a ball. I went cruising across the hills one day with 3 others finding anything that looked vaguely mushroomy and then eating it hopefuly and talking about lord of the rings (short cut to muchrooms). I remember looking at the cracked sky and thinking 'is this a trip?' and it sort of looked like a broken windscreen only very beautiful.

I was fairly bored as i thought there might be music and I wasn't really that bothered about the drugs. I remember I got hemmed in by the communal free tent and slept out under the stars on the river bank trying to light a fire but failing miserably !

i had this most amazing experience (drug free) stood on devil's bridge as the moon rose through the pines and it stayed with me - in my heart and later I wrote a folk song called golden refrain about the experience.

I went home on the sunday .

I think as I was bored and realised I didn't really like the drugs and was searching for natural highs 'meditation, chanting, yoga wholefoods' etc...
happy memories though x
Jenny
---
Girlfriend Helen and I hitched down from Scotland. We arrived in the dark sharing a taxi from Aberystwyth i think, with some guy. I was an inexperienced festival goer and the cops stopped our taxi, I panicked and Helen and I chomped and swallowed our hash, stinking out the cab in doing so, it was like eating a sofa. Scored more dope onsite, set up tent in the dark, probably on lumpy ground by the river. The swallowed hash took effect and I remember staring blissfully at the moon and primitive drums echoing down the valley.
Went miles on a mushroom hunt next day. Cops asked me to drop my trousers for a search on way back; this old grey haired village bobby. I obliged with a smirk because I wore no underpants. They were suitably embarrassed so I had my revenge. They found the shrooms in my baccy tin and the old cop asked 'Do you smoke those with the stuff boyo?' It was legal to have mushrooms so I was ok.
No bands, no music, we got bored after a couple of days, the real crusty teepee hippies kept distant from us house dwellers and I felt excluded so we hung out with some college hippy types including a lively guy full of sarcastic Monty Python humour; it was like being with Eric Idle.
I innocently nicked four logs from a stack up on the road, this would be seen as bad conduct and cause bad feeling with locals, silly naive me: They looked stupid around our puny amateur fire and refused to burn. I suppose we must've left after about two days. I didn't get what it was all about, but I was there and it was a cold arsed adventure of sorts.
Keith Emslie Mitchell
---
1980
Festival Welfare Service report.
In many ways, this was one of the silliest free festivals of the year. There was a considerable amount of confusion beforehand about where exactly the site would be. The landowner of the site at Pontrhydygroes, which had been used the previous year, did not give permission for the festival to take place on his land again. The local authority had made a temporary planning order preventing camping on the site between the months of June and December and had dug a trench across the entrance to the site. Some of the festival people had found an alternative site about 40 miles away and had printed handouts for this new site. The first arrivals at the new site didn't find it suitable for the festival, as it was too high and exposed, so they went back to the original site.

The first festival-goers to arrive in Pontrhydygroes filled in the trench across the site entrance and set up camp. When I arrived on Thursday 11th September, there were already about 300 people who had been camping on the site since the previous weekend. Over the second weekend, the hard core of campers rose to about 800, with more short-time visitors.

The people at this festival were mainly very experienced festival-goers who had been travelling from festival to festival throughout the summer. For many of them, the Psilocybin Fair was the last festival of the year. As well as their high spirits, there was a subterranean feeling of sadness as people discussed with each other where they were going over the winter and what they would be doing at the festivals next year.
Photo© Steve Bayfield

The Psilocybin Fair was a festival of doing. Almost everyone on site was trading in some way, mainly in food and crafts.People were very ingeneous at thinking up new ways of exchanging money. The trading wasn't worked out on a high profit basis, but more on people working with whatever money and resources they had to generate enough money or basic supplies to live on themselves whilst providing a service for other people at the same time. The variety of food available was very wide. There were tea and coffee, sandwich and homemade cake, soup, vegetarian stews and bean-burger stalls; in addition, some people chose to wander round the site hawking their products - like the wandering samosa seller.

The best food idea on site was the breakfast-in bed service provided by the Tibetan Ukranian Mountain Troupe. Breakfast with a smile was delivered to your tent for a modest sum. For example, coffee, a gas-house egg and beans could be delivered to your bed between the hours of 10 and 11am for only 40p. (A gas-house egg is a festival special - recipe available on application).Other practical activities which were got together on site were the digging of latrine trenches. One trench was dug initially and a second was later dug, although this was rather too close to the river for the EHO's satisfaction.


The trenches were limed each day.
Dead wood was available in abundance in the forests surrounding the site. People went off collecting wood for their camp fires and very little live wood was taken by people uninitiated into country ways. Water was available from a spring at the edge of the site. This was tested by the EHO and found to be drinkable if boiled. People were discouraged from touching the river water because of its dangerously high lead content. Site newsletters were issued repeatedly warning people about the river water and giving information on other site facilities and activities.

Festival Aid attended the festival until Wednesday 17th September and provided a first aid, legal, information and emergency service. Many people approached Festival Aid wishing to complain about being stopped and searched on the approach roads to the festival. A group of festival-goers went to Aberystwyth police station to make formal complaints.

There were few actual arrests , Festival Aid dealt with minor cuts, sprains and burns received at the festival and one case of mushroom poisoning had to be referred to Aberystwyth hospital. The Environmental Health Officer regularly visited the site.

Arrangements were made for Festival Aid to distribute plastic rubbish sacks and collections of litter on the site were made. The local authority made arrangements for a rubbish lorry to come on site and collect the full sacks. A further collection was to be made at the end of the festival. The Community Physician also visited the site and commented on the healthy nature of the festival people and their children.
In terms of organised entertainment, a small stage was constructed, a generator set up and several bands performed over the weekend. Acoustic music was also played around campfires and theatre performers made ad hoc appearances around the site.

Photo© Steve Bayfield
| | |
| --- | --- |
| The Meigan convoy arrives at the Fayre | Enroute from Meigan to the Psilocybin Fayre |
Photos © Roger Duncan
The weather was appalling over the first part of the festival . There were strong winds blowing down the valley and torrential rainfall. This cleared up and became drier and less windy by the time I left. The weather was not conducive to a blooming mushroom crop, although people did locate psilocybin mushrooms in the vicinity of the festival site.
Most people felt that the thing which spoiled the otherwise very pleasant atmosphere of the festival was the high level of police activity on the approach roads to the festival. Road blocks were set up and virtually every person and vehicle going to the festival was stopped and searched during the weekend I attended. It was felt that this level of activity was sheer harrassment of the festival people, on the pretence of searching for drugs, whereas the proportion of those actually found in possession of drugs was very small.
Local attitudes towards the festival seemed quite favourable, especially amongst the traders. This was helped by the fact that the festival had gone off with relatively few problems the year before.
Penny Mellor, Field Worker.
---
Steve Bayfield writes
I arrived on the 12th September, Friday afternoon. There was a large police presence at each end of the road that ran parallel to the festival site. They were stopping just about every likely vehicle, and giving them a fairly detailed search...but luck was on my side ! The festival was much larger than the previous year - lots more travellers this time.
On the first night, there was a large jam session going down, illuminated by a good sized fire. There were many people playing an assortment of drums, including a massive hollowed-out log drum played by half a dozen drummers at the same time! There were acoustic guitars, penny whistles, and a flute. A good energy. I returned with my battery powered amp, on a strap over one shoulder, with an overdrive box on top, and hooked it up to a Strat guitar. I kept the volume down a bit, but couldn't resist a few Santana/Hillage type guitar solos....an hour or two of high energy cosmic vibes !

On the Saturday (12th Sept) more people were arriving, including friends of mine from Hampshire and North Wales. In the evening a band with their own generator turned up and played for an hour or so, but that was the only other live music I heard, over the next few days. There was quite a bit of rain on the Sunday. I set off for South Wales on the Monday.

One noticeable difference this year was a slight change in attitude between the regular ex-hippie types (myself included), and the hard core new age travellers. There was no bad feeling, but if your van had a tax disc on the window, you could expect a bit of hassle from the traveller's kids, scrounging for money. And I don't recall seeing the kettle doing the rounds as it did the previous year !

Badge courtesy Andy Roberts
---
Click on the images to see larger versions .
Festival of the New Hippies-1980.
The tiny mushroom known as "sillys" because of the mind bending psylocybin they contain, are being plucked like daisies from the hillsides at Pontrhydygroes, in Mid Wales.

They are the reason why Indian tepees have been erected on a gentle bend in the River Ystwyth as 400 people celebrate a free drug festival watched by bemused police and apprehensive locals.


Although the mini-mushroom has an effect similar to LSD and can produce hallucinations, it is quite legal to possess it. Police- who have mounted stringent road blocks to check on ' the queer folk' flocking to the festival- admit they can't arrest the mushroom pickers.


They are more concerned with the plethora of other, drugs such as hashish, LSD, and even heroin they suspect to be in the wigwams on the alluvial plain surrounded by mountains. Extra police were drafted to man road blocks but the police were still outnumbered 20 to one .

Inside the festival there is a gentle carnival atmosphere. Food and mushrooms are shared. The Tibetan Ukrainian Mountain Troupe can provide you with a latrine shovel and food and more mushrooms. The drug squad -both of them - gave up trying to ' trespass ' on the site. One police car was driven off in a barrage of stones. An 11-year-old girl was selling - 'Mrs Normal's hash '-cakes' but raised the price from £ I to £2 each when demand increased from hippies arriving in Chevette vans and battered VW Beetles.
The festival is possibly the only meeting place of the hard core of 'new Gypsies' who travel with horse and cart- and erect covered wagon-shaped tents called ''benders' from bent-over saplings. Many at the festival feel that the magic mushroom could lead to the return of hippies as an important youth movement. The mushrooms are more potent than alcohol and free, as against the £50 an ounce a drug user pays for hashish.
'I suppose you could call it a hippy cottage industry,'says Bev, one of the festival's leaders, sipping coffee in his bender.
'A lot of people come to mid Wales to pick mushrooms. We know quite a few of them The market for them is small in
this country but they are big in the continent, in Holland and Germany.'
The mushrooms sell from £3 to £4 a gramme. In Germany it can be as much as £10 a gramme.
Bev, aged 33, who is married to a cheerful woman called Del, is dressed in a grey jump suit with a Arab head scarf
'The strange thing is that these things have never really caught on,' he grins. 'The Beatniks used them, but it's never really been a popular thing.' At the festival it is very, very popular; mushroom quiche suddenly takes on a different meaning.
What makes Bev and the others turn nasty is what they see as constant police harassment.
When I went on a mushroom hunt a young drugs squad detective in a red car told me he would confiscate the film in my camera if I took pictures of other uniformed policemen searching cars near the front .
During the mushroom hunt the atmosphere is similar to apple scrumping, where more are eaten than kept. 'You, have to pinch the stalks at the bottom to stop them turning,' blue,' said an elfin creature called Min.
'We are going to have real trouble getting, them back,' she said. 'They will search the van for other drugs and then go through everything from tax disc to tyres- they wouldn't do that to you.'
Pete, aged 36, had lived on the land all his working life and is a proud grandfather. He is very angry that outsiders as he sees them, will not leave the festival alone.
'People say, how can you bring up children like this' said Pete. 'But our children are happy and healthy, and we care more for them than a people who put them in boxes called houses.' A group nearby passed round a pipe of hash.
The reaction of the villagers, in next door, Pontryhdygroes is mixed. 'I won't serve them,' said landlord David Evans of the Miners Arms. 'I want them to go'. But Mrs Corris Davies of the post office is glad of the trade.
Inspector Terry Adams,of Aberystwyth police station pointed out that the police were not stopping people because of the mushrooms. ' We just like to know what's happeningon our patch. A lot of these people have committed controlled drugs offences'.
Inspector Adams said there had been 16 arrests

'What's a hit like,?' a pretty young policewoman asked a hippy girl. 'What do the mushrooms do '?
The girl ignored her .The policewoman was not to know that she was about the serious business of taking her pet toad for a walk on a rainbow coloured cosmic leash .
---
Greetings.
I was amazed to find your site and see photos of festivals i have been to.
I was at Glastonbury in 1977 and those photos remind me of the good weather we had on the 7th of the july. Also I was at Pontrhydygroes in Wales the same year or the year after, where there was just a mushroom festival unorganized about 50 people or so and no music.
I had been living with some hippies in a cottage not far away, people who i met by chance after leaving Bristol and hiking along an old railway track through mid Wales.
Met loads of people and visited a number of campsites in Wales, went to a here and now concert. moved on to London with some of the people from the festival for the winter.
Amazingly a year later I met some of them again by chance in the Rep of Ireland at some festival being held on a site as a protest against a nuclear power station being built there.
Looking at pictures of Glastonbury Festivals now i cant believe how much its changed ..nothing at all like the atmosphere was back then.
Thanks for refreshing my memories
John
---
ello,

I was at the 79 pscilly fair...with my girlfriend Helen, we were aged 16 and 17, i can supply sketchy little details... or maybe answer some questions you may have... worth a try.... I certainly remember that lady in the post office being very keen to tell us she sold rizlas... she must've bought in a shipload or something. I remember a 'no hippies' sign outside the pub i think.

keith mitchell
---
.Hi. Hitched to festival with my mate john el khadi.
Cant remember whether it was 1979 or 1980.
Slept on a doorstep in merthyr .
Got a lift from a squaddie on a mushroom hunt .
Recall a morris minor going round and round and round etc. I guess someone had lashed the steering wheel with rope.
A girl came to our camp fire spouting passages from 'Dune '
It was a long time ago and the pics brought it all back , ahh

vince
---
Information is needed on the 79 and 81 festivals . Any info to add ?-well don't just sit there , Contact us
---
Free festivals of the 70s and 80s