The Archive.
---
Big thanks to our sponsor Neil !

For information on today's festivals see eFestivals.co.uk
---
Created Feb 2008 .Updated June 2009
Bilbo Baggins Birthday Party.

( being a benefit for The Travellers School )

Clyro Court

Hay on Wye.

Powis.

10-1-88.
---
The Skool bus was a project created by elements in the Traveller community who wished to provide a stable, fun, school environment for traveller children, by 1988, this was a converted truck which had been cleaned up and funded by a group called the Traveller School Charity which had been formed in the late 80s. Because the organisation had charitable status , it was possible to raise funds tax free to keep the vehicle running, and the usual suspects ( Roy Harper , Nick Turner and Hawkwind ) offered their services to help raise funds.
A previous festival " Aktivator" held earlier in Sept 1988, had raised £2000 and Clyro Court raised a similar amount, not bad for a bunch of hippies !
Visit Tash's page about the Travellers School Charity .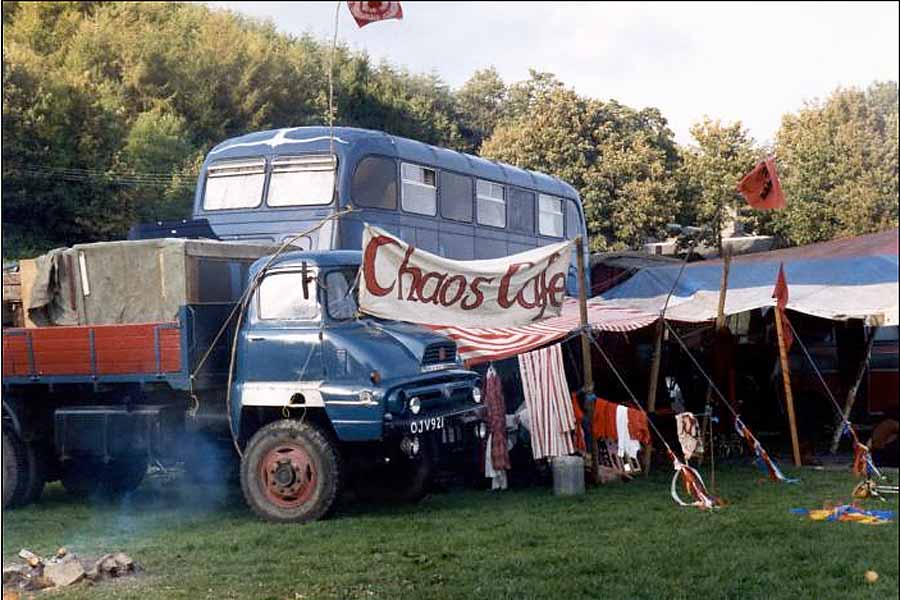 Decker Lyns Cafe at Clyro Court 1988
Photo© Traveller Dave
vist his cool site to see many more photos of Free festival Vehicles and sites from the late 80s and early 90s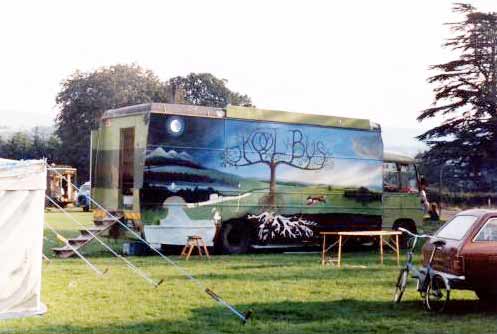 The Skool Bus- ex Welsh Tourist Board vehicle at Bilbo Baggins birthday bash Clyro Court 1988 © Traveller Dave
Any info to add ? Photos .recollections, posters- anything really !
-well don't just sit there , Contact email
---
Setlists and recordings
Roy Harper
It doesn't appear that a recording exists of Harper's set, but heres a likely setlist
Commune, Frozen Moment, Back To The Stones, Playing Prison, Loony On The Bus, Another Day, Highway Blues, Tom Tiddler's Ground, Government Surplus, I Hate The White Man, Garden Of Uranium, Twelve Hours Of Sunset, Pinches Of Salt, One Of Those Days In England (Parts 2-10), Descendants Of Smith ,Jack Of Hearts.
Hawkwind
a recording exists : B grade audience
Intro; Starflight; Ejection; Master Of The Universe; Dragons And Fables;
Angels Of Death; Lost Chronicles; Needle Gun; Levitation; Paranoia;
Levitation; Brainstorm; Shot Down In The Night; Silver Machine
Dave Brock, Huw Lloyd Langton
Alan Davey, Mick Kirton
Harvey Bainbridge,Nik Turner
---
If you have photos, recollections, set lists, newspaper reports or tapes of this event then email us at Contact us if you can help.