The Archive
Big BIG thanks to our sponsor Neil !

For information on today's festivals see eFestivals.co.uk
Updated Last update March 2012- new recollections page
New Photogallery of bands : credits given to poster artists Circa Design
---
.

24-26th July 1970
Ecclesden Common.
Worthing
---
"Get your end away at Phun City. "
---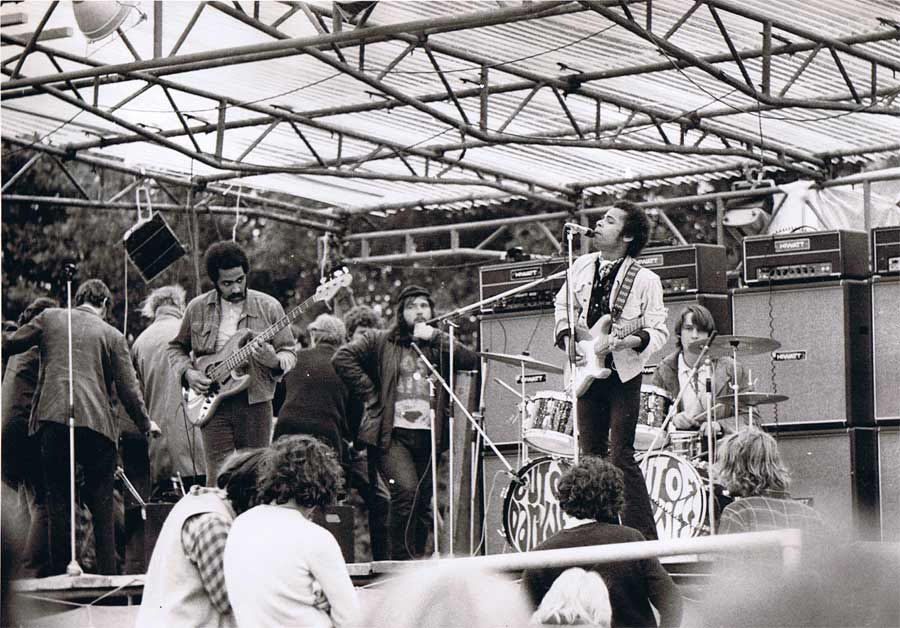 Out of Darkness play Phun City under the gaze of Boss Goodman - Pink Fairies roadie and Phun city stagehand.
Photo courtesy Timothy Anderson
One of a veritable plethora of festivals held in 1970, Phun City also had the dubious distinction of being one of the most shambolic. It was also a financial disaster , but despite this, it also was one of those festivals that managed to transcend its difficulties and which has attained almost legendary status .
Organized by luminaries of the London freak scene such as Mick Farren of the Deviants , Edward Barker the cartoonist and backed by the International Times , the leading underground paper of the day ,the festival was firstly intended to be a paying affair , but ended up being one of the first large scale free festivals held in Britain (not counting the one day free concerts held in Hyde Park ) ,no , NOT the first , it was preceded by the 1969 Cambridge Free Festival.

One of the adverts in the underground press quoth :
" Phun City is attempting to provide a three day environment designed to the needs and desires of the Freak, not just a situation set up to relieve him of his money. " (note gender bias )

The advert went on to state that there would be many free facilities and food would be provided at near cost price. "There's 20 acres of woodland, partially enclosed in polythene to provide cover for sleeping- and this will be available for copulation, bopping or whatever else you want to use the woods for . Get your end away at Phun City. "

A solitary fan indulges in some serious idiot dancing during the Phun City extravagonzo.
"Just been browsing around the net, and thought "wonder if there anything about Phun City", and could'nt believe it, the first page to come up, there I am. ( above right) The photo with the guy dancing, well there I am just to his left with the long blonde hair, bottom left. I don't have many memories (its always been bad) but can always remember the Edgar Broughton set with Kevin Ayers,and duetting Out Demons Out, can remember sleeping in the woods where ever we could. Also the burger vans etc. being liberated! it was a fine time, I've only met one other person who went there.
Regards and best wishes"
Maureen Crawley
| | |
| --- | --- |
| Mighty Baby onstage at Phun City © Dicky Howett | |
---
Of course this was just guaranteed to raise the blood pressure of retired colonels , clergymen, tory councillors and sundry "straights" to astronomical levels . I mean rock music was bad enough, but encitement to fornicate , that was just too much . How they were allowed to ever go ahead with the event at all is amazing given the moral climate of the times.

" The whole thing was offensive and obscene in many ways and you would have been surprised at some of the people there. There had been university people from America ,Oxford and Cambridge and ordinary decent people. They just wanted to do what they wanted to do and they did it. I just cannot understand it "; -

Mr E.T Oates, chief public health inspector
That's not to say that there wasn't plenty of opposition from locals ,but the festival was fortunate enough to have a landlord who was not swayed by local opinion. Mr J Fitzroy Somerset, who rented the land to Mick Farren , stated in the local press " what he does with it is his own business" . Farren himself, in his book " Watch Out Kids " , said that the long term country folk were not a problem
"they viewed it with earthy good humour ..... and would do anything that would make them a buck " it was the " solid retired city dwellers with fantasies of rape and carnage sweeping over their quiet neat cottages " that were the ones who caused the major obstruction.
An injunction was served ten days before the event and this lead to site work being stopped as well as the withdrawal of some financial backing . Then a few days later the injunction was withdrawn , but by then the organizers were up the proverbial creek without a paddle, with little money and hardly any time to get the facilities properly organized in time for the weekend. With three days left to complete ten days work they rushed around in a frenzy, so by the time the festival opened there was -

" a stage , lighting power, generators and sound equipment, food stores ,a few toilets , some tents and inflatable domes and a thriving shanty town in the forest " .


Camping in the woods , photo courtesy of John May
There were no fences , or any way of taking admission fees , so it was put to the bands who turned up that they gave their services for nothing . Amongst those listed to play were The MC5, Pretty Things , Kevin Ayers , Free , Edgar Broughton , Mungo Jerry, The Pink Fairies , Michael Chapman , William Burroughs and The Humblebums .
The only band who refused to play for nothing were Free , a bit ironic really.
The Hells Angels had been hired as the security force, but they too went along for the ride, as Farren said " it slowly dawned on us that although none of our original plans had come together, we were no longer in control. " Instead , the audience themselves were now in charge , with the organizers just making sure the bands came and went - it was , if somewhat inadvertently, one of the first large scale "peoples festivals " held in the UK .
It was a festival that managed to maintain its musical integrity despite all of its problems and it probably inspired others to hold the free festivals at Windsor and Watchfield in later years. I well remember reading all about Phun City in the International Times soon after it had taken place ( would that I still had the article , it was lost decades ago ) and going by the accompanying photos , it appeared to be an almost complete shambles when judged purely by mainstream standards . However I suspect that from a freaks viewpoint , it was probably far more enjoyable than the tight confines and order that prevailed at the National Jazz and Blues Festival at Plumpton. The Pink Fairies taking all their clothes off as they played ( I wish I could have seen THAT ) figured largely in the I.T. account , also photos of the shanties in the woods , which did NOT look particularly enticing I must admit. However, most of the bands did eventually play and the headliners , Detroit's own MC 5, were even recorded -and a live Cd is now available of their set . Film of the event is also out there somewhere and who knows , someday it may even surface and we can all see what it was really like to be at Phun City.
---

Contents
The following pages consist of local press articles , which ( as usual ) give a rather biased , negative viewpoint of the festival . I've been in touch with Mick Farren and he has kindly put me right on a few inaccuracies and Rich Deakin , Phil Jones and Celia Bouquet have very kindly provided me with a lot of archival material .These alternative viewpoints from I.T and Friends will hopefully give a truer indication of what this festival was REALLY like. Therefore any more photos , recollections or other material will be acknowledged and gratefully received.
Visit Rich Deakin's site on Mick Farren , Edward Barker and all things UK underground also Mick Farren 's book, "Give the Anarchist A Cigarette" has lots of info on Phun City
Radio Geromino have a brief sound bite and an article about Geronimo at Phuncity on their site
---
If you have any info regarding the festival please get in touch Contact us
Memories sweet memories
Band Photographs
Publicity and underground press articles.
Press articles
Recordings of Phun City and band details
---
More information about Phun City organizer Mick Farren and the UK Underground press can be found at these excellent sites.
---
Big thanks to Keiran McCann , Celia Bouquet ,Rich Deakin and Phil Jones for the donation of the press articles that have enabled us to construct this site and to Ronald Jensen and Dicky Howett for the great photographs.