Formatted at 1920 X 1020 minimum - failure to view at this res may cause weird formatting , you have been warned !!!!!!!
Updated July 2021
For information on today's festivals see eFestivals.co.uk

Big BIG thanks to our sponsor Neil !

This site is dedicated in the memory of

who inspired me to delve deep into the magic of the free festival and who passed away Sept 3rd 2010.

R.I.P. Roger .....
---
The Cambridge Free Festivals.

Midsummer Common.
8-11th June 1969.
Blossom Toes, Family, David Bowie,Third Ear Band, The Deviants, Edgar Broughton Band, Brian Auger Trinity, Juniors Eyes, Marsha Hunt and White Trash, Terry Reid, King Crimson, Screw, Henry Cow, Committee, Mr Lucifer, The Strawbs , Roy Harper, Incredible String Band, Coopers, Tuesdays Children, Mellowing Grey, Paul Wheeler, Horn, Sir Charles Babbage, Iveys, Klan , Dawn, White Unicorn, Story Book, 1984, Mighty Baby, Spontaneous Music Ensemble, East Of Eden, Jason Crest , Audience, Juggernaut, Reflection, Mandrake.
Dj's Jeff Dexter and John Peel.
Coldhams Common August 1970.
Edgar Broughton Demon Fuzz
Coldhams Common 12th/13th June 1971.
---
Up till now its been the boast of the Phun City festival organisers that their festival was the first major free festival event in the UK ( as opposed to the one day free concerts held in Hyde Park), well it seems like they have a rival and one that was intended to be free all along instead of mutating from a paying festival to a free bash due to adverse circumstances, which was what happened at Phun City ( no one could get the fences erected in time ). This was full year before Phun City too, so it was a real pioneer amongst free festivals.
This festival didn't get much publicity but it had a hell of a good lineup and quite a few of these artists got to play too. We don't know how many attended the festival, but it looks like it was fine event and we would love to learn more about it .If you attended please send us your memoirs....
| | |
| --- | --- |
| | Thanks to Duke for providing the timeline and the written explanation as to why the festival was taking place..... |
Hi,
I am pleased to see the site that you have constructed on the Cambridge free festivals. I was instrumental in helping to put the festivals together in 1969/70. My name is Roger Kinsey and at the time I was in a partnership business with two other people operating under the business name of Rufus Manning Associates. We were the leading entertainments management and agency business in Cambridge during those years. many of the bands featured on these festivals were either under our management or we acted as their agent.
For t he first festival we worked very closely with the Cambridge Arts group. of which some of the members involved with that Group were also musicians in some of the bands/groups we managed. I was the lynchpin in persuading the then Cambridge City Council Entertainments Manager, Mr David Constant to actually give us the permission to hold the free festival over the three days on Midsummer Common. There was much bargaining and persuasion to be done as the councillors were not at all keen for this to go ahead.

As a result of the festival many local people who lived around Midsummer Common complained afterwards and as many of them were academics and influential persons they had their day and the following year in 1970 we had to move it to Coldhams Common. The poster for that festival was designed by our secretary Steff and I have a very clean and pristine copy of it. I also have a small cine footage of Tuesdays Children ( whom we managed ) playing on the stage at the 1969 festival.

Yours with many memories of those halycon days of utter chaos and great unreliabilty of those bands and groups who said they would appear at these festivals

Roger M. Kinsey
---
Hi,

I came across your wonderful archives today, and I noticed that although you mention the 1969 Cambridge Midsummer Pop Festival, nothing is recorded about it. I thought you would appreciate the attached copies of the poster, with details of the bands on the bill. The bedraggled poster is still on my wall, exactly 39 years on. (My friend Peter Reynolds framed his copy, and I bet he still has it – it will be in much better condition.)

I was 14 then, at school, at the Cambridgeshire High School for Boys, and I hated it. It was still very much the school that Roger Waters attended, and wrote about in The Wall. I went to the "Pop Festival" every day, after school and all day on the last day. It was absolutely great – warm sunshine, and a revelation, the music I was avidly absorbing from the John Peel Show being played right in front of me.

I vividly remember Family, who were fantastic, and the Spontaneous Music Ensemble, with John Stevens who I saw very often during the 1970's. I think I remember seeing Terry Reid, and King Crimson, and I know I saw Brian Auger and the Trinity, and the Third Ear Band. And Henry Cow, who played a lot in Cambridge in those days. Mr Lucifer, Mellowing Grey, Committee, and Sir Charles Babbages All Brass Computing Engine were all local bands who also played regularly around the Town, and at University events.

It was a lovely event, and deserves to be remembered. There was an article, and pictures, in the Cambridge Daily News, that you may be able to find from their files.

Regards, Steve McDermott
courtesy Ian Maun

Dear festival folk

What a great web-site!

I've just finished Rob Young's Electric Eden which mentions the 1969 Cambridge Midsummer Free festival.

At the time, I was the drummer with Natural Gas,a university band. I remembered playing early one day to about 10 people on Midsummer Common before Mighty Baby came on . I look up your website, and lo! Yes, it was on the Monday at two o'clock in the gap on the bill. I even have a fading colour photo.Later in the festival I stood beside the stage when Family were on, simply gazing in awe at Rob Townsend! Happy memories!

Pete Rickwood (bass) - not in photo;
centre - Ian Maun -drums;
right - Dave Price - lead guitar.

Best

Ian Maun (happily retired and still playing drums!)
I was there, and it was the first one held there to my knowledge.

But I still have the original poster (and I bet there are few in existence today)!

On the poster are John Peel, Strawbs, Edgar Broughton, King Crimson and maybe fifty other bands. Not on the poster but I am sure performed were David Bowie and Ten Years After (or maybe Yes). Mr. Lucifer played and were a local band. I know the brother of the leader of that bands was Andy, and worked on the market in Bury selling/trading old albums (before Richard Branson did!) My memory aint so good but I think Branson bought him out in the end.

James Forte (Toronto)
---
Edgar Broughton, Arthur Brown's Kingdom Come, Demon Fuzz, Black Widow, Elder Kindred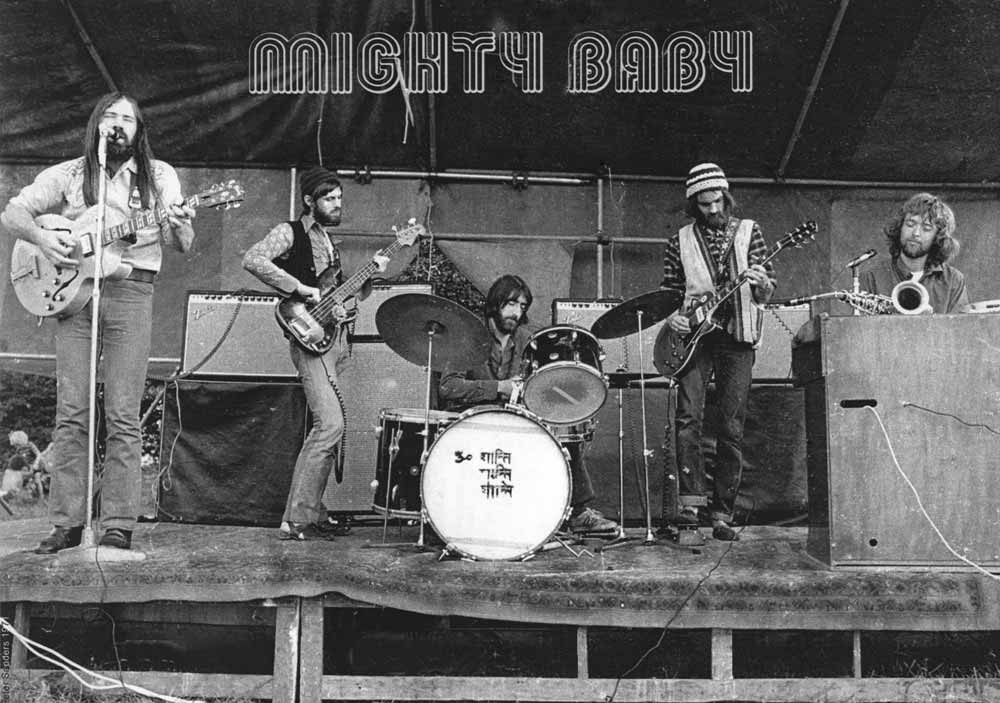 Mighty Baby onstage 1970 festival © Peter Sanders via Deepinda Cheema
Hi there

I'm trying to find out about a free festival that I attended on Coldhams Common, Cambridge, 1970. I know there was one in June 1971 with Cochise, but I didn't get to that one.

The 1970 festival I'm pretty sure occured on my 13th birthday on 5th August. I remember going to my local record store and buying Joni Mitchell's 'Big Yellow Taxi' in the morning then heading off to Cambridge (from Newmarket - where I lived) by train in the afternoon with a schoolfriend. I particularly remember the train passed the festival (which was behind the football ground) and my excitement at finally going to see some live bands ! The only band I remember playing was Edgar Broughton (Who was playing what I now know to be a Fender Stratocaster painted with red and black spots or similar) who I thought was amazing ! I think there may also have been Demon Fuzz but I'm not sure about that. I have lived in London for many years now but very occasionally I get that train from Newmarket and always remember that day when it passes the football ground. I remember 'playing' on some earth humps near the site and they are still visible from the train. Thing is, I have never seen this festival listed on any of the archive sites and have never met anyone else who attended it - but it did happen !

Peace my friends

Kevin Byrd
---
I was beginning to think this was a figment of my imagination until I came across this website. Me and my mate Phil hitched from Stoke on Trent to Cambridge (not the easiest of jouneys) and got stuck at Leicester waking up in a bus shelter having spent the night there with people catching the bus to work looking at us. I had no long turned 16 so this was a big adventure. Apart from the bands mentioned I seem to remember Arthur Browns Kingdom Come and Black Widow. I do remember sitting in a large tent and a guitarist came in and played a blistering version of Anji by Davy Graham. It could have been him for all I knew. It was nearly 40 years ago and I am constantly surprised that I am that old.
Andrew Burdon
---
I helped to print the posters and organise the festival; the Arts lab in Cambridge was the main organiser and we had links with David Bowie at the Beckenham Arts Lab. The main guy was an American; can't remember his name - maybe Tim Page. A draft dodger if my memory serves.

John Mayall was going to appear but didn't. The whole concert went very well and was the forerunner for the Coldhams Common festival ; not at Cherry Hinton Folk Festival venue.

All the best

David Lindsey
---
I was trawling thru the festivals website and it was great to run into your bit on the Cambridge free festivals. I'm told these were the precursor to Strawberry Fair and I think they were organised by people living in the Kite area which was largely demolished despite a great deal of local opposition. I remember dossing off from Cambridge Tech and finding Brian Auger playing on Midsummer Common on my way back to the Cambridge Scientific Instrument Company (now the dole office) to get a lift home. This strange (to me) experience was my first initiation in free festivals. I must have gone to Strawberry Fair in the early days but the fog is a bit thick around this period. I have, however, been involved with it since 1990 running one of the stages.

Regards Dougal.
---
---
---
Any info to add- well don't just sit there ! Contact us
Free festivals and small fayres held in the United Kingdom between 1967-90.
1967-69.
Main list of Free festivals 1970-1985
Free rock festivals of the 70s and 80s
Related Articles
The aroma of a free festival -by Roger Hutchinson
Dome construction instruction sheet (download-140k)-by Roger Hutchinson
Travellers Tales Convoy Steve's tale of how the freaks outsmarted the fuzz at Greenham common.
Zorch -House band for the free festival set ? A fanzine page on the UK's first electronic band .
Tibetan Ukranian Mountain Troupe-surreal pranksters of the Traveller community .
Acidia Lightshow Lightshow for Windsor festival and Stonehenge in the 1970s.
Traveller Daves Website - Chock full of of free festival photos !
Many, many thanks go to Roger Hutchinson , Big Steve , Roger Duncan, Celia, Will , Chazz, Jeza ,Chris Hewitt ,The Fabulous Time Tortoise , Peter Piwowarski - ( 70s music site/photos ) Martin S, Steve Austin ,Traveller Dave, Herb, Tim Brighton, Vin Miles, Haze Evans , Noddy Guevara, Chris Brown, Janet Thompson, David Stooke, Gary Gibbons , Nigel Ayers, Rich Deakin ,Glenda Pescardo,Justin Warman,Brian F, Steve Bayfield, Kev Ellis, Paul Seaton and many other minor contributors for their help in providing the archival material related to these free festivals which has at enabled us to construct the site .
Any info to add ?-well don't just sit there , Contact us
---