The Archive.
Big BIG thanks to our sponsor Neil !

For information on today's festivals see eFestivals.co.uk
Formatted at 1280 X 1024 min res - created Jan 2002.
updated July 2021.
---
---
Deeply Vale Free Festival . 1976-1979
---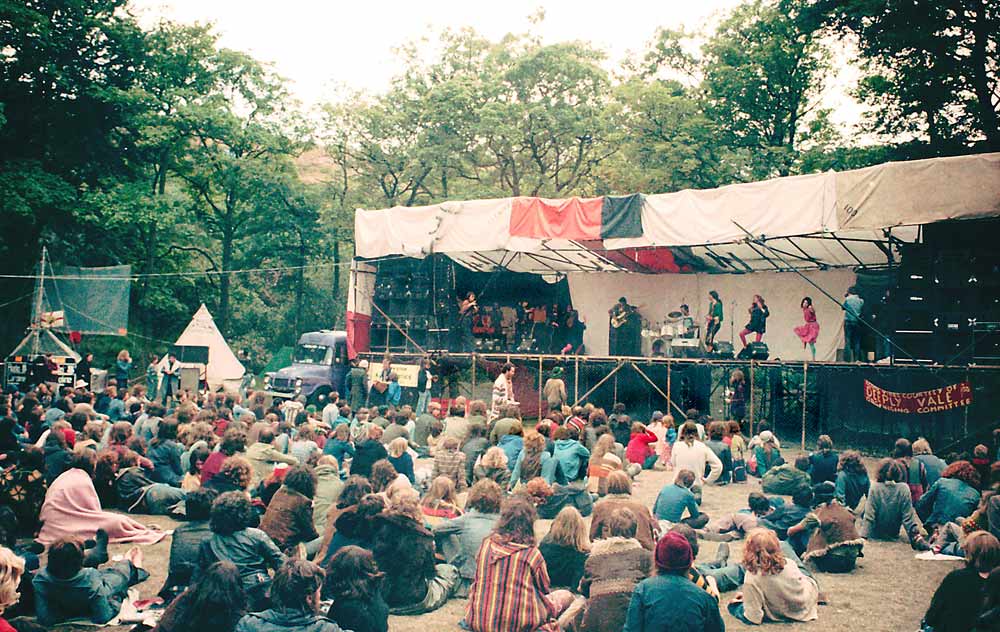 Here and Now onstage at Deeply Vale Free Festival 1978 © Craig Mitchell
Origin of Deeply Vale!

Visiting your site on Deeply Vale festival brought back some memories. That was a special time.
I was living in Bury in 1975-76. While I was there I met some really nice people who played music. One evening we were talking and some people said about how they had sometimes went out to Deeply Vale and camped out there; played some music and so on. We decided to spend the next weekend at Deeply Vale - and someone suggested taking a generator to power amps so we could play electric.
We had a great weekend; playing music into the evening and generally having a good time. As the evening wore on a guy appeared from out of the blue and said hello; after a while he did some singing with our impromptu band. In the end he said he thought this would be a great place for a festival; he said he was connected to Tractor Music (so I am guessing he was Chris Hewitt) and that he would see about organising a festival the next year! Some of us thought, "Hmm, well we'll see..." - but then along came Deeply Vale free festival shortly afterwards.
I was not living in Bury by then so didn't go to that first festival - but with my mate Pete played a set there the year after!
It feels nice to be in some way part of this process; interesting times; I don't know if we will ever see anything like those days again.
Dave Kirsopp
---
Evening News, September 19, 1976
Bury's rain hit "Free People's Pop Festival" looked like turning into a giant flop festival today. No more than 100 rock fans were sitting round their smouldering camp fire this morning. The three-day festival being held at Deeply Vale, off Walmersley Old Road, has not been the hit organisers expected. "

Well " the People" eventually proved the evening news WRONG. Despite the relatively small numbers , the first Deeply Vale festival- put together by friends in a matter of weeks , still manged to attract around 300 to 400 people in 1976 and the next year around 3000, gaining a review in the NME . By 1978 however, things were a little different and in July , 20,000 hedonists descended on Deeply Vale for a week long extravaganza . Chris Hewitt, manager of Rochdale Hippy band Tractor and provider of all things hardware and music wise at Deeply Vale , had made strong links with Nik Turner of Hawkwind , Steve Hillage and Here and Now ( the link with Nik Turner exists to this day .

The 1978 line up included over 50 acts including Misty in Roots , The Ruts, The Out, Here and Now , Nik Turner with Sphynx and Steve Hillage . The timetable itself makes interesting reading . Anthony Wilson compered the new wave afternoon which included near the foot of the bill , a little known Manchester Whitefield band called The Fall, appearing at their first festival, who were followed on stage by Durutti Column , who had just tied up with Factory records , As well as Anthony Wilson, his fellow Granada TV presenter Trevor Heyett compered and performed at the folk afternoon . The next year a similar size crowd saw a new band Frantic Elevators , containing an unknown frontman with red hair - Mick Hucknall . All this entertainment was put on with donations from the crowd and fundraising events.

CITY LIFE 1996.

Dec 2007

The good news is that Ozit records have released another extended DVD which features performance from various Deeply Vale acts . It accompanies the ITV documentary . There is also a section about the history of the Deeply Vale festivals, which features music by a variety of bands such as Misty in Roots, Fast Cars and The Trend as well as many stiils from the festivals. You can purchase the disc from May onwards , its well worth the cost if you were there and want to relive the occasion . Read our review here

You can also get the Deeply Vale T Shirt and Hillage Discs at the official Deeply Vale site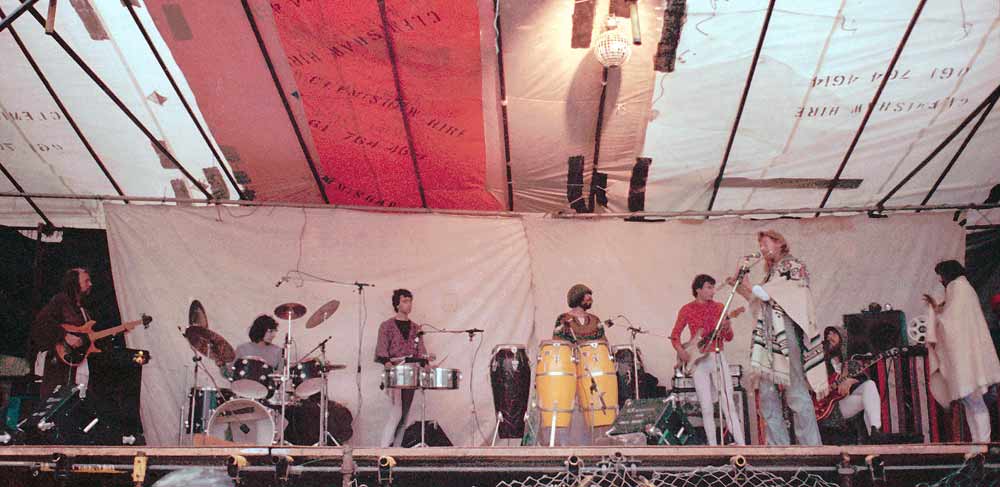 Nik Turner and Sphynx onstage at Deeply Vale Free Festival 1978 © Craig Mitchell
| | |
| --- | --- |
| Here and Now bus amongst others © Janet Thompson | courtesy Craig Mitchell |
© Janet Thompson
As you will see, despite early bad press from local newspapers the festival managed to overcome its soggy debut and build in strength for four years , becoming the major event in the free festival scene of the late seventies, which was no mean achievement . In its heyday it managed to attract far more than the original 100 people and became something of an institution for freewheeling Northerners to attend in the latter half of the 70s .
---
This site contains a goodly part of the Deeply Vale Archive , graciously provided by Chris Hewitt , but we are always interested in contributions from attendees. I
Any info to add ?-well don't just sit there , Contact us
---
For more Deeply Vale content visit -
OZIT records Chris Hewitt's record label- one of the original organisers of the festival , features recordings of festival artists, home of Tractor and the Deeply Vale Archive .

Deeply Vale menu
---
---
---
Latest News Dec 2009
Plans are afoot for the festival to return in 2010 details can again be found at the Ozit site .When we know more it will be posted here .
In addition, ITV has made a TV documentary called " Truly,Madly,Deeply Vale ". This was broadcast on Granada regional TV on Friday 19th November 2007 around 10-30pm . Also you can get more details at the Ozit records Deeply Vale site and read our review of the program .
Also check out the new astounding Steve Hillage release from Deeply Vale 1978.
---
2009 News from OZIT records
Ozit are flogging a nice T shirt comemorating the festival, follow the link to investigate, they are very good quality.
And they have brought out a vinyl release of the Steve Hillage set that looks like its worth investigating as well. Not heard the vinyl, but the cd version was hot ....
2LP set in 180 gram heavy rainbow coloured vinyl - includes tracks not released on the CD version of the album. Talk to any connoisseur of 70s-era double live albums, and many will agree that Steve Hillage's "Live Herald", recorded and released in 1977-78, rates among the finest jewels that the genre has to offer.
So it's astonishing to discover that someone has spent the last 25 years sitting on tapes that knock that set into the dust, both in terms of on-stage excitement and aural enjoyment.
"Live At Deeply Vale Festival 1978" (Ozit, UK) transports the listener back to one of the last truly great festivals staged in the UK that decade, a weekend's worth of music that fearlessly ranged across both the traditional rock range and the upcoming punk movement, before climaxing with a Hillage set that the guitarist himself reflects, "…(sounds) as exciting now as Live Herald was back then." (Goldmine Magazine, USA.)
"A must-have for any and all fans of Hillage, Gong, Canterbury, Avant Garde and just good British psych in general." (**** Record Collector)
2007 News from OZIT records
DEEPLY VALE FESTIVALS THE DVD
AROUND THREE HOURS 40 MINUTES
Part one - Deeper Deeply Vale
MUSIC/ PERFORMANCES/RARE VIDEO FROM:
(wherever possible- audio soundtracks and film and stills from the actual festival have been used for each artist)
Mick Middles' memories Part one
Misty In Roots- Six One Penny
Here and Now – What You see is What You are
Spizz Energi- Medley
Wilful Damage- Punk Space Rock
The Fall- intro by Marc Riley / Bingo Masters Break Out inc video comments from Mark E Smith
Tractor- Watching White Stars
Guitar George Borowski- This is not love
Ruts- Jah Wars
Nik Turner- Anubis plus Interview
Pete Farrow- Fixin to Die
Trevor Hyett- You just can't make it by yourself
Tony Crabtree- God damn it we're all gonna die
Body- Brave New World
Danny and The Dressmakers- Ernie Bishop's dead body
Mick Middles' memories -Part Two
Steve Hillage- Searching for the spark
David Bacha and DJ Foggy- Beautiful Friday Night
Accident on the East Lancs -We Want it legalised
Fast Cars- Who loves Jimmy Anderton
The Trend- The Cookie Flow
Unknown artist 1
Dave Smith's on stage speech
Unknown artist 2
Unknown artist 3
Alchemist
Foreign Press- Downpour
Rivington Spyke – Poetry
Unknown artist 4
Elti Fits- Rebel Rebel

Part Two

Truly Madly Deeply Vale :49 minute documentary

Jimi Goodwin- Doves
Mark E Smith
Chris Hewitt- one of the festival organisers
Vini Reilly -Durutti Column
Andy McCluskey- OMD
Jim Milne- Tractor
Steve Clayton- Tractor
Graham Massey- 808 State
Grant Showbiz
Steve Hillage
Alan Hempsall – Crispy Ambulance
Luke Bainbridge- Observer Music Monthly
Stuart and Steve Murray – Fast Cars


Part Three : Interview extras

Steve Cowen- Mock Turtles
Mark E Smith- around twenty minutes of classic Mark E Smith talking about Deeply Vale and The Fall
Jim Goodwin- Doves
Vini Reilly - Durutti Column
Andy McCluskey – OMD
Luke Bainbridge- Observer Music Monthly
Graham Massey 808 state

Front cover

Back cover
---
2006 News from OZIT records
Deeply Vale 1970's Five CD box set!
For a few years we have been working on The Deeply Vale of the 1970's Five CD box set. Featuring tracks from as many musicians as possible associated with Deeply Vale Festivals in the 1970's and including some real gems.
Remember the Steve Hillage Live at Deeply Vale CD and The Fall Live at Deeply Vale CD - well , two tracks from Steve Hillage and two tracks from The Fall [ with end of set outro by compere Tony Wilson] were kept back from the albums to go on this five cd set- check out the list below.

Blind Rochdale guitarist Tony Crabtree who passed away last year has some rare acoustic stuff in his memory on this album set. Amazing full set from Wilful Damage, and several great tracks from Graham Massey and Co in Danny and the Dressmakers [Deeply Vale 1978]. Fast Cars, The Tunes, Accident on the East Lancs, Body, Visitor 2035, Tractor, Howard The Duck,Durutti Column- their third ever performance live at Deeply Vale 1978, The Ruts,the joint rolling contest compered by Eddie Kledjys - it's all here
We are just getting the artwork and packaging together if any other musicians who were there or who want to be involved in donating a track or two to this boxed set please e mail ozitrecords@which.net
Chris Hewitt
---