The Archive.
Updated July 2021
Formatted at 1280 X 1024 res, lower res will result in some formatting errors in page display .
---
London Council Festivals
1986.
---
"Farewell to the GLC"
Jubilee Gardens , London,
3-31-86 #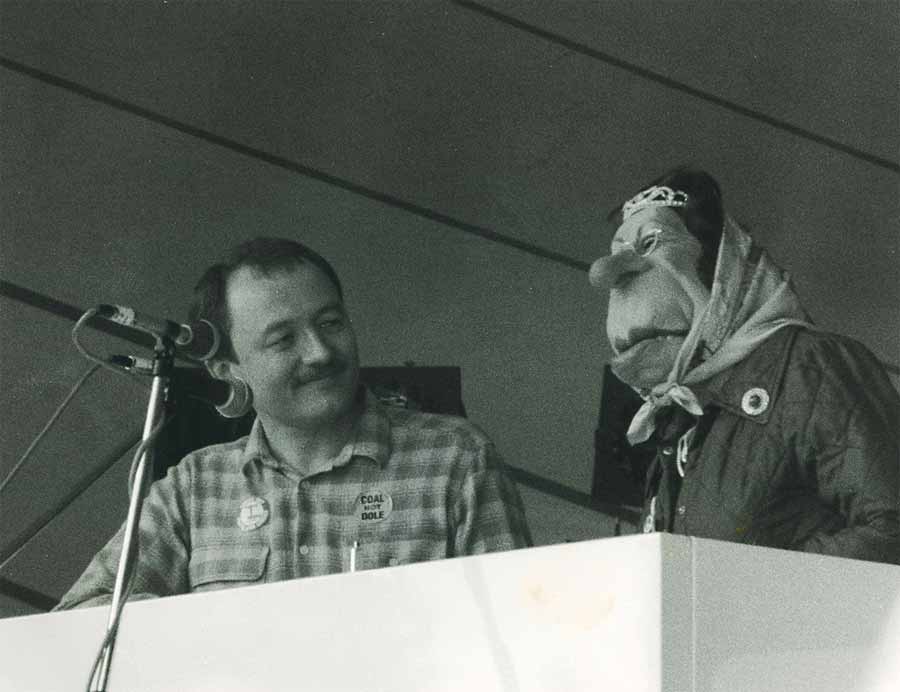 Ken Livingstone and royal " friend "at a GLC free concert © Nick Hider
( visit Nicks Flickr site to view more great photos from this era )
Eddy Grant,Buddy Curtiss and the Grasshoppers, Will Gaines, Slim Gaillard,Smiley Culture, Lenny Henry,Billy Bragg ,Frank Chickens
# Some sources state the concert date is 3-29-86- can anyone confirm ?
Depending on your political stance , this final GLC concert was either the culmination of years of extravagant wasting of public money in one final over the top junket, or the swan song of an enlightened council who believed that part of their brief was to being culture to their constituents . It was certainly an end of an era, the end of five years of labour rule under "' red " Ken Livingstone and the end of 100 years of a unified London Council.
Its not our place to detail the events that lead to this event, suffice it to say that, in the divisive Thatcher years , polarisation between left and right was probably more intense than at any other time in the late 20th century . Thatcher hated the GLC with a passion that was so great that it led her to put plans in train that would abolish the institution . The council was to cease on April 1st 1986 and as the final fireworks died at midnight of the 31st, the conservatives wasted no time in removing any trace of their old foe. Signs and GLC banners were taken down as the festival crowd booed the workers from the new regime.
Apparently 100,000 attended this 12 hour bash and the total cost of the free events leading up to the demise of the council were rumoured to cost £250,000, but to date we have not been able to ascertain whether these are correct figures or not .
---
Recordings and setlists
History of the Abolition of the GLC
---
London Council Festivals
Just because the GLC was no more did not mean that other London Councils couldn't hold free concerts in their parks and some of the remaining Labour controlled Councils continued to do so throughout 1986 . Here are three adverts for free festivals held by Lambeth Council on Clapham Common in 1986.
| | |
| --- | --- |
| | |
comments and info are welcomed on these festivals.

Hi

I've just seen your web page regarding the above.

I played on the main stage in Jubilee Gardens on that day and, as I remember, the line-up was: -

Buddy Curtis & The Grasshoppers

The Q-Tips (I played guitar with this band)

Lenny Henry wasn't billed to appear but did give a speech, as did a tearful Ken Livingstone.

The other acts you mentioned may well have played elsewhere on that day, but not on the main stage.

Also the crowd attending the main show in Jubilee Gardens was 35000. This much I know as, at the time, a friend of mine was involved with the event policing and he told me the figure.
---
If you have photos, recollections, set lists, newspaper reports or tapes of this event then Contact us if you can help.
---