Formatted at 1920 X 1020 minimum - failure to view at this res may cause weird formatting , you have been warned !!!!!!!
Updated July 2021
For information on today's festivals see eFestivals.co.uk

Big BIG thanks to our sponsor Neil !

This site is dedicated in the memory of

who inspired me to delve deep into the magic of the free festival and who passed away Sept 3rd 2010.

R.I.P. Roger .....
---
Green Deserts Fair.

Probably held at Thorpe Woodlands

Thetford .or Rougham .

6-10 September 1985

Barsham 1986
---
These were probably the last of the Green Deserts Fairs , originally held at Rougham up until 1982 ,when the event bacame too large for the village to handle . Green Deserts charity continued to hold smaller events such as this after 1982 and there are reports of a Fair being held in 1986, but this could have been the last time this event was staged. A great pity.

A warning was sounded in the program for the 82 Fair, but it was not heeded sufficiently for the event to be repeated on that site.

---

Only a few hazy memories I'm afraid .. too many hash cakes the friday , too many hot tongs saturday !!
But remember a very laid back atmosphere with even mr & mrs local plod bimbling around the site like other visitors .. examining the various stalls, watching the performances ...

Dave
\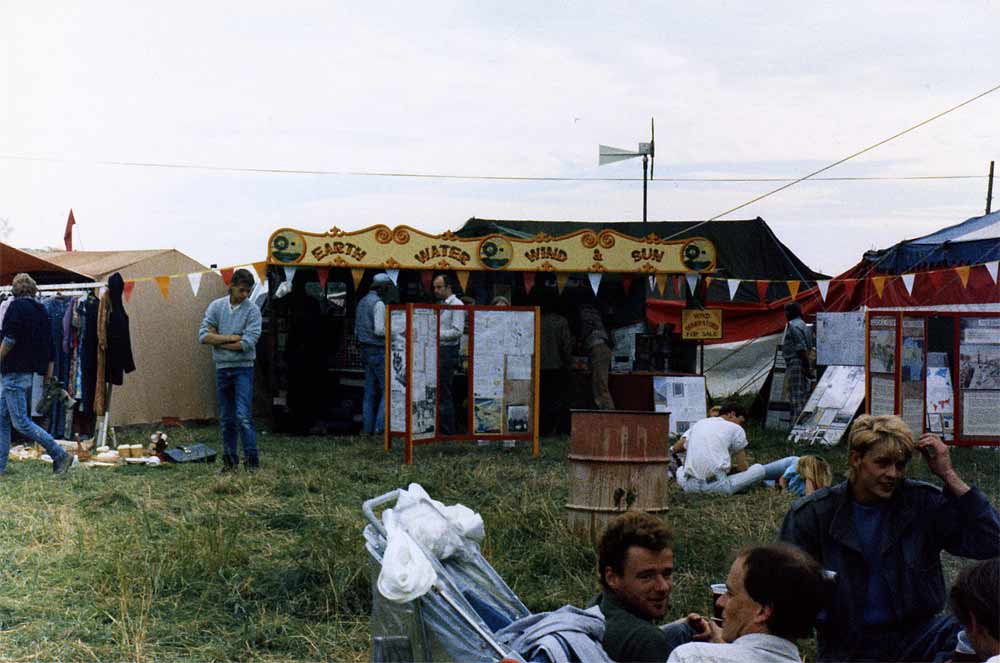 \
---
Visit the East Anglian Tree Fairs site for more on Rougham and other Fairs
---
Any info to add ?-well don't just sit there , Contact us
Any info to add- well don't just sit there ! Contact us
Free festivals and small fayres held in the United Kingdom between 1967-90.
1967-69.
Main list of Free festivals 1970-1985
Free rock festivals of the 70s and 80s
Related Articles
The aroma of a free festival -by Roger Hutchinson
Dome construction instruction sheet (download-140k)-by Roger Hutchinson
Travellers Tales Convoy Steve's tale of how the freaks outsmarted the fuzz at Greenham common.
Zorch -House band for the free festival set ? A fanzine page on the UK's first electronic band .
Tibetan Ukranian Mountain Troupe-surreal pranksters of the Traveller community .
Acidia Lightshow Lightshow for Windsor festival and Stonehenge in the 1970s.
Traveller Daves Website - Chock full of of free festival photos !
Many, many thanks go to Roger Hutchinson , Big Steve , Roger Duncan, Celia, Will , Chazz, Jeza ,Chris Hewitt ,The Fabulous Time Tortoise , Peter Piwowarski - ( 70s music site/photos ) Martin S, Steve Austin ,Traveller Dave, Herb, Tim Brighton, Vin Miles, Haze Evans , Noddy Guevara, Chris Brown, Janet Thompson, David Stooke, Gary Gibbons , Nigel Ayers, Rich Deakin ,Glenda Pescardo,Justin Warman,Brian F, Steve Bayfield, Kev Ellis, Paul Seaton and many other minor contributors for their help in providing the archival material related to these free festivals which has at enabled us to construct the site .
Any info to add ?-well don't just sit there , Contact us
---