Formatted at 1920 X 1020 minimum - failure to view at this res may cause weird formatting , you have been warned !!!!!!!
Updated July 2021
For information on today's festivals see eFestivals.co.uk

Big BIG thanks to our sponsor Neil !

This site is dedicated in the memory of

who inspired me to delve deep into the magic of the free festival and who passed away Sept 3rd 2010.

R.I.P. Roger .....
---
Torpedo Town Free Festival.

The "Ozrics" superjam 1986

Brambles Farm , Old Park Farm , Wickham and Bramdean Common's .

Near Waterlooville - Hampshire.

1991- Liphook, Hampshire.

1984 -1992.
---
"Although it's listed as the ozrics – it's a jam with people from a few bands – Gav from the Ullulators / Oroonies / Ozrics – Phil from Webcore, Kay from the Ullulators, Tig (Nick Van Gelder) the ozrics drummer who even played for Jamiroqoi – however you spell it – Roly from the ozrics and more...."
Steve Bubble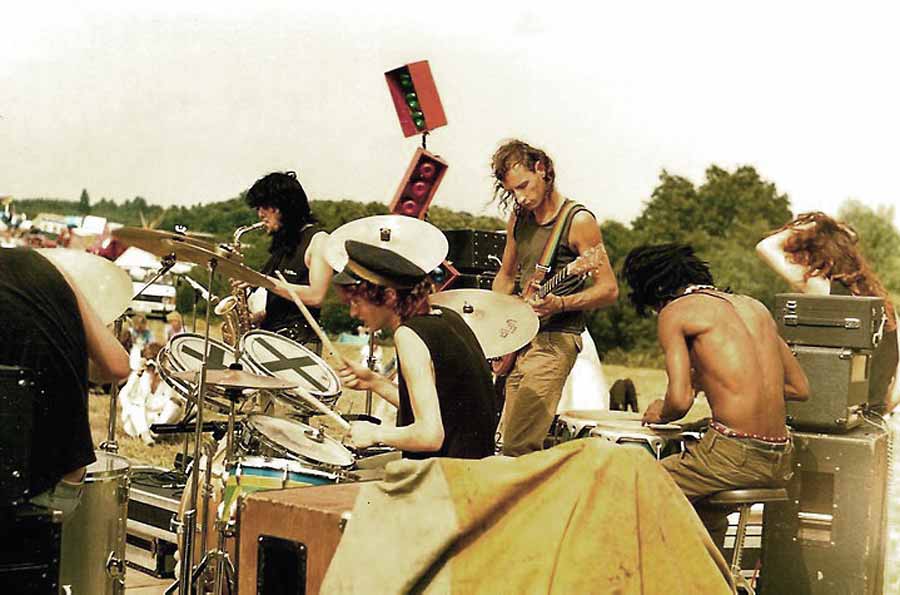 Ozric Tentacles at Torpedo Town 86 .All photos on this page © Nick Van Gelder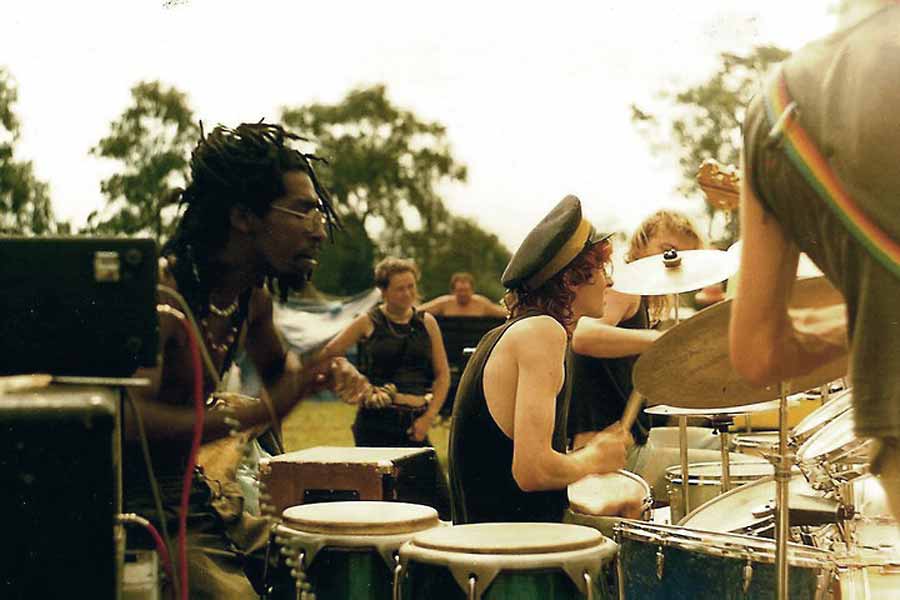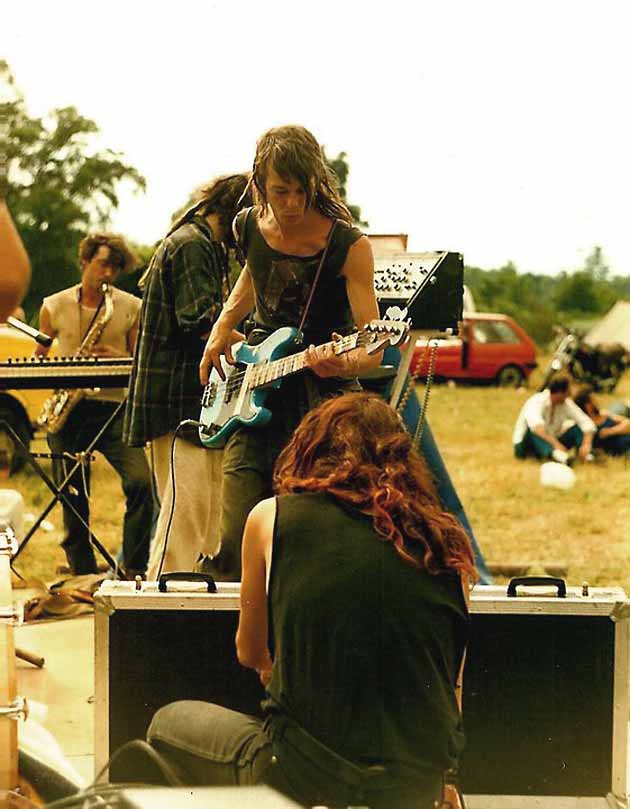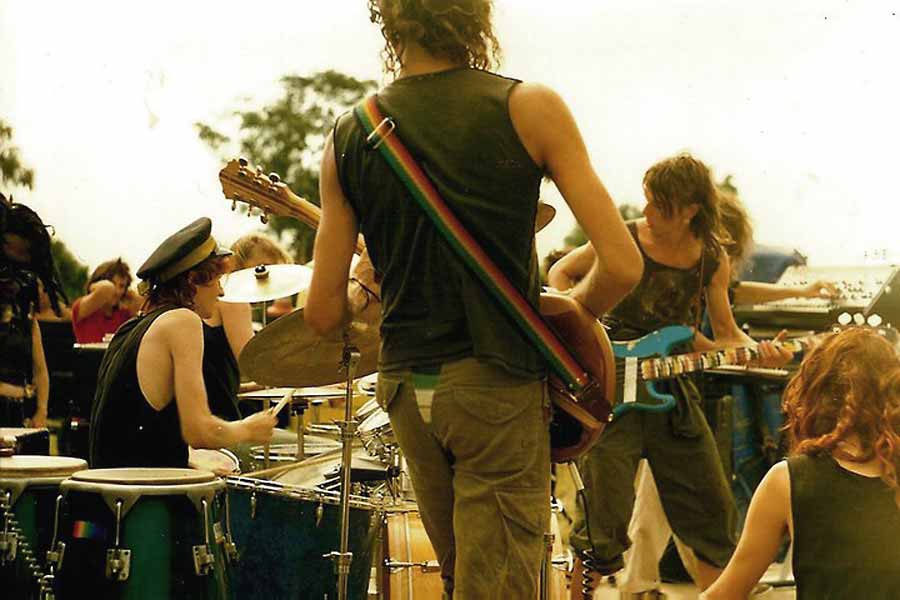 it was supposed to be Ozrics... but Ed was away in spain with his new girlfiend of the time - Blim (Belinda Baker) she did all the swirly artwork they were famous for (including one of my guitars!) Anyway...So we just had a jam.. not 'really' ozrics.. i'd left the band by then to do Ullulators with Joie Hinton, (but then got roped back in to do Bass for a yr when Roly lost it and no one else knew the trax cos they were so complicated... another story!... Ed grovelling at the door of Joies flat in Clapham... PPLLEEEAAASSSEE Do the gig... tonite!!!!.. Funny!))
Anyway.. it was Phil Pickering from Webcore on Bass (roly was there too and they shared) Me on guitar, tig (Nick VG) on Drums, Andy on keys..Hi Man!!.. Long time ;~)... what's funny is Jumping John was driving the hire Van in those days.. he only started playing flute for them much later!!... a mate (John Malby) recorded this gig.. and it went on an Ullulator tape.. we called the track "Bruce babbling in the undergrowth" Because sitting next to John with his cassette recorder was Bruce, another mate... who kept babbling through the gig and it's on tape... I think he was on shrooms.. surprise!!... put the pics & music together and you would have a trully interactive A/V experience.. 80's festival style!!
Cheers. Gavin ;~)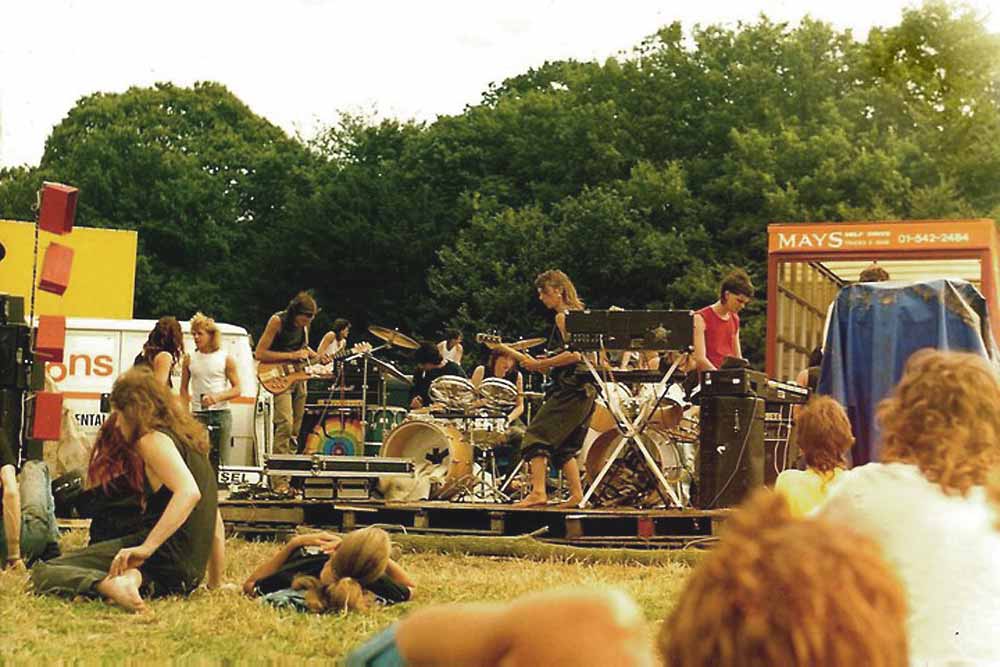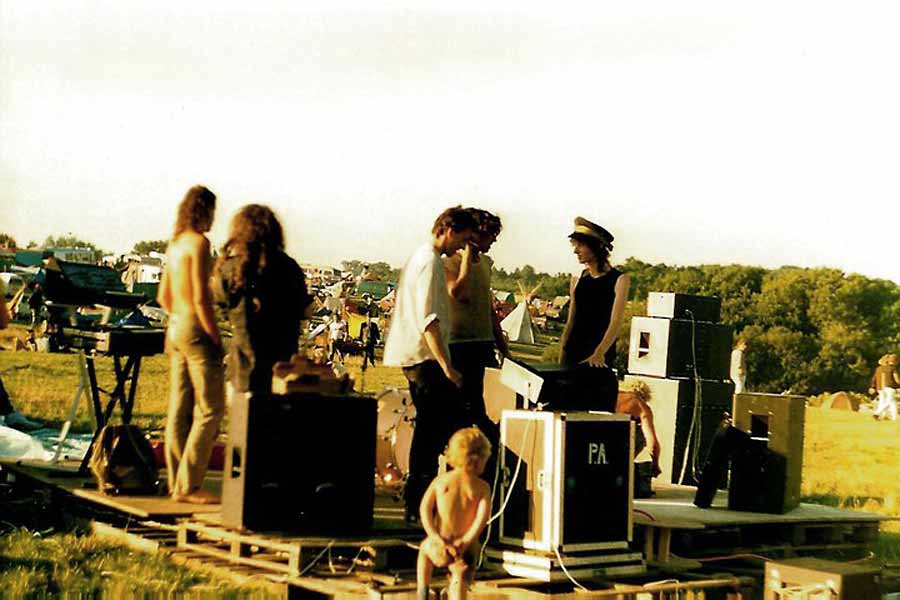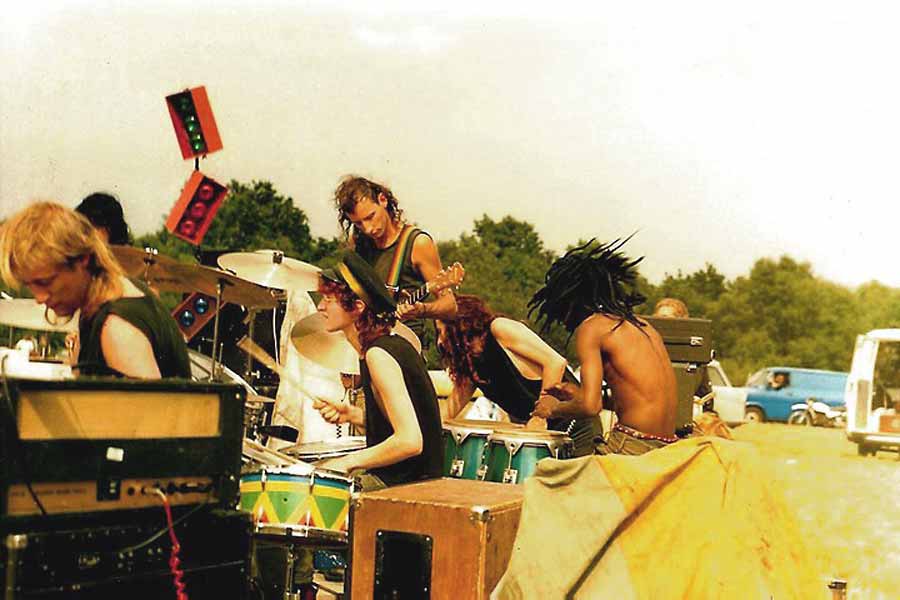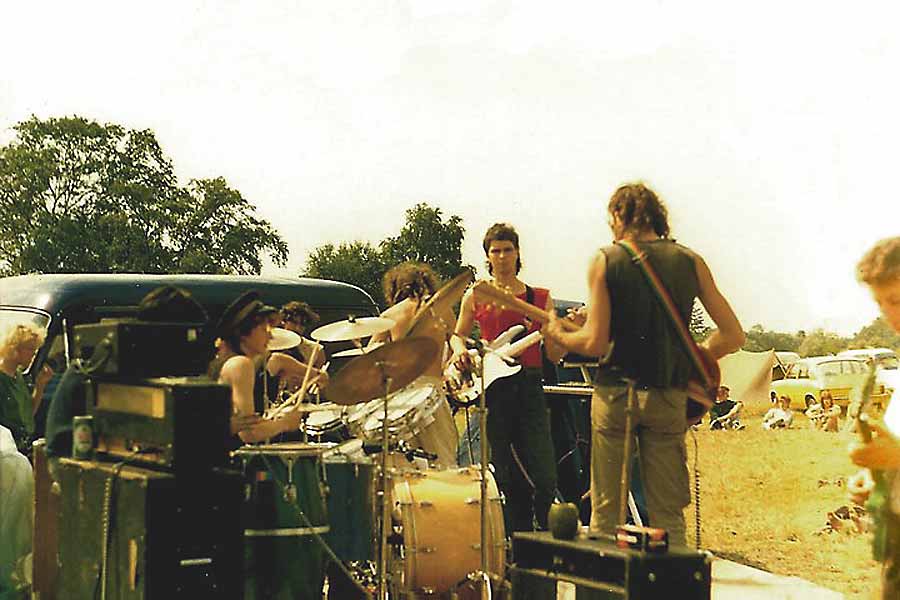 ---
---
Any info to add- well don't just sit there ! Contact us
Free festivals and small fayres held in the United Kingdom between 1967-90.
1967-69.
Main list of Free festivals 1970-1985
Free rock festivals of the 70s and 80s
Related Articles
The aroma of a free festival -by Roger Hutchinson
Dome construction instruction sheet (download-140k)-by Roger Hutchinson
Travellers Tales Convoy Steve's tale of how the freaks outsmarted the fuzz at Greenham common.
Zorch -House band for the free festival set ? A fanzine page on the UK's first electronic band .
Tibetan Ukranian Mountain Troupe-surreal pranksters of the Traveller community .
Acidia Lightshow Lightshow for Windsor festival and Stonehenge in the 1970s.
Traveller Daves Website - Chock full of of free festival photos !
Many, many thanks go to Roger Hutchinson , Big Steve , Roger Duncan, Celia, Will , Chazz, Jeza ,Chris Hewitt ,The Fabulous Time Tortoise , Peter Piwowarski - ( 70s music site/photos ) Martin S, Steve Austin ,Traveller Dave, Herb, Tim Brighton, Vin Miles, Haze Evans , Noddy Guevara, Chris Brown, Janet Thompson, David Stooke, Gary Gibbons , Nigel Ayers, Rich Deakin ,Glenda Pescardo,Justin Warman,Brian F, Steve Bayfield, Kev Ellis, Paul Seaton and many other minor contributors for their help in providing the archival material related to these free festivals which has at enabled us to construct the site .
Any info to add ?-well don't just sit there , Contact us
---