Formatted at 1920 X 1020 minimum - failure to view at this res may cause weird formatting , you have been warned !!!!!!!
Updated July 2021
For information on today's festivals see eFestivals.co.uk

Big BIG thanks to our sponsor Neil !

This site is dedicated in the memory of

who inspired me to delve deep into the magic of the free festival and who passed away Sept 3rd 2010.

R.I.P. Roger .....
---
| | |
| --- | --- |
| 1967-1990. | |
---
Twmbarlwm Free Festival.
near Risca ,South Wales.
May 30th - June 6th 1986 & Summer 1987.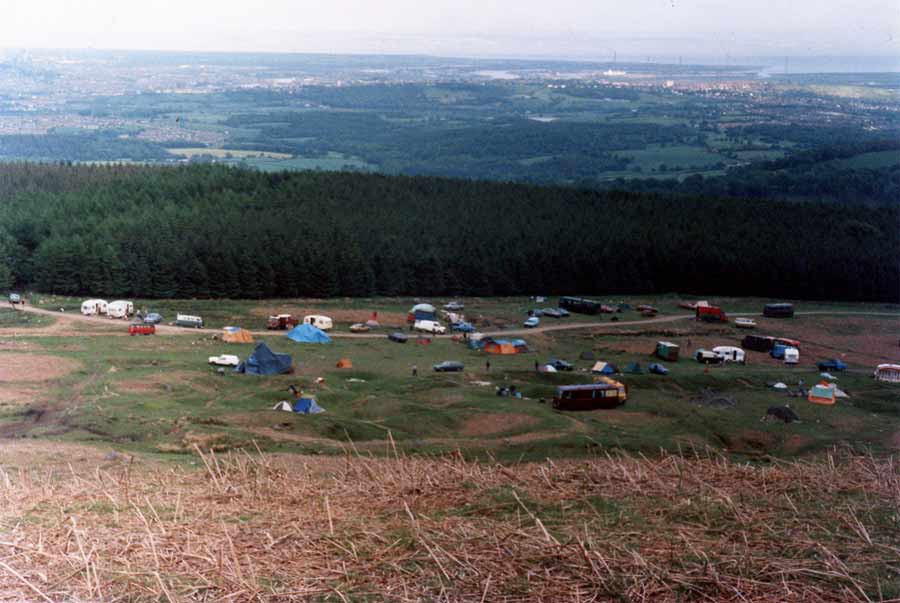 The site in 1986 , much more room to move than in 1987, which was decidedly cramped inside the old railway cutting
© Traveller Dave
The stage on Saturday night with Tash photographing the band Stonebeat. Drummer Kirky ,guitarists are Bone and Si Williams...Gobber on keyboard .
Steve with the 'site sign' at the bottom of the hill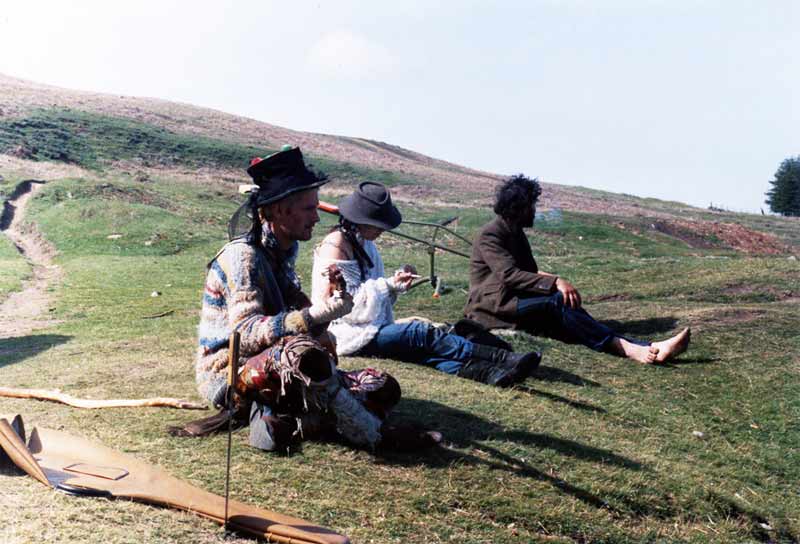 But it wasn't always misty ! , Hugh , Gail & co sitting in the sun....
I spent two weeks on the site , sleeping in a tent hidden in one of the mountainside craters , which meant that I slept through an early morning site raid on the friday morning in which 15 ? folks were arrested for various pending charges , dealing etc ... when it was over I had to hitch back to the Midlands to sort things out and ended up stranded at the M4
services next to the Seven Bridge for 24 hours as the day before was the Stoney Cross episode and thanks to the media being full of 'unwashed hippy' photos no drivers seemed to want me in their vehicle !
Most of the convoy rigs drove straight to Glastonbury .
Dave
---
1987.
The festival shifted sites, possibly due to the previous years hassles, the old railway line was less conspicuous, we don't know if there was a stage or if any bands played in 1987,
A tiny festival held in one of the many abandoned railway tracks in the South Wales mountains, near an Iron age fort.
Click on the link to see more free festival photos by Steve
This list of festivals is in no way definitive and is being added to whenever new information turns up , therefore the site is constantly being updated . Information has often been gleaned from net scouring and therefore is almost definitely NOT completely accurate . If you can help with ANY information please do not hesitate to Contact us
---
Any info to add- well don't just sit there ! Contact us
Free festivals and small fayres held in the United Kingdom between 1967-90.
1967-69.
Main list of Free festivals 1970-1985
Free rock festivals of the 70s and 80s
Related Articles
The aroma of a free festival -by Roger Hutchinson
Dome construction instruction sheet (download-140k)-by Roger Hutchinson
Travellers Tales Convoy Steve's tale of how the freaks outsmarted the fuzz at Greenham common.
Zorch -House band for the free festival set ? A fanzine page on the UK's first electronic band .
Tibetan Ukranian Mountain Troupe-surreal pranksters of the Traveller community .
Acidia Lightshow Lightshow for Windsor festival and Stonehenge in the 1970s.
Traveller Daves Website - Chock full of of free festival photos !
Many, many thanks go to Roger Hutchinson , Big Steve , Roger Duncan, Celia, Will , Chazz, Jeza ,Chris Hewitt ,The Fabulous Time Tortoise , Peter Piwowarski - ( 70s music site/photos ) Martin S, Steve Austin ,Traveller Dave, Herb, Tim Brighton, Vin Miles, Haze Evans , Noddy Guevara, Chris Brown, Janet Thompson, David Stooke, Gary Gibbons , Nigel Ayers, Rich Deakin ,Glenda Pescardo,Justin Warman,Brian F, Steve Bayfield, Kev Ellis, Paul Seaton and many other minor contributors for their help in providing the archival material related to these free festivals which has at enabled us to construct the site .
Any info to add ?-well don't just sit there , Contact us
---