Formatted at 1920 X 1020 minimum - failure to view at this res may cause weird formatting , you have been warned !!!!!!!
Updated July 2021
For information on today's festivals see eFestivals.co.uk

Big BIG thanks to our sponsor Neil !

This site is dedicated in the memory of

who inspired me to delve deep into the magic of the free festival and who passed away Sept 3rd 2010.

R.I.P. Roger .....
---
1980-81.

Hyde Park London.
---
Dunno which year this poster hails from , but its pretty and it might as well be here as anywhere else !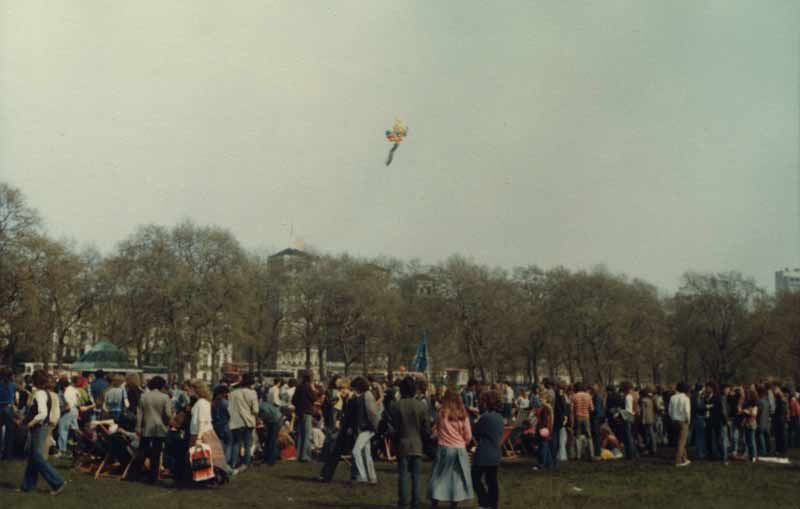 Photos © Brian F
Smokey Bear's Picnic was a free concert held in Hyde Park that had been supposedly organised to support the endangered London County Council by the Smokey Bears, who were a band of dedicated cannabis smokers who openly flouted the law and challenged the plod to arrest them at their public 'smoke-ins.' Having somehow conned the authorities into granting the Bears a music license , the show went ahead in good weather, but under the watchful eyes of the Old Bill (below right ) . The photos are from 1980.
The Bears newsletter reported

'The crowd on 10 May was between 5-10,000 and, despite a massive police presence, only about half a dozen people were busted and they were caught well away from the rally'. The boring old DoE insisted that the music be shut off at 6pm, with an unnamed Reggae band and Edgar Broughton still waiting to play, but a good time was had by all. 'As it was Cup Final day, kick-off time was celebrated with several large tissue 'footballs' being kicked around. As the footballs burst, hundreds of ready-rolled joints fell out and, by all accounts, they certainly weren't fakes...'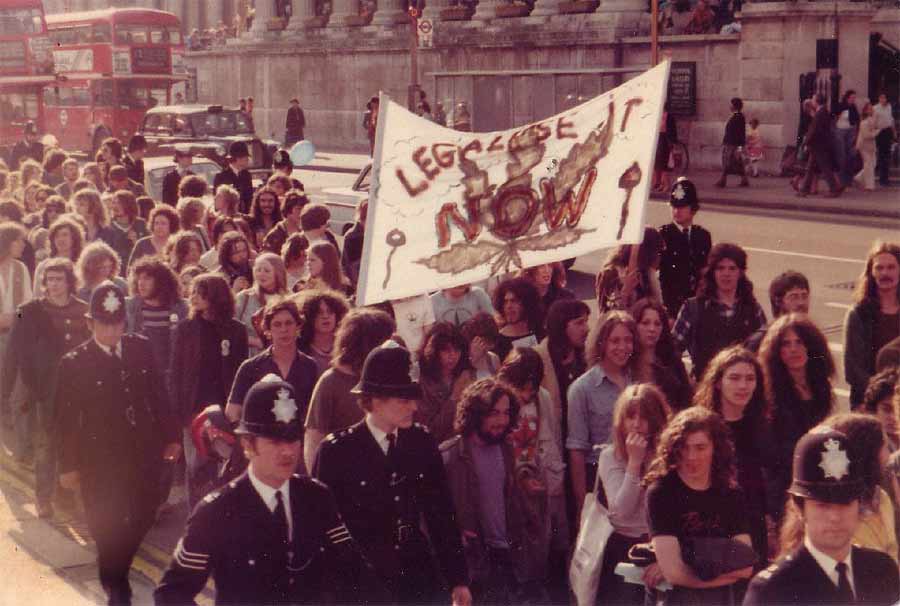 The assembled Bears march to Hyde park , accompanied by friendly ( and not so friendly ) boys in bloo .
30 years on, we are still no closer to sensible laws regarding the use of cannabis © Chazz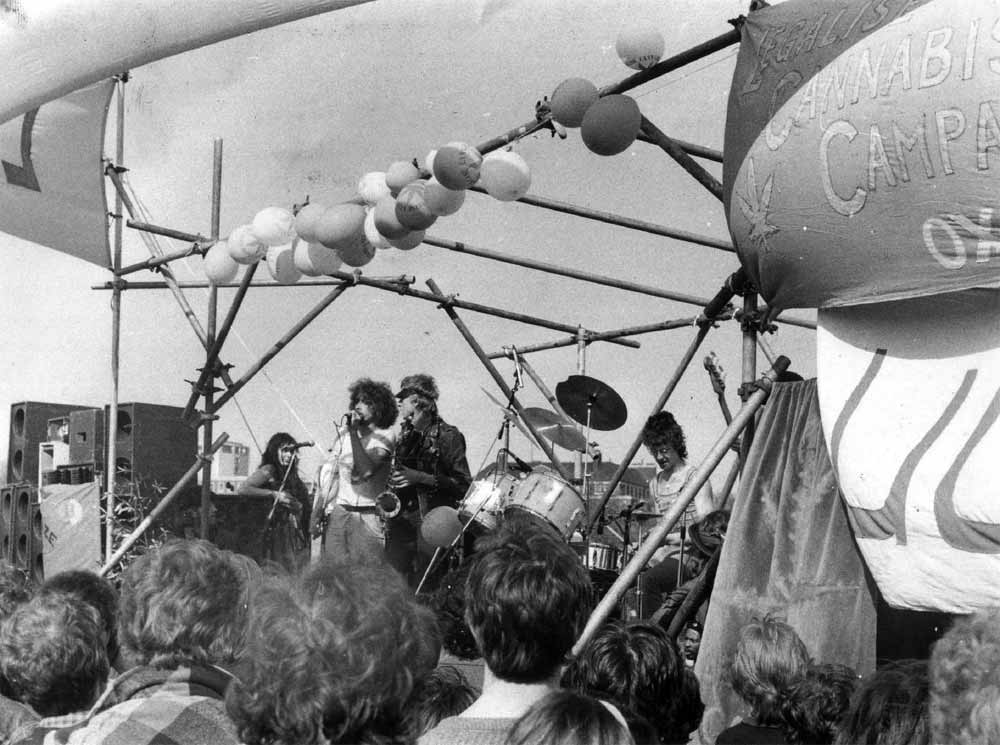 Nik Turner takes to the stage-Smokey Bears Hyde Park 1980 © Chazz
1981- clouds gather .....
The following year, 1981, no music license was granted and the notorious Police Special Patrol Group waded in to sort out the tokers and they were NOT gentle in their approach. Big Steve, who was stage manager of the Pyramid stage at Stonehenge, was one of the organisers

I met Nik Turner in the winter of that year in a squat behind Sadler's Wells theatre and he agreed to play at the Smokey Bears' "Smoke-In" at Hyde Park. We drove a psychedelic bus into the middle of Hyde Park, put up a stage, and held a mini festival with Black Slate, Androids of Mu, Here and Now, Inner City Unit, and speakers for the de-criminalisation of cannabis - an event that seems unimaginable now. It was a gas - but hair-raising what you had to do to draw attention to the injustice of our cannabis laws. I remember holding a baby that had lost his mum and
screaming at the DS through the microphone to stop truncheoning poor hippies getting busted on the edge of the crowd for smoking a spliff. Hairy times in the middle of Hyde park With a brilliant party afterwards at the squatted Clowns church St James in Kings Cross .
Big Steve
Those well known sons and daughters of fun - the Tibetan Ukranian Mountain Troupe were there in 1981, this excerpt from the Tibetan Book of the Road chronicles their role in the event .

Smokey Bears picnic.Hyde Park.

May 9th 1981.

This picnic was looked forward to and got excited about it for days before , like its a bit of a prestige job and we all well into freeing the weed , well smoking it anyway , much more than we are into CND or anything else !
So come Saturday morning we all up really early and cramming things into Mikes bus , like all the grub we're taking to sell and bar to sell it from , costumery and props and before we know it we're off trundle, trundle down the road to London . On the road to London we didn't run out of the basic ingredient - you guessed it - fuel !. But we had no dope .
We got to London no hassle and wormed around the streets to where Release hangs out and there met up with LCC , Nik Turnup (once again ) and a few other smokey bears , so then we all bundled off to Hyde Park for said picnic. We got there and drove in -parked where we wanted and got out. Then from whence Pig appeared and says 'hello , hello. hello. whats going on here then ?' so we told them and then they said , 'alright , we'll keep a low profile' . We didn't believe them , but they went away.
| | |
| --- | --- |
| | |
So we started getting it all together like the stall and the Stage ( 0f which the bus was an integral part ) and people began to arrive. By the time the first band hit the stage there must have been a thousand people there . We were the only place for tea and food so business boomed . Those of us at not busy at the stall and those of us who were , got in colour and were well on our way to out of it, with usual pratting around and getting laughed at. Its a groovy happening . Indeed a very pleasant afternoon .
The bus ( remember the bus ) being the back of the stage was like 'Stonehenge 80 man' just couldn't get in it for people crammed out the door all smokin, tokin , making gallons of tea and sandwiches and blowing and rapping and loading pipes and skinning up. It was like the only place out of the wind to stick the skins together . But we didn't mind that much.
Perry and Claire showed up with Mary and Merlinoose , so did Pat and Moby Dick and probably a few others - oh yeah Tank ! Far out !
Meanwhile back in reality pig is snouting about the site and trying it on here and there and sometimes going a bit far , like they are trying to stir it up, or fuck knows . We say Pig, please, hie thee hence and split when suddenly

| | |
| --- | --- |
| Quick, circle the wagons! Pretty little policemen in a row surround the TUMT tent © Janet Thompson | |
And Pig is in there truncheon first. We is completely surrounded and the horizon is a line of SPG coaches ( they liked that idea then ) and wow , its like electric, edge city , right on the edge, shades of windsor , frightening , we just couldn't do a thing and those that did suffered for it . But suddenly . miraculously, pig backed off - everybody breathes out and we are left to get on with our own thing again -far out . Keeping an eye on us still but Pig knows Edge City too !
---
Any info to add- well don't just sit there ! Contact us
Free festivals and small fayres held in the United Kingdom between 1967-90.
1967-69.
Main list of Free festivals 1970-1985
Free rock festivals of the 70s and 80s
Related Articles
The aroma of a free festival -by Roger Hutchinson
Dome construction instruction sheet (download-140k)-by Roger Hutchinson
Travellers Tales Convoy Steve's tale of how the freaks outsmarted the fuzz at Greenham common.
Zorch -House band for the free festival set ? A fanzine page on the UK's first electronic band .
Tibetan Ukranian Mountain Troupe-surreal pranksters of the Traveller community .
Acidia Lightshow Lightshow for Windsor festival and Stonehenge in the 1970s.
Traveller Daves Website - Chock full of of free festival photos !
Many, many thanks go to Roger Hutchinson , Big Steve , Roger Duncan, Celia, Will , Chazz, Jeza ,Chris Hewitt ,The Fabulous Time Tortoise , Peter Piwowarski - ( 70s music site/photos ) Martin S, Steve Austin ,Traveller Dave, Herb, Tim Brighton, Vin Miles, Haze Evans , Noddy Guevara, Chris Brown, Janet Thompson, David Stooke, Gary Gibbons , Nigel Ayers, Rich Deakin ,Glenda Pescardo,Justin Warman,Brian F, Steve Bayfield, Kev Ellis, Paul Seaton and many other minor contributors for their help in providing the archival material related to these free festivals which has at enabled us to construct the site .
Any info to add ?-well don't just sit there , Contact us
---