i

The Archive .
---
Big thanks to our sponsor Neil !

For information on today's festivals see eFestivals.co.uk
---
Last update Nov 2018- new pix Led Zeppelin, Keef Hartley, John Peel and Colosseum .
---
Bath Recreation Ground .

June 28th 1969.

After a two and a half year layoff, 2018 prompted me to update as we had a number of new images coming in one after another from Melvin Green, Peter Clinick and Nigel Hall. So we now have more pics of Zeppelin, The Nice, Colosseum, John Peel, Keef Hartley , Roy Harper and the audience.Thanks to all our contributors, you are , as they say in Yorkshire...., champion !

Flyer courtesy Bob Hewish
Links to other sections of the Bath Festival site are at bottom of each page.
---

Memories,. sweet memories ......
---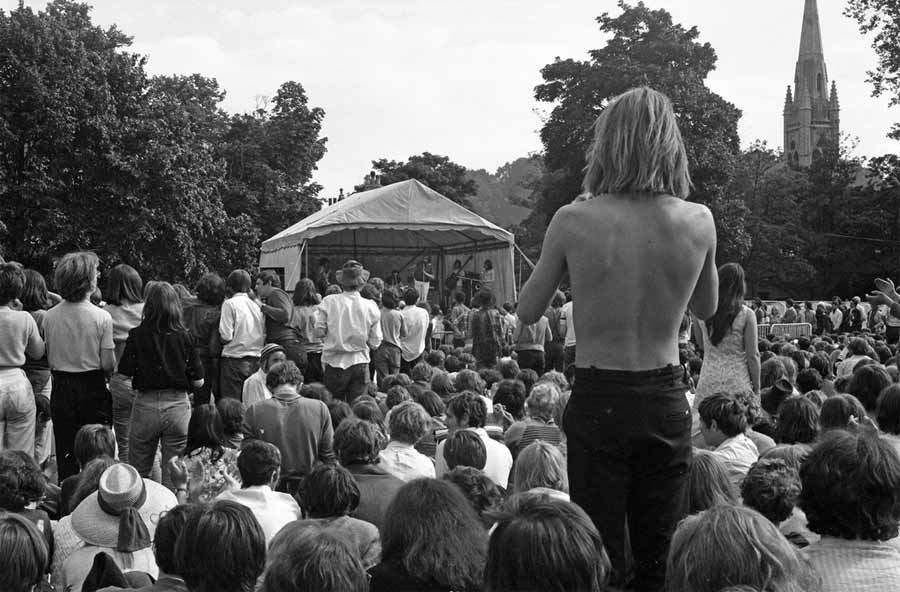 The Liverpool Scene © Lawrence Impey
My enduring memories of the day . . . a lovely summer's day, beautiful setting and great sound. And what a line-up!
Sad that I had to leave before Fleetwood Mac's set (would have missed my lift otherwise back to engineering college in Thame, near Oxford.
One comment from compere, John Peel, sticks firmly in the mind following Zep's powerful delivery of 'The Lemon Song' ("...squeeze my lemon 'til the juice runs down my leg...")
"Well" says JP, "I shall certainly be looking on lemons in a complete different light from now on." Laughter across the audience.
Keep up the good work.
Cheers
Mike Bird
---
A lovely, mild early summers day.

My first festival (I was 18, still at school, just finished "A" levels), my first exposure to "freaks" in any number, my first sight of any big name bands.

Had a lift with a guy I knew slightly who had an old VW Beetle; my girlfiend left me for the Beetle guy but I did not mind at all, the music was so great that nothing else mattered.

John Peel at Bath 1969 Photo© Mike Wheeler
Felt embarrased by my regulation school haircut, vowed I would NEVER cut my hair again, and didn't for about three years. VERY pleasant vibes all the way to the recreation ground, even better when we got there. The gentlest crowd I've ever been in, everybody was very mellow.
It was only a one-day event, toilet facilities and food outlets were OK although there was not much choice of food, just burgers and hot dogs, nothing much in the veggie line.
We were there early and watched the place fill up with seemingly fascinating hairy people; can't remember much about the early bands except that the sound quality was really good for all the acts.
Biggest early crowd reaction was for Led Zeppelin who came on ridiculously early: I remember looking around at the gaping jaws and popping eyes as Jimmy Page did his violin bow routine ...Plant was in terrific voice and he looked great - a real peacock figure amongst all the denim and leather. A flamboyant, extravagant performance - it was clear they were destined for much bigger things.
John Mayall seemed kind of flat after the Zep experience. His music was nice, acoustic (Turning-Point) stuff mostly. I recall the dominant bass sound, and the crowd reaction when Mayall sang "don't throw rocks at policemen" in "The Laws Must Change" - quite a few things got thrown, cans mostly, but I don't think anybody got hit.
Roy Harper was brilliant, singing "I Hate the White Man" and "Hell's Angels" where he was joined by a guitarist (Andy Roberts?) whoever it was, he was great.
The Nice were very flashy (knife-throwing), Scots Guards playing bagpipes , but I enjoyed the Karelia Suite stuff. Chicken Shack went down a storm too, Stan Webb giving a typically extrovert performance with a lot of leaping about......the rest of the band just palyed
and watched him most of the time.
Fleetwood Mac seemed very mellow and relaxed, can't remember much about what they played as I was pretty out of it by the time they came on, but I felt very glad to be there.
Somewhere during the day I had lost track of my girlfriend and other friends, but hitching home I was picked up by the same VW guy and my by now ex-girlfiend, which was cool. I wished them both well and for all I know they are still together.
For me it was a great experience, life-changing in its way as I learned to relax, enjoy life and music a lot more, all that kind of stuff.
Only one regret - Jethro Tull didn't play.
Oh, and no-one offered me any drugs. Must have been the short hair.
Stuart Godfrey
---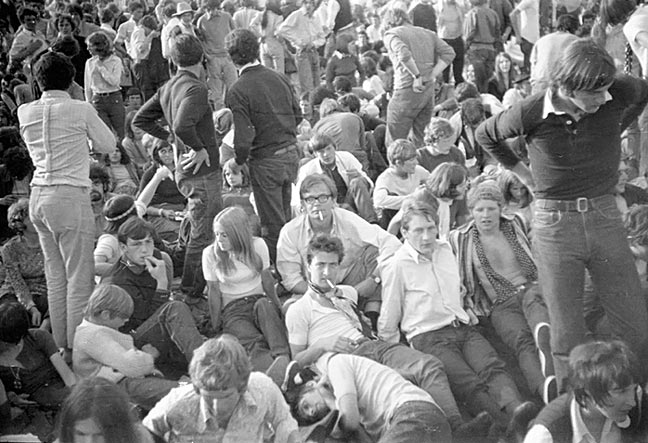 Wheres all the hippies eh ? © Tom Tom
Alan Lamb remembers
From my recollection, Mick Taylor had been announced as the new Rolling Stone before the Bath Blues Festival of '69. I can't remember Taylor being introduced during the set but I do remember going along disappointed that he wouldn't be playing.(The Stones Hyde Park concert was 1 week later on 5th July)
I seem to remember that there was some incident with the crowd during Mayall's set, something was thrown or similar.
I also remember that there was a huge cheer when it was announced that people would be able to stay over and sleep at the Rec as the behaviour hadbeen good. That had been some bad press beforehand; stories about Bath Rugby Club providing bouncers to sort out the Hells Angels!
Fleetwood Mac played Great Balls of Fire and didn't play Albatross
Zeppelin played the Lemon Song
I don't think that Christine Perfect was with Chicken Shack that day. I'm going to see Stan Webb in High Wycombe on Saturday so will ask him!
The concert was scheduled to last from noon to midnight, it over-ran a bit but was one hell of a line up for one day
Good luck with the site, it brought back a few memories
Regards
Alan Lamb (nearly 15 at the time)
Bath 69 was my first Festival. Then 16 I'd grown up just 3 miles from Worthy Farm so as well as the 2 'Bath' Fests I also attended the first 2 Glastonbury's and the 2nd IOW. You asked for any memories; From 1969 -Colosseum's Dick Heckstall-Smith's telling the audience that he was playing with Jack Lancaster's saxes because his had been left in Exeter the previous night. -John Peel asking a group of us to make way for his Dormer?/Transit? 'Peelmobile'. -Wonderful 20 minute set from Champion Jack Dupree,including the blues,'Chicken Shack'. -The sheer volume of Led Zeppelin -Despite the relatively small crowd, the tight exits causing many people to walk over the tops of parked cars at the end of the festival. -A great sunny day.

mike hodges

---

Mark Helme remembers things differently
I was thinking the Bath festival of 69 recently for no good reason (I wasn't sure until I looked it up in Google whether it was 68 or 69). Anyway, I have a few memories which appear different from some of those mentioned. I remember the Mayall set, which had Marc Almond on guitar, and I certainly do not remember Mick Taylor being there. Honky Tonk Women was released a few days later, and I remember hearing it for the first time on the radio in a car going down to Bath, so it was already a done deal with the Stones. My memory is that quite a few things were thrown, but I do not believe it was connected with the words of any song (you couldn't hear them that well anyway) but a guy had been pulled over the front fence by some security people. Quite a few things were thrown, and the band stopped playing, and I think it was Almond who said they weren't going to play this fucking joint (or words to the effect). Anyway things quietened down, and the set continued. I think Fleetwood Mac were on pretty late, and my memory was that Led Zep were on late too - certainly not before Mayall. I think it was pretty dark by the time they came on (and the pictures seem to show that, but who knows). In the middle of the Chicken Shack Stan walk-about lots of people stood up, and so some things were thrown. In fact an apple hit me on my shoulder (which could have been worse) but I ate it, and was quite happy about that.

I remember Christine Perfect being there too. Peel offered the crowd a lift back to London in his camper van, and a few hundred of us all slept in a tent policed by nasty looking guys with dogs - I don't remember getting much sleep, and getting a lift out of Bath was really hard. It took until about 5 until I got a lift, and then all the way home. I didn't get to go to the 70 festival, but have good memories of the 69 one. The cricket ground where it was held was nice a small, and most people got decent views I think. The weather was great, sunny, not too hot, no mud.
All the best
Mark

Overview of the stages © Peter Clinick.
---
Mark Pettigrew remembers it thus .....
In 1969, I was a 17 year old schoolboy, growing my hair, crazy about music – and in the middle of 'O' levels!
I drove down to Bath, in my Morris Minor Traveller, on the morning of the Festival, from my home in Maidenhead, Bershire. With me were two friends, Tony House and Stan Wilson. I had only just passed my driving test, and this was going to be a challenge for both the car and me!
We drove along the old A4 out of the Thames Valley, through the rolling Wiltshire countryside, to Bath, stopping only at Marlborough for 'minor' repairs!
The festival was held just on the edge of the city - on the Recreation Ground, – a unique location - surrounded by wonderful Georgian buildings. I remember there being two stages for the performers, both at the front of the crowd.
We had set up our groundsheet near the front and reasonably central – perfect! Within no time, Stan and Tony were rolling unusual cigarettes, which they insisted in sharing with everyone. People nearby were doing the same; soon the Rec. was covered in an exotic herbal cloud.
I wandered into the town before the start to buy food and drink – the on-site catering being rather limited. It was here that I bought my first copy of Rolling Stone magazine – I still have it.
The music was amazing. In particular, Roy Harper, Led Zeppelin and best of all, Peter Green's Fleetwood Mac.
I seemed to see Roy Harper at every festival between '68 and the early 70's – and I was all the better for it! A great performance.
Led Zeppelin blew me away. I had wanted to see them for some time – the Melody Maker was reporting on amazing gigs in America - but I was not prepared for this! They hit the stage running, and played long, loud, and with a confidence that bordered on arrogance. The last time a band had made such an impact on me, was when I first saw Hendrix.
The amazing thing was that Led Zeppelin came on so early – I had only just finished my lunch! It was like an air-raid!
The rest of the day is a bit of a haze now – the bands were good, and just being there was enough. I was looking forward to the act that would end the day – Fleetwood Mac.
Seeing Peter Green at that particular time was unforgettable. They played a wonderful laid-back set, long blues jams, with Peter Green's guitar floating into the sky. The sun began to set behind the stage, and combined with the lighting, the band was bathed in an orange glow. Disaster struck when the power was turned off before the end of the set! The music had over-run the deadline, and the Blue Meanies had thrown the switch.
It took a while to empty the site through the narrow exits and stairs, but we were happy enough. The atmosphere had been great all day, we were a small crowd, all music lovers, and relatively new to this festival thing. I remember the friendly nature of people around me, and a great feeling of belonging, of recognition of like-minded souls. This was evident at the Isle of Wight later in the same year, but seemed to vanish soon after.
It was a long but happy drive home. My car and I lasted the course! Home at 3am.
The next day I drove with Annie, my girlfriend, to the Albert Hall to see Led Zeppelin head up the Pop Proms!
Oh happy days!
Mark Pettigrew
© Peter Clinick.

Surfing the net and came across your site. I can't believe how small the stage was!!! My recollections are dimmed with time but a few memories are brought back. John Peel (the MC) asking the crowd to be sympathetic towards the police and ' if you see one....buy him an ice-cream'. Were there really
only three pipers on stage with Nice? It was a surprise to see the date of the show, 28/6/69....my brother's birthday. The only concert date that sticks in my mind is when I saw Jackson Browne at the Rosemont Horizon
Chicago 28/6/80 because of it being my brother's birthday. It's more poignant because I lost him in 2001. Back to Bath, Fleetwood Mac closed the show with a mixed bunch of 50's rock songs. I remember it well...I was
breaking my neck for a pee and my convulsions blended in well with the dancing. I dread to think how I would have managed wiith 'Man of the World'
Regards
Brian Rowe

---

Just stumbled across your site and after reviewing the recollections of the Festival I found my program on which I chronicled the appearance list:
1....Just Before Dawn, should have been 1st. (as a 14 year old categorised as - below average)
2....Deep Blues Band, should have been 2nd. (Good).
3....Colosseum (v. good).
4....Taste (v. good).
5....Roy Harper (v.g.).
6....Keef Hartley ( v.g.).
7....Edgar Broughton (rated as v.g. - hated them soon after!)
8....Liverpool Scene (excellent - always a favourite).
9....Champion Jack Dupree (good).
10..Chicken Shack v.g.).
11..Blodwyn Pig..(v.g).
12..The Nice (brilliant).
13..Led Zepplin (apparently their 1st festival (tres brilliant)
14..John Mayall (great).
15..Fleetwood Mac (again brilliant).
16..Ten Years After (best).
Roy Harper's appearance was not scheduled in the program.
All comments in parenthesis are embarrassingly contemporary.
Non appearances;
Babylon (due on 3rd - 12.35).
Clouds (due on 11th -18.00).

Regards
Andy Mogg.
---
Hi,
Regarding Colosseum at the Bath Blues Festival of 1969 - the site says unknown for bass and guitar.
The picture clearly illustrates Tony Reeves on bass and almost certainly their first guitarist, James Litherland, both on the first album. I was there, and can remember a phenomenal set with a terrific solo from Jon Hiseman, yeah boring (not)! Believe they opened with 'Walking in the Park',
their first single and a track from the first album.
Ref: 'Taste' at the same gig - pretty sure its Richie McCracken on bass, not Charlie.
Michael J. Amphlett
---
I've just been meandering through your site for that great event. 17 at the time my memories are clouded nowadays but i do have one particular recollection of a band called Liverpool Scene which featured the late Liverpool poet Adrian Henry and until i looked through your site i've been convinced that they were there. Am I mixed up, were they there, or did i see them somewhere else? I've got this vivid memory of Adrian Henry doing a Bob Hite and bouncing on the stage. We were to the left of stage and i remember the noise he made as he came down on the boards, you'd think he was about to go right through! Sadly i don't have any relics from the event but do have some long distance pictures of other events of that era such as free concerts in Hyde Park. Memories!

Thanks for a great site. I'll look forward to seeng any film clips that ever become avaiable.

Back to the site.

Cheers,

Tony
---
A memory of Bath Blues Festival 1969.
Your page states: Led Zeppelin played mid afternoon - spectacular. The Recreation Ground is a natural amphitheatre with echoes coming back from the Georgian buildings in the background. My memory is of real ( not manufactured) echoes of Jimmy Pages guitar played with a violin bow. Absolutely. About 2 km across the park from the stage was Bath Town Hall and I always remember the look on Robert Plant's face when he was doing Whole Lotta Love and during the screech at the end he heard his own echo coming back - so he kept screaming - and listening to the echoes. I am sure that this gave birth to the album track ;-) Remember, this gig was prior to the album. The Nice - I remember the bagpipers! Ten Years After did "I'm going home" as usual. The show was a "whos who" of British Blues - apart from Jethro Tull. I seem to remember that the admission price was 22s 6d - but as I bought my ticket a few weeks in advance it only cost me 18s 6d - good value! PS looking at your Led Zep photo - I was about 10 rows back from the photographer, and about 20 yards to the right of stage ;-)
Cheers, Mike Le Voi
---
Hi, I saw Ten Years After at the Cheese & Grain Frome last Saturday (30/06/03), and that prompted me to search the net for The Bath Festival Of Blues"69. I remember the event well.
The sounds of Led Zep reverberating all round the surrounding buildings, Ten Tears After coming on stage just as dusk was falling. I just thought I would let you know that I have an original orange programme of the event, price two shillings!!!!. I also went to the Shepton Mallet event in 1970 and, yes I have a programme for that too. Price three shillings. It's nice to see bands reforming and still playing incredibly well. TYA were on stage for two and a half hours at Frome, giving the fans pure 70s blues and rock non stop.
Regards,
Graham Peaple
---
Thanks for the excellent site its important that these seminal events are as well documented as possible. I have been boasting that I was there at the Bath Blues festival 1969 ever since.... I was eighteen then and memories are dim now - especially since I had partaken of a small yellow pill on arriving in Bath. I had travelled down from Banbury Oxfordshire with three American GI friends from Upper Heyford.
My best memory was lying back listening to Zep doing Zep II pre-release. I can confirm that the echo effect from the buildings behind us added to the brilliant sound. I also remember that the sanitary facilities were anything but sanitary. On the way home that night we were pulled by the "fuzz" (Police) but luckily they did not search the vehicle.
I also saw the Hyde Park concerts of Blind Faith and The Stones but missed Hendrix on the I.O.W.
Tony Perring.
---
Oh what days they were,for years I told friends and family it was 1968? the first real festival I had been to,travelled down in a morris minor with L plates,my mate sitting in but getting so stoned he could not of helped me if needed.We got in without paying by climbing a wall and running like the wind,the setting was unique right in the town with those lovely buildings,led zeppelin were definitely on in the afternoon,they stopped people in their tracks,there were some of the best blues bands around at the time and some good "folksy stuff" I recall us going into one of the local pubs everyone was just hanging out,sitting on the pavements and soaking up a great atmosphere, when along comes a lady in a tweed suit shouting out at the top of her voice "what you lot need is a damn good hosing down" never a truer word spoken, all the best to you, fabulous site.
love
Dave Buck .
---
---
Hi

I've just stumbled onto this site.

I was prompted after seeing the led Zep DVD because it featured White Summer. The first time I had heard it properly in 35 years.

I have somewhere a mono tape recording of the Nice and Led Zep playing White Summer etc. It was an awful recording but you could just make out the tunes. And the Bag pipes.

Jim North
---
Hi
Trying to confirm dates of events that I attended found the site.
Great.
I have a total of eleven photos which I took from on the stage of Blodwyn Pig and within the compound area of Led Zeppelin. Page playing a LP Gold top. [I may even be the guy in the white top to the right of the stage in the Strachan photos],Chicken Shack,The Nice and John Peel. I will get them scanned and email them to you ASAP.
I cannot find any mention of the two stage set up which worked well.
I also think that Clouds were due to play after TYA but I am unable to remember whether it actually happened.
Mike Wheeler
---
The Bath Festival of Blues, June 28th, 1969
I was amazed and delighted to find your web-site. Fogy-Rock Lives! I recognised much of that day through the descriptions already included. Here's mine.

I travelled to Bath on a coach from Barnstaple in North Devon, a callow self-absorbed, short-haired, going-on-eighteen youth, who wanted to be Eric Clapton, Jimi Hendrix and Pete Townshend. This was my first rock concert too.

We got there at about 11.30 am and my memory tells me it was a hot June day. I and my friend sat on the grass looking towards the stage and desperately tried to adopt what we thought was the coolest possible posture. I thought, 'gosh, there aren't that many people here.' Then I looked behind me to discover that a sea of bodies had silently formed and now stretched away to the back of the Bath Recreation ground. I remember feeling awed by the vastness of the crowd, though I was told later, (or read a quite possibly innacuarate press report), that numbers reached 40,000. Big enough for an unworldly rock fan from an inaccessible Devonshire market-town, however. And, like Stuart Godfrey, I was very much in awe of the 'real' freaks, sporting 'real' long hair and apparently very much at ease with 'rock culture' as it was purveyed in the must-reads of the day, International Times and Oz Magazine.

The 'toilets', I remember, consisted of little sentry-box style tents, inside which square holes had been dug into the turf. These holes filled up very quickly! Food was purveyed via ice-cream vans, charging exorbitant prices, selling ice-cream, hot-dogs and warm fizzy drinks. Revolting they were too. I went hungry for the whole day, having lost my friend in the crowd when I went to find the toilet at about 12.00pm, and then run out of money.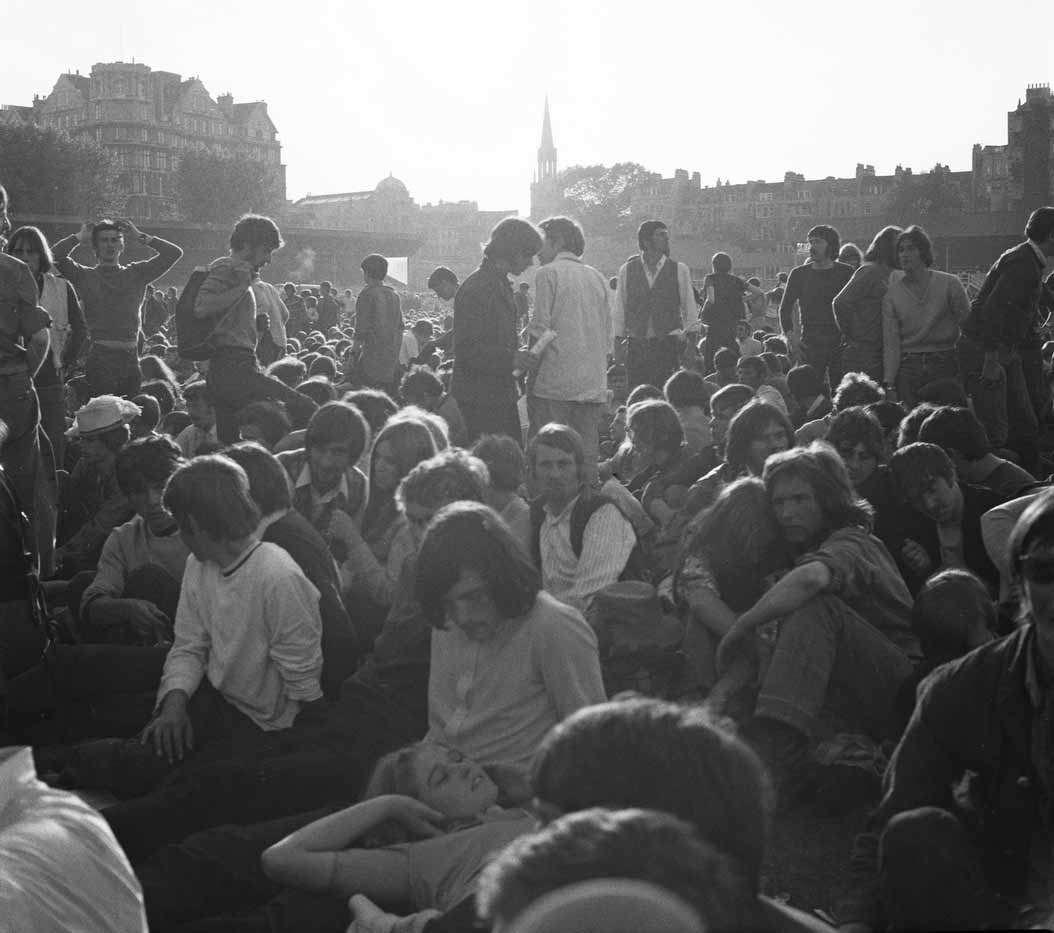 This photo gives an excellent idea of just how close the festival was to the centre of Bath . © Lawrence Impey.

Yes, the sound quality was very good as were the acts. Being at the time naively puritanical in my musical tastes and ever on guard for falsehood, hypocrisy and rip-offs, I was very disappointed that there were not more 'real' blues artists there. Champion Jack Dupree: Yesss! John Mayall's Bluesbreakers: Yesss! I couldn't allow myself to enjoy Led Zeppelin and was shocked and amazed once again, when, towards 11.00pm, during Fleetwood Mac's set, a particularly long-haired individual saw fit to scream "Play Shake Your Money-Maker, or I'll kick yer fuckin ' 'ead in!" This response to the peerless rock-blues guitar of Saint Peter Green really insulted my sensibility of the counter-culture edicts of Peace and Love! I really enjoyed the Edger Broughton Band doing an 'exorcism'. The united cry of 'Out demons, out!' still reverberates down the long, dim alley-ways of my memory.

Does anyone reading this remember the idiot-dancers down the front? There were four or five people dancing like mad, directly in front of the stage, all day. They must have been tripping or speeding – they were definitely on something! They kept interrupting the music by falling headlong into the fenced-off area that contained all the wiring for the amps and p/a. .At around 6.00pm(?), while John Mayall was playing, (I don't remember which number), one of them fell into the wiring again. Outraged by his insensitivity and selfishness, the crowd launched a hail, though to me it looked very much like an upwardly pouring fountain, of bottles, tins and other rubbish, into the fenced-off area and on top of the unfortunate celebrant of the Religion of Lyfe. John Mayall, (for it was even he), said, sotto voce, though audibly, "Stop playing…stop playing." The band stopped. His saxophonist walked up to a microphone and yelled, via 2000 watts of p/a and for all, anywhere near the centre of Bath, (and to my personal delight), to hear, "We aint playin' in this fuckin' mess!" An embarrassed silence swept through the ranks of the rubbish-throwers and the upwardly-pouring fountain slowly but surely fell backwards and ceased. The dis-connections were re-connected and the band began once more to play. John Peel had to keep warning the crowd that every interruption was delaying the getting of bands on stage and in due course, by the time the music licence ran out, Clouds and Babylon were unable to play. Ah, well: a lesson there for us all.

I thereafter became sceptical of the ability of human-kind to feel loving or peaceful, I'm afraid and didn't go to another big festie until Glastonbury, 1987. More fool me, I'm sure. It was a formative experience nonetheless and one that I have treasured and dined out on ever since.

Nick Sainsbury, Bristol.
---
Led Zeppelin were one of the first bands to appear on the right hand stage. My main recollection was of their brilliant take of ("I asked her for water.....she gave me....) Gasoline".
Adrian Henry also appeared on the right hand stage.
John Mayall's acoustic set was interrupted by a number of people in front of the left hand stage who started throwing cans. He himself immediately ordered the band to stop playing announcing that (quote:)" I am not playing to this fucking mess" and together with the band left the stage. John Peel took to the mike and to rapturous applause announced the facilitation of an area well away from the arena, where those who wished to throw cans at each other in isolation should feel free to do so. Or words to that effect!

Thank you for this brilliant site. Hope this information recalls for others some of the same precious memories that I hold.

Best wishes,

Frank Butler.
Perth,
Western Australia
---
My memory of Chicken Shack was of John Peel stood there waiting to introduce them while they finished sorting themselves out. Then Stan Webb took out of his pocket a large handkerchief, so Peel announced something
along the lines of "And now let's all share in this rather touching moment as Stan clears his nose".
Somehow I just can't imagine that happening today.
It was my first outdoor festival at the age of 17, and set the way for the following year's extravaganzas at Shepton Mallet and IOW.
If I ever go though Bath I look at the Recreation Ground and find it hard to believe it could have happened in such a place.
Cheers
Tony Wickham
---
I was 16 at the time and came down from Reading on the coach with a couple of friends. Charles 'Shaar' Murray, a contemporary at school was also on the coach and played what seemed to be fantastic blues harp on the way down, doing a great version of Train Time (Cream?). Anyway, I remember Liverpool Scene very well! Adrian Henri sang a great tune about Enoch Powell and I can remember the words to this day: "Enoch Powell makes me feel like a septic bowel, last week's knickers, two consenting vicars". Definitely of its time!
I too was struck by how beautiful the girls were and how much I wanted to have long hair. The next year I felt the game was up completely - it was all slightly Altamonty and a bit brown acid. Maybe I'd just grown up a little.
Jeff Chambers
---
Really cute to find this site. Brings back a lot of memories. I was 18, coming from Norway to England the summers of 68, 69, 70 and 71 for music, love and - strawberrypicking! I came down from London on train the night before with my friend Konrad from Norway and Barbara from London. We slept in sleepingbags on the pavement outside the playground. The group that impressed me the most was Taste. Never heard of them before I think. Later I also saw them on Isle of Wight 1970 - along with Jimi Hendrix on his last big gig. Great live performers. Ten Years After also did a good show in Bath, and the Chicken Shack was great. I think Stan Webb was carried around in the crowd while playing guitar? I also remember The Liverpool Scene with Adrian Hendry doing some strange things on stage. Strangely enough I can't seem to remember Fleetwood Mac - on of my favorite bands! I saw them earlier on a great consert i London - in a school/university.
Well, thanks for making this site, brought up some great youth moments!
Greetings from Norway
- Geir
---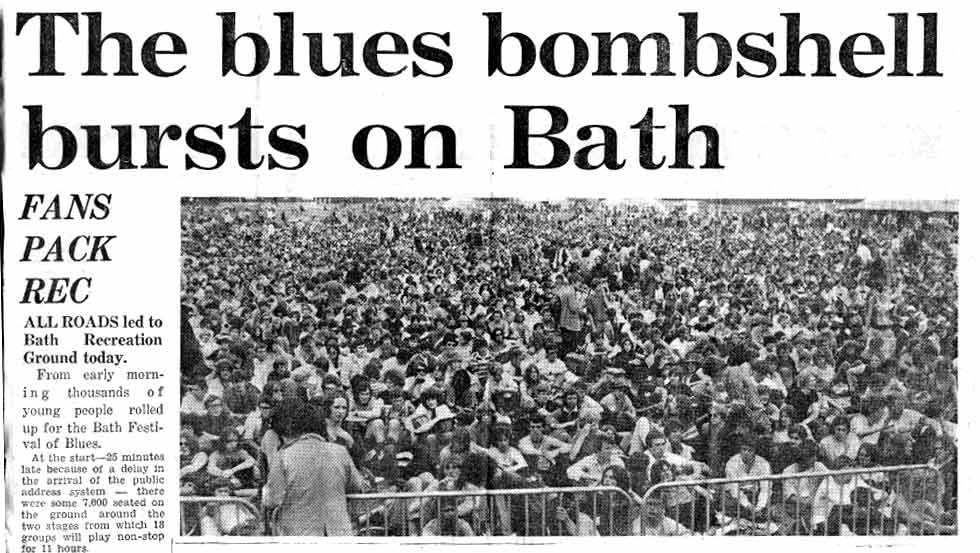 Courtesy Chris S
My first open air event. I was seventeen and travelled from Cardiff with a mate on a bus that an enterprising sixth former had booked. I don't suppose we had ticket but we must have paid to get in when we arrived. As we were waiting for the bus in The Parade in Cardiff the local drug squad turned up and checked us over. I remember being quite pleased at the time. They didn't find anything - well it was Cardiff and it was 1969.


I've still got the programme and it is annotated with all sorts of embarrassing comments which I'm not going to share with you. I remember being unimpressed by Edgar Broughton. A year or so later I remember a mate had a letter published
in the melody maker that said Edgar Broughton was like Beefheart without the heart.

Music apart I remember that we were pretty hungry by the afternoon and there was nothing laid on so I climbed out of the site to buy a loaf of bread at a local shop. I mean aren't you supposed to climb in to festivals! I must have climbed back in because I remember the guy I was with turning his nose up at the bread because I had to break it with my hands. Funnily enough weare still in regular contact.

Music??????.Well I remember Led Zeppelin, John Mayall, Fleetwood Mac and Ten Years After in particular. The Ten Years After set included an extended version of I'm Coming Home which turned up in their Woodstock set a month or so later. I'm pretty sure that Ten Years After closed the day. In those days TYA also did a catchy little number called "Good Morning Little School Girl". The lyrics make me cringe when I think of them now. Gawd, if they sang that song today they'd end up on some sort of register. How times have changed -for the better actually.

However,my most vivid memory of bath 1969 is of some guy walking along in the evening with a half pint beer bottle in his hand and indiscriminately breaking it over some poor innocents head. This wanton act of violence is etched in my memory. The perpetrator ran off and the victim was immediately surrounded by friends etc. It was one of those rites of passage moments. I'd seen scraps behind the bike sheds but nothing as callous as this. I often wonder what happened to the poor guy who was attacked.
That act of violence didn?t diminish my enthusiasm for out door rock n roll. The following year we were at Shepton Mallet for the second Bath Festival and then on the Isle of Wight for the Hendrix festival. Thirty eight years on I'm looking forward to Glastonbury and Beautiful Days. But I'll never forget that poor guy being assaulted by somebody that I took to be a stranger.
And I've never seen anything as vicious since.
Glyn Austin
Cowbridge, Vale of Glamorgan
---
Hi,

Just reminiscing and playing some Rory Gallagher (Taste) and my mind wondered back to when I went to the Bath Blues Festival in the late 60's. Wasn't sure of which year it was (68 or 69) but some googling said it must have been 69!
Me and a mate came from Kent on my scooter, a Vespa 150 super in light blue (reg HKP38D - its worrying what you remember isn't it!). It was a hell of a journey as someone (me?!) had put the wrong spark plug in the bike and it kept overheating every few miles, but we got there. Definitely remember the pipers on stage (Nice). Just wish I could remember more as looking at the line-up it looked really great, but I guess it must have had a lasting impression as 37yrs later I'm still listening (and enjoying!) the same music.

The best thing though is my youngest (at 17) just thinks that Led Zeppelin are the greatest!!!!!

John
---
I travelled down from S.Yorkshire with my best friend Steve, a long train journey but well worth the effort.To be able to watch so many top bands in one 'sitting' was amazing, especially the appearance of Led Zep.They were the absolute highlight for me, but in all honesty the whole line-up was one long highlight, and the compact nature of the setting rendered the experience quite an intimate one.We didn't require any chemical assistance that day, the music itself was a 'high' from beginning to end, which was fortunate as we were soon skint. In fact after the Festival Steve and I only had enough cash to get tickets to Derby , and the journey back took ages as we didn't get a train 'til the morning after. I ended up phoning my brother when we got near Sheffield after thumbing unsuccessfully for hours with sporadic lifts and much trudging on foot, and he kindly came to pick us up.We were utterly shattered but no amount of weariness could wipe away the euphoria of the day before. I lost contact with Steve a couple of years later, but I'm sure he will have similarly fond memories of the Festival, and who knows, he might just log on to the website himself. Thanks for the memories!!
David Weatherley
---
Hi
I attended both Bath blues festivals, driving from Ilfracombe in Devon.
I recall being excited when I saw a poster in early 1969, advertising that John Mayall, Ten Years After, Fleetwood Mac and Led Zeppelin were all on the same bill as loads of other bands!
In 1969 I drove with Mark Hankins and Brian Kerslake to Bath. It was a lovely sunny June day.
I was eighteen, as were my mates, and I had never before seen blues bands of the calibre on offer. I revelled in the experience but I remember little of it now, except the line-up.
I do recall John Peel compereing (spelling?) and particularly enjoyed Roy Harper, Led Zeppelin, Chicken Shack and Fleetwood Mac. I do not even remember "The Nice" playing!! I loved John Mayall's music but cannot recall the set he played (which was always new stuff in those days).
The late great John Peel said, on the radio a few years ago, that he could not remember any of the festivals he was at. Perhaps he was of the opinion, reminiscent of the sixties nostalgia (Tim O'Leary, etc.), that if you CAN remember it you were not there? Well I remember and I was there!!
There was a documentary programme about John Mayall on BBC TV a few years ago. It included a few seconds of archive footage in black-and-white which may have been of the 1969 Bath Blues festival.
Recently my mother told me how angry she was at the time that my father agreed to let me take the family car. Bless him. I gave her my view that he was right.

All the best
ageing ex-pseudo-hippie
Gordon Braddock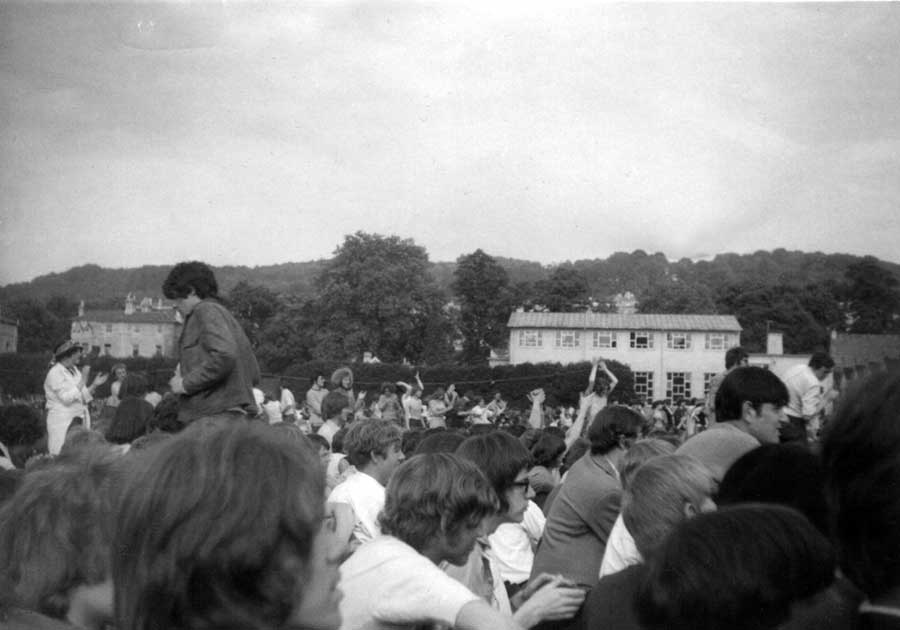 © Tom Tom
---
Hi

This was the first rock concert I ever attended, and even now some key events stick in my mind. I remember the guys freaking out at the front barrier. As I recall it, one guy was shaking the barrier and it was only when a security guard actually threw a punch at him that the crowd rose to their feet with a roar that caused John Mayall's band to stop playing.
I can remember Adrian Henry rolling around on the stage to the "Batman" theme singing "End the War in Vietnam Fatman!"
I believe it was Stan Webb from Chicken Shack that I remember stepping out into the crowd to play his guitar. A mate of mine swears he booted some guy that tried to trip him up, don't know if its true or not.
I remember a leery roar from the crowd when Led Zeppelin sang the lemon song - I guess the lyrics were pretty suggestive for the time. Maybe not today by today's rap standards!

Robert M
Courtesy Chris S
---
Hi

What a gig. I was there with my then boyfriend, Guy Bartholomew, who went on to form his own Blues Evidence band (but unfortunately drowned in his late twenties). I remember John Peel shouting to an element in the crowd who were throwing bottles around and telling them that they would be put into a caged area where they could throw bottles at each other for the rest of the gig much to the amusement of the rest of the relatively well behaved lot!

Lin Batten
---
Just listened to Michael Eavis on Desert Island Discs, I know I know, brought it all flooding back. The year started musically for me in February '69 when Hendrix played the Albert Hall and the following week I caught Led Zeppelin at the old Marquee club in Wardour Street. It was the week before their first album was released.

Bath was the week before my 16 birthday, that following week the Stones played my birthday in the park, very kind of them really given Brian Jones had died that week. In the August of '69 Dylan played the IoW Festival which I also attended. But Bath was my first festival and it's the one I remember with the most affection, maybe simply because it was "my first time".

I am surprised thinking back on it nearly 40 years later just how much of it I remember. All the more surprising as it was the first time I took acid. Led Zepp and Fleetwood Mac were every bit as good as you had a right to expect them to be, but for me it was Liverpool Scene who still evoke the fondest memories. Adrian Henri leaping up and down on stage like a man possessed, almost literally at one point, bringing the stage down around him.

Thanks for the site and for the indulgence!

Regards

Steve Driver
---
I was there and still have the programme, and I can tell you the headline band there was Principal Edwards Magic Theatre, who came on after Fleetwood Mac.

James Forte (Toronto)
( Sorry James, we have to differ, music paper reports contradict this info, according to the NME both Clouds and Principal Edwards did not play and no way would PEMT have headlined over Fleetwood Mac and many of the other bands either : Ed )
---
Ten of us from Tewkesbury Grammar school travelled down to Bath in a minibus organised by Dave Groom and Tom Edwards. I can remember a three mile crawl down to a T junction as we joined the London Road and a solitary policeman controlling the traffic. Surprise when we got into the Recreation Ground at the size of the crowd and how many people were into the same music as us and the length of the hair everywhere. Seem to recall the convenience to the left of the stage mysteriously caught fire around 2.00pm but extensive damage was prevented thanks to quick action by both members of the crowd and officials. Impressive sets from Colosseum, Edgar Broughton Band, Keef Hartley, Blodwyn Pig, Chicken Shack and the Nice with their Scottish pipers. The Liverpool Scene with Adrian Henri bouncing up and down on the stage, Fleetwood Mac and then Ten Years After who brought the crowd to their feet on four occasions. My final memory was seeing John McVie looking out of the back of a maroon Jaguar as we left the festival at the end of a truly marvellous day.
I will be celebrating the fortieth anniversary of the festival by returning to the Recreation Ground on Saturday 27th and Sunday 28th June on both afternoons to have a wander round with my camera - I'll see you there.
Chris Coutts
---
After a very heavy night at a party, recovered enough to realise " that today was the day that Bath would for 24 hours or so become something to look back upon ". Whatever that means !

The centre of sedate Bath had become jammed with literally thousands of colourful people...trooping everywhere. Sleeping in doorways..on walls...anywhere and everywhere.

Bath's more elderly citizens stood around staring..some laughing..some moaning.

We set out early, but even by 1030am there was an enormous queue.

Got fairly near the front, but wished we'd set out earlier.

An estimated 25,000 saw the festival begin with JUST BEFORE DAWN..who I thought were mediocre..and only got a few sympathetic claps.

THE DEEP BLUES BAND were much better, and slogged out their 12 bar blues..and got deserved applause.

My diary rambles at this point but I think this was the running order...
JON HISEMAN'S COLOSSEUM " who outplayed almost everyone....leisurely, brilliant drumming and saxophone...the whole audience were astounded by their loud, stylish and interesting numbers."

Food and drink was scarce...and I used my copy of IT as a sunshield..

JOHN PEEL was reading out messages like " Kangeroo meet Icecreambar " between bands.

CHAMPION JACK DUPREE.. " who jangled out some nice 12 bars on the piano, and had a good sense of humour. "

KEEF HARTLEY BAND" played some good, tuneful jazz and blues ".

From the local newspaper courtesy Chris S

THE LIVERPOOL SCENE " were perhaps the best group of the day ! "
Led by Adrian Henri, who was overweight, jovial, blasphemous and performed poetry,instrumentals and various rock and blues " send-ups " and Enoch Powell "bring-downs". Great ! Climax was the " Woo Woo " with the crowd raising to their feet.
First encore of the day was a blues " send up " including " Sunshine of your love ",

" Cat's Squirrel " . Great stuff !

TASTE... " One of the best blues groups around ". Certainly one of my favourites.
Played " Summertime " amongst others.

ROY HARPER.. " cooled the boiling bodies " and played " I hate the white man " and " Hell's Angels " which both lasted for about 10 minutes.

EDGAR BROUGHTON BAND ...seemed a bit calm and not so successful with his chant '' OUT DEMON'S OUT ''.

BLODWYN PIG..." were similar to Keef Hartley, but different and funny."
Mick Abrahams said behind John Peel's back '' I didn't know John Peel was here today.".to which JP replied " I didn't know Bert Weedon was here either ! "

CHICKEN SHACK...'' were loud, with Stan Webb jumping around and off the stage, with his 200 foot guitar lead.''

THE NICE '' did their usuals," plus " Country Pie " and climaxed with " The Karelia Suite " featuring Scottish bagpipes.

JOHN MAYALL" had a line-up of bass, harmonica, acoustic and sax and I thought they were great..others didn't.

LED ZEPPELIN " were boring ''...shock horror...maybe I was suffering from sitting all day in the sun?

FLEETWOOD MAC.. played " You're gonna change your mind '', " Albatross" and various other rock songs, which brought everyone to their feet. And we got an encore!

TEN YEARS AFTER..." were even more exciting than Fleetwood Mac."..and ended appropriately with" I'm Going Home".

And then it was all over....the only sad thing being that PRINCIPAL EDWARDS MAGIC THEATRE and CLOUDS didn't play.

cheers

Mike Ware.
---
For some reason I have an enduring memory of John Peel droning on and on about 'Principal Edward's Magic Theatre' but I'm fairly sure they didn't ever make an appearance.

What a fabulous day that was. I still find it hard to believe that Rory Gallagher could get such a huge sound from one AC30!

Cheers and thanks again.

Chas
---
Hi,
I just wanted to add my recollections to the many posted already.
We travelled down from Huddersfield on an overnight coach to Bristol, myself and two friends, Peter Worek (Woz) and Stephen Scott, aged 17/18, there were a few more on the coach from Bradford going to the festival, on arriving in the early hours in Bristol we made our way to the railway station, the train arrived from London with people hanging out of the windows, we squeezed in and stood until Bath. This was our first festival and we were near the front and central, I only knew about half the bands before that day, and thought even the early groups were great, I remember Zeppelin came on mid afternoon, everyone was blown away, enjoyed Liverpool Scene, Chicken Shack, Taste, Ten Years After and last on Fleetwood Mac. The one thing that stands out was that everyone sat down, the missile throwing was directed to anyone who would not sit down when the bands came on.
We did not know of anywhere to sleep, and spent a freezing night trying to stay warm until our coach left Bath early Sunday morning.
Happy Days
John Howarth
---
H there,
I bummed a lift from Aberystwyth with a Californian surfer and met up with friends from Cardiff Uni. for a really great day of music. Californian friend thought the idea of a rock festival right in the middle of such a beautiful town was just so cool. John Peel came on during the afternoon to say that the police wouldn't mind anyone crashing in the park after the event was over. This vastly impressed my friend and another group of Americans nearby. "Your cops are outtasight, man" was the general opinion. In those days you could hang out at the back of the stage and talk to the bands as they loaded up vans to head off home. No "security" in sight! I remember seeing John Mayall wandering off into the Bath night on his tod, looking as cheerful as he usually did.
Chris Barnett
Resident of Tokyo
---
Hi;
'Twas such a long time ago... I went from Essex, on my own, and for some crazy reason wore a dark blue suit, pale blue shirt and the ubiquitous dark blue, knitted tie. Definitely weird as my two companions on-site wore a silk paisley dressing gown and full "Angels" leathers complete with WW11 german army helmet respectively. Ho Hum!

My main highlights were Roy Harper playing during what was supposed to be a break in proceedings. Loads of people were leaving the rec to get food/drink etc when he came on and there was quite a struggle as those of us who were Harperites turned around and struggled back to the "arena". I seem to remember it being the last time I saw him do "Angels" acoustically as he borrowed some kit later on at Salford Uni to do an impromptu version with WahWah pedal.
Fleetwood Mac were superb and later that year I went to see them do one of their final UK gigs in Romford, I think, when Christine Perfect came on for one number...beginning of the end?
Page's look of astonishment when smacking the bow onto his strings, expecting an echo chamber response and getting another one from the Georgian terrace at the back, was wonderful. I have heard Mr Plant sing many times since and he has sung far better, but the natural echo at the rec was indeed amazing.
In my memory PEMT were there and some members could have contributed to Adrian Henry's "I've fallen through the stage" set with Liverpool Scene, though I was disappointed to find they weren't going to appear.
Keith Emerson stabbing his keyboard with the dirks and the completely confused pipers playing on while he threw the Hammond onto its' back, was also highly amusing. Karelia was truly majestic.
I also have vague memories of free fruit from a truck at the back of the arena, locals struggling to get trucks with supplies (cider) on site, no crowd trouble whatsoever and minimal security. The whole day was self-regulating and my experience at Shepton Mallett (Donovan!!!) the following year convinced me that 30,000 was about the maximum size for this kind of event. The feeling was that we were all together and there was no huge gap between artist and audience. No helicopters, no hard-man security, no stabbings, no worries. The vast majority were there purely for the music and drugs were a mere support act.
I came across this site because in Summer '09 I worked at a community festival in East Barnet and as the sun was setting the dread echo of "Out Demons, Out" came thundering across the field. Edgar Broughton, who is a local there, headlined the event and I was 21 again, 40 years having vanished like a puff of smoke.
Just worked out that £1.2.6d in '69 is worth £14.00 today! How many gigs with top bands can you get for £14 when U2 are charging 190 euros in Moscow?

Kerry the Hat
Hay-on-Wye
---
The great (almost) forgotten festival...but not by those of us who were there. It was the first time I realised there were other people dressing like me----doing the same things too!!
The girl I hitchiked there with was definitely in the top five best looking local goddesses and probably still is, Where are you now, Judy Mckenzie?
One tab of acid at midday meant much of it is a haze, Taste playing Spanish Caravan is etched on my brain, only flashes from then on in until ending the day in Bath General Hospital. Sorry Jude.
The locals were provincially hostile.."no hippies" signs in the local shops , for Chrissake it was only for a few hours and a one off.
We did it,
All the blessings,
Andy Thompson
Cardiff.
---
Just to say I was there with three friends, Sandy Marilon and Rob, who they reckened looked like a guy out of Kings Crimson. I was so uninterested at the time.My girlfriend Sandy had to drag me along.I was a guy with short hair, loved bikes and boats. was a stones fan. Anyway ,does anyone remember being caught being squashed at the steps leading out ? and all the Levi jeans everywhere.
Good days.
Kev
---
It was the day before my 15th birthday.
The first, and still one of the best and happiest, festivals I have been to.
I am certain that Zeppelin played before John Mayall; I remember Page's pink/purple jacket which he still had on when he guested (seemingly much the worse for the bolivian marching powder) with Clapton at a Guildford concert in the '80s. Zeppelin were riveting. I am also absolutely certain that Fleetwood Mac closed the event and completely blew Ten Years After offstage; I am sure of this as I thought TYA were the business and I was extremely surprised at how hard and aggressive the Mac were – they really rocked!
On the way out we saw Fleetwood Mac obviously waiting to be paid (their manager at the time was the notorious Clifford Davis), leaning on a car that was not a Jag but an old Bristol.
That car ended up rotting in the drive of Fleetwood Mac's communal house in Headley for years, and reputedly had a large amount of contraband welded inside the sills.
Thanks for a good memory!
John Miller
---
Wow I am thrilled to find this site~ Love it!!! I am originally from Newcastle but moved to Swindon 22 years ago with my husband and we visit Bath quite regularly now and every time I do I think about this wonderful Bath festival as it holds such fond memories for me. I remember in my world it was brilliant although for some reason I thought it was 68 but 69 does make more sense!
My first open air festival. Some of the memories are faded but others as clear as if it was happening now. A couple of weeks earlier I had my 18th birthday and Eric my boyfriend at the time and I had recently split up although we were still friends and so we still went to the festival with another three friends, two were Eric's flat mates Adrian & Ray and all were great guys and awful but I cant remember the name of the other friend - wonder where they are now??.
The lads hired a car and we drove down from Newcastle well when I say 'we' I mean the lads took turns driving while I slept haha!! I remember it was a lovely hot sunny day and I was sweltering hot because I had cord trousers, chelsea boots and a woolly jumper on !! I remember it being fantastic to get such great bands all on the same bill and I remember the main bands but I couldn't remember all of them so its brilliant finding this site with the full info!!! The music was fab and Zeppelin amazing!
In my memories the stage was huge but in fact looking at the photos on here it was really small - just shows you how things in reality can differ hugely and I remember massive crowds all around us but no trouble everyone was so friendly and lost in the ambiance of the day. Driving back we were all spell bound, excited and talking about the day then I must have fallen asleep because I was woken up with a bump as we almost had an accident!
Ar what fantastic memories and Thrilled to find this site. THANK YOU!!
Alex Gill
(was Harbottle at the time)
---
Hi 'Angels Of The Ages' !
Was quite ironic but if ever saw one first band was 'The End'.It was here in Spain around the time we went to see The Beatles with our parents and my brother (3rd July 1965).Row 7,seat 13...in a bullring in Barcelona. August 68,moved to Bath self-exiling from the army conscription. Fate got me a room at 75,Pultney St.!,soon after, in time to experience the greatest gathering of nomad longhaired heads ever seen before together, well before what became after the' festivals movement' of the minds in the making for a changed world culture.

Food ran out around Bath's sedentary city,which catalyzed an image unseen in no place before, with as many 'wayward' people.Day before the Blues Festival it was already being invaded by the most 'strange' sight, hundreds of souls without a place to roam but the streets,so one had to be there at the time to believe it. It was 'outofsight' throughout.

And if the music brought me to England, first,would start making incredible frendzs.Dave Morris (the longest longhair in a longhaired head) was one of them.I yearned to see my new found friend drumming the 12 bars blues with The Deep Blues Band after finding out the festival would happen just in front of my attic room window.So I still preserve photographic images in my mind too precious to forget of each and every act .I could write about it but could be limitless, yet I'm glad we all can share it in your website.

Most of the groups if they had not played before would later play at the Pavillion on mondays where most locals would gather religiously. Hence,among the people I met that could write about it, here are some names that may still remenber the crazy spaniard working at the Bath United Hospitals (at that time there was no other spaniards there).With Mike Dancey we met Marc Boland and Steve Peregrine Took on monday May 12th with whom we spent most of the afternoon waiting for the Pavillion to open.Marc freaked me out when he pulled out a 'Spanish Made Simple' from his dufflecoat pocket and said:'OK let's all talk spanish...'His guitar at the performance was a wooden spanish one, was well before he would go electric.

Few people would go to those sessions so one could simply meet the muscians.Met Family before Rich Grech would join Blind Faith.Peter Green and friendly Jeremy Spencer that helped to carry his guitar to the band .Was involved with Edgar Broughton's scaring riot as the police walked in to our refusal to leave the hall...even had to find a place for the band to crash for that night,no bread from the gig...we virtually refused to leave as a protest...Edgar would had us all to riot against the establishments freak harrassment...

All this and so much more would had been gathering momentun to the most memorable of the festivals.Even if would I not miss most of the important events as Bickershaw,Glastonbury Free Fayre(Quintessence,Fairport Convention,Melanie,free food,Pink Fairies,Traffic...)But the Bath festivals were pioneers in its kind not long before it would turn sour at the entrance.At the time one could still be a friend to a star as friends walk with the stars without limits,that was our new found means to a new world community.Carlo Chinca,Neil Turner,Andy Jones ,Dave Morris,Keith,Christmas,Howard,Andy Drylie (editor of Agape,the best occult review in circulation at such early time) Pete, his brother,all were there as many more that would had not to probe how brilliant Champion Jack Dupree,Taste,Ten Years After, Mayall,Zeppelin, Colosseum,Fleetwood Mac, Liverpool Scene, Blodwen Pig...and what was the most memorable??Everything.

I was 19 then and even so I would still remember everything as it was yesterday and please don't tell me who John Peel was that had me buying my first Bush radio in England so I wouldn't miss one of his programs still it was possible because I saw him enough walking around the site to recognise him from the underground press.

Love to everyone that made Bath such an utopian experience.

Eliseu a.k.a. Eric. I think some if still alive would remember.

© Peter Clinick.
---
I'd just turned 16 (it was the Summer of '69 – somebody should write a song about that!).

A number of us organised a coach from Leeds to Bath and managed to fill it with about 40 kids, mostly from Roundhay School Lower 6th, but also with a few people I'd never seen before or since.
We met at Moortown Corner at some ungodly hour of the morning and that's all I can remember until we got there.

I remember Keith Emerson using knives on the keyboard; Stan Webb playing guitar from the middle of the crowd using an ultra long cable and Adrian Henri & Liverpool Scene singing "I've got the Fleetwood Mac, Chicken Shack, John Mayall, Can't Fail Blues".

But most of all, I remember Jimmy Page playing the guitar with a violin bow and the echo coming from Bath City centre, rather than the amps – over 40 years have passed and I can still close my eyes and imagine it.

I still don't remember how or when we got back!

Stewart
---
Re Bath 1969, what a day that was! I was about 5 rows from the front at the centre.

Mike le Vol recalls Robert Plant hearing the echo of his screech from Royal Place - but that wasn't the only echo. When they started the track they played those iconic opening 5 notes, and the last two echoed back just as they started the repeat, which upset them so much they stopped playing and had a quick discussion, then slowed it down a bit so they could play to hear the echo of the last two notes before repeating the first five and hear the echo again. Again, I'm sure that's why the eventual release had 5 notes then 2, followed by 5 and 2 Brilliant!

Allan Jones
---
I was at School in Bath and in those days part of the local 'blues' community. I remember quite clearly the stunning Led Zepplin, Fleetwoods and Ten Years After closing the show with a red lite stage and a surreal red moon behind them.

I also had the good fortune to be at Windsor for the Sunday night the year before when Eric was God, but this day/evening still resounates down the years, whenever I am in Bath and look over the Rec, I can hear Robert Plant.....Oh Rosie, Oh Girl................
Geoff Sloan
---
Hi,

I recall this festival with great affection as being well organised and the music was brilliant. We were really grateful that Ten Years After were on last – I was never sure where they fitted in other than they played a lot of notes at breakneck speed and for some reason this was classed as Blues/Rock. We were able to see great performances by Zepp/Mac/Mayall/Colosseum/Pig/Hartley and still be halfway up the old A46 before the festival spilled the rest of the 12,000 on to the streets!!

I cannot praise you highly enough for putting this site and the 1970 one together – well done!!

All the best

John Burrell
Harrogate
---
Hello there
Myself and three friends stationed at RNAS Portland at the time (Nick Golding and Bill 'Nimrod' Cadicott were two of them) drove up in Bill's old 'sit up and beg' Ford Prefect. I was 17 and was very excited. We were all mad for the music. Nick was a Dylan obsessive and Bill was a Captain Beefhart fan.
I remember it being a hot day. John Peel compered and swore from the stage at one point. This was a bit shocking to us at the time!
Stan Webb walked out into the crowd with a long lead on his guitar. People started throwing things at those who stood up to have a better view. When he returned to the stage Stan was fulminating about having things thrown at him. He hadn't realised that the crowd was trying to make the others sit down. It was very amusing. We saw Stan Webb in a pub at sometime during the afternoon/evening. Festival gooers must have been allowed out and then back in.
I remember Roy Harper stormed off the stage early on in the festival because he said people weren't listening to him.
The line up was just incredible. Ten Years After preceded by Fleetwood Mac and John Mayall topped off a brilliant day. I don't remember going back to Weymouth where we had digs.
I've often mentioned that day to friends.
It was definitely part of growing up!
You can find out more about me now on www.thepipercallsproject.co.uk
Thanks for the website. Great memories from 41 years ago!
Dave Clinch
---
hi ,
after googling this festival and looking at the programme for the day my memories of it do not tally with the line up. I remember Fleetwood Mac playing in the middle of the day and thought Ten years after closed the show or they were playing when I left. I also recall Led Zeppelin playing in the day and going down a storm, raising the bar and being a sign of things to come.
I remember the crowd getting stirred up with people standing up at the front annoying those behind them. and someone throwing a can from the back that hit Stan webb ,the singer from Chicken shack who was mingling among the audience doing his set. And John Mayall following, coming on and almost walking off after saying "I'm not playing in front of this shit. He calmed down and got a round of applause for going on. It was a great festival with a great line up that , was spoilt for choice.
Phil Brown
---
Hi there, I bummed a lift from Aberystwyth with a Californian surfer and met up with friends from Cardiff Uni. for a really great day of music. Californian friend thought the idea of a rock festival right in the middle of such a beautiful town was just so cool. John Peel came on during the afternoon to say that the police wouldn't mind anyone crashing in the park after the event was over. This vastly impressed my friend and another group of Americans nearby. "Your cops are outtasight, man" was the general opinion.
In those days you could hang out at the back of the stage and talk to the bands as they loaded up vans to head off home. No "security" in sight! I remember seeing John Mayall wandering off into the Bath night on his tod, looking as cheerful as he usually did.

Chris Barnett
Now resident of Tokyo
---
I was out walking with my friend this afternoon and suddenly remembered - it was 40 years ago today!
I have quite a few newspaper reports that I could probably scan in and email to you, plus a few photos of Taste on stage, my favourite band. They're not the best quality but please let me know if you're interested.
I was 18 in 1969, and festivals were very much part of my way of life then. A few of us hitch hiked up to Parliament Hill Fields in London the same year to see Fleetwood Mac, but it was cut short thanks to a bunch of skinheads 'misbehaving.'
Also Plumpton and both Isle of Wights were amazing experiences.
I was born in Bath and have never moved away. It was fantastic to have the festival in our home city. We were used to seeing top quality bands like the Who, Kinks, Small Faces etc.etc at the Pavilion every Monday night and this was the icing on the cake.
We went to an all night party on the eve of the festival up on Lansdown and didn't sleep a wink. We travelled to the festival in the back of an old post office van driving by Al Yates.
Like a number of other contributors I remember John Peel offering a lift to as many as he could squeeze in to his Peel Mobile.
I can't remember moving very much from my spot all day. It was very crowded and you could hardly stretch out your legs.
Best band for me on the day was Taste headed by the late Rory Gallagher. And Colloseum with the amazing drummer John Hiseman.
I remember appearing in the NME (New Musical Express) the week following the festival. I was included in a crowd shot, taking a photo of the stage.
Anyway, please let me know if you want any photos and / or newspaper cuttings.
Best wishes,
Chris Stillman
---
Hello
I was a pimply sixteen year old school student when I travelled with 3 others in the older boy's Mini over to Bath in June 1969, attracted by the appearance of The Nice, whose albums I had recently acquired.
I remember standing quite a way back from the stages, as festivals hadn't really been invented then and the crowd was quite intimidating.
The Nice played a cracking set. I remember the pipers coming on during "Karelia". Ironically, this was compere John Peel's bete noir concerning Keith Emerson, whom he considered to be wasting his talent on "classical" music. This culminated a year later in his "waste of talent and electricity" comment regarding ELP.
One point I can mention - sometime during Edgar Broughton Band's set, there had been a police announcement regarding security, which meant the crowd were "kettled" in the ground. I distinctly remember Edgar announcing "you are now no longer free people!" before launching into their hypnotic anti-capitalist chant "Out Demons Out".
I only recently realised that Led Zeppelin were on the bill, as I couldn't recall seeing them.
regards,
Steve Phillips
Highgate N6
---
Hi,

I was 16 years old and at Cardiff High School for Boys when we organised a coach to pick us up (outside the girls school in the parade) at some stupid hour to get to Bath for this festival. The standard desert boots and jacket were, I seemed to think, the only way to go.

I remember a baby faced ( I knew I was one) Jimmy Page sitting down and starting to play acoustic guitar and Robert Plant listening to the echo he bounced off the walls at the back. A brilliant set from Chicken Shack (Christine and Stan) and also great sets from Ten Years After, The Nice, Coliseum and a few others.

The crowds were great but thinned out towards the end and I remember someone starting a fire with some rubbish which just added to the feel good factor. We left to go back to Cardiff and I remember thinking that I had to go to more concerts. Moved to London a few months later and was involved (in a very small way) with organising the free festival on Blackheath a couple of years later, with some others form the Greenwich Theatre - Flavia where are you?.

Someone mentioned a drugs bust at the coach - there was one and they tried to stop me taking my Benedril with me (Hayfever sufferer) when he got on his radio and told them what he had the laughter was clear to everyone. This please the Cardiff Uni bus which left from just round the corner from us - and the drugs guys were too busy to stop them.

Cheers

David Johns
---
I remember going to the 69 festival with a friend of mine Joe and we Hitch Hiked from Cardiff .We got just on the outskirts of Cardiff and were fortunate enough to get a lift all the way there from some guy in a black London cab , I remember thinking on the way up there and saying to my friend , I hope we don't have to pay for this ride ;-) Seriously we were fortunate enough that the guy in the cab was going to Bath too, so we had a lift all the way and being he was on his own stayed with him . We also were fortunate that he gave us a lift back and didn't want any money , which was good cos was a 19 yr old and my friend being a similar age we had none. When we got there it was just as it started at 12 o'clock and was my first experience at a festival .
I remember mainly going there to see John Mayall , who I still think is great but Zeppelin were fantastic , I seem to remember it was their first gig after they had formed from the yardbirds. Ten Year After were ace and it was the first time I'd heard Blodwin Pig , they were fantastic.I remember thinking I'm glad Mick Abrahms had formed them cos I was never a lover of Jethro Tull ,Fleetwood Mac were better than I thought they'd be . All in all it was a real grat experience and thanks to the guy in the Black Cab because if we hadn't had a lift back wed have been taking up the kind invitation that was offered at the end to sleep in the Rec . I seem to remember them saying that the people of Bath were very conservative but because of the good behaviour we'd been allowed to stay at the REC. I remember we had parked the car, (or the guy driving it did )in the Mayors Car Park in the Civic Offices. Well it was a Saturday.
---
---
BATH FESTIVAL 1969
Stumbled on this great site which brought back strong memories. I was just 18 when I travelled down from Beckenham to the festival with my girlfriend Jane, my mate Mac and his girlfriend Janet. Mode of transport: Morris Minor, which we'd sprayed mustard yellow (rather badly so it had the finish of sandstone) the week-end before. Route: the old A4. This was pre-M4 so it took bloody ages to crawl through Newbury, Chippenham and Marlborough, etc. Saw John Peel in a layby somewhere en route. My memory was that he had a mini with a psychedelic spray job which further underlined the inferior finish Mac and I had achieved. But I notice a pot of people talk about his camper van. Maybe he had staff drivers.
The bands were all our heroes. We followed a lot of them round the club circuit in south London. Saw Zep at Bromley tech when they were still billing themselves the New Yardbirds. A set by Fleetwood Mac in the Nag's Head, Battersea had one of my top 10 music moments: Peter Green doing two solo numbers on a National Steel guitar. Spellbinding. So having them all in one place on the same day was double Christmas.
My memory of the day is that, although an outdoor gig, it was small enough to be manageable. The next week-end, Jane and I were at the Stones in the Park. We heard it – but never clapped eyes on the stage. Bath was definitely more satisfying, if less iconic.
We camped overnight in the rec I seem to remember. Then did A4 in reverse. Along with music I'm a cricket fanatic. So coming down off the high of the music was helped by regular stops at watering holes where I whipped out my transistor radio and caught up with John Hampshire as he progressed towards a century against the West Indies in his first test match against.
Happy days. Thanks for the archived memories.
Martin Phillips
---
A limited edition of reprints of the 1969 and 1970 Bath festival posters can be bought online here
Rock festival memorabilia from various festivals can be viewed here
We have no financial connections with the company , we provide this info here for our viewers information .
---
Contents

If you have photos, recollections, set lists, newspaper reports or tapes of the event then email us and we'll add them to the site. Contact us
---
Bands in order of appearance.(l to R)
---
Bands listed below most probably did not perform
| | | | | | |
| --- | --- | --- | --- | --- | --- |
| | | Babylon | Group Therapy. | Clouds | |
---
Bath 69 reviews and recording information
---