The Archive .
---
Big thanks to our sponsor Neil !

For information on today's festivals see eFestivals.co.uk
---
Last update Nov 2018- new pix Led Zeppelin, Keef Hartley, John Peel and Colosseum .
---
Bath Recreation Ground .

June 28th 1969.

After a two and a half year layoff, 2018 prompted me to update as we had a number of new images coming in one after another from Melvin Green, Peter Clinick and Nigel Hall. So we now have more pics of Zeppelin, The Nice, Colosseum, John Peel, Keef Hartley , Roy Harper and the audience.Thanks to all our contributors, you are , as they say in Yorkshire...., champion !

Flyer courtesy Bob Hewish
Links to other sections of the Bath Festival site are at bottom of each page.
---

Just Before Dawn
---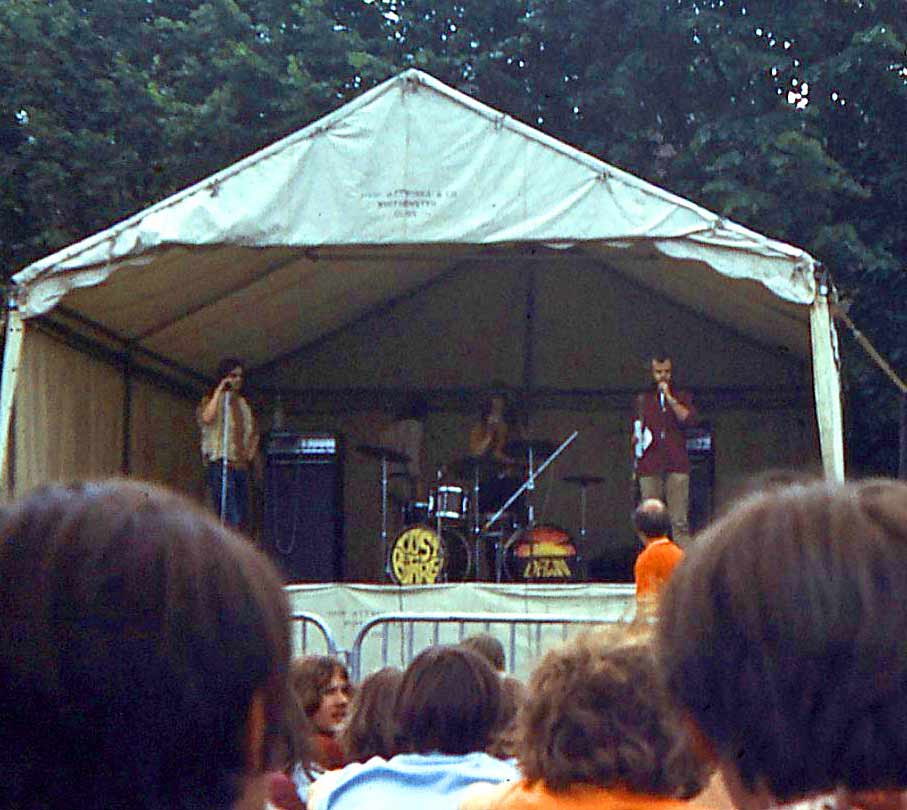 The late John Peel introduces Just Before Dawn . © Mike Read .
My name is Steve Forshaw and I was the fifteen year old bassist/vocalist for Just Before Dawn.
I remember we were booked into a hotel (wow a first) the night before by Fred Bannister (who was a fan of ours from the many support slots we did for him at the Worthing Assembly Halls and Pier Pavillilion) and waking up the next day and seeing the fans arriving scared the shit out of us.
Backstage I sat next to and chatted with Robert Plant and Jimmy Page -can you imagine how I felt at that age!!!!
Other memories:
- playing table tennis backstage with the lovely John Peel
- The really inadequate PA system.
- Stan Webb - large scotch in hand - giving us advice how to make it in the rock Business (every extravagant gesture accompanied by about a shillingsworth of scotch slopping over the side of his glass).I remember he was particularly pleased with his extra long lead trick!
- Mick Fleetwood bollocking Peter Green for being late for the gig.
- Led Zeps roadies just hurling guitar cases into the back of a pantechnicon.
- Edgar Broughtons mum/roadie - a well built women who looked just like one (or both) of her sons!

JBD were Andrew Neil - Drums
Jon King - Lead Guitar/vox
Steve Forshaw - Bass/vox
We split not long after the festival to go to college etc not realising that had we left it a bit longer we had had quite a lot of interest generated by our appearence that day.Ah - such is life.

As a kind of post script to this wallow in nostalgia it was brought to my attention that in the Friday June 9th edition of the Guardian there was a piece entitled " Fields of Dreams and Legends" about the festival and at one point in the article John Peel wondered where Bands like Just Before Dawn and Deep Blues Band were now. I wrote to John Peel and received a superb post card (Greetings from Stowmarket- through traffic Capital of East Anglia!) in reply
Only JP could get that much writing onto a post card which I will treasure always.
I am still writing and recording and hope to unleash a new project on the world soon.
In the meantime - love to all involved in the 69 Bath Blues Festival. It was a day I will never forget.
Steve Forshaw
---
Contents

If you have photos, recollections, set lists, newspaper reports or tapes of the event then email us and we'll add them to the site. Contact us
---
Bands in order of appearance.(l to R)
---
Bands listed below most probably did not perform
| | | | | | |
| --- | --- | --- | --- | --- | --- |
| | | Babylon | Group Therapy. | Clouds | |
---
Bath 69 reviews and recording information
---