The Archive .
---
Big thanks to our sponsor Neil !

For information on today's festivals see eFestivals.co.uk
---
Last update Nov 2018- new pix Led Zeppelin, Keef Hartley, John Peel and Colosseum .
---
Bath Recreation Ground .

June 28th 1969.

After a two and a half year layoff, 2018 prompted me to update as we had a number of new images coming in one after another from Melvin Green, Peter Clinick and Nigel Hall. So we now have more pics of Zeppelin, The Nice, Colosseum, John Peel, Keef Hartley , Roy Harper and the audience.Thanks to all our contributors, you are , as they say in Yorkshire...., champion !

Flyer courtesy Bob Hewish
Links to other sections of the Bath Festival site are at bottom of each page.
---

Liverpool Scene.
---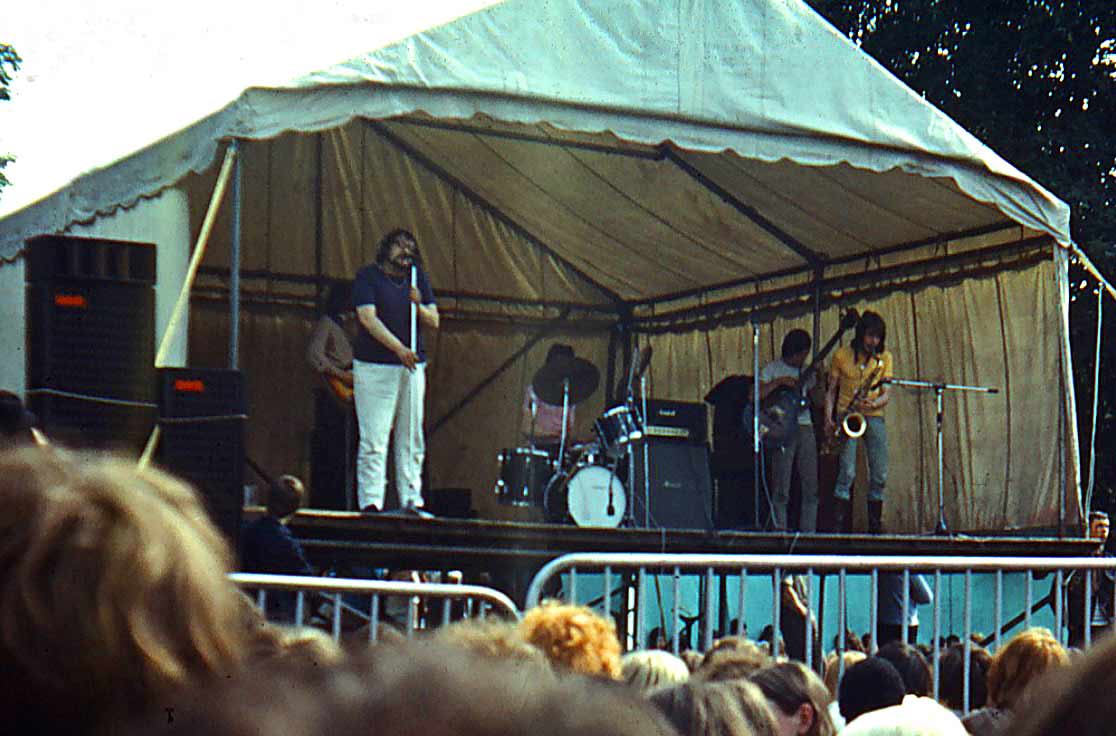 © Mike Read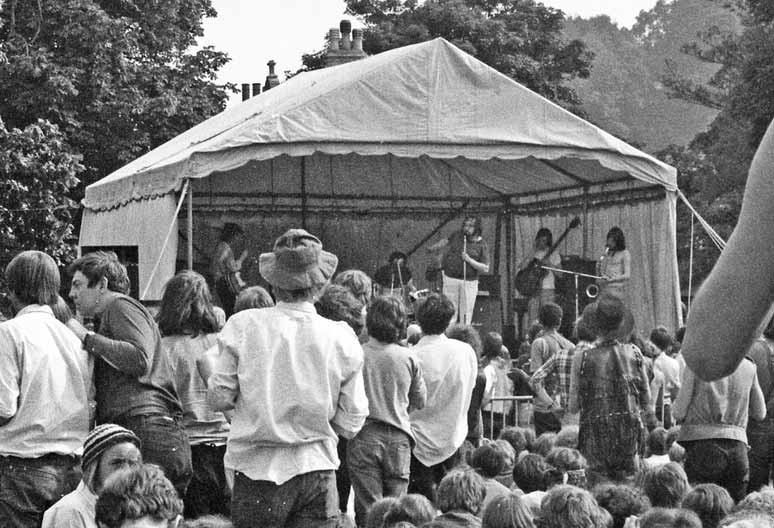 Liverpool Scene wow the troops, © lawrence Impey
Photo Malcolm Strachan ©

Stuart Godfrey recollects.
I remember very clearly seeing Liverpool Scene at the Bath Festival in 1969 and they were BRILLIANT - even in the exalted company of Led Zeppelin, John Mayall, Fleetwood Mac, Roy Harper, The Nice (to name but a few) they really got the festival buzzing - Adrian Henri was an amazing front-man who very nearly wrecked the stage with some ill-advised leaps (he was a big guy). Less clearly I seem to recall they had a guitarist name of Andy Roberts??? who made some pretty strong solo albums.

I did get to meet Adrian Henri and Roger McCough at a poetry reading in Hereford and they were really nice guys; Henri had this uncanny ability of balancing one full beer-mug on his belly while downing another. As a thin guy, I found this very impressive.
Ah, memories...
Stuart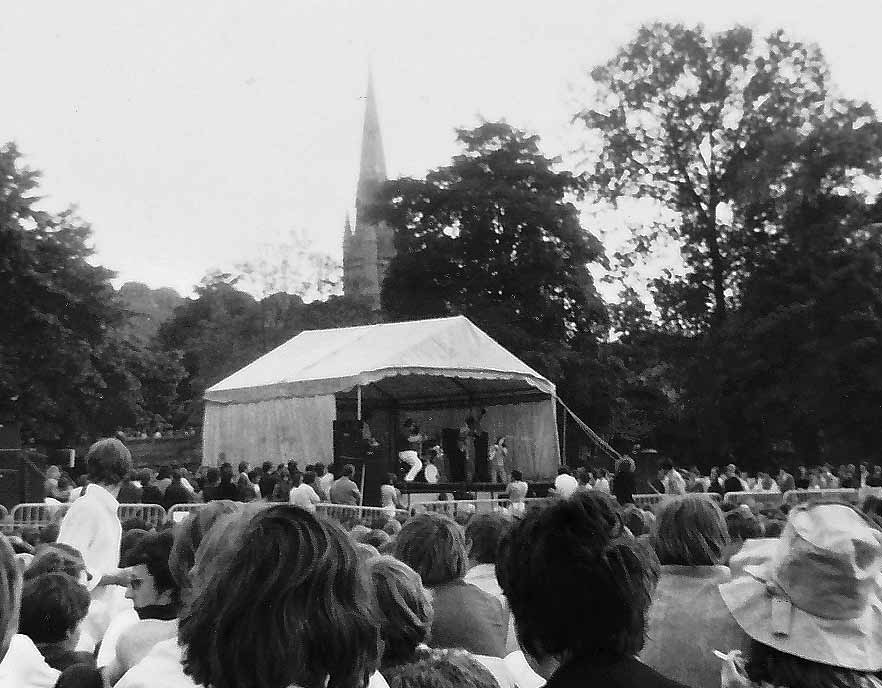 © Mike Ware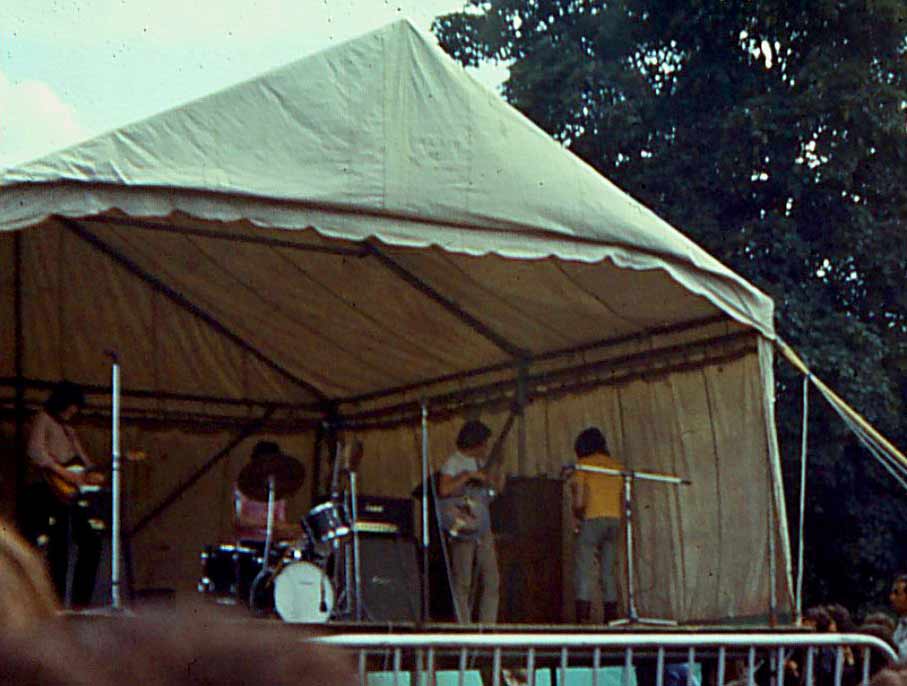 Liverpool Scene. © Mike Read .
---

If you have photos, recollections, set lists, newspaper reports or tapes of performances at Bath then Contact us we'll add them to the site.

Contents

If you have photos, recollections, set lists, newspaper reports or tapes of the event then email us and we'll add them to the site. Contact us
---
Bands in order of appearance.(l to R)
---
Bands listed below most probably did not perform
| | | | | | |
| --- | --- | --- | --- | --- | --- |
| | | Babylon | Group Therapy. | Clouds | |
---
Bath 69 reviews and recording information
---