The Archive .
---
Big thanks to our sponsor Neil !

For information on today's festivals see eFestivals.co.uk
---
Last update Sept 2022- new pix Led Zeppelin, The Nice and Liverpool Scene.
---
Bath Recreation Ground .

June 28th 1969.

We had a number of new images donated in 2018 after Melvin Green, Peter Clinick and Nigel Hall. in 2022 we had more from Alwyne Bates. So we now have more pics of Zeppelin, The Nice, Colosseum, John Peel, Keef Hartley , Roy Harper and the audience.Thanks to all our contributors, you are , as they say in Yorkshire...., champion !

Flyer courtesy Bob Hewish
Links to other sections of the Bath Festival site are at bottom of each page.
---
June 28th 1969.
THE NICE.

Brian ( blinky ) Davison - drums R.I.P
Lee Jackson - bass/vocals
Keith Emerson - keyboards

Fortunately several tracks from the Nice's set were recorded and there is also some cine film of their set in existence. The two tracks are "Karelia Suite" and Bob Dylan's She Belongs to Me sung by Lee Jackson.

The audio content is quite listenable and more details are available on the Recordings page .

Keith Emerson tilts the old Hammond

Photo© M Wheeler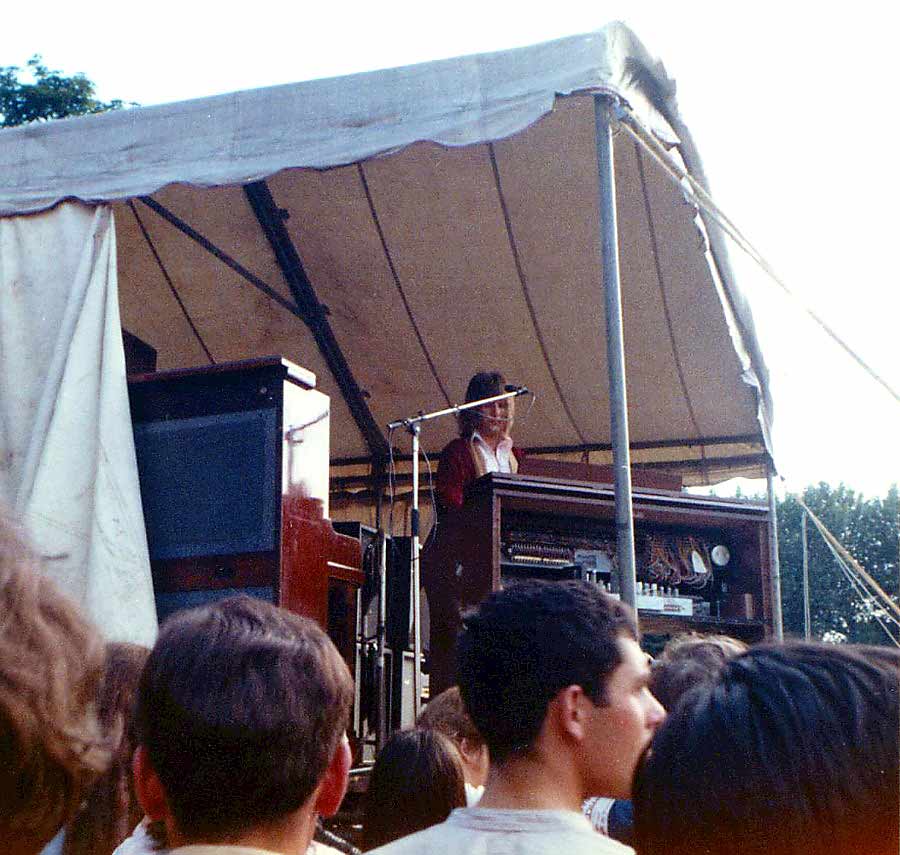 Keith Emerson © Mike Bird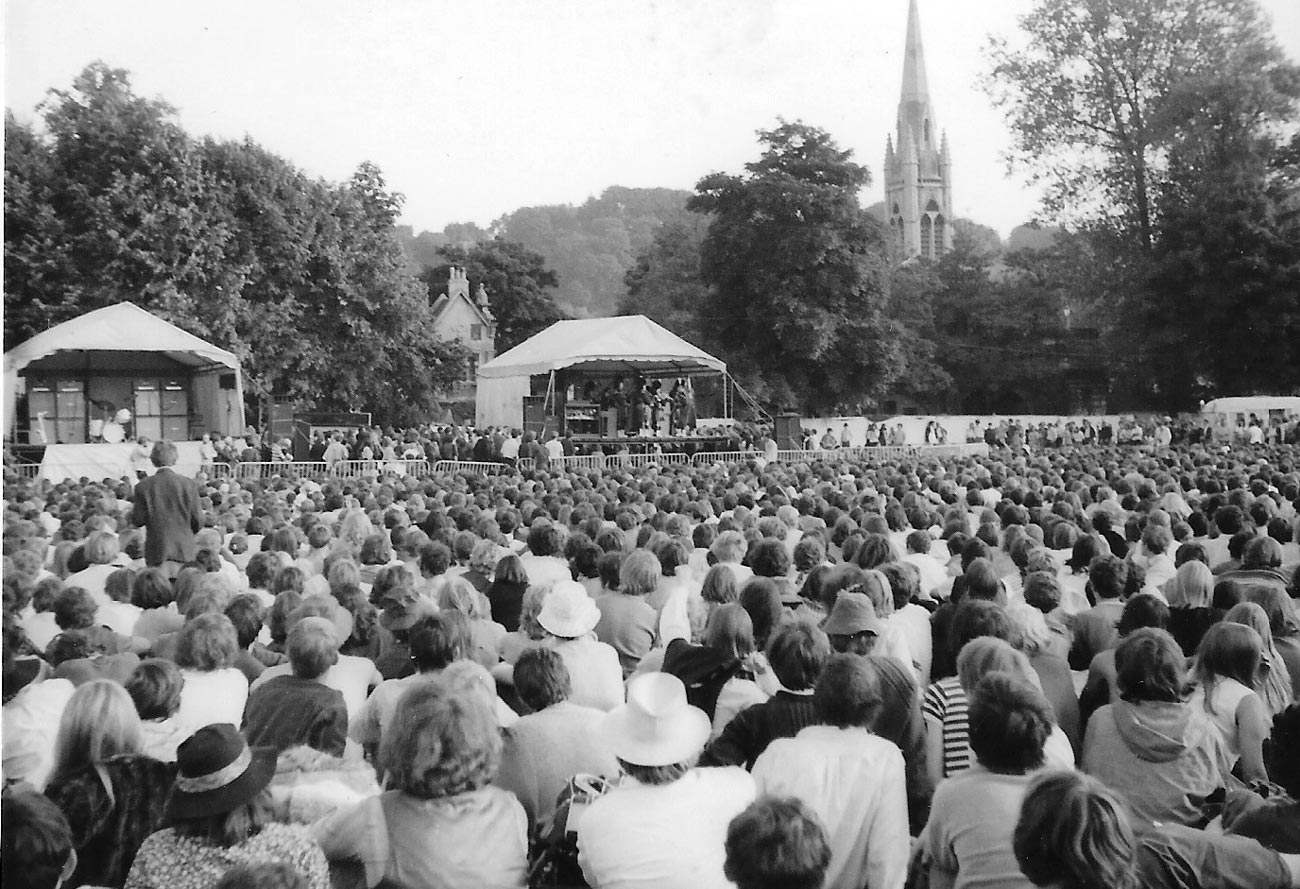 The pipers © Melvin Green
Derek Manuel remembers,

The Nice were tremendous. Keith Emerson was in fine form, and 3 Scots pipers came on stage at an appropriate moment in full kit, playing bagpipes.
I can't remember during what piece they played!! I think "America"


Whilst Stuart Godfey adds


The Nice were very flashy (knife-throwing), Scots Guards playing bagpipes,
but I enjoyed the Karelia Suite stuff.

Mike Le Voi

- I remember the bagpipers! Ten Years After did "I'm going home" as
usual. The show was a "whos who" of British Blues - apart from Jethro Tull. I seem to remember that the admission price was 22s 6d - but as I bought my ticket a few weeks in advance it only cost me 18s 6d - good value!

Cheers,
Mike Le Voi
At this time the Nice were a three piece, Davey O'List having left in 1968, and from then on the band moved from a focus on psychedelic pop to a very definite prog leaning, with extended solos (mostly featuring Emerson ) as well as developing a repertoire which took classical pieces and attempted to fuse them with rock. This had mixed success, but on a good night the Nice were a VERY exciting band , especially when Emerson took to mauling his Hammond with knives .

Their third album -THE NICE (Immediate IMSP 026) released in 1969 - features some live tracks -Rondo '69 and Bob Dylan's She Belongs To Me! and these pieces were likely to have been played at Bath along with their reworking of Leonard Bernstein's America.

Their live album had some very indistinct images of the pipers at Bath- too indistinct to bother to include here , but above is a half decent pic of Lee Jackson onstage at Bath 69 and we now have some good photos of the Nice onstage , thanks go to Malcolm Strachan amd Mike Wheeler for providing the photos .
| | |
| --- | --- |
| | |
| The Nice , with entourage of Pipers | Photos courtesy of Malcolm Strachan © |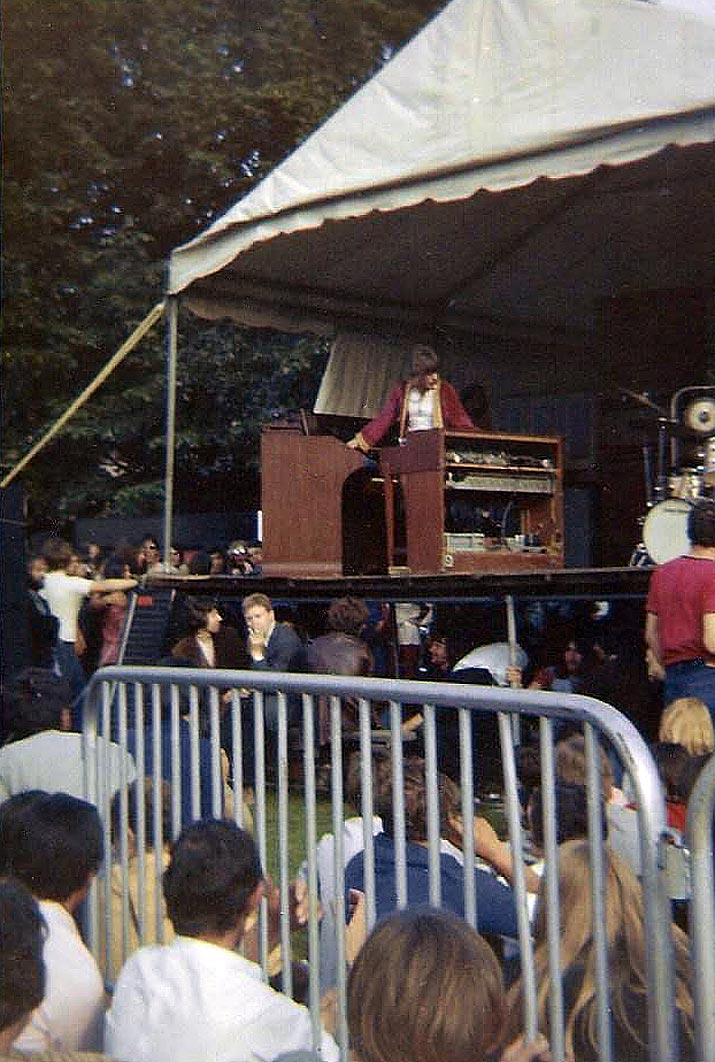 Photo © Alywne Bates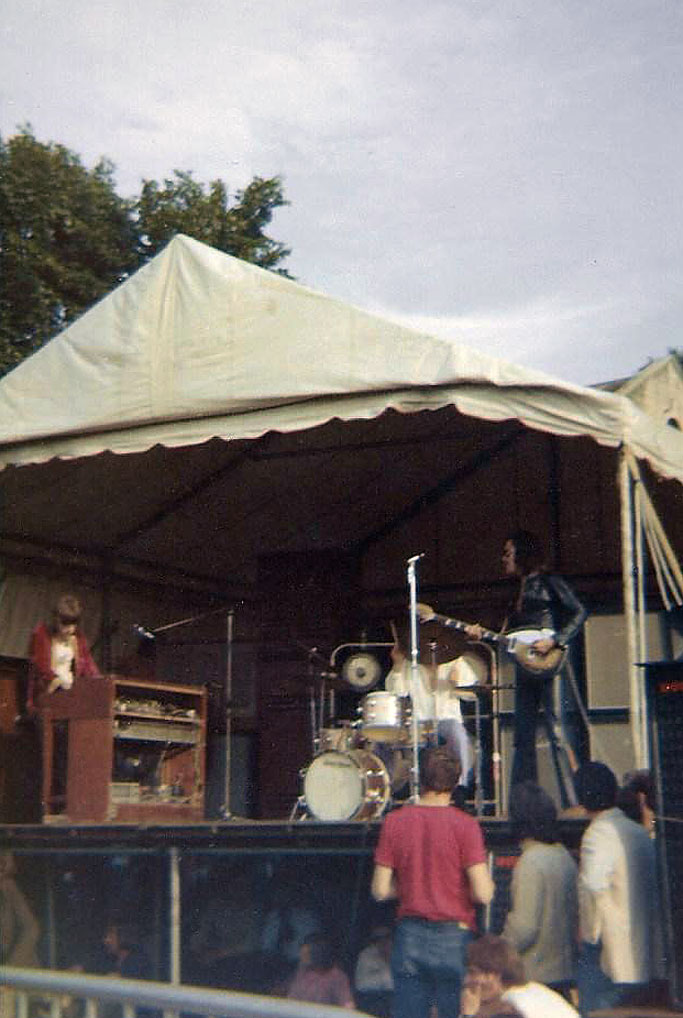 Photo © Alywne Bates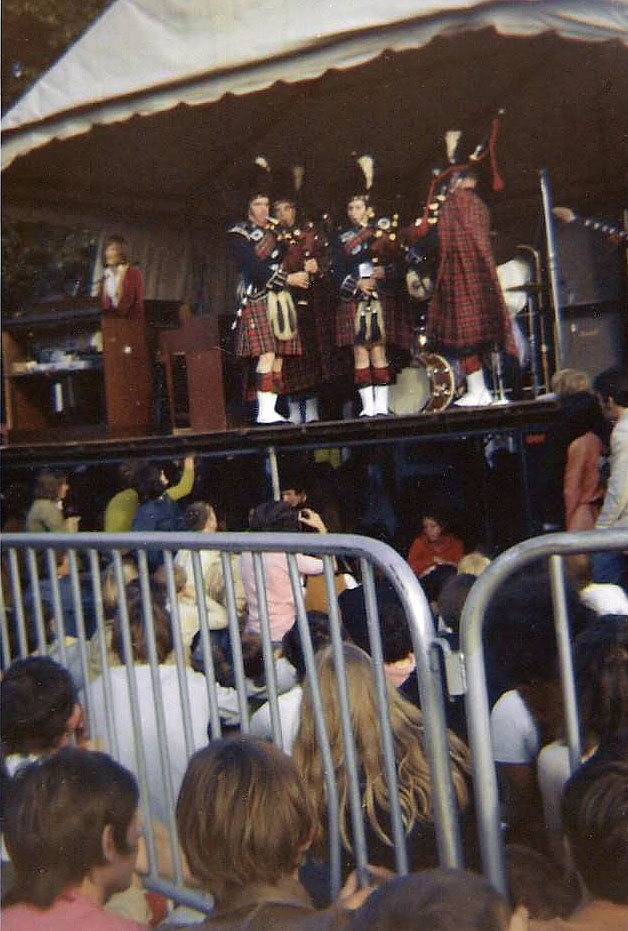 Photo © Alywne Bates
If you click on most of the images you will see a larger version
The bagpipe playing pipers would most likely have been an Emerson idea, forever the showman , when he formed ELP the band opened their Isle Of Wight festival show with a salute of cannons - definitely over the top stuff !
Click here to go to view the Nice Photo Gallery and read recollections of their performance at the 8th National Jazz and Blues Festival 1968.
---
Contents

If you have photos, recollections, set lists, newspaper reports or tapes of the event then email us and we'll add them to the site. Contact us
---
Bands in order of appearance.(l to R)
---
Bands listed below most probably did not perform
| | | | | | |
| --- | --- | --- | --- | --- | --- |
| | | Babylon | Group Therapy. | Clouds | |
---
Bath 69 reviews and recording information
---