The Archive .
---
Big thanks to our sponsor Neil !

For information on today's festivals see eFestivals.co.uk
---
Last update Nov 2018- new pix Led Zeppelin, Keef Hartley, John Peel and Colosseum .
---
Bath Recreation Ground .

June 28th 1969.

After a two and a half year layoff, 2018 prompted me to update as we had a number of new images coming in one after another from Melvin Green, Peter Clinick and Nigel Hall. So we now have more pics of Zeppelin, The Nice, Colosseum, John Peel, Keef Hartley , Roy Harper and the audience.Thanks to all our contributors, you are , as they say in Yorkshire...., champion !

Flyer courtesy Bob Hewish
Links to other sections of the Bath Festival site are at bottom of each page.
---

CHICKEN SHACK.
---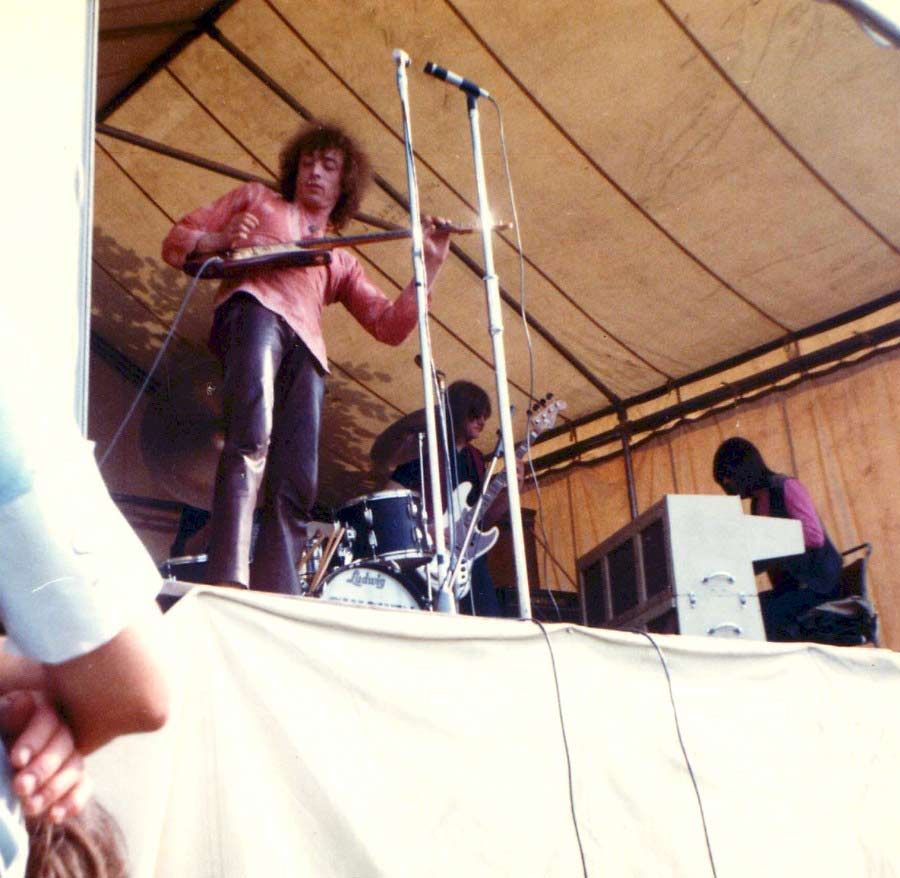 Stan Webb, Andy Sylvester and Paul Raymond © Mike Bird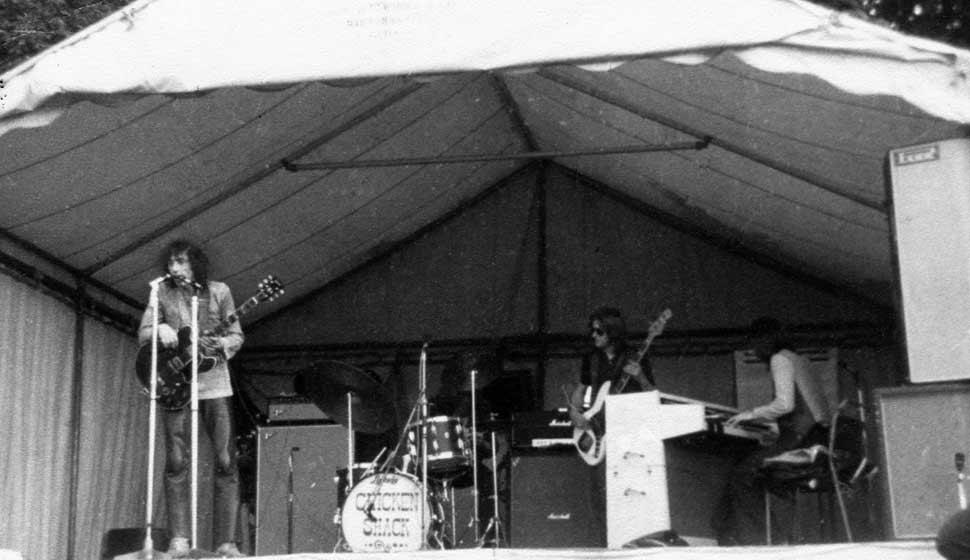 The inimitable Stan Webb onstage at Bath 1969 © Al Bye
Were one of the best UK blues bands of the era. Fronted by the ubiquitous STAN WEBB , who still leads the band to the present day, they were guaranteed to go down well at a festival, as Stan was a master of the extended emotion wracked blues solo. His style was very much in the vein of Buddy Guy, but with enough originality to make Stan a notable player in his own right.

This particular version of the Shack did NOT feature the very nubile Christine Perfect, who had just left the band to persue a solo career and of course was eventually to marry John McVie and go on to mega fame and fortune in Fleetwood Mac.

Right : Stan Webb struts his stuff onstage at Bath 1969

Photo © Mike Wheeler

Chicken Shack.
Stan Webb - Lead and vocals.
Paul Raymond -piano.
Andy Sylvester - bass
Dave Bidwell.- drums.

My memory of Chicken Shack was of John Peel stood there waiting to introduce them while they finished sorting themselves out. Then Stan Webb took out of his pocket a large handkerchief, so Peel announced something along the lines of "And now let's all share in this rather touching moment as Stan clears his nose".
Somehow I just can't imagine that happening today.

Tony Wickham

Sylvester and Raymond © Al Bye
Derek Manuel has these memories of the bands performance at Bath .....

Stan Webb walked into the audience with a massive lead on his guitar and played a solo in the middle of the crowd. Stan had to be carried overhead by the crowd to get back to the stage.

Christine Perfect played great piano with Chicken Shack and sang on "I'd rather go blind"


However, Howell Morris contradicts this memory.

My recollection of Chicken Shack was that Christine Perfect had actually left by then and it was Paul Raymond on keyboards.

And judging by the photos we have the figure on the keys looks decidely male.

Stuart Godfrey adds


Chicken Shack went down a storm too, Stan Webb giving a typically extrovert
performance with a lot of leaping about..the rest of the band just played
and watched him most of the time.

Its interesting that several people swear blind that Christine Perfect was present, but she clearly was NOT ... memory plays weird tricks.....

Left: Stan Webb continues to strut his stuff onstage at Bath 1969

Photo © Mike Wheeler
Stan Webb bids a fond farewell © Mike Ware
visit his Flickr site for more rock photos
John Bravin added this little gem

I remember vividly that Stan Webb took his guitar deep in the crowd below the stage, only to be pelted at one point by members of the crowd further back. His response was classic, made more memorable because he had the microphone, and the crowd didn't - "Will the c****s throwing chicken bones f*** off.
Best Wishes
John Bravin

Right : An extremely hairy Dave Bidwell gives his "animal" impersonation onstage at Bath 1969

Photo © Mike Wheeler
---
Links
My remembrances of Chicken Shack's performance at the 8th National Blues and jazz Festival 1968.
The Penguin -Fleetwood Mac Chicken Shack page with link list
The Unofficial Chicken Shack website.

---
Contents

If you have photos, recollections, set lists, newspaper reports or tapes of the event then email us and we'll add them to the site. Contact us
---
Bands in order of appearance.(l to R)
---
Bands listed below most probably did not perform
| | | | | | |
| --- | --- | --- | --- | --- | --- |
| | | Babylon | Group Therapy. | Clouds | |
---
Bath 69 reviews and recording information
---