The Archive .
---
Big thanks to our sponsor Neil !

For information on today's festivals see eFestivals.co.uk
---
View at 1920 X 1024 res for best results.

Last updated June 2021 :new photos Led Zeppelin, Jefferson Airplane, Steppenwolf, Flock and Santana .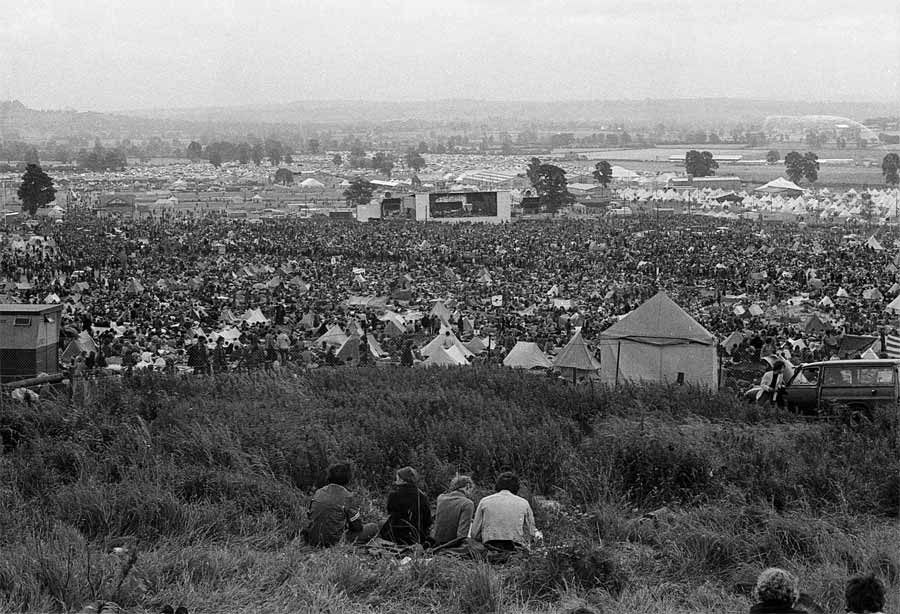 Photo © Terry Farebrother .
The Bath Festival of Blues and Progressive Music was the first REALLY BIG Festival we attended. It dwarfed the other festivals we'd been to (apart from the Stones in the Park show and that wasn't really a festival , just a one day concert.).

It also was the first time that we'd seen a LOT of the American bands that were to increasingly dominate our musical interests in the next decade or so all in one hit. It was also the first WET festival we'd attended, which did not really detract from the fun aspect too much, although many in the audience found it hard to boogie when huddeld under layers of constrictive plastic sheeting ( see right )

The line up of top quality American and UK bands was awesome and has probably never been bettered in a UK Festival - and certainly not in the 1970s. 150,000 people attended, yet the festival still seemed intimate and friendly.

This festival was one of the first to feature large projection screens so that the audience could see the bands close up.The search for this footage has been long and extremely frustrating , as now we have found much of the lost footage , no one seems to want to do anything with getting it into the view of the public ! If you know of a producer who wants to make a documentary about the festival- please contact us .

Like the other Archive festival pages, this site contains articles ,personal accounts from festival goers /musicians ,setlists and other information regarding the bands and people who attended.This is an ongoing project which will grow as people add their experiences to the site.

If you would like to add your details or links

Mandatory Bath festival clothing © Mark Harrison
Visit the 1969 Bath Festival pages.
---
Film of Bath
For years we've been wondering if there was any footage taken of the festival. Finally Henrietta Bannister cleared up the matter.

she wrote

"I regret we do not have any film of the Bath Festivals. There was a professional film made of the 1970 festival by a company called Gentle Ghost and Paradise Films ( for which we still own the rights) but goodness knows what has happened to it. If you hear anything your end I should be really grateful if you would let me know."

However, thanks to the intrepid Steven Lyons , who dug up its resting place in a record 24 hours , several thousand feet of colour 16mm film footage surfaced in 2004 . The only problem was that the film footage had only a few performances, mostly interviews . This wasn't a lot of good on its own as far as a commercial release was concerned (although there are many out there who would pay good money to see it ). However , when a large chunk of black and white video footage emerged , the possibility of a documentary being made raised its head once more .

The problem was, it gradually became clear that the video footage was in possession of at least three separate parties, spread widely around the globe .The Bannisters were not one of these parties, so there was a split- would the forces combine their efforts to make one definitive project that we the public would get an eyfull of before we were all wheelchair bound ?

Well, you can hope, but don't hold your breath , since we found the footage (now over fourteen years ago) , nothing much has happened. Theres a classic impasse , with all parties involved claiming that they own the rights to the footage. The black and white footage varies in quality. Much of it was shot by people who were dosed, the technology was in its infancy and now its deteriorated over the years. Apparently there is good quality audio out there, but those who are in possession of those items have put them onto the back burner for now. i occasionally still get optimistic producers who are convinced that they can get the various splinter groups together and make a film, so far, none of them have succeeded.

The festival at night © Terry Farebrother
Apparently the festival was the first in the UK to be videotaped. Given that 43 years have now passed and that if we wait much longer a goodly portion of those who attended will have snuffed it, we would have thought that it was high time that everyone just got together and made some sort of commercial release before someone DOES get hold of the footage and puts it up on YouTube . So far the only footage out there for people to buy is the Pink Floyd Atom Heart Mother stuff. For details of the video company that was at Bath and which acts were filmed , visit the Festival video link .
There are also a couple of very short 8mm films of Bath, we have copies of two but are always looking for more, we can't pay anything for them , but those people who have entrusted copies into our hands have NOT been ripped off, apart from using stills on the site we have never distributed them for trade or cash and we won't sell you copies. We will put people in touch with those who have the originals if we think you are on the level and will pay the people with the footage to use their work in documentaries or legitimate projects. There are reports that 30 minutes of Led Zeppelin's performance and interviews backstage exists , but so far its not surfaced commericially.
Down front at the Bath Festival 1970 © Thomas Henry

---
Rare flyer lovingly restored by Joe 'Dzsanesz' Kovacs

Audio recordings of Bath festival

PLEASE READ THIS .

Yes we do have copies of audio recordings of most of the acts who performed at the festival .We wont sell copies and we will only trade for new versions or for recordings we do not have.

Please don't pester us to sell or to let you know where you can get recordings because we just won't reply to your mails.

Its out there, so go and trade for it ,or buy the boxed sets that are easy to find on the net, which contain most of of the available audio .

As for us, well, we would love to help, BUT the overall day to day website maintainance and adding to the information online takes up most of our time , theres just not enough to provide help to all of the 150,000 who attended and who want to hear the music. Plus all the others who wish they were old enough to have been there.

Regarding memorabilia, we don't collect items and we can't really advise as to their value because we don't have knowledge of the market.
---
Contents

Each of the band pages contains ( if available), setlists,band lineups , photo's , reviews and links .Where photos and setlists from Bath are not available, we have used examples from the year 1970 , most particularly from the Kralingen festival which took place the same weekend .

Also, a short silent film , taken by Ross Mortimore, of Saturday afternoon at Bath has surfaced , Ross has kindly donated a copy to the site and stills of this are now featured in the film archive section . Another film sent to us from Jochen Lachinsky has shots of Zeppelin, Canned Heat, Santana and Zappa and stills from this 8mm source are sprinkled around the site.

We are still seeking the following recordings of the festival for review purposes,

Colosseum
Fairport Convention
Flock
Maynard Ferguson
Keef Hartley
Dr John


we'll trade the recordings we have of the Festival for copies of these , IF they exist .Copies remain in house if you request it . No recordings are ever sold . If you can help in any way, please Contact us

Has it stopped yet ? © Mark Harrison
---
Bath 1970 links and information.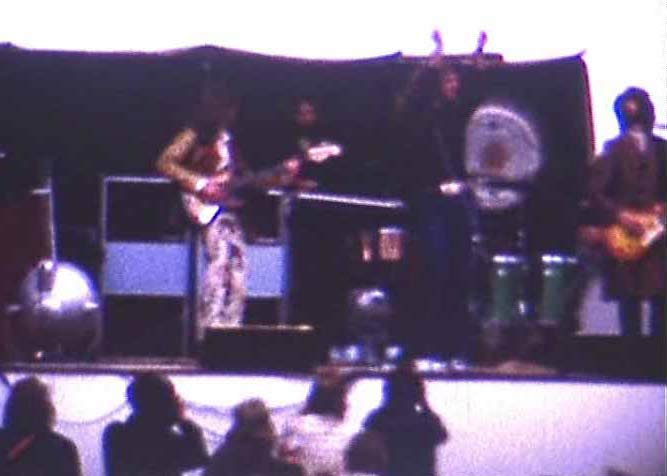 Led Zeppelin onstage Bath 1970 Jochen Laschinsky ©
Jochen Laschinsky has also unearthed a minute or so of 8mm footage which contains several short clips of Canned heat, Zappa, Santana and Zeppelin. Unfortunately , as he was shooting into the sun, the footage is extremely dark , we have included stills taken from the footage on the relevant pages of the site and the example above is what its like at its best . This footage was remaining in house so Jochen could retain the copyright, so sorry folks, its not available here, although apparently its emerged on Youtube, where there has been a series of very rude messages and reciminations regarding its release.
---
Audio- visual Records
---
The Artists
---
Reviews, photo collections and general information
---