The Archive.
Updated May 2012 .View at 1280 X 1024 res for best results.
The Who and Friends Roar In.

The Who

The Stranglers

AC/DC

Nils Lofgren

Wembley Stadium , London.

August 18th 1979
---
" The Who Roar In " Wembley 1979 pages
---
Recollections and photos.
Since the pages are relatively new, relatively few recollections, so we need all you nice Nils Lofgren, AC/DC . Stranglers and Who fans who were at the gig to send some in and make the page more varied , until then, you will all have to bear with these excellent exclusive photos sent to us by the esteemed and generous Vin Miles , who has really made it worth while putting this part of the site online as there seems to be a paucity of photos from this show online. Thanks Vince !
Have a squizz at the new photogallery where we have even more pics of the OOO , taken by Pete Still.
---
Recollections
Hey there,
Amongst others on your list which I will get to, I saw the Ooo at Wembley Stadium in '79. You have it pretty well covered i think but one memorable occasion was during the Stranglers when some twit pulled all his clothes off and was dancing like a nutter on the perimter wall around the pitch, right side of stage, about half way round. The memorable bit was that the people around him noticed, people around them turned around to see what they were looking at, and so on - you could see peoples heads turn towards the naked guy and it spread out in a circular coordinated wave through the 80,000 people, right to the top of the stadium. 95% would not have had a clue what they were looking at, and once it started the whole wave lasted only about 10 or 15 seconds or so but looked amazing. The band must have wondered wtf was going on!
Agree about Kenny Jones- he seemed to work ok with the Faces but not the sort of drummer to keep up with The Ooo live. With The Ooo on stage, everyone, even the drummer has to play lead - no room for session musos. They were still bloody good though, but yea, missed the Loon.
Great site, awesome times.
Martin.
---
On May 2nd '79 a friend, Howard, managed to get tickets for a secret gig at the Finsbury Park Rainbow for the newly reformed Who. It meant hitching from mid Wales early that day but would be worth it. This was the first gig with Kenney Jones on drums replacing (was that ever going to be possible) Moon. We were three rows from the front and witnessed the all seater stalls getting trashed. The gig was great though so it was no surprise that we applied for tickets for the Wembley Stadium gig later that summer.

By now, I was living in Cheshire. By phone and mail, I contacted as many old mates as possible and arranged to meet at The Crown in Brewer Street, Soho at opening time. I was amazed at the turnout as mates turned up from all over the country and by about 1 p.m. there were at least 15 of us reminiscing over pints of Tuborg Gold. No surprise then that we didn't leave the pub in time to see Nils Lofgren. AC/DC were very good but not my cup of tea, by the time Stranglers came on my hangover had set in. I had seen the Stranglers once before in the week that they debuted on TOTP with 'Go Buddy Go' in front of a crowd of less than 200. I don't think Wembley really lended itself to a band like them and this wasn't assisted by them playing pretty much all of their new and relatively unheard 'Black & White' album.

The Who followed them with a storming set. The performance couldn't improve on Swansea '76 but in my opinion, the setlist was better. They were on stage for at least 2 hours and the only down point was getting on a tube to get back into central London. Luckily we were staying with Howard otherwise we would have had to sleep rough. Next day we all met up again for a hair of the dog in Dirty Dicks near Petticoat Lane. A much more subdued but enjoyable sesh ensued.

Tim Williams
---
The Stranglers
A collection of colour photos of the Stranglers at Wembley 1979 can be found online here
Photos of AC/DC at Wembley 79 can be found here and bought
The Who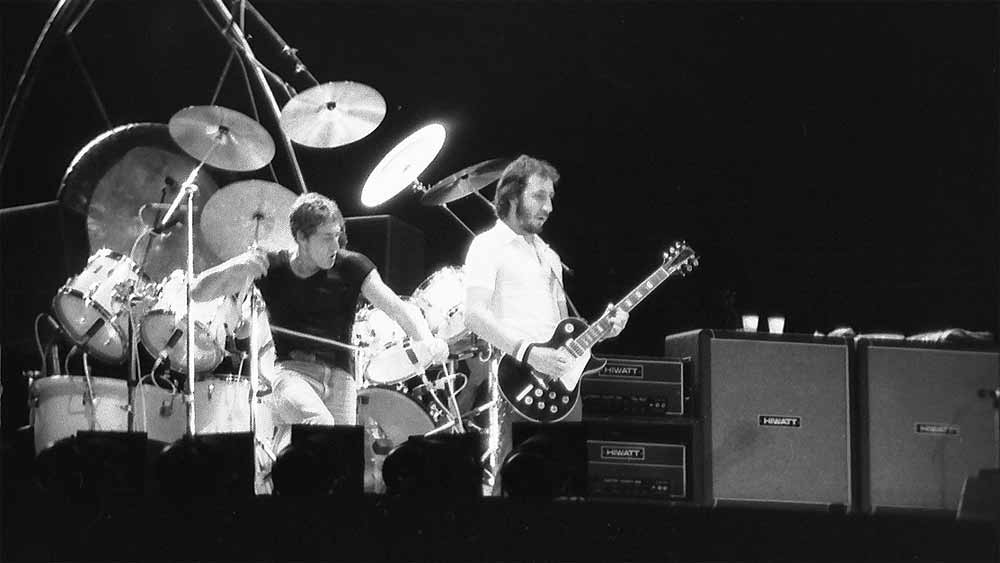 A classic !
Can remember press releases from the promoter saying extra trains tubes and buses would be available, but obviously didnt appear. I think i was one of the lucky ones actually getting to st pancras just after midnight and just missing my last train, with a lot of people milling about a tannoy came over asking people heading north to get on next train to derby where connections would be waiting, but when we got to derby no staff knew anything about any connections, obviously a ploy by british rail staff to get people off st pancras.
BrIan Hall
---
Pissing around youtube and somehow end up looking at a review of a gig I attended a couple of years ago (http://www.ukrockfestivals.com/The-Who-wembley-1979.html ). Actually, I think it was the first time I left my home town for anything other than a visit to a favourite, lavender-scented aunt. But fucking wow !!! What a way to lose one's virginity..... AC/DC were actually hitting the big time (as opposed to "up and coming Aussie band" .... ???) – and truth be told it was a relief to me that the power went out. There's only so much yelling from a school-boy-clad-rock-screamer one can take before wanting to kick the shit out of the fucker. But I think there were some folks who enjoyed the set. Peace be with them. Nils L was ok – but to my mind nothing of the contribution he made to Bruce S/E Street Band. Stranglers were absolutely fucking brilliant. I can still feel Burnel's bass bounding through my body. For a band that work best in a small club scene they were superb. The Who were pretty damn special too. Kenny Jones rocked but I was sad not to have heard Keith Moon live. Ever. Such regrets.........
Mike Doherty
---
I was there. I remember the Who set – audience lit matches-lighters, etc – first gig I remember lights going on from audience- very effective in summer evening – tickets £8.00p ? wow, I wish they were now. I think it was the original line-up ? Went to see AC/DC at Wembley again this year – thirty years later- tickets were £55.00 !!!!!!!!!!! ( they are the main act now – still going strong ) Angus Young was fantastic on guitar – never left the stage – some energy !! I wouldn't want to see Who again now – they are way past sell by date. I will try to remember them as they were – 30 years ago !!
Andy Taylor
---
Just found your website. A strange sentiment triggered my search for it.

Saturday 5th May 2012 was my middle daughter's 18th birthday. To numb me at the presence of my ex-wife and fiance plus one of the kids from the original guy she left me for 10 years ago (not the same as her current fiance!) I put on some AC/DC, waiting for the kettle to boil and hid in my own kitchen! Instantaneously I was effortlessy transported back to a moment while waiting on one of the Wembley turnstiles to get in to the stadium on 18th August 1979. It was hardley a musical moment but has stayed with me for life.....

I was seventeen and had almost violently persuaded a school mate to borrow from the school sixth-form tuckshop money so I could belt down to Wilson Pecks music store in Sheffield, an outlet for national concert tickets - no Ticketmaster (or surcharges) in those days. I got two tickets. It was a more than a journey to see The Who. For me it was a pilgrimage and the whole world would be there. Everyone on the train down to London was a potential concert goer. I had my combat homage jacket to the Who with the Quadrophenia logo which I had painstakingly painted in white gloss emulsion on the back, in addition to the various patches and badges picked up from wherever I could find them.

It was an adventure going to London in those days let alone to a concert on this scale to see the band I'd spent the best part of my teens worshipping and masturbating to - the nude pin-ups in the gatefold on Qaudrophenia worked for me! My spiritual mood was massively enhanced when climbing some stairs somewhere on the Tube network with a queue of indistinguishable folk, when a chap who saw my jacket artwork drawled amazed in a thick, American accent, 'The Who? Are they playing? Here? Today in London?'. I can't recall how I responded but I'm pretty sure it would have been some arrogant, teenage snipe at his poor misfortune of not being a ticket holder.

A bit of moutharp ere lads ....© Vin Miles
It's rose coloured glassed no doubt, but on getting off the tube at Wembley everyone seemed bent on one destination. When the stadium came in to view I had a feeling which I've always had trouble articulating until I saw 'Gladiator' and the scene where Russell Crowe's mate (can't remember the guys' name) sees the Colisseum and delivers that line about not knowing men 'could build such things'. We were here and the rest of the world was too.
I can't recall which was our turnstile entrance but I remember there was a good few folk already milling about and they were all kindred - longhairs, denims, combats. I remember it being predominantly male so there was the usual bawdy banter. A few folk were pissed already. I'd made my mind up to stay sober to be able to recall every last moment of that day. After waiting and thumbing endlessly through the programme (I still have it!) a small roar went up. I braced myself for a push to the gate but none came. Another cheer. Above us on the concrete paprapet overlooking the turnstile, a pissed up longhair had managed to climb up and started Angus Young impersonations. The crowd responded with the refrain from 'Whole Lotta Rosie' - ner-ner-ner-ner-ner-ner-ner-Rosie! The longhair was encouraged and bared his arse, Angus style to much more cheering and applause. Shouts of further encouragement persuaded a female longhair to make the precarious climb up and join Angus longhair. Much cajoling and encouragement followed. The refrain took on a new twist ner-ner-ner-ner-ner-ner-ner-tits out! Instantly every other voice joined in. Possibly flushed with the mass adualtion and appreciation for the female form, the female longhair lifted her T-shirt to expose a prominent pair of rosy (pardon the pun) breasts which she momentarily paraded. Instant rapture and thunderous applause followed..........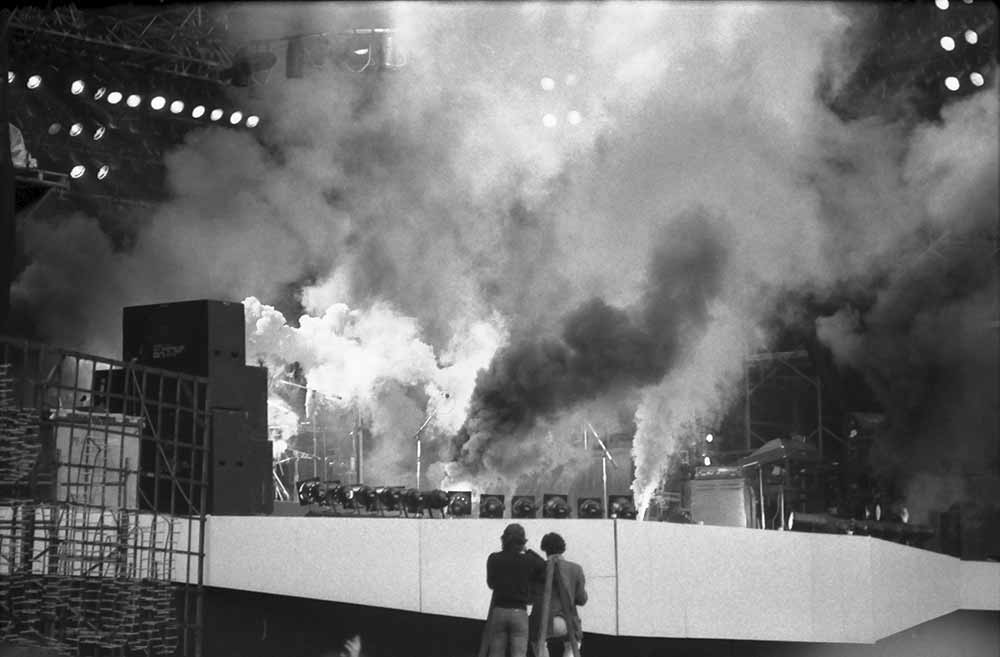 No, its not Keith blowing up his drums , (would that he was still here to attempt the deed) , its just the special effects....
I don't recall much of the actual gig. The laser show. Townshend's rant about the audience getting its 'monies' worth' when he introduced a brass section for 'Drowned'. Getting split up from my mate. Wading through the rubbish strewn pitch. Along with a few others I spent the night on the turnstile fucking freezing until the early hours when the tube trains started. The train back to Sheffield seemed to go around the country. It was a come down. I got home. One of the goldfish had died - bad news which I'd have to break to the parents when they come back off holiday. A neighbour had been and fed the dog and let it out for a shit. A couple of weeks later I saw concert bootlegs for sale in the NME for an extortionate price. I sent off for two. Some guy had obviously had his recording gear between the bottles of beer in his parka pocket - you could make out what was being played when the clinking bottles and crowd's muffled singing sychronised. Somehow those bootlegs signaled an era had passed for me. But that moment with longhair bird still lingers....

My daughter got everything she wanted for her birthday. And so she should, she's lovely. I'd have no problem with her imitating Angus Young. She knows this much to her embarassment. As I was waiting for that kettle to boil, Bon Scott drawling in my ears, that queue on the Wembley turnsile joining in, I couldn't help but feel that at 50 years, this wasn't quite like I had expected life to turn out.
Greg
---
Hi
I was in the audience with my ex and her family, it was a fabulous concert the Who seemed to go on forever and AC DC The Stranglers and NIls Lofgren couldn't have been better, we came from Sussex by car and it was quite a prob getting in and out of the c ar park, i also remember The Who providing a breathtaking laser beam show which were bounced off mirrors around the arena,the entire stadium was flooded at one stage with lasers I have looked for film or video clips of this but no joy, have you access to any please ?
Blessings
John Katon
---
" The Who Roar In " Wembley 1979 pages
---
Who can help flesh out the festival with reviews , information, recordings and photographs ? e-mail if you can help. Contact us
---