The Archive.
Updated May 2012 .View at 1280 X 1024 res for best results.
The Who and Friends Roar In.

The Who

The Stranglers

AC/DC

Nils Lofgren

Wembley Stadium , London.

August 18th 1979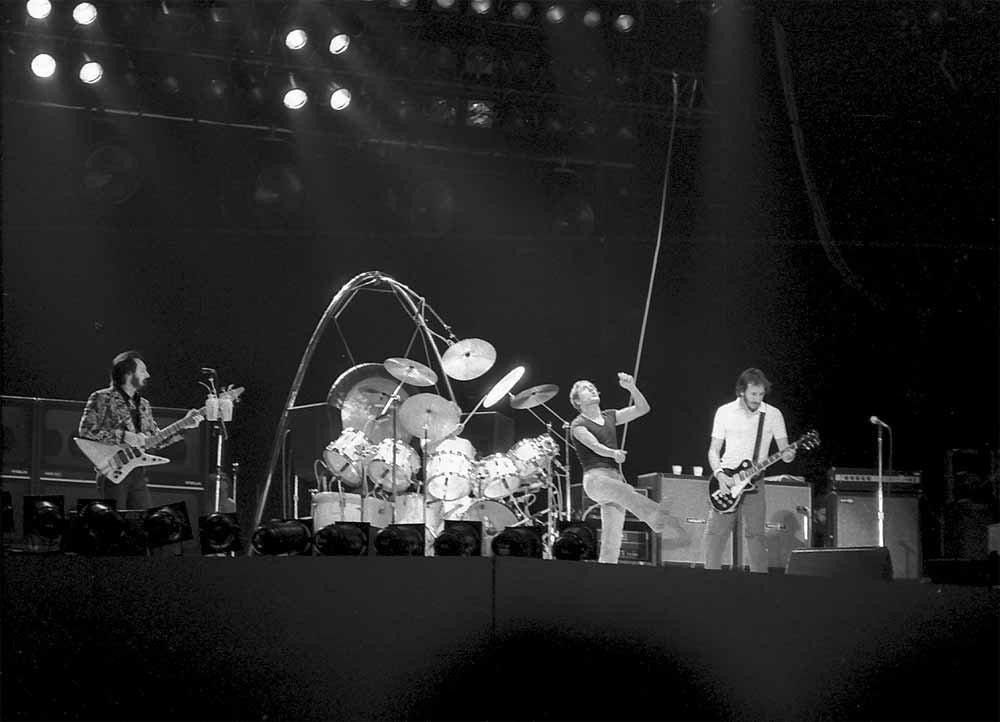 Roger definitely hasn't lost his mic tossing skills ! -The Who onstage Wembley 1979 © Vin Miles
---
Another huge outdoor stadium concert in London's Wembley Stadium , the reformed Who with former Faces skinsman Kenney Jones taking the place of the late drum genius Keith Moon , drew a capacity crowd of 80,000 to the Wembley Stadium. The band had undertaken a brief stint of smallish dates around the UK earlier in the year and this was their first really big gig after Moon's death. The band must have had a few qualms about whether they would sell out a venue this size now that they were Moonless.
| | |
| --- | --- |
| | |
They needn't have worried , they easily sold out the stadium and received a warm welcome from the swarms of fans that attended the show. In an interview backstage at the stadium Pete talked about Wembley Stadium and how it was not intended to hold rock concerts and how it was not his choice of a venue to play in. He also talked about how expensive it was to organize a large festival show like this and how little money was made after all the expenses were paid. Pete also talked about touring and how he did not enjoy it much . This interview is contained on the bootleg "The Who Roar In " ( of which we don't have a copy so please don't bother us asking for one )

The weather was good but there was a surfeit of booze, despite there being bars at the venue, many brought their own booze and others sampled the killer scrumpy that was on sale for £4 a gallon. Many only needed half a pint and they were either rendered legless or sick - or both ! The heat would not have helped as dehydration would have set in pretty rapidly .

The crowd were mostly peaceable but there were a few nasty fights - no doubt fuelled by the booze, the Who's fans as a whole were no shrinking violets and some would not have taken much provocation to resort to fists instead of insults . We don't know if there was much can throwing but a lot were brought in to the arena .

Nils Lofgren ( Crazy Horse and Bruce Springsteen sideman ) was the first act to appear at around 3pm , his set doesn't appear to have been recorded , but one punter remembers that he did a few summersaults .After a 45 minute set, which included one encore, he was off and relatively unknown Aussie hard rock band AC/DC were on . They did a storming set and even when the PA cut out on the last song but one they still kept on rocking . When sound was restored they did another song as an encore and then they split to much applause , this show did much to boost their status in the UK . The set exists on 8mm film but the camera is situated such a very long way from the band that they could be anyone ....watching this sort of footage is tedious in the extreme , but its on youtube if you want to torture yourself.

The Stranglers were on at twilight , and they adopted a brave strategy, mostly playing material from their new album rather than resorting to well known numbers that would have easily won over the audience. They were received well but did no encore . They also displayed the titles of their songs on a scoreboard at the rear of the stadium where no one facing the stage could have seen them ....strange .

The Who's set was greeted with mixed emotions by critics who thought it was alright, but not classic Who. Most fans seemed to have lapped it up. We at the Archive are not fans of Kenney Jones at all ,at all, and consider him the worst drummer the Who have had - ( this opinion was formed on watching the Rockpalast show from 1981 ), he just doesn't have the flair and energy needed to propell the Who in full flight - but since we haven't heard any recordings of the Wembley show we cannot really comment on how well the band played on this occasion . Certainly the band LOOK right on and the laser display was excellent .
Lengthy delays were experienced by those who decided to get home by public transport rather than use cars, the show finished by 10.10 pm but many were left without transport , presumably because it took so long to get out of the stadium. Others may have hung around waiting for friends or waited for the worst of the crowds to disperse. This really could not be blamed on the organisers - a 10PM finish is exceptionally early for a London concert and most people should have had time to catch last busses and trains.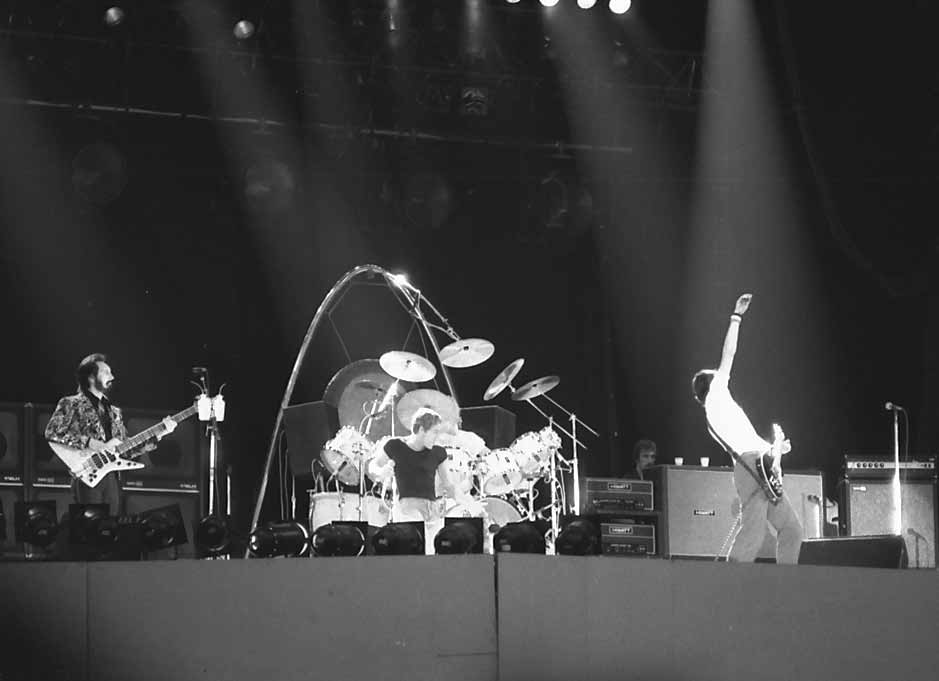 The windmill is not dead ! -The Who onstage Wembley 1979 © Vin Miles
---
" The Who Roar In " Wembley 1979 pages
---
Festival Welfare Services Report

Field Worker's Report

Two Festival Welfare Services organisations (release and the Samaritans and myself ) were in conjunction with the Wembley Medical Centre staff as the FWS had only been allocated 18 passes and therefore they had to take along very small teams. FWS set up in a room next door to the Medical Centre at noon. The back part of the room was partitioned off for the Samaritans to use for their personal counseling services. Release organised the front half into a recovery area, supervised by their doctor, using their own mattresses and blankets, and some kindly supplied by the Medical Centre.
Another windmill © Vin Miles

From about 3pm FWS and the Medical Centre became extremely busy, dealing with an enormous number of People suffering from the adverse effects of alcohol, mainly cider. The cider was very rough "scrumpy", being sold in gallon containers. Some people who had drunk only half a Pint were vomiting and complaining of feeling extremely ill. In addition, the welfare services dealt with several cases of drug abuse, mainly barbiturates. Two patients became violent and at one case the Police had to be called in.


The medical staff also dealt with a stream of casualties as a result of violent outbreaks in the crowds and several people had to be taken to hospital. At the end of the concert, one known case had to be taken to a psychiatric hospital.
All FWS volunteers were fully stretched right through the day, due to the large number of casualties and the shortage of personnel. Co operation with the Medical Centre staff was extremely good. FWS volunteers were given access to their tea and coffee making facilities and were provided with sandwiches in the evening.

Being used for numerous other events, the Wembley Stadium was equipped with permanent toilets and water supply, although the water supply was not functioning in all the toilets and long queues developed on some toilets, especially the Ladies, and several units became un-usable. Food supplied was of typical commercial festival standards, with limited choice but reasonably priced. Alcohol was on sale both at licensed bars and from private vendors. Many people also brought vast quantities of alcohol in cans into the stadium. Rubbish receptacles inside the stadium were not evident and there was an enormous amount of litter left after the event.
An information service was provided by the Brook Street Bureau, throughout the day, but it closed up at about 8pm, well before the end of the concert. This was very unfortunate, as the service had not only been providing general and transport information, but also acting as a lost people's point. At the end of the concert there were many people hovering in the area of the information point, unsure as to whether they were in the right place to meet up with their friends, or whether friends might have left a message for them which they could not find. Also, the information people removed, when they left all the notices showing the late night transport facilities.
After the concert, the transport facilities were chaotic. I got to the Wembley Park underground station at 11.30pm to be told that no more trains would be running. There was a crowd of several thousand people outside the underground station, not very pleased to receive this news. We were directed to another underground station by the Police,which we were told would still be open. This meant that several thousand people were streaming along the roads which were packed with traffic at a slow crawl attempting to leave the concert. Most pedestrians were extremely tired, confused and had no idea where they were going.
I followed the Police directions and after nearly a two mile walk, arrived at Wembley Central station at 12:30 only be told that all the last trains had gone, but that a BR train would be going from the Wembley Hill station in a few minutes if I hurried. When I got to the station it was in total darkness, with no officials around, except for three Policemen at the entrance. An unlit train arrived shortly and everyone waiting on the platform packed into it.The train eventually arrived at Marylebone station at 1.30am, where no other linking transport facilities were available. The only choice for most people was to walk, and several hundred tired and very annoyed people set off walking in various directions. I walked towards Kings Cross and found many people asleep on the pavements en route, obviously having been at the concert. The forecourts at both Euston and Kings Cross were littered with people asleep, waiting for the first train home.
This chaotic situation seems to have been completely avoidable if transport facilities had been organised to take people into central London in time to make connections on public transport. It must have spoilt the effects of the concert for many people, and the presence of so many people confusedly wandering around the streets of Wembley must have caused great concern to the local residents.
Estimated attendance at the concert was 80,000.
It is recommended for future concerts at Wembley Stadium
Transport facilities should be organised so that people can get into central London after the concert in time to make public transport connections.
The sale of alcohol inside the stadium should be limited to shorter hours and should only be at Licensed bars.
Tin cans should not be allowed to be brought into, or sold. inside the stadium.
More rubbish receptacles should be provided.
The toilets and water supply should be regularly serviced throughout the day.
The information service should continue to function until well after the music has ended.
Ancillary welfare services should be allocated more passes and should be paid expenses by promoter to cover their costs.
---
" The Who Roar In " Wembley 1979 pages
---
Who can help flesh out the festival with reviews , information, recordings and photographs ? e-mail if you can help. Contact us
---