The Archive.
Updated June 2021
---
---
Mahavishnu Orchestra 7-20-74.
Fortunately an audience tape of this performance exists , with quality ranging from poor to very good- mainly due to wind drift. Most of it is very listenable , although it is incomplete- 90 mins.The total show ran for 100 min.
Set list

Wings of Karma 19'
Sanctuary 12'05
Vision is a Naked Sword 30'
band members introduced 2'
Hymn to Him 38'

Thanks to David Graham for the set list.

The line up of the band was also probably identical to Apocalypse - which was
John McLaughlin -electric guitar
Jean-Luc Ponty -electric violin
Gayle Moran -keyboards
Ralphe Armstrong - electric bass
Michael Walden- drums
Carol Shive - violin
Marsha Westbrook -viola
Philip Hirschi - cello
Steve Frankewicz
with the addition of Bob Knapp -trumpet , flugelhorn, flute- (featured on Hymn to Him)
Steven Kindler -violin

A DVD of this band playing at Montreux 1974 is available and well worth purchasing as it features some songs played at Knebworth.
---
My review of the Mahavishnu Orchestra set , from memory and the audience tape
The Mahavishnu Orchestra were as far removed from the Alex Harvey band as a rain forest is from a desert . Whereas Harvey was theatrical ,loud and in your face, McLaughlin's crew were otherworldly, reserved and mystical. They were my favourite band of the day. I never was all that keen on the original Mahavishnu Orchestra , as I felt that they were just too full on, so blindingly fast and heavy in their approach that at times it was draining to listen to them. This version, the biggest outfit that Mc Laughlin ever assembled, was far more to my liking, as there was more light and shade to the playing. Rigged out in white robes, including a section of strings, which provided very surreal and warped phrases at times, this was a great band . The set they performed was long and intense. Over 100 minutes- my audience tape cuts out and there's still more of the show to come - I believe it features mostly songs from Apocalypse - ( I still have to identify most of them )- its main highlight was a brilliant violin /guitar duet between McLaughlin and ace violinist Jean Luc Ponty, which received a lot of applause from the audience.

© Nigel Barton
The set began quietly with a slow build-up of strings, drums and guitar , with McLaughlin then taking off with a lengthy solo featuring immensely fast flurries of notes, punctuated with slow , thoughtful passages and interwoven with occasional phrases played by Ponty and echoed by the strings . The whole propelled along with churning staccato drum work , it built up to huge peaks, dropped down into peaceful valleys, than roared back up to the heights once more. This opening medley, some 20 minutes long, created a brilliant beginning to the set and this was then followed by the epic Ponty /McLaughlin workout which lasted for an age and flowed onto the second side of the tape , where Ponty just blew everything away for about five minutes, playing impossibly fast and high- the tone of his violin seeming to cut right though to the cerebral cortex -and a gradually developing bass line pushed the music faster and faster until the jam was all consumingly epic in its scope !. If this had been the end of the track Ponty would have gotten a huge encore, but once again the pace was dropped to a crawl by the strings,which were discordant and grating. Then McLaughlin began another solo, this time using a weird tone to his guitar which reminded me of a cross between a marimba and a electronic bee. This went on for perhaps 10 minutes and then the strings dropped in again with a superb ascerbic theme, one of those typically ever ascending Mahavishnu trademarks which pulled out all the stops. When the track came to an end , it had been about 40 minutes since the number had begun .
The next track was Hymn to Him which featured an excellent keyboard solo and then the band moved into another unknown track, during which bass player Ralphe Armstrong got to strut his stuff for a minute or two and then, unfortunately , the tape that I have cuts.
| | |
| --- | --- |
| We then got the band intros from McLaughlin but unfortunately this is somewhat garbled on the tape. By this time 60 or so minutes had passed and the band had only paused once .This was difficult music , no catchy tunes, no vocals , no overt crowd appeal with scantily clad chick singers or leather trousered groin splitting guitarists- just top quality playing which was totally original and inspired in its concept and which made some big demands of its listeners. | |

© Nigel Barton

McLaughlin's always unique guitar sound was largely a highlight of this show, but this was not by any means just a vehicle for him to show off his prowess as an axe man, anything but. This bands music echoed its leaders spiritual leanings , always searching , striving to reach for a numinous , mystical state and often succeeding, but which was also in turns funky and powerful - rarely have I come across a better performance at a festival. There was very solid applause at the end of this set, which was great , considering the lack of commerciality of the entire show .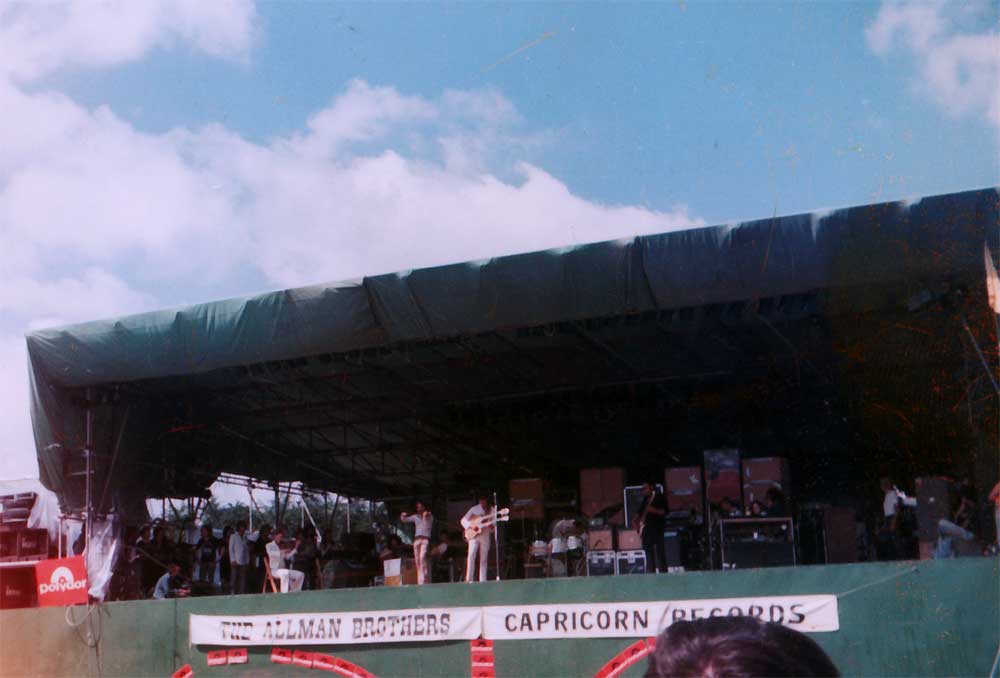 © Nigel Barton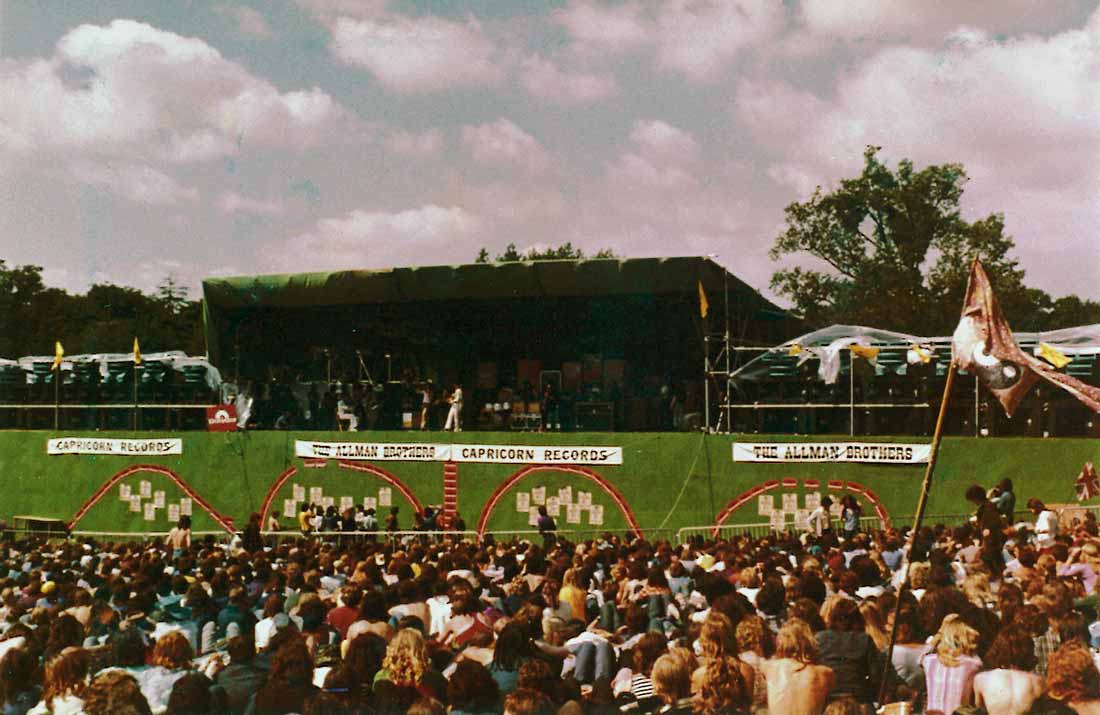 © Frits Niemeijer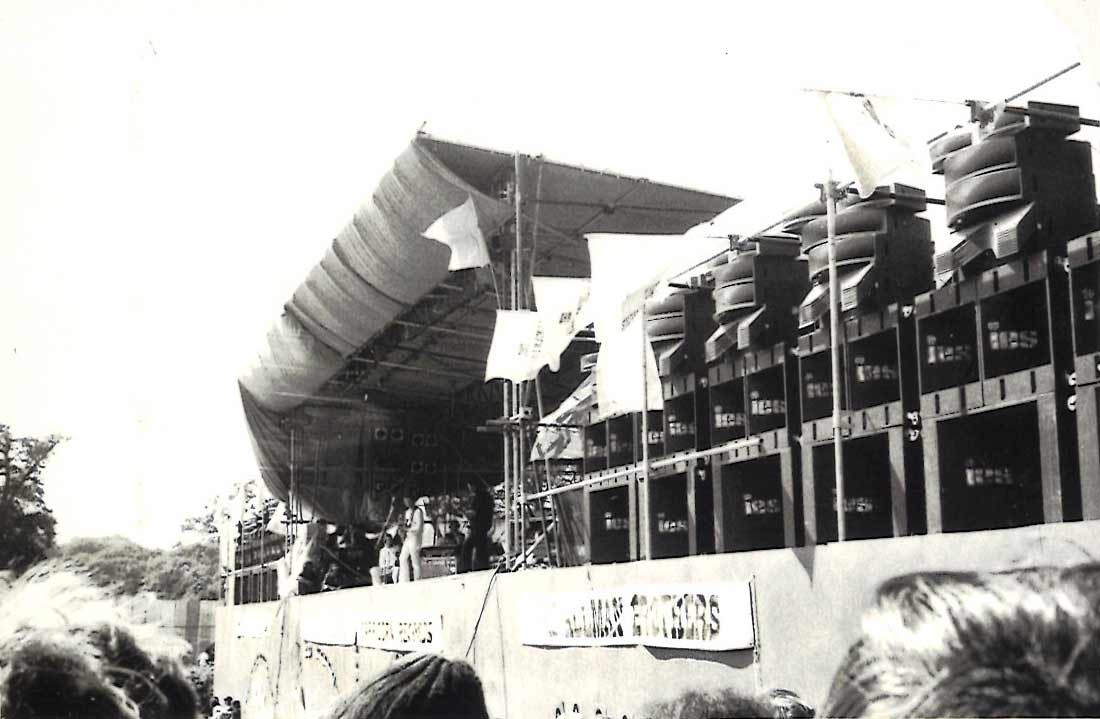 © Frits Niemeijer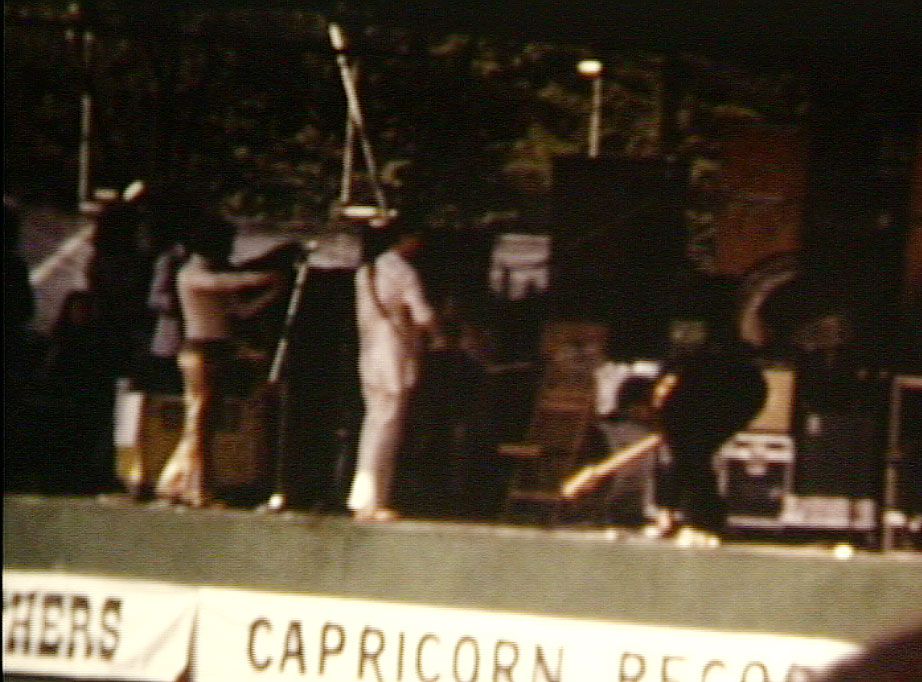 Still taken from a few seconds of 8mm footage of the Mahavishnu Orchestras set , Ponty soloing .© Geoff Clout.
---
Contents .
or you can read the individual
Band reviews which also contain recording details, set list and band line up info as well as links to each artist where available..
---
Can we get a witness ?

We have been endeavouring to collect as many recordings of the artists that featured at these concerts as possible, so we can effectively review the performances, provide set lists and band line-ups. Any info displayed on these pages or which is sent to us for review remains the copyright of the contributor and the Archive makes NO PROFIT from its use. The intention is to also display as many personal histories of the festival as possible for the benefit of readers of the site and we welcome all written contributions, no matter how long or short.

If you can contribute in any way, with tapes, reviews , photos or personal histories, please Contact us.

Knebworth Concerts 1974-86
Knebworth links
---