The Archive.
Last updated June 2021
---
---
The Doobie Brothers.
---
Jeff Baxter and Pat Simmonds © Art Tumelo

Doobie Brothers Knebworth Festival ( the Bucolic Frolic ) Hertfordshire UK.
1974 July 20th
setlist
Tuneup.
Announcement
Listen to the Music
Announcement
Black Water
South City Midnight Lady
Rockin' Down the Highway
Don't Start Me Talkin'
Without You
Clear as the Driven Snow
Eyes of Silver
Long Train Runnin'
China Grove
Down in the Track
Road Angel
Jesus Is Just Alright
China Grove reprise
A great 60 minute show,I actually preferred this to the Allman brothers which followed as it was so high energy from start to finish, the band are blazing and really on top form aided by Jeff Baxter who is phenomenal.

Unfortunately there is some talking , mostly during Blackwater, but also more towards the end of the set , which one would have thought would have been the time that people would be dancing and having fun, but sadly there are some guys near the taper who talk quite a lot, not constantly, but enough to be a nuisance.

As the chat is on the same frequency as a lot of the music this cant be removed without also removing musical information , I've toned it down where its possible to make it less audible. How anyone can talk during a show with Jeff Baxter totally shredding it is beyond me , but I send the talkers a much belated fuck off for their efforts.

Although it was lovely sunny day, there were were wind gusts on occasions,
something that plagued almost all recordings from this festival. Fortunately most of these have been repaired as much as possible, and as the show goes on there are fewer of them , this does however mean that bass response has had to be toned down as that extenuates the wind noise :-(

For all that probably 85% of this is without talk and wind noise and its not by any menas for completists only.

Many thanks to JK the taper who provided me with a copy of his digital master to try and improve, its a very good recording for the era ,especially given it was outdoors and in a field of 70,000 noisy hippies.

Lineage
BST electret condenser mics and Her CR210 deck > 16 bit digital file> mac hard drive > audition and acoustica 7 premium edits , tone down applause ,improve levels where there were major fluctuations , repair wind noise, take out/tone down other noises and chat > x)> xact flac transfer
Recorded by JK to whom we should all be eternally grateful , remastered and transferred by GGB.
JK writes " That's what I call total dedication to the cause of retrieving musical documents. You've made it thoroughly enjoyable to listen to even after people got on their feet and built a human wall that dampened the sound so much you could hardly hear anything.
Knebworth and most of my recordings during the 70's and 80's were made using Uher CR210 coupled with two BST electret condenser mikes (those were easy to conceal in your boots with the cables running up you legs and stuck under your belt)There was no searching in Knebworth and Crystal Palace as far as I remember ; things were a bit tougher in Chicago and some of the french concerts were a real nightmare because the security guys were bouncers or goons working for the local (political) mafia, or generally both."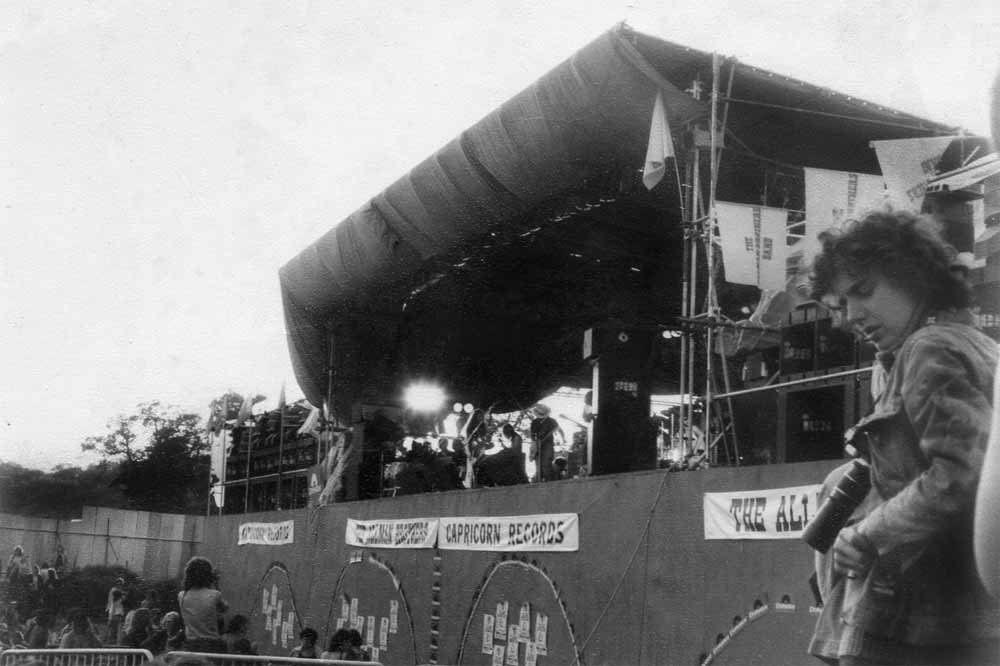 The Doobies strut their stuff as the sun goes down ... © Tony Brigg
Photo courtesy of Henry Cobbold , Knebworth House.
The Doobie Brothers were something of a mainstream band , at least if one judged them by their records, but live they were another matter, on stage they were an extremely funky and soulful outfit . They were billed above Van Morrison on the strength of a few hits such as Listen to the Music and Jesus is Just Alright . I never owned all that many Doobies albums, but I had friends who were real fans , and we spent a fair few hours laid back listening to their albums, the best of which are probably Toulouse Street and The Captain and Me.

Photo courtesy of Joseph Kolmansky.
Photograph © Bazza.
To view a close up of the band click the main photo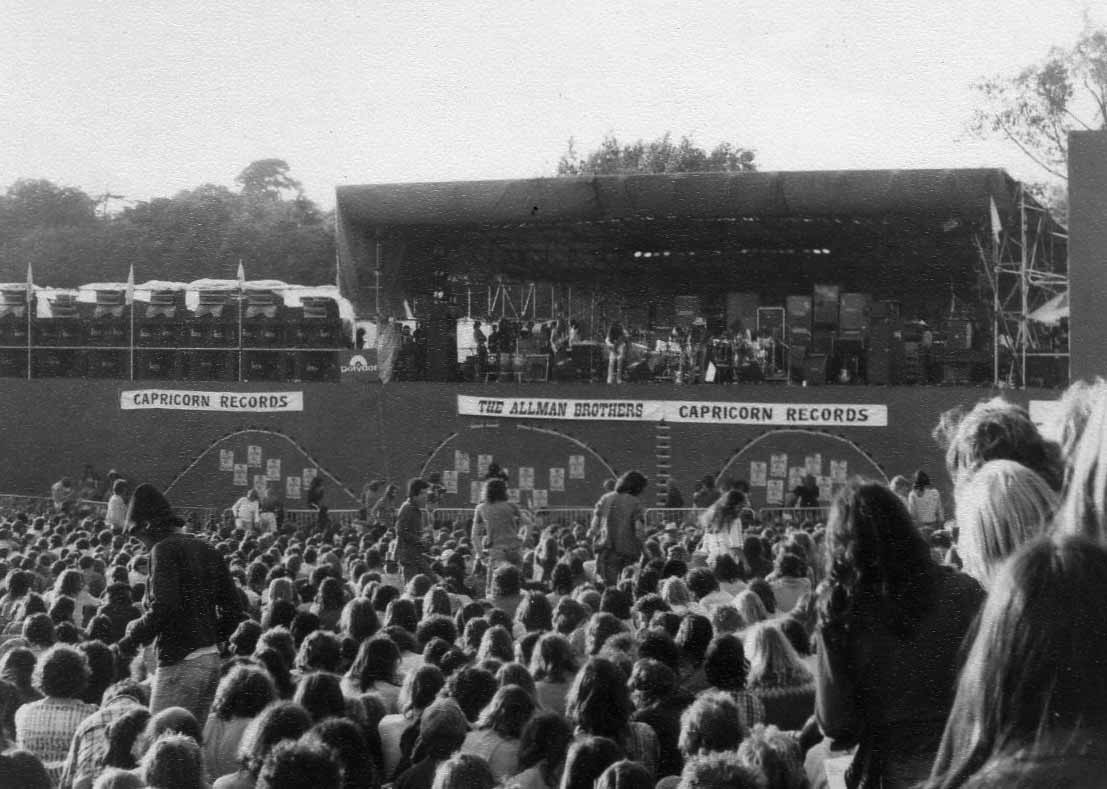 View of der Doobs from just about where the Archive editor was sitting © Tony Brigg
I was expecting to be mildly entertained , but the band were top notch . Not an outfit who were going to go in any different directions on any given night, but still a highly professional band of talented musos who were capable of stirring up a crowd and giving them a good time, mainly driven by the twin guitars of Pat Simmons and Tom Johnston, their eminently soulful vocals and a rhythm section that was as tight as a latex glove. They also had more than a few damn good songs and the combination of the twin intermingled guitars and spot on vocal harmonies was hard to resist. This show was hot and featured most of their big hits. By the end of their set they had most of the crowd on their feet and dancing madly to their music.


Personnel

Tom Johnston - guitars/harmonica/vocals
Pat Simmons - guitars/arp/vocals
John Hartman -drums/percussion/vocals
Tiran Porter - bass guitar/vocals
Michael Hossack - drums/congas/timbales
Jeff (Skunk ) Baxter- guitar


Excellent photos of a Doobie Brothers concert in Arizona in 1974 can be seen here .

Set list

Listen To The Music
Black Water
South City Midnight
Lady.
Rockin Down The Highway.
Don't Start Me To Talking
Without You.
Clear As The Driven Snow
Eyes Of Silver.
Without Love
Down in the track
Road Angel
Jesus Is Just All Right With Me
China Grove
At least one audience tape exists of this show . Big thanks to the intrepid J K - who taped the show - for this set list . As he says " a highlight of this show was Tom Johnston's " put your hand together " routine which worked so well and still gives me a thrill after all this time"

---

Doobie Brothers links.
Official Doobie Bros homepage- mainly promotes the bands activities today ,but not a lot of info on the bands past .
Rough Guide to Rock - Invaluable site which gives background info and album details for almost every band you can think of.
Doobie Bros Fan pages Good site , but incomplete at the moment, lots of pix.
---
Contents .
or you can read the individual
Band reviews which also contain recording details, set list and band line up info as well as links to each artist where available..
---
Can we get a witness ?

We have been endeavouring to collect as many recordings of the artists that featured at these concerts as possible, so we can effectively review the performances, provide set lists and band line-ups. Any info displayed on these pages or which is sent to us for review remains the copyright of the contributor and the Archive makes NO PROFIT from its use. The intention is to also display as many personal histories of the festival as possible for the benefit of readers of the site and we welcome all written contributions, no matter how long or short.

If you can contribute in any way, with tapes, reviews , photos or personal histories, please Contact us.

Knebworth Concerts 1974-86
Knebworth links
---