The Archive.
Updated September 2007.
---
The Fourteenth National Jazz ,Blues and Rock Festival.
Richfield Avenue.
Reading
August 23rd-25th 1974.
---
The trashing of the Fish and Chip van
A little slice of rock and roll history was captured by Vin Miles who was present when this Chip Van was attacked by the crowd at the 1974 Reading Festival. You could look at this incident as either an excellent example of people power revolting against explotation or a good example of the unpredictableness of the mob, but I bet the owner never overcharged at a rock festival again......
Matt Monro was there and wrote this :
I was also at Reading in 1974 with a bunch of mates from the Cimla Hotel in Neath, South Wales known as the Cimla Road Rats. It was a very alcoholic weekend and I remember the incident with the chip van very well. One could say I played an important part in it's demise. I approached it around 6pm on the Saturday and asked for some chips. The owner, a surly sort of chap stated that he would only sell fish and chips and it would be about 2 quid which was a bit of a fortune in those days. I remonstrated with him at which point he got aggressive. The guy behind me in the queue asked what was going on and I explained the situation to him and the rest of the queue and started to walk away.
Suddenly the whole queue started hurling abuse at the van owner who proceeded to come out from behind the van with a sizeable kitchen knife. ( it actually appears to have been a spanner in his hand ) At this point a hail of cans forced him back near the van. The crowd which had miraculously grown to about two hundred then started to rock the van in an attempt to push it over. The owner started the engine and drove off as the chip fat spilled over and set alight to the inside of the van. The last thing I remember was seeing it drive out of the arena with a pall of black smoke pouring from the back.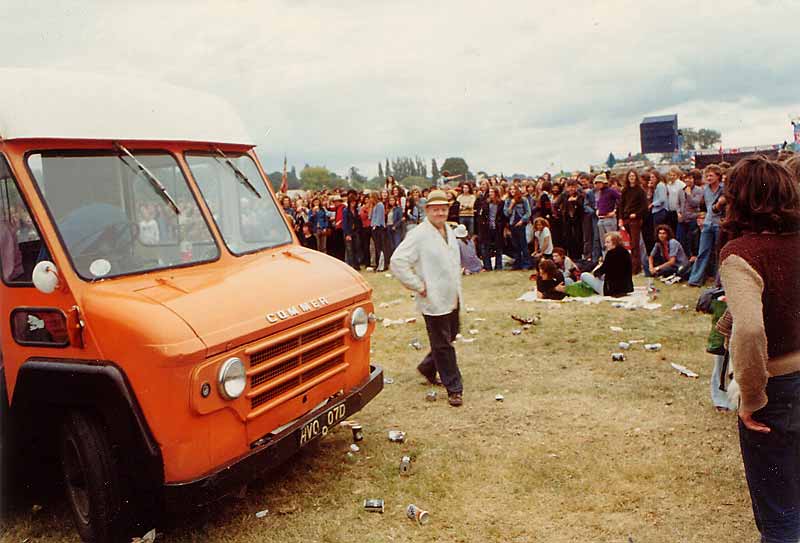 The Great Chip Van Debacle -Reading 1974
All photos © Vin Miles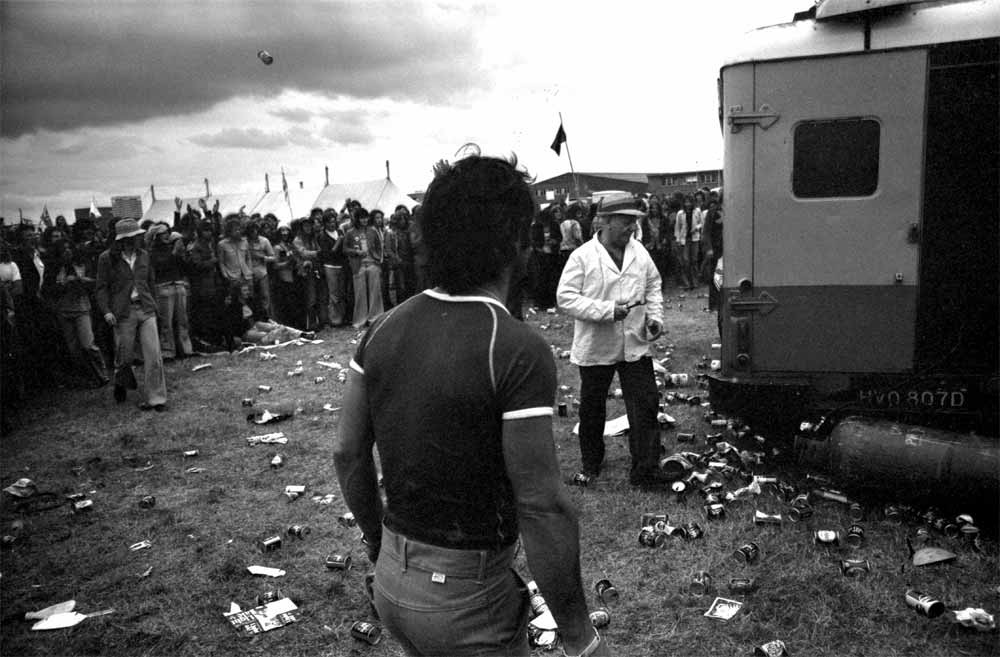 Spanner in hand, the intrepid chip shop owner makes a hasty retreat in the face of mass opposition....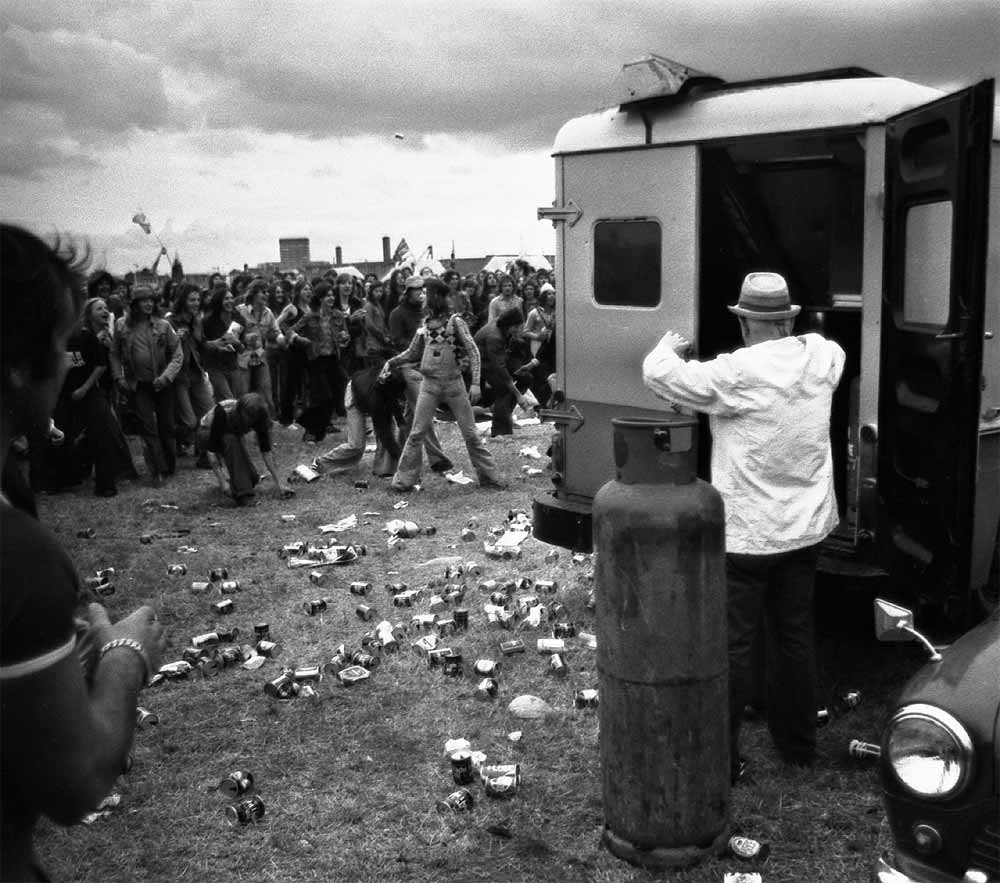 Things are not looking good ....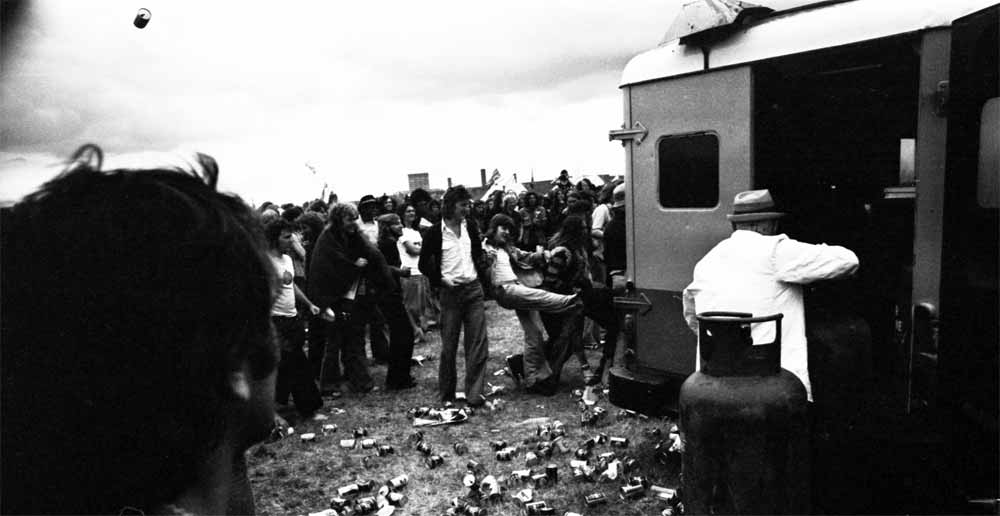 First shot from the crowd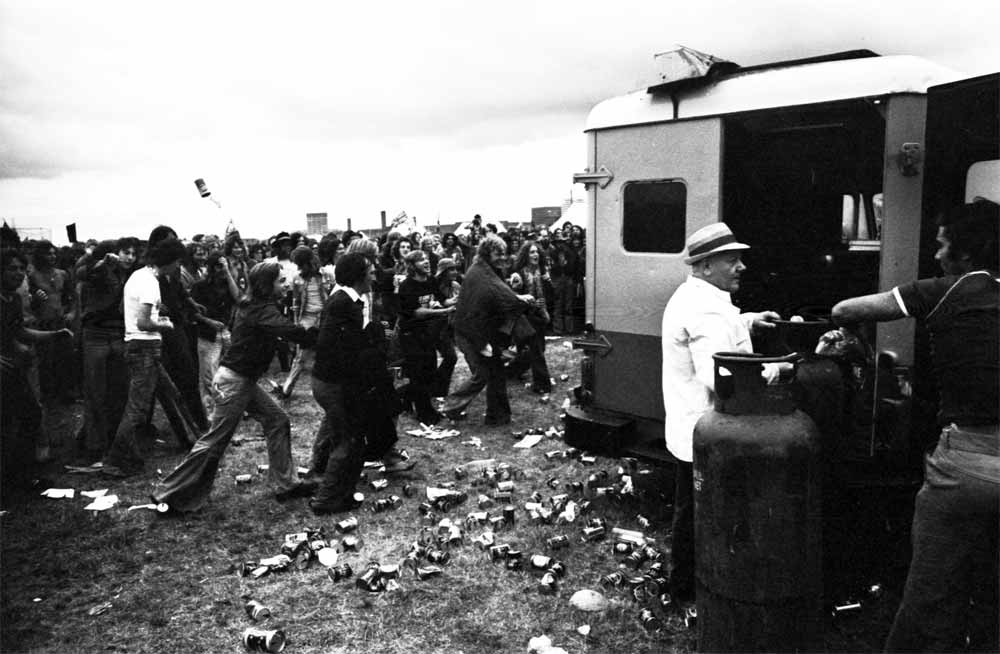 Ooh lets turn it over !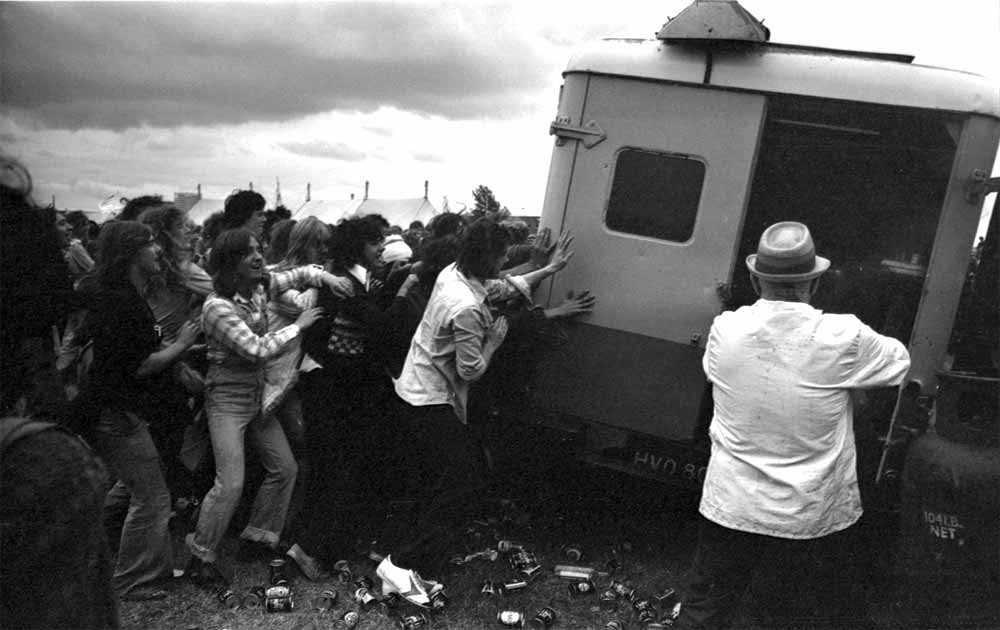 Heave ho, me hearties !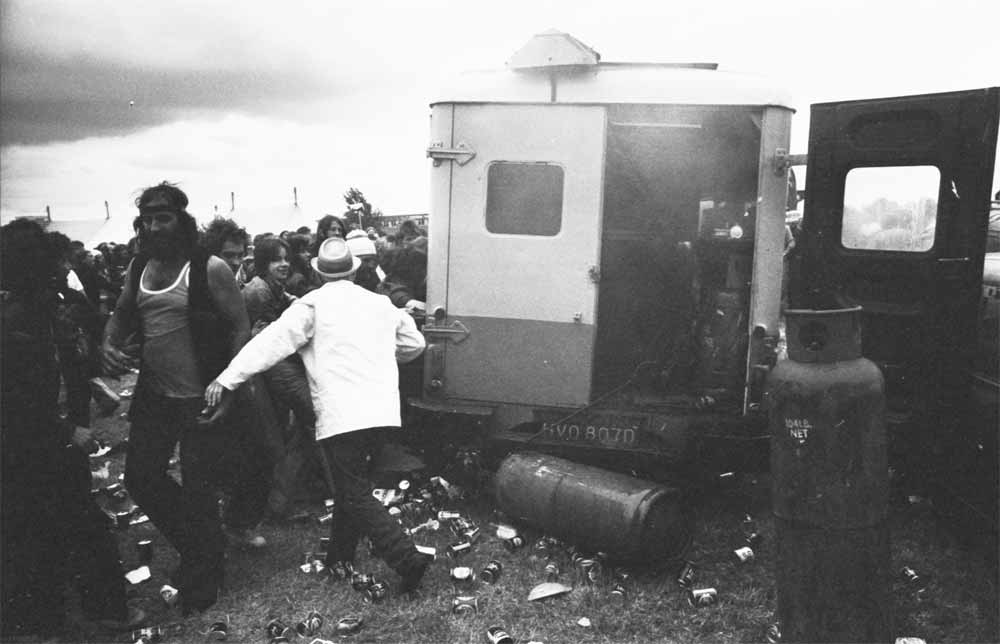 Oy why don't you lot eff off, you've fucked up me chips !
---
Reading 74 pages.
---
The early festivals.
You can find out the complete line ups of the first festivals if you follow the links below .
Festivals 1965-1990
Most of these have fairly complete documentation .But new contributions of any sort are always welcome regarding any of the festivals.
---
This site is non profit making , its a site for die-hard fans- and run as a source of information for those interested in Rock music of the past .We are completely against the sale of bootlegged artefacts , especially musical ones .We attempt to obtain permission to use articles and photos wherever possible, but on occasions , due to the age and obscure origin of some items , we have not been able to ascertain the owner of the copyright .It is also possible that occasionally we are sent material from sources that assert that they own the copyright of material, but their claims are spurious - If you see any material on the site that you believe you own the copyright of - please send us an e-mail with proof that you have ownership of the image and we will remove the offending item from the site immediately.
Contact us