The Archive.: A History of UK Rock Festivals
Big thanks to our sponsor Neil !

For information on today's festivals see eFestivals.co.uk
Updated Feb 2011 . Best viewed at 1280 x1024 screen resolution
---
Richfield Avenue.
Reading
August 1977.
---
The 1977 Reading Rock Festival.
This was a true "sea of mud " festival as it rained spectacularly for several weeks beforehand . As a consequence the arena was a mudbowl with a veritable lake near the front of the stage. The inevitable coterie of 'mudpeople' had a ball, the rest just suffered and deadened their discomfort by indulging to excess with whatever stimulants were available.

Right: The Mud bowl at Reading 1977, photo © Mike Slocombe urban75 ezine visit their site to see more photos of Reading 77
This was also the year that the festival finally 'came out ' and removed the Jazz and Blues elements from its title. In reality , the jazz was a relic from the past and had not featured (apart from one off' acts like George Melly ) for a number of years. Although blues rock was certainly still a regular feature , blues bands as such were pretty much also a thing of the past.

The change of name finally made the break from the festivals roots in the 60s and recognised that most of this type of music was no longer in vogue. The new name also appealed more to the current youth audience and in case, by this date the term "rock" encompassed a very wide variety of musical forms ( although increasingly, hard rock, in the form of Metal and Punk, was to dominate Reading as the decade played itself out ).
Punk reared its naughty little head in the form of The Electric Chairs, who were pelted with mud and cans by those elements of the audience who did not yet appreciate the raw 'garage band' sound . Although at this stage the audience was largely composed of pissed up longhairs wearing ex army greatcoats (and who wouldn't given the weather ) ,this was a precursor of big changes that would dominate the festival within the next few years. Like pure Blues and Jazz , Prog as a major feature of the festival was on the way out .......
1977 Festival Lineup
Hand Reef
Aerosmith
Sensational Alex Harvey Band
Blue
Doobie Brothers
Wayne County and the Electric Chairs
The Enid
Frankie Miller
George Hatcher
Gloria Mundi
Golden Earring
Graham Parker
Hawkwind
John Miles
Kingfish

Krazy Kats

Little River Band

Lone Star

Motors

No Dice

Racing Cars

Staa Marx

Thin Lizzy

Tiger

U Boat

Ultravox!

Uriah Heep

Widowmaker

Playing in the mud © Baz Harrison
There are some weird mixes of music in this lineup .One would have thought that if anyone was going to get bottled it would have been the extraordinarily middle of the road Little River Band (I know I would have been tempted to hurl a few objects at them ). However,there were also some prime examples of great UK bands appearing .Thin Lizzy , Graham Parker , Hawkwind and Alex Harvey were guaranteed to deliver the goods in a festival setting .The US bands were also mostly good festival fodder , but there were also a lot of "also ran's" on the bill as well who have now disappeared ingloriously into the mists of rock time. Wayne County and The Electric Chairs had to retire after 5 songs as they and their equipment had been rendered unplayable due to being pelted with mud .....
---
Recollections .
The music may have changed but the busts remained the same .

© Pete

A year after Knebworth 76, it was off to Reading. The atmosphere was entirely different. This was the summer of Punk. The whole old wave "hippy rock" era now seemed so naff to those who embraced The Pistols, Clash and Buzzcocks. The crowd were predominately hairy however. Very few punks present, which is normal. Rock and Roll belongs in a small sweaty club, not a muddy field.

What was I doing there ? Well, I still had a soft spot for good old Phil Lynott and it was a good excuse to feel rebellious in drainpipes amongst so many flares.

The early sets were unimpressive. The Enid for example. Ultravox (with John Foxx, not Midge Ure) were superb however. Not really a punk band, more in line with Roxy Music I thought. Little River Band were very slick and really warmed things up. Their singer looked like William Shatner !

Graham Parker was just great. Such a gutsy and professional soul show. John Miles was in control also but seemed a little too "pop" for a rock festival.
Thin Lizzy didn't disappoint, delivering an exciting set, with Scott Gorham and Brian Robertson trading some great solos. Everybody's mate, Phil Lynott was full of charisma, a real star. I remember him aiming a reflected spotlight off his mirrored scratch plate into the crowd. Oops, I forgot, I was a punk fan back then. It certainly wasn't cool to like Thin Lizzy in 1977. They were great though.
Keep On Groovin'
James Hawthorn
---
Ian Ellis has provided us with a running order for Friday and Saturday as well as a few recollections of happenings onstage .
I kept a diary then and religiously noted all the performers we saw, so this is, according to my mud spattered diary, an accurate running order for:

Friday 26th August 1977


Staa Marx
S.A.L.T
(Woody Woodmansey's) U Boat
Kingfish
5 Hand Reel
Lone Star
Uriah Heep
Eddie and the Hot Rods
Golden Earring.


Saturday 27th August 1977


Gloria Mundi
Krazy Kat
No Dice
George Hatcher Band
Ultravox
Little River Band
John Miles
Aerosmith
Graham Parker and the Rumour
Thin Lizzy.


Sunday 28th August 1977
| | |
| --- | --- |
| George Hatcher Band reading 77 Photo © Baz Harrison | |

I still have some great memories from both '75 & '77 though. I recall poor old Woody Woodmansey apologising to the crowd as he ended U Boat's set with 'Suffragette City' (from his time with Bowie) as Staa Marx had already played it as their final number less than an hour and a half or so before!
We have lost the details of who sent us these nice photos from Reading 77, if the photographer is out there, can you please contact us so we can acknowledge you ?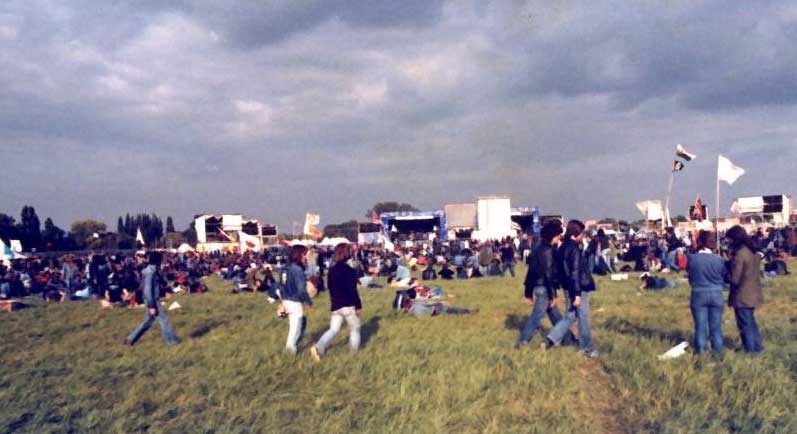 The rear of the arena- Reading 1977
Thin Lizzy sound checked early Friday morning and a few of us had got into the arena, although they only did about three or four numbers hearing them perform 'Peaches' by The Stranglers was quite a surprise. Lynott said at the end of it something to the effect of: "We play it better than they do..." and of course, they did! Although having said that I found their set disappointing on the Saturday evening, from the moment the flares went off at the beginning of 'Jailbreak' about four seconds too late they never seemed to recover.

I'd seen them in an underground garage at Essex Uni in Colchester the previous year and they had been brilliant. I caught up with them again the following year (78) at the Kursaal in Southend and they were equally as mesmerising as they had been in Colchester, so perhaps Reading was just 'one of those shows...' or, perhaps, they always played particularly well in the good county of Essex? Who knows?
All The Best
Ian Ellis
---
Eddie and the Hot Rods

© Baz Harrison

Don't know how I found myself going to Reading as I was a confirmed free festival goer and only the likes of Windsor and Stonehenge were important to me .That would have been compromised if The Who ever played though. Anyway I didn't mind the mud and I didn't even mind the rain and I have to say that I saw an absolute belter of a set from Golden Earring who were the Dutch Who .I even got nostalgic with Uriah Heep who were the first band I ever saw .

No, what really really got up my nose was that this was the first ever festival where I actually felt I was being ripped off. I mean I know now its almost a competition to see how much dosh you can screw out of the poor old punter and certainly the likes of Jagger and co now have it off to a fine tee,but then you could still see a fine festival line up for the price of a few beers eg Charlton 74 ,the early knebworths, the Isle of Wight and many others.

I hated it .I sat on the metal barrier around the mixing desk for most of Friday night and it really did seem to me that people were playing at Woodstock "Oh c'mon man lets slide in the mud" This was also the festival that introduced chucking bottles of piss -developed to a fine art the following year - when punk put in appearance.
The next day ,I awoke ,packed up my bag and walked up to the prettiest freak buying a ticket and gave her my rip off weekend ticket .The irony of it was that the festival was rabidly policed ,OK not as bad as Windsor or Seasalter etc but bad enough and as I waited on the station at Reading waiting to go home I got busted ,strip searched ,the fucking works and that never happened to me in the years I went to free festivals. Needless to say I left Reading never to return , sorry.
Trogstrew
---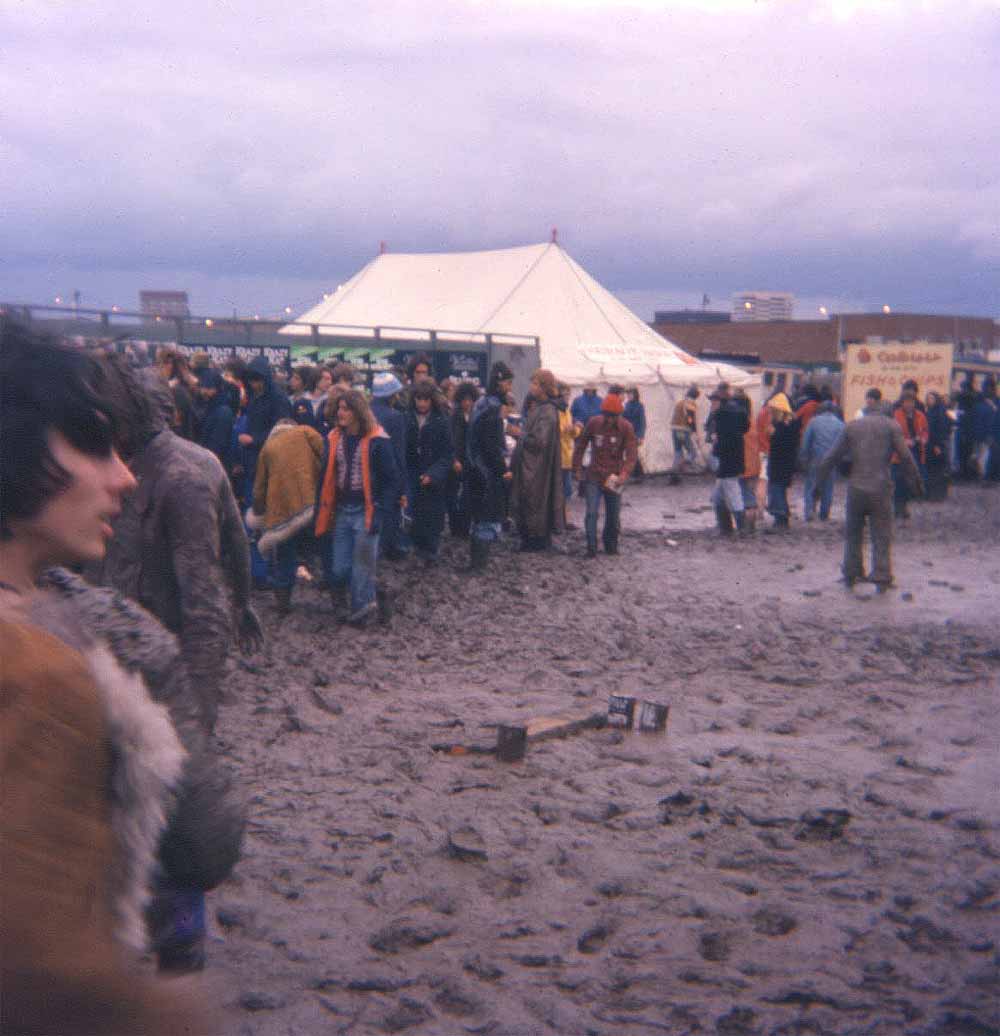 MUD ! © Kev Crocombe
Great memories guys and girls. I remember the mud bath in '77, and the PA kept cutting in and out due to the wet conditions. John Peel (he was always the compere/DJ at festivals) got increasingly desperate as the wet and increasingly muddy punters became restless and started booing. Then (as recalled in his splendid posthumous autobiography Margrave of the Marshes, well worth a read) he famously tried to distract the audience by encouraging them to chant 'John Peel's a C***' repeatedly. This largely did the trick, and became a festival favourite 'thing to do' in boring bits between bands and when it rained at future festivals. We all also sang along to Ivor Biggun's notorious 'I'm a W*nker' which Peel played many times that year. Eddie and the Hot Rods were great, and Thin Lizzy of course despite my becoming mostly influenced by punk by then. The Doobies were also an unexpected pleasure with their superb musicianship.
Andrew Hartley
---
As an aside - the following year,1977 Reading Festival,I was watching Blue,who had recently charted with "Gonna capture your heart" and after a few songs decided to browse the shops as they were doing nothing for me,plus I needed to pee.That year was knee deep in mud everywhere.I heard enormous cheers for this band who I found nothing special,only reading in the press later Elton John had guested on piano for a couple of songs! So there I have missed Elton - twice!
Dil Longstaff
---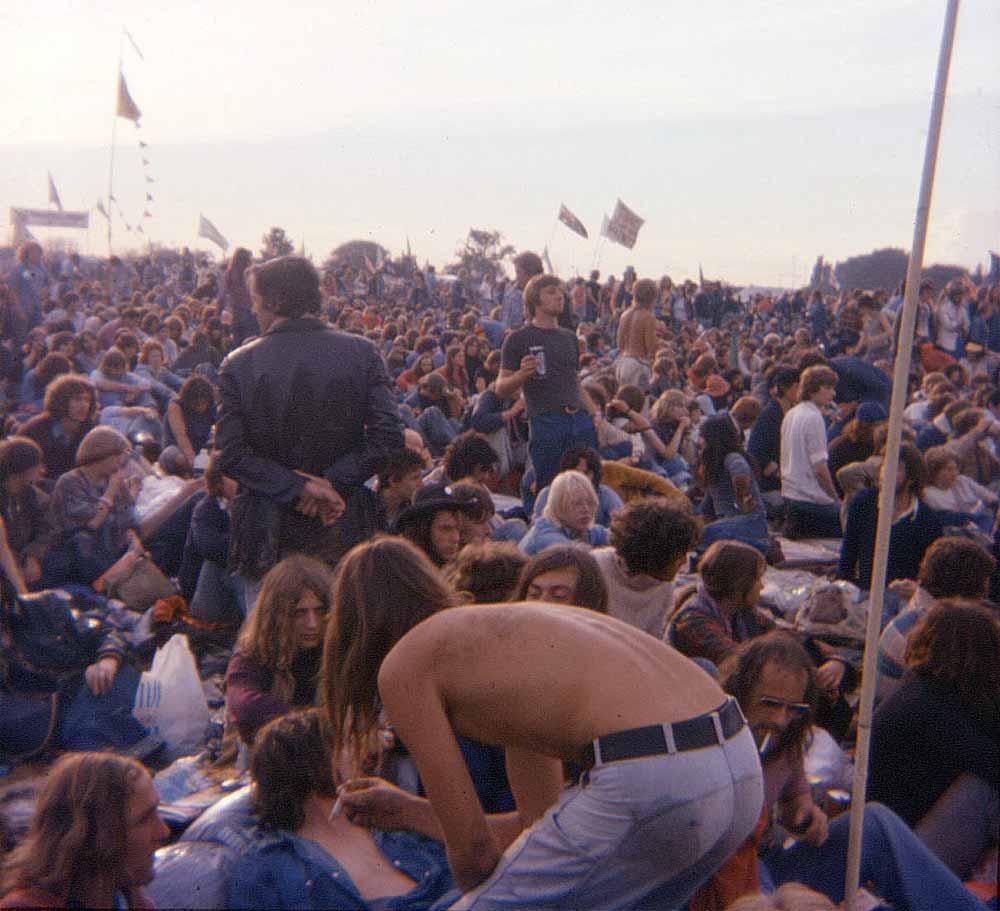 One of the rare fine periods © Kev Crocombe
I turned 17. Mud. Mud everywhere. Rain and mud. More mud. 1000's of beer cans fill the air in huge staged battles. Mud men wallow in a grey pool in front of the stage. We buy plastic bags to keep us dry and they don't work. The mud is everywhere. My hair is mud. My shoes stay on for 4 days… and I haven't seen them for three. Fear of drunken 20-somethings. Making out with someone's wife from the next tent – a nurse – getting punched in the face for it. My tent walls let me hear people on hallucinogens screaming through the night. This year the sound is better and you can almost hear the bands…
Something new is coming – posters of someone called Elvis Costello are everywhere. Python is the humor of the day, but there is something called punk rock out there. Things are changing. The spirit of Woodstock has turned ugly. The crowd is uneasy – we fight. John Peel's a c*nt and we mean it this time… The mood is darker, the country is darker. Wayne County and the electric chairs are forced to leave the stage in a barrage of mud and cans. I discover Alex Harvey having been distracted a year earlier at Charlton. That's a real performer. I ended up going to the Boston Tea party myself – and I lived in Wayne County for a while too. We still want a more American sound like Thin Lizzy or the Doobie Brothers. Within a year that was all to change and urban English was the only thing that crowd would listen to – no guitar solos for us thank you very much. The crowd rocked against racism as our parents got ready to elect Maggy Thatcher.
Eddie and The Hot Rods are great - pre-punk I think you could say – they throw us badges and I catch one – I keep it still. "Do anything you want to do" - it feels like I could. Aerosmith are unknown openers. I like but I barely listen – Firing on all 6. I don't hear of them again for 15 years. The crowd sings "Hey Jude" together as one while we wait for Thin Lizzy to perform. Wally!. Its raining again.
The Super Trouper follow-spots reflect off Phyl Linnott's mirrored Fender precision scratch plate into the night and graze the tower-blocks next door. On my way home, when I get off the train in London I see Elvis posters all over the station.
Jon Connell
---
Hi,
I went to Reading just for the Sunday in 1977. The story about Wayne, soon to be Jayne, County is sort of true. They'd been bottled from
the start. But they didn't decide to call it a day. In fact they were dragged off by the Doobie Brothers' roadies who were fed up with
their equipment being hit by the barrage.w
Happy days!

David Morgans
---
Hi all

I can recall attending Reading in 77 when I was 18.

I went with my school friend Arthur Munday - we both lived in Bracknell then. We slept in his Hillman Imp.....very uncomfortable!

I wore Brutus 'bags' and Doc Marten boots!

Probably the most vivid memory was Eddie and the Hot Rods and how they attempted to play once the power was down. We thought they sounded like the 'Jelly Tots' Band with no power. Thin Lizzy easily stole the show....Phil was at his best that year.

The mud was truly everywhere although the weather held up well. Many people stripped off and wallowed in it. I can recall seeing a couple of girls wrestling in it topless.

The police presence was a strong one and many felt a little uncomfortable because of it. Many people were caught with drugs.

It was the one and only rock festival I ever attended!

Regards

Martin Platt (aged 51!)
Now living in Truro

---
1977 festival pages and links.
---
The early festivals.
You can find out the complete line ups of the first festivals if you follow the links below .
Festivals 1965-1990
Most of these have fairly complete documentation .But new contributions of any sort are always welcome regarding any of the festivals.
---
This site is non profit making , its a site for die-hard fans- and run as a source of information for those interested in Rock music of the past .We are completely against the sale of bootlegged artefacts , especially musical ones .We attempt to obtain permission to use articles and photos wherever possible, but on occasions , due to the age and obscure origin of some items , we have not been able to ascertain the owner of the copyright .It is also possible that occasionally we are sent material from sources that assert that they own the copyright of material, but their claims are spurious - If you see any material on the site that you believe you own the copyright of - please send us an e-mail with proof that you have ownership of the image and we will remove the offending item from the site immediately.
Contact us