The Archive.
Updated Sept 2007 new photos
---
The Fourteenth National Jazz ,Blues and Rock Festival.
Richfield Avenue.
Reading
Aug 23-25th 1974.
---
Reviews .
Friday
Where all others failed, either through lack of organisation or lousy weather, the Marquee Festival sailed through. This was their fourteenth National Jazz Blues and Rock festival and admittedly they have had a lot of practice. If some of the acts there proved to be disappointingly mediocre , it was no fault of the promoters.
To an ever growing crowd and a light spattering of rain, Nutz took to the stage to open the festival around 3;30 on Friday. Singer Dave Lloyd was looking very pretty and leaping quite well to Long Ship and Communication Breakdown , but was nowhere near Daltrey. Though not for want of trying on Young Man Blues. Hustler, second band of the day , followed. They seemed to be more popular and they swung into some loud beaty numbers which raised a few cheers. Their lead guitarist displayed the most wonderful take off I have ever seen of an Orangutan and stomped about looking most aggressive , while their vocalist took first prize for mike swinging . For me the most interesting part of their act was tiny four year old boy sitting cross legged watching intently and pounding out rhythm on his little legs with clenched fists, much the same as I did.
| | |
| --- | --- |
| Heavy Metal Kids © Steve Austin | JSD band were definitely brighter and the up mood was helped by a number of tight funky numbers. Johnny was good on the harp and his four piece band played with enthusiasm. I was surprised to find that the audience did not seem to agree with me , but then they seemed to be a pretty dead lot, a security officer remarked that it was really quiet this year. However, , Beckett appeared to buck them up and they got the first real applause of the day . They did quite a nice version of Southern Man . I wondered why these bands , who admittedly , might be alright at the Marquee Club in London, were taking up so much of the day seeming to look and sound practically the same . |
As darkness started to fall Camel came on, by which time I couldn't face another 'you can't tell Stork from butter band' , so I waited impatiently for 10 cc to arrive. Camel went off, the records came on and went on. 10 cc hadn't arrived . Yes they had and they had a ticket for the wrong parking space and wouldn't walk from a parking to b parking . Yes they would, but they wouldn't go on stage until it was dark and they wanted to use their own lights. As the waiting time grew doubts flowed through me , would they happen ?
Yes, there they were pounding out their new single 'Silly Love 'taken from the Sheet Music album. The atmosphere started cooking at last. They were good and they knew it , but come on audience , where was the appreciation ? Taken from their first album , they did a very good Ships Don't Just Disappear In The Night and the equally good Baron Samedi , taken from Sheet Music . They appeared to be enjoying themselves, but not as much as I was.

Barclay James Harvest entertain the troops © Steve Austin
The stage darkened for 'Old Wild Men' and lit up as they finished with the very lively 'Rubber Bullets ', great stuff but sadly no encore. After Fumble who were unlucky enough to follow 10 cc ( comparisons didn't favour them ) came the Sensational Alex Harvey band At last the crowd came to their feet and all eyes were on the stage as they worked through numbers like 'Hot City Symphony ', new single' Sgt Fury' ,' Schools Out' and' Anthem'. Much cheering led to 'Framed' as an encore . It was visually and musically exciting , amusing and spell blinding – in fact sensational . an impressive ending to an otherwise boring day.

Lynne Thirkettle.

Left: Chapman -Whitney © Steve Austin
Saturday
Saturday's events opened with Jack the Lad , veterans of last years festival. Its no joke opening at any time , but despite having a less than a full audience, they did well.
I think I could have managed well without the Heavy Metal Kids. They went down well with the audience ,but personally I think they overdid their act , to the detriment of the music – but they often do. Something they really can't afford , as the quality of their music is in some doubt anyway , as far as I'm concerned . They are loud ,tuneless and play heavily on the Punk Rock image they are trying to promote ( or if they aren't doing it intentionally , now would be a good time to take stock of what exactly they are trying to do )
The highlight of the entire day was the set by Procul Harum, they were incredible. They opened , inappropriately , with Shine On , from the album of the same name. The songs were a mixture of old and new- a necessity for any festival. Their sound was superb , bringing a little, class to the proceedings and showing where experience counts.
I loved Salty Dog and Grand hotel and even forget the discomfort of sitting on soggy grass and being stepped on by careless individuals . I could have listened to them for hours , but like everyone else I wanted for them to get to the encore and to play a whiter shade of pale . When they did come back on-stage they announced the encore as " a song we'd all remember from the 60s " . A cheer went up to die a little as they played the opening of the Beatles 'Eight Days A Week' , at the end of the last bar they finally relented and reverted to Whiter Shade Of Pale and on cue the sun came out !

It was disappointing therefore that Thin Lizzy turned out to be somewhat unremarkable, after Procul's performance. John Baldry , likewise technically good , just wasn't a star, he was however wearing a fetching daffodil yellow suit .
It was dark and cold by the time Traffic appeared . The ground was beginning to look like a rock and roll Butlins .Personally I'd rather see Traffic in the comfort of a stadium than out in the open , I enjoyed their set – much of which was material from their forthcoming album , including a fine song called Graveyard People – but the cold was beginning to get through to everyone .
Steve Winwood brought the people to a hushed silence with his superb John Barleycorn, for which he was accompanied by Chris Wood on flute and Jim Capaldi on vocals . It was very impressive. Of the older numbers they did , they included Forty Thousand Headmen and Low Spark. It was entertaining and undoubtedly good, but looking back, I still think Procul stole the day.
Rob Russell
Reading 74 ( from Divine Times ).
They were out in force at Reading last weekend for the "14th National Jazz, Blues and Rock festival". really the name is a con. The jazz isn't there any more; blues are only present when played by rock groups, and the rock , although written in smaller letters than jazz and blues on the leaflet and, posters, is really what it's about.
But the festival's been going for so long without serious incident that it's become something of an institution in that part of the world. If the government ever passed a law banning festivals forever, they'd probably exclude Reading. It's just too good to be true, and the organisers, with 14 years experience behind them, obviously want it to stay that way. The whole set-up was fine.
DJ John Peel said it was the best sound of any festival he had ever attended.

The organisers said they didn't get big names so as to keep the numbers down, but they got the names that pulled in a hard core of followers — Traffic, Cockney Rebel, Alex Harvey, lO cc, Focus.
Affected by the special alchemy of good festivals which brings performers and audience( together, they all put their hearts into it and produced some really great moments. For the most part, they showed why they were big names, just as the second stringers showed why they're not.
There's a special affection for Cockney Rebel and Alex Harvey, both groups not yet, and perhaps never to be, public property but far and away in the top class.

George Melly and band © Steve Austin
Buccaneer
Alex is the one who is really loved. The diminutive, wizen-faced buccaneer garbed Glaswegian time and time again saluted his followers, arms raised towards them, two fingers outstretched, and tens of thousands of arms giving the same salute back, just showed how closely they really identify with him — survivor of a million gang fights, rumpuses, brushes with the law, and still coming back smiling, swigging his ale and full of love for life and everyone.,
Because there's no doubt, the swashbuckling loon who can make everything, but everything, stand still for a minute while he stands eyes closed, apparently meditating is, in his own way, a true flower child; an apostle of peace and love. He punctuates his numbers with brotherly advice, and the crowds love it.
"Two things to remember," he suddenly says in his harsh, clipped Scottish voice, outstretched arms weaving their spell. "The fust thing is, nevva make a bullet, nevva buy a bullet, and nevva fire a bullet, because If 'ee do, ye make a rich mon richer. And the second thing is (pause) we love you. (Cheers) Do ye believe that? (More cheers) Ye should, because ye noo' it's true. We love ya (deafening cheers)."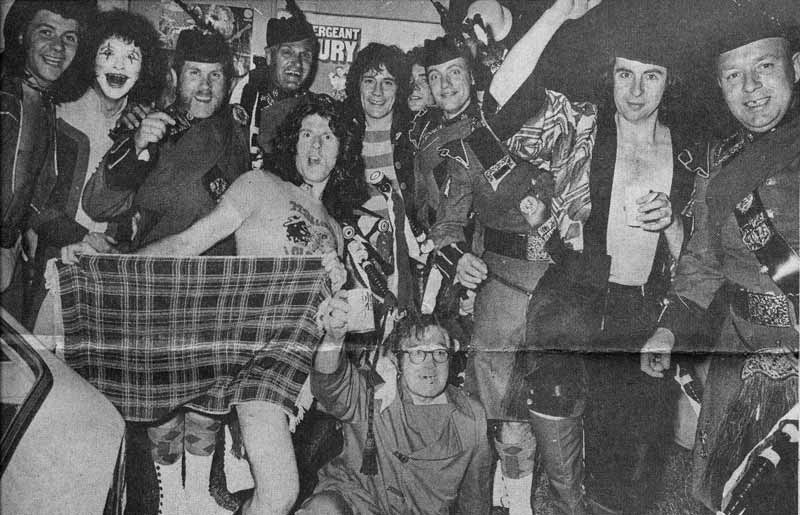 Backstage with the Alex Harvey band Reading 1974
Saluting
At the end of his act, he brings on a bagpipe band and extra groups of singers for a "Hey Jude" type finale while he stands on a platform above it all, saluting the baying crowds, master, it seems, of all he surveys. The effect is shattering. A great act, Alex.
Saturday had a different flavour, more like nostalgia, with Georgie Fame and John Baldry who were in it virtually from the beginning. And where Long John, as he used to be called, has gone with the times with his 'hip' looking band, Georgie with his Blue Flames seems to have remained in suspended animation — looking and sounding exactly as they did 10 years ago. Even the zest that Georgie and the boys put into their set couldn't offset the staleness of their slick jazz style.
John Baldry has fared better, as it's hard to resist the gutsy pull of a really good blues singer—and he really gave his best after a long absence from the festival.

Moving from this almost historic note to the present, all the other groups paled into insignificance as soon as Traffic stalked onto the stage. Low key and humble as ever, they warmed up with a couple of new numbers and went into old but still vital numbers like "Pearly Queen", "Who knows what tomorrow may bring? " and "40,000 Headmen" as well as other material from their new album "The Eagle Flies".
Really it seemed like they were the only band that night actually playing music for the people. They weren't out to 'entertain' but just to play -no flashing lights, electronic effects or cavorting like the rest. Just music -beautiful music. The four of them piled layer upon layer of sound into an intricate weave of music that left you no choice but to flow with it.
The applause was tremendous.
---
Reading 74 pages.
---
The early festivals.
You can find out the complete line ups of the first festivals if you follow the links below .
Festivals 1965-1990
Most of these have fairly complete documentation .But new contributions of any sort are always welcome regarding any of the festivals.
---
This site is non profit making , its a site for die-hard fans- and run as a source of information for those interested in Rock music of the past .We are completely against the sale of bootlegged artefacts , especially musical ones .We attempt to obtain permission to use articles and photos wherever possible, but on occasions , due to the age and obscure origin of some items , we have not been able to ascertain the owner of the copyright .It is also possible that occasionally we are sent material from sources that assert that they own the copyright of material, but their claims are spurious - If you see any material on the site that you believe you own the copyright of - please send us an e-mail with proof that you have ownership of the image and we will remove the offending item from the site immediately.
Contact us