The Archive .
---
Big thanks to our sponsor Neil !

For information on today's festivals see eFestivals.co.uk
---
Last update Sept 2013- new pix .
---
Bath Recreation Ground .

June 28th 1969.

It was a great two months in July & Aug 2008 as we had many new rare photos arrive of bands onstage at the festival as well as news on recordings and film . After many years the information is finally coming in thick and fast, thanks to Al Bye and Lawrence Impey for the new pix .... and almost 40 years to the day , in late June 2009 , more new pics added courtesy of Mike Ware.... and 2012 , five new images courtesy of Mike Bird. Now in 2013, some nice colour photos of Taste and an Unknown band courtesy of Mike Read ....

Flyer courtesy Bob Hewish
---
Blodwyn Pig

Photo © Malcolm Strachan

Blodwyn Pig was the band formed by former Jethro Tull axeman Mick Abrahams , they were a damn good band, but were not long lived. Their debut album A Head Rings Out, was quite successful, but their creative juices seemed to then lose power and they split up in the early 70s.

Mick Abrahams - guitar, vocals, seven-string guitar, tenor guitar
Jack Lancaster - flute, violin, electric violin, tenor sax, baritone sax, soprano sax, phoon horn, cornet
Andy Pyle - electric bass, six-string bass
Ron Berg - drums, tympani

personnel info supplied by Chrome Oxide ©, visit his site for more info on this band.
Three numbers of the band playing at Bath have been unearthed , see the recording page for more details . We have Mike Wheeler to thank for the photos below of Blodwyn Pig

At Bath I had managed to blag my way stageside of the barriers and seeing Blodwyn Pig taking the stage strolled on with them, managing to take some pix before being asked to leave!
click on the photos to see larger versions © M Wheeler 2004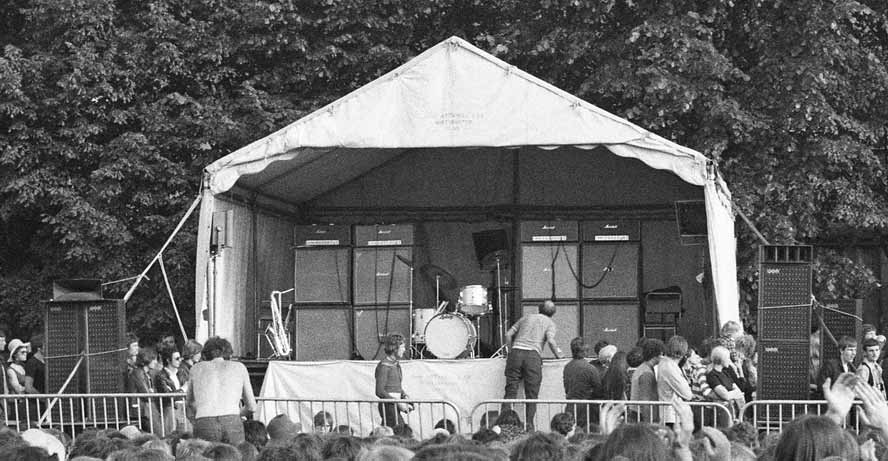 Very nice close up of the Pigs set-up and WEM PA © Lawrence Impey.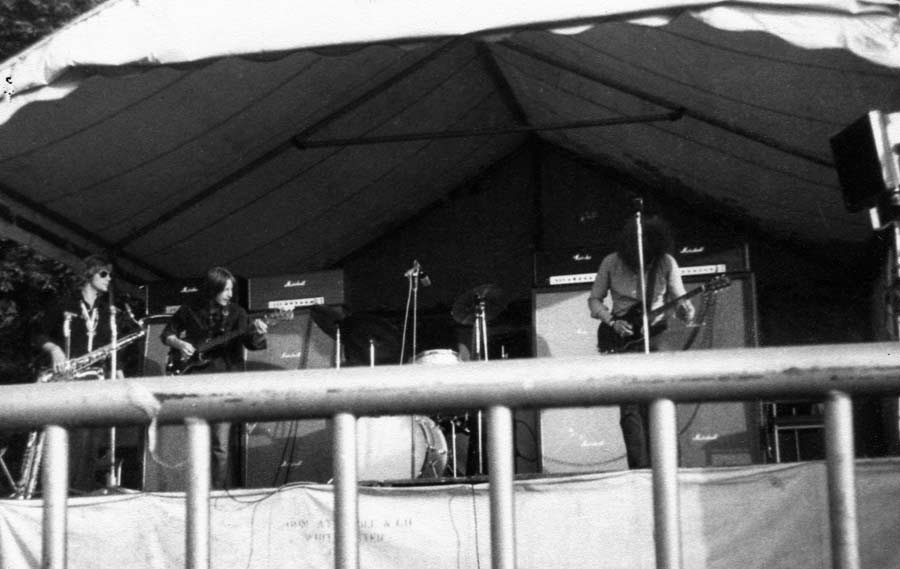 © Al Bye
If you have photos, recollections, set lists, newspaper reports or tapes of the event then Contact us and we'll add them to the site.

The pages below will eventually feature set lists, band line ups, press reports and recollections of the performances as well as links to other sites on the web as they become available. Thanks to Derek Manuel for his recollections of many of the acts and for prompting me to get the ball rolling after months of prevarication.
---
Contents

If you have photos, recollections, set lists, newspaper reports or tapes of the event then email us and we'll add them to the site. Contact us
---
Bands in order of appearance.(l to R)
---
Bands listed below most probably did not perform
| | | | | | |
| --- | --- | --- | --- | --- | --- |
| | | Babylon | Group Therapy. | Clouds | |
---
Bath 69 reviews and recording information
---