The Archive.
click HERE to find out more !

Big thanks to our sponsor Neil !

For information on today's festivals see eFestivals.co.uk
Best viewed at 1920 x 1080 min resolution.
Updated June 2019- new photos.
---
The Elephant Fayre . Port Elliot .
St Germans .Cornwall.
1981-1986.
---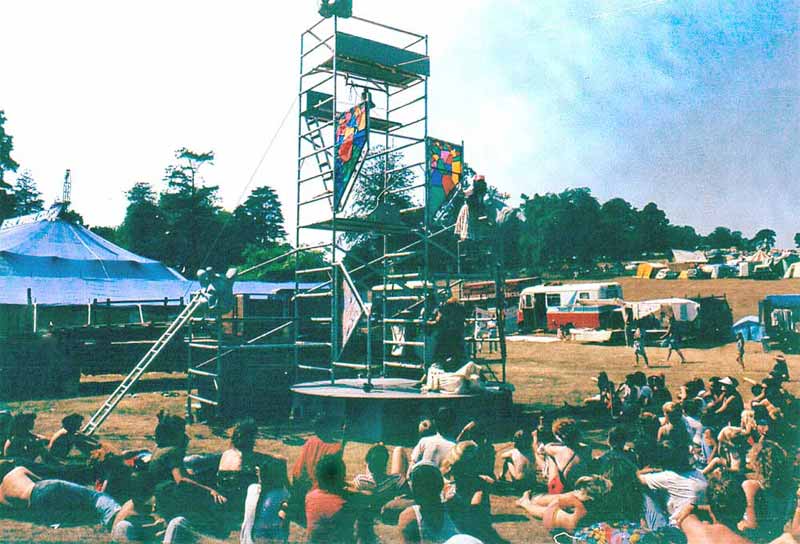 A Performance at the fayre in 1982 Photo© Roger Hutchinson
The Elephant Fayre began in 1981as a small scale Fayre which featured a mix of music, theatre and visual arts . Over the years the organizers began to book mid range rock bands such as the Cure, The Fall and The Banshees, (which attracted a larger and younger crowd ), whilst still providing a mix of other activities as well . The result was that the festival audience multiplied exponentially as year succeeded year , the logistics of catering for security for the more undesirable elements who wanted to attend the festival became harder to manage and eventually the festival ( like so many others before it), ended up becoming a example of how a festival can be destroyed by its own success.
The first festival was not financially successful - a crowd of 1500 was entertained over four days ,in an idyllic setting with perfect weather . A gradual buildup followed as the reputation of the festival as a well run and pleasant experience spread . However by 85/86 the festival had become too successful , inasmuch as it was attracting a younger , less inhibited or perhaps more reckless audience. Due to an explosion in open drug taking and various forms of "anti-social" behaviour , 1986 was its final year .
Sadly the festival followed an all too familiar pattern but it also was a mirror of the times. The relative tolerance of a "free festival culture " by government in the late seventies and very early eighties as exemplified by Stonehenge had given way to a far more repressive regime . Free festivals could no longer flourish due to the new public order acts which banned gatherings on public land and many travelers had been radicalised by their treatment at the "Battle of the Beanfield", This had lead to a very negative feeling creeping into what had been a more or less positive movement. Hard drug use and a "brew crew " element had began to destroy the community that had freely moved from festival to festival during the Stonehenge years and the feeling within the "Peace Convoy " was no longer what it had been in those days- in fact many of the original members of the original Peace Convoy which travelled to Greenham Common in 1982 had left by 1986.
None of this was good news for a medium sized commercial festival such as the Elephant Fayre, the impact of this new cultural feel was becoming increasingly corrosive , so when 100 travelers invaded the site in 1986 (despite injunctions to prevent them from attending ) it proved the final straw. There probably were other factors at work as well, Lord St German's ( on whose estate the festival was held ) was ill at the time and many of the key organizers of the event left to work on the Glastonbury festival. It was decided to abandon the event . Thus was lost one of the few music festivals held in Cornwall . The actions of a few people who were not prepared to consider others had helped lead to the demise of a prosperous well organised festival held in a lovely setting .
"The Peace Convoy tried to break down the gates and caused so much grief. It was a good festival though. "
Rick Worthy , who was one of the driving forces in organising the festival from 81 to 86 , has this to say about the Convoy
The ONLY reason the festival folded was the Peace Convoy !
A very misnamed bunch of thugs. They caused so much trouble in this village and those nearby too. They were violent, selling smack, child prostitution -yes- no kidding- and setting fire to trees, smashing up the school, breaking into the Doctors surgery among other assorted stuff.
As one of the organisers I knew it was over as the 1986 festival came to an end. No discussion was necessary.
England was a very different place socially to what it is now but that was that. How Glastonbury survived the years of the convoy is the most compelling story of all really and Michael Eavis deserves all credit for getting through them and still having a show.
Carry on the good work. I am busy organising a new festival here. The Port Eliot Lit Fest now in its 5th year.
Best to you
Rick Worthy
---
We are looking for eyewitness accounts of this event. Copies of programmes ( 82-86) ,posters as well as photos for all years.
---
Please feel free to contact us and contribute towards building pages about this festival by Contacting us. We try to reply to all messages, and will do immediately if possible. Usually we wait until we have enough new material to warrant a page upgrade , so posts may take quite a while to emerge on the page .
---
Return to Archive