The Archive.
click HERE to find out more !

Big thanks to our sponsor Neil !

For information on today's festivals see eFestivals.co.uk
Best viewed at 1920 x 1080 min resolution.
Updated June 2019- new photos.
---
The Elephant Fayre Port Eliot .

St Germans.Cornwall.

July 30th - Aug 2nd 1981.
---
" Its the end of the Rainbow " :Lord St Germains 1981
Wilko Johnson's Solid Senders

John Renbourne

Doll By Doll

Tannahill Weavers

Trimmer and Jenkins

Black Roots

Rocking Shades

Clive Palmer
The first Elephant Fayre was tiny in terms of audience attendance but crammed full of interesting activities that deserved a greater number of spectators .Musical fare was provided by Wilko Johnson's Solid Senders, Doll By Doll, Tannahill Weavers , John Renbourne Clive Palmer and Friends ,The Lizards, Trimmer and Jenkins and many other minor bands and soloists.

There were inflatables, kids theatre ,lots of mixed media and performance acts . All in a tranquil setting in one of the nicest parts of the West Country , who could ask for more ? Fortunately the organisers were prepared to take a loss and have another go in 1982 .
Program of events
| | | | |
| --- | --- | --- | --- |
| | | | |
| Program Thursday | Program Friday | Program Saturday | Program Sunday |

Festival Aid Report

The Elephant Fayre at Port Eliot, Cornwall, was held over the weekend of 30th July -August 2nd in the grounds of an impressive stately home. It was an extremely well organised event of a mainly local nature. There was something happening all the time, with 3 huge marquees for music and theatre, as well as an outside stage for "rock" bands. The variety and quality of food was staggering and the craft stalls impressive.
Unfortunately the camping area was separated from the main arena and the Portaloos did not seem sufficient, nor the water pressure enough. The Red Cross provided first aid services and there was a large and very helpful information tent.
The event was not as well attended as it deserved, but was enjoyed by all who were there.
Roger Duncan.

Courtesy Bob Butler
Ticket to a Benefit concert in support of the Fayre held after the first festival- featuring those sons of fun - The Beat .

Courtesy Bob Butler

It was thought by many campers that more care should have been taken in choosing the site. (The arena was almost over organised). Having to pitch tents in a stubble field, not enough toilets and only one water tap, were the three main complaints. Toilets in the arena were hopelessly inadequate and the sewerage appeared to be piped directly into the river.
Sally Ward.
1981 ticket Courtesy Martin Carslake
---
Our intrepid Roger H has a tape of some of the musical, drama acts and recordings of audio and radio broadcasts exists and it has some fascinating bits of information about the festival which we will add as time allows , meanwhile here's Rogers report :
| | |
| --- | --- |
| "Moonquake" Photo © Roger Hutchinson | Elephant fair.... The last festival for me really as a single person and culmination of ten years of being involved with such activities. The group who I had been a central part of for seven years were the star arena show for which it was free admission for the crew to what was a quite an amazing but strange festival in by far the most beautiful setting of a stately home. It was the first festival that I recorded 4.5 hours of every aspect including a segment where I walk about the seething site doing a David Attenborough dialogue into the heavy suitcase size ghetto blaster while lucidly high from some 1976 American Celebratory blotter acid that had been found buried in the permafrost of my parents freezer. |
It was where I had brought the two sides of my world together - Music/arts Festivals and the Touring Theatre of Pneumatic Art - A whole bunch of people who had never been to a proper festival before and carrying a whole bunch of attitudes that took a few days to evaporate when they found it was really fun and started to groove. Prince Charles married Diana and our van had a huge poster, free with the Sun, stuck on the side by Robin with a crude sign saying 'Free Spit' - It was covered! One night by our campfire I consoled a depressed David Rappenport (Randle in Gillan's Time Bandits) who was appearing in the unwatchable 'Nuclear Café' show by the Groundwell Farmers, the thought of what happened to him - suicide a few years later in California still really makes me sad for the loss of a talented and lovely friend.
Of course the music and theatre was great despite no real big name bands and the best set for me was by Kate Bush's backing band who turned up and blew a marquee of people into starry heaven. Our Sci-Fi monster show and inflatable environments were well received and on the whole, the audience kept things cool.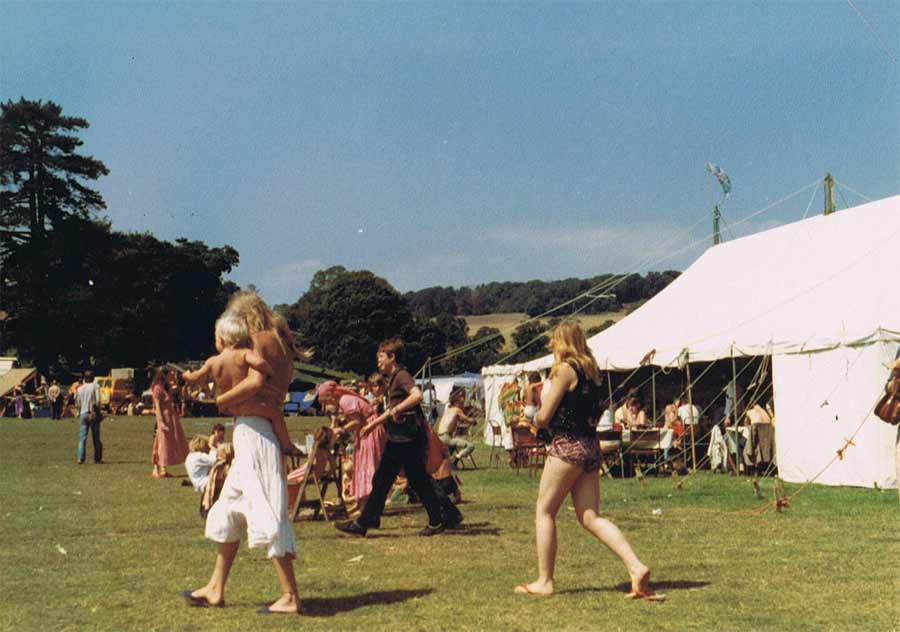 A sparse crowd at the Fayre, year unknown © Ben
While I was tackling the tedious task of derigging the Xmas decorations yesterday (12th night!) I listened to the cassette tape of an hour's edited highlights of the Elephant Fayre (1981) that I must have created over 25 years ago from the 3 tapes I recorded at the fayre. As the material was recorded for my own needs it comes over more of a sound montage of everything that could be heard including a soundtrack of the news item about the forthcoming festival on the local TV station. There is a recording of our in-house synth band 'Software' who played to me and the crew while we sat around the fire and a couple of cover-numbers by Kate Bush's backing band along with a host of out-takes of street and cabaret performers - it brought back some good memories!
---
We are looking for eyewitness accounts of this event
---
Please feel free to contact us and contribute towards building pages about this festival by Contacting us. We try to reply to all messages, and will do immediately if possible. Usually we wait until we have enough new material to warrant a page upgrade , so posts may take quite a while to emerge on the page .
---
Port Eliot Literary Festival 2007