The Archive.
click HERE to find out more !

Big thanks to our sponsor Neil !

For information on today's festivals see eFestivals.co.uk
Best viewed at 1920 x 1080 min resolution.
Updated June 2019-
---
The Elephant Fayre

Port Eliot

St Germans. Cornwall.

27th-28th July 1984.

Prefab Sprout,The Fall,The Armoury Show

Linton Kwesi Johnson and the Dennis Bovell Dub Band, John Martyn, John Harle ,New Model Army,Johnathon Richman and the Modern Lovers, Neil Innes , Rumillajta, The Joeys,No Fixed Address,Popticians, Centre Oceon Stream, Cliffhanger, Michael Chapman.

poster courtesy Ray Weston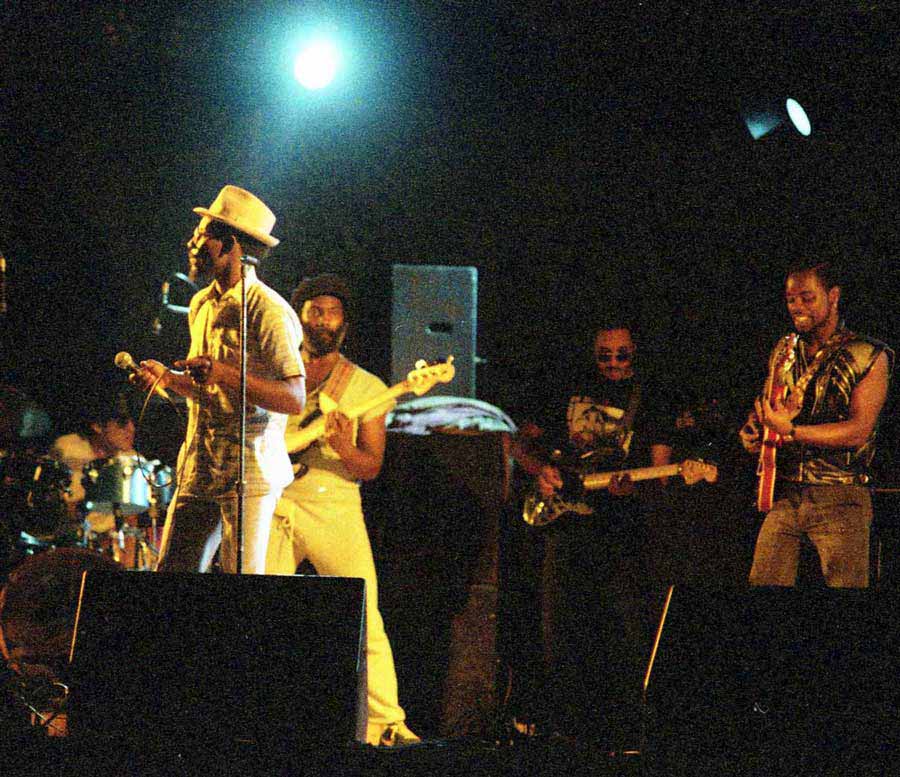 Linton Kwesi Johnson and the Dub Band. Elephant Fayre 1984 . All photos © Mick West
---
The complete lineup of artists is hard to come by and our list is incomplete, the dub poet Lynton Kwesi Johnson played as an excellent boot of his performance is in circulation. Quite a few recordings circulate from this year.

Johnathon Richman

29th July 1984 - audience recording

with Ellie Marshall and Curly Keranen.

My Jeans
Hey there Little Insect
This kind of Music
Here come the Martian Martians
Give Paris one more chance
Stop this Car
Ice Cream Man
Affection
I'm a little Dinosaur
That Summer Feeling
| | |
| --- | --- |
| | |
The Fall 7-29-84- Review

Smile / Lie Dream of a Casino Soul / C.R.E.E.P. / Elves / Hexen Definitive-Strife Knot / 2 x 4 / No Bulbs / Joker Hysterical Face / Lay of the Land / Garden // Kicker Conspiracy / Oh! Brother / Totally Wired

"The Falls set was basically "ruined by the brain-dead element intent on ruining everybody's day by piling into them at every opportunity. Music aside, the most memorable aspect of this show was the fact that the band were pelted with cans for almost the entirety of their performance. One was about an inch from MES' face when he suddenly twitched to the right and let it sail past him. Pretty cool. Anyway, the reason for the cans was that a large section of the crowd wanted the previous act to continue, rather than listen to the boring old Fall"

setlist Info sourced from

http://www.visi.com/fall/gigography/gig01.html

click to see larger images
| | |
| --- | --- |
| | |
I have just one or two memories of going to Elephant Fayre in '84 : I went off again in my Series One landrover with at least 7 mates from Brighton (Tania, Melanie, Joe, Tim, Andy Barski among others) and we were glad to arrive: have you ever travelled 150 miles or whatever it was in the back of a 1951 Series One ? . I guess being stoned along the way helped.
For the occasion I painted an elephant head on each door (possibly have a pic somewhere) and a quote from a Sun Ra track: "NUCLEAR WAR YEAH WOTCHA GONNA DO ABOUT YER ASS!" I think on the back of the vehicle. I recall the famous Mud bath - best one ever. It was in a small estuary and it was good and sunny.
There was a great little show called the Magic Lantern show and there was a Reggae tent which played the heaviest Dub Reggae I've ever heard. Halcyon daze.
All the best.
Simon
I am the electric guitarist (black shirt) in the shot. The Photo on the left is of the stage and show I ran in the Biggles Catering Tent, which ran all thru the fest and consisted of local musicians I had asked to play in various line-ups.

This shot looks like the finale where two bands I played with combined to form a "western swing revue". I can't remember if we named it for the show but the two bands were "Rooster" from Cornwall and "Medicine Bow" from Plymouth.

The Muso's right to left are;
Pete Orgyll, fiddle
Steve Turner, telecaster
Dave Penhale, Bass
Richard Barrett, Acoustic Guitar.
Sue Sheehan, vocals

Steve Turner
| | |
| --- | --- |
| aerial view of the Fayre | |
| | |
| --- | --- |
| Courtesy Bob Butler . | |
---
We are looking for eyewitness accounts of this event, photos and any other information you have
---
Please feel free to contact us and contribute towards building pages about this festival by Contacting us. We try to reply to all messages, and will do immediately if possible. Usually we wait until we have enough new material to warrant a page upgrade , so posts may take quite a while to emerge on the page .
---
Return to Archive