The Archive.
Big thanks to our sponsor Neil !

For information on today's festivals see eFestivals.co.uk
Best viewed at 1920 x 1080 min resolution.
Updated June 2019- new photos.
---
The Elephant Fayre

Port Eliot .

St Germans. Cornwall.

July 29th - August 1st .1982.

Siouxsie and the Banshees,

John Cooper Clarke,

The Albion Band,

Arizona Smoke Revue,

Chas and Dave,

Dizzy and the Doormen.
Organizers : l to r : Sue Abel , Peregrine Eliot, Richard Abel, Bob Butler,Lesley Sheppard, Richard Worthy, John G Newman .
Images Courtesy Bob Butler
---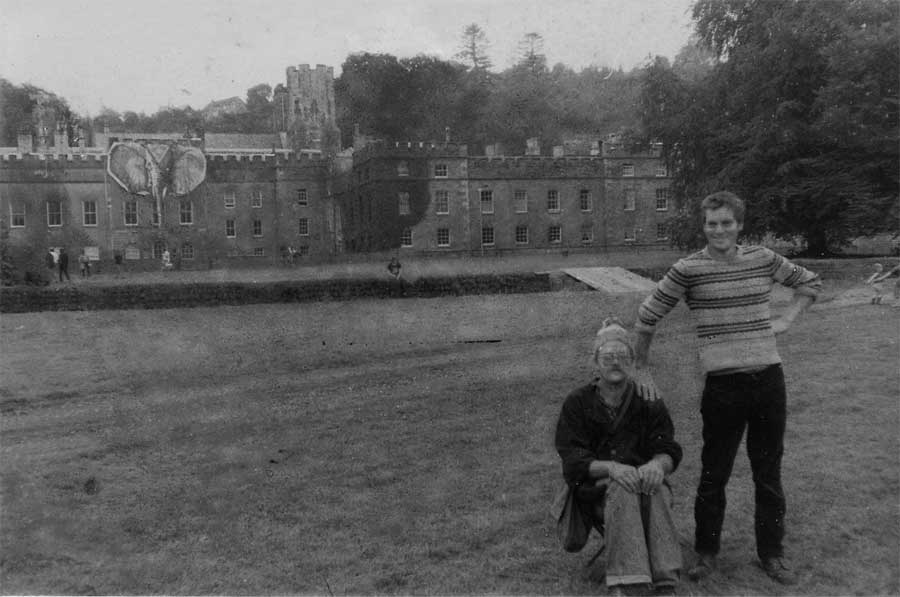 "Psst , I don't want you to get worried or nuffing, but theres a bloody great Elephant watching us .."
Photo© Justin Warman
The second Elephant Fayre was more ambitious in terms of musical fare , featuring the celebrated punk/new wave band Siouxsie and The Banshees who attracted a crowd of at least 4,000 -around eight times the number of punters who attended in 1981.The Banshees set was recorded and bootlegged widely and is still dong the rounds today .

Mick West who took these photos , comments : "went up from Penzance to a couple of Elephant Fayres (my wife was a dancer in a Penzance dance troupe called 'Cheap Frills' which was a support act at the Fayre) and I took quite a few pics. The one with Siouxsie and the Banshees was like 2 separate festivals... the Siouxsie fans were punk/goth black dressed and were only there for a day for Siouxsie....quite a fashion gap from the older hippies".

The Elephant Fayre was supposed to have been constantly plagued by travellers in the form of the " Peace Convoy " .We don't know how many travelers were present in 1982 , but we do know that if any did attend they were not the " Peace Convoy " as this group was hundreds of miles away at the time busy humiliating the authorities at Greenham Common free festival.
Labeled" The Peace Convoy" by the esteemed Convoy Steve in 1982, " As you know , it was I - the brave and fearless Convoy Steve , who originally coined the name 'Peace Convoy' when we were all at Stonehenge in 1982 - I made the one and only Peace Convoy stencil and went round spraying it onto everyone's vehicle before we went to Greenham - the stencil went off to Tipi valley in the care of Tipi Jean who had an old ice-cream van but I am afraid she has since lost it. "

However ,there were others who had joined the convoys ranks who were not as peaceful or as together as the original convoy members. But as Steve labeled the Convoy in summer 82 and did not ever attend the Elephant Fayre , its safe to say that the " Peace Convoy " was not in attendance at the Elephant Fayre in 1982 as they all buzzed off to East Anglia after the Greenham festival - there to be demonized by a very willing tabloid press who merrily began sowing the seeds of outrage that eventually led to the mass persection of ALL travellers by the authorities during the 80s and beyond.
It was in fact rather difficult to say just who WERE the members of the "Peace Convoy " as the years progressed .As traveller numbers increased in the early 80s, there were numerous convoys traversing the country at any one time and many of the original members dropped out, to be replaced by some less idealistic elements.

As Convoy Steve says " I left the convoy in 1982 after realising that the anarchistic energy that fuelled it was never going to be predictable and it was attracting elements that I did not want to be associated with. I went on to travel with a smaller bunch of close friends who were not thieves/junkies/twats and who had a positive outlook on the traveling scene. The 'Peace Convoy' as an entity didn't really last for more than that year then became just the 'Convoy' "
Banshees' Set list

She's a carnival -
Halloween
Fireworks
Green fingers
Coal mind
Happy house
Pulled to bits
Nightshift
Cascade
Sin in my heart
So unreal
Painted bird
Melt
Arabian knights
Spellbound
Voodoo dolly
Slowdive Monitor.

Unfortunately , it seems that some of these less scrupulous elements tended to gravitate towards attending the Fayre. Their disruptive presence eventually led to the demise of the festival. But that was several years in the future . After the success of the 1982 event the organisers were encouraged to plan towards establishing an even more ambitious lineup of bands for the 1983 festival.
Images courtesy Bob Butler
Ticket and postcard courtesy Justin Warman
---
Recollections.
Hello,

I just wanted to let you know that I appreciate the web site at http://www.ukrockfestivals.com/

In particular, I was pleased to see the page about the Elephant Fayre (1982, especially) as I spent the summer of 1982 travelling around England attending different music events (I'm American). I started at The Hacienda in Manchester the first week it was there (purely by accident) and I ended at The Elephant Fayre. In between, I attended a lot of events including a very large one at Roundhay Park in Leeds (about 80,000 people we were told).
Anyway, the atmosphere at The Elephant Fayre was pretty special and I am so sorry to hear how it got ruined along with a good number of other things from the time. It should be a lesson to us all: enjoy the good times while you have them.

I took a pretty good number of pictures while I was on that trip (including while being crushed against the barrier, front and center, at Siouxsie and the Banshees) but I have moved several times over the years and I've not seen them in a while. If I find them, I will scan and send them to you. I should also have some ephemera from the event in the same place, if I can only find it.

When I arrived at the festival I was carrying a seabag of my stuff and had nowhere to put it. Some nice people with a B&B let me stash it there while I attended the event as I couldn't afford any lodging at all (I actually arrived back in the US with no money at all after sleeping my last two nights in England at the airport in London).

As a result, I slept on the ground the first night which wasn't too bad but it was pretty damp. The next day I met a couple of French girls who had a little caravan and, in exchange for helping with some translations, they let me sleep on the floor which was a big improvement.

One thing I remember was that the food was quite good. A lot of it was new to me (I'm not a vegetarian) but it fit the mood perfectly.

Thanks again for the site, it is bringing back some really good (but faded) memories!

-- Peter.
The late lamented Roger Hutchinson was as usual , in attendance and he sent us this report .

For the 82 Fayre, I was going to act as tent technician for the Centre Ocean Stream company who were appearing there on the old grass tennis courts above the Elephants adventure playground. I had conceived and built them a large theatre tent during the previous year and for a couple of hours work to erect the tent, Gill and I got in for free.

We took our good friend Jeff and shared the cost of his ticket so he could afford to go and we camped on the performers field under a giant orange and white striped parachute to shade us from the constant sun.

On arrival I shot off and scored the necessary weed and wine from some enterprising guy in an old bell tent and we were quickly blotto so sat in the middle of site, watching it come alive as the sunset faded to dark. The weather was hot and so the riverbank was like a spaced-out Skeggy where punters cooled off, joyfully in the buff, as it isn't considered normal behaviour to pack a bathing costume for a music festival!

The only band I can remember by name was Siouxsie and The Banshees and I only took in two numbers before finding something else more in harmony with the surroundings. Experiencing life as a couple really blunts it's intensity and the way you interact with what's going on - if it wasn't for the photos I would have hardly remembered anything.
Hi

Many thanks for the site -- it brought back some vivid memories. Here's some I can share with you, from the times I went to Elephant Fayre back in 1982 and then in 1986. A definite contrast of experience!

Anyway ... I was sitting here in my safe European home on a hot August day, and for some reason began thinking about the time I went down to Cornwall to see Siouxsie & The Banshees with a day trip ticket (I was actually wondering how I survived all those hot Goth summers clad in black shirt, black leather jacket, black stretch jeans and black biker boots). I did a quick web search and that's when I found the other people do remember this fantastic festival!

In 1982 I first went to Elephant Fayre with my boyfriend at the time -- I was 16. We had bought in 'all-in' festival day ticket so we had to catch a coach from central London early in the morning. It was a sweltering day and being dressed in Gothy black clothes with August sunshine razoring through the coach windows was actually really painful.
The coach down was packed with (mostly) friendly music-loving punks & Goths and people were playing mix-tapes on portable cassette players (remember them?!) and that's how I first got into Rubella Ballet and The Mob and Crass etc. Lots of fun stopping at service stations and watching punks gobbling up the hash browns, sausages etc. direct from the self-service area and then just paying for a cup of tea... (not me, I was a good punk!)
My Siouxsie Goth make-up was just about melting off by the time we got to the festival -- and the sun was on its way down. I remember instantly how cool and chilled out the place was, with a lovely vibe. The surroundings were breathtaking -- it really felt like a place on Earth where you could just be yourself, relax and enjoy your music with like-minded people. I do remember a few 'hash cakes for sale' cries and dope-cake selling hippies but the drug-selling wasn't in your face. All very mild and for a 16 yr old girl wickedly exciting and edgy, but not dangerous at all.
As the sun went down we wandered the main site and I absolutely loved it. Watched John Cooper-Clarke (very funny) and then the Banshees who were excellent -- I sat on my 6ft 2" boyfriend's shoulders during a bit of a crowd crush! 'Voodoo Dolly' sent shivers down my spine, with the shimmering guitar spiraling out into the surrounding dark hills.
Amazing atmosphere and I really wanted to stay ... but our coach was leaving directly after the gig finished so we had to go. Some punks/goths from our trip stayed there I think. I was blown away by the whole experience, even being dumped off the coach at 4am on a Sunday morning in central London with no tubes for 3 hrs.
The memory of that experience stayed with me, but I didn't get to the Fayre again until 1986 (I since found out from your site this was sadly the last one.) I went down with a boy I knew from college (a loosely-termed kind of boyfriend) and two of his male friends, one of whom I found out later was a skag-head (or recovering skag-head) and the other a bit of a sometimes nice/sometimes scary madman. I was 20 yrs old.
jacqueline s
---
Festival Welfare Services Report.

FIELD WORKER'S REPORT


This festival was held on a beautiful estate at Port Eliot, beside a river estuary on the Cornish coast. It was a large site with the festival spread out over the area. It was exciting discovering all sorts of events, stalls, etc, hidden between the trees.
A fantastic variety of entertainment was provided, including films, theatre, music, poetry and workshops, which took place both in the open and under cover in different structures around the site. A circus big top was the evening venue for bands who attracted large crowds. There were many traders and craftspeople, with the emphasis on local products.


It was difficult to estimate the attendance, as the crowds were scattered over the site and many visitors came just for the evening music. I estimated between 5 and 10,000 people over 3 days. There were a lot of local visitors and children as well as young people coming for the music. The emphasis was not so much on camping, although a campsite was provided. Admission charges were reasonable and the festival was good value for money.
Site Facilities
Welfare.

The first aid and medical services were run by a local doctor, who organised a very impressive unit in the main part of the site, on 24 hour duty. The unit was busy over the festival, dealing with a range of ailments and accidents. Medical personnel were on duty near the big top for the evening concerts, but they were not very obvious and should have had a more visible unit there. We recommend next year a temporary first aid post if large events are to take place at a distance from the main site. The same would apply to the campsite, which was separated from the main arena, and where we would recommend emergency overnight first aid cover.
We also recommend a small specialist counseling service to be present on site, such as could be provided by the local social services dept. or the Samaritans Festival Branch, to work with the medical service .
An Information Point was provided at the main entrance and had all the basic information necessary and provided an access point between festival visitors and the organisers. We recommend a large site plan (this was eventually provided but not until Sunday). There was a site shop at the entrance selling a range of basic provisions, mainly for campers, at reasonable prices. This was a very good idea, although only open limited hours.
Public telephones were installed near the entrance and were well used throughout the festival.

Food and Drink.

A very wide selection of food and drink, hot and cold, and vegetarian food was provided at reasonable prices. There was a large marquee housing the bar and many eating places were under cover, which was fortunate as the weather was rainy. Most food was good quality at reasonable prices, except near the big top in the evening, where the choice was limited to more expensive "fast foods". Supplies of drinking water were insufficient, and we recommend better arrangements for next year, with accessible drinking water taps clearly marked.
Toilets.
Constructed wooden units with seats over deep pits, partitioned and covered, were provided on site. There seemed to be plenty, but they were not obviously marked for people not used to recognising these constructions. They were not lit at night therefore difficult to use in the dark and got messy. They were insufficiently filled in with earth or lime during the festival, so started to smell. The units would have been ok if better maintained and illuminated.

Campsite.
Facilities for camping were not very good, as the campsite was on a sloping stubble field outside the main area.It had
one set of constructed toilets which survived ok and were covered with polythene for shelter. Unfortunately they were
illuminated by light bulbs resting on the plastic screening, which was very dangerous. Water was supplied
initially from a tap on a cattle trough, but the tap was removed so water was supplied from a bowser. There was an
open-back trailer on the campsite for rubbish disposal.

General.

There was plenty of dead wood in the area for campfires, so there was little destruction to the local environment. Oil drums for litter were scattered around the site and emptied regularly, so the site was kept reasonably clean. The festival program was very reasonably priced and contained information about events on site, although it was a little confusing, as so much was happening in different parts of the site and events were not often running to time. It contained a site plan showing most facilities and also local transport arrangements. There was a wonderful children's play area with all sorts of fun structures and many entertainments.
| | |
| --- | --- |
| © Mick West | Fake aristocrats © Mick West |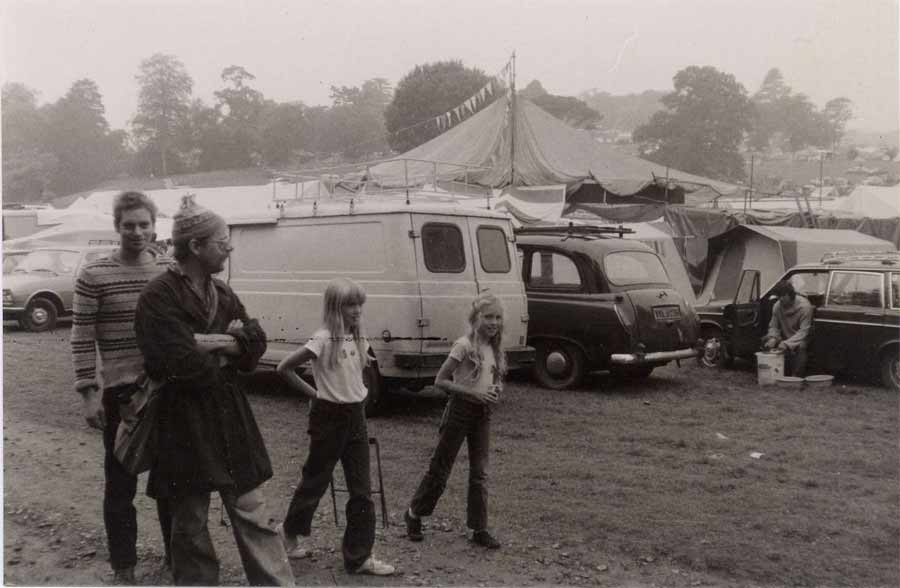 "A traveller peeling spuds lurks next to his car , waiting to pounce on unsuspecting punters after lulling them into a false sense of security.
Is this the first step on the long downward spiral of drugs, rock music ,booze and std's for these innocents ?"
( story continues page 4 beneath picture of girl with huge knockers )
Photo© Justin Warman
Security staff were friendly and helpful, although they were not given enough details of the location of facilities and the accessibility of passes. There was some stop and searching by the police on the approach roads to the site, but these were not obvious and police in uniform were not present on site. Many generators were used around the site, which were noisy and hopefully next year better sound baffling can be organised.
It was an extremely good event, enjoyed by many people. It was very well organised and hopefully It will take place again next year, with some of the suggestions for improvement included here.
Penny Mellor
---

Below, Rocky Sharpe and Johnny Stud at The Elephant Fair 1982 .
---
Recordings.
john Cooper-Clarke
7-31- 82 40 mins Aud tape
---
Elephant Fayre 1982 Newsetter.
We are looking for eyewitness accounts of this event
---
Please feel free to contact us and contribute towards building pages about this festival by Contacting us. We try to reply to all messages, and will do immediately if possible. Usually we wait until we have enough new material to warrant a page upgrade , so posts may take quite a while to emerge on the page .
---
Port Eliot Literary Festival 2007