The Archive
---
View at 1280 x 1024 for best results .
Last update Sept 2012
---
The Knebworth Park Festivals.
Knebworth Fayre .
June 22nd 1985.
Deep Purple , Scorpions, Meat Loaf , UFO, Mountain, Blackfoot , Mama's Boys, Alaska.
---
The View From The Mud : Recollections and photos Knebworth 1985.
we have few recollections, can you help ?

I wasn't impressed that Purple only announced one British gig, but went anyway. It wasn't a bad line up, but I felt a mixed bag would have been more appropriate to the Knebworth tradition. The weather was horrendous and bucketed down for days beforehand, the site was a Somme re-enaction. Unlike the "old days" festival crowds (especially the metal/rock ones)had basically given up on the sitting down for the day, not that anyone could have sat down for this bash. It was one long day! Standing for the duration, wet, attempting to forget the weather by drinking 'Bow etc etc!

The whole shebang was recorded by the Friday Rock Show and broadcast pretty much in it's entirety a short while afterwards (except the Scorps who refused, "World Wide Live" was in the pipeline and they obviously didn't want to affect sales), Anyway, the bands!



Soaked to the friggin skin the sodden crowd awaits the Purple messiahs .
Alaska-Had Bernie Marsden on guitar, totally forgettable. Mountain-Fantastic, riffs abounding and a good solid band. I recall the crowd were apathetic at first but by the end they'd been won over, I saw them in Swansea a few years ago in front of a couple of hundred, still amazing but at home in a festival !
Mama's Boys-Good band, and seemed to be lower-mid bill fayre at a few fests around that time. They had a few memorable songs and a crowd pleasing "Mama Weer All Krazy Now" chucked in.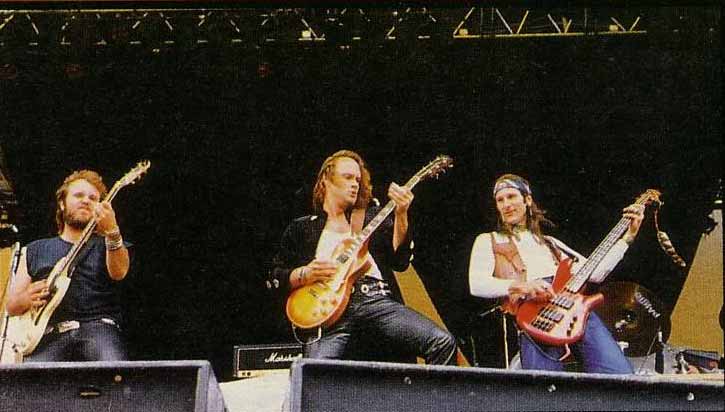 Blackfoot Knebworth 1985 photo courtesy Monty
Blackfoot-Possibly stole the day for a lot of people, a welcome dose of southern rock and boogie, the weather was temp forgotten! Also a throwback to the tradition of southern bands at Knebworth, warmly received by the crowd, "Highway Song" perhaps my favourite live moment of the day.
UFO-Did the business, only Phil Mogg (I think) was a mainstay at this point, however they churned out "Lights Out" "Only You Can Rock Me" etc to an appreciative (and getting restless) crowd. Meatloaf was terrible, a good backing band but his voice was shot to bits and he had a dodgy leg, which certainly made the mud throwing interesting ! This was during his sharp decline from '83-Reading Festival '88, he should have pulled out and saved history showing how crap he was at this point.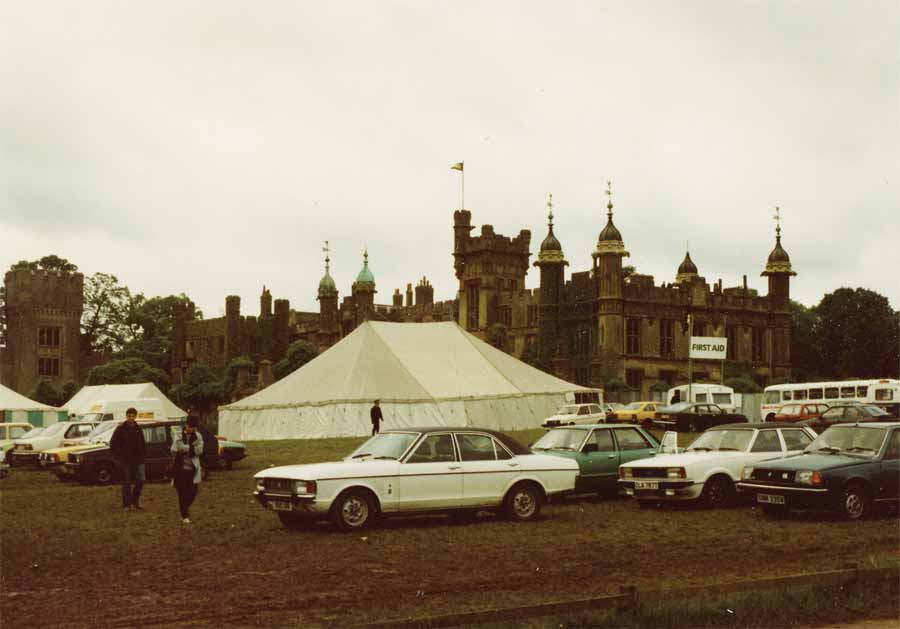 Rainsoaked festival services slowly soak into the mud as Knebworth house lurks damply in the background.
© Henry Cobbold Knebworth House
The Scorpions-Probably the best set of the day, no arguments! A highly polished and professional show from the Scorps (always a superb festival band) who had just hit the big time in the States. All the "hits" got the crowd going. They also wiped the floor with Ozzy the next year at Donington. I remember thinking "Purple can't follow this", and I was right......
Glover and Blackmore © Allan David Perry

purchase this photo by clicking the link

Deep Purple-Rain and a delay in hitting the stage (at least an hour late) meant any atmosphere the Scorps had built up was lost. The sound was nicely loud, but Blackmore was WELL off form and frankly looked as if he wanted to be elsewhere. They hit the ground running with "Highway Star" and were greeted like the returning heroes they were, in fact most of the crowd were on their side throughout, but most people will tell you in hindsight they were bloody awful. It was a cracking set list with the best of the superb "Perfect Strangers" album aired which I actually thought sounded fresher than the rest of the set and the crowd loved it, but Gillan wasn't hitting the notes and Blackmore just seemed to be in a completely different key to Lord/Glover/Gillan. I must admit "Smoke on The Water" and a seemingly heartfelt little speech by Gillan was a highlight, but otherwise a disappointment. I saw them 2 years later in the NEC and they rocked!

Looking back, I should have gone to Milton Keynes for U2/REM/Ramones that was held on the same weekend.
Regards
Jase
---
---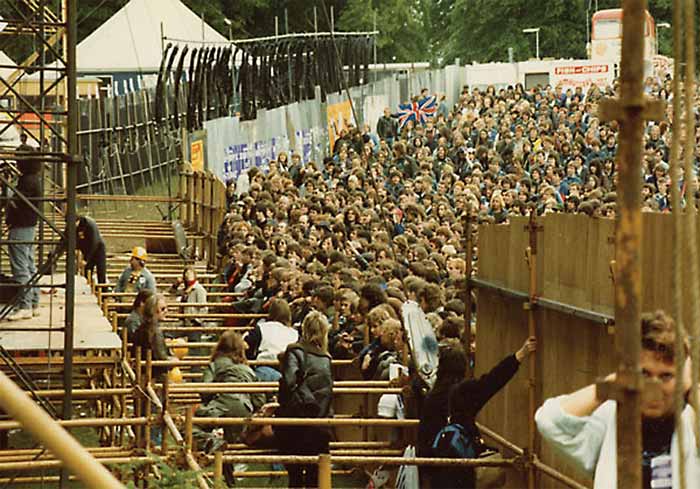 The punters at least got to be close to the stage in 1985, but no video screens ?
© Henry Cobbold Knebworth House
The report of the 85 show with Purple is spot on - especially the urine filled bottles. let's not forget the urine-fueled mud-wrestling and the overflowing urinals though! IIRC Tommy Vance was up there on the Friday night egging people on to come over early and join in the fun, which we promptly did, 5 guys in a Mk 1 Escort, sleeping over in the car park and getting in to the field at 6am, just to make sure we got wet all day.
Rob
---
---
Anyone know who this is ? © Henry Cobbold - Knebworth House

purchase these photos by clicking the link
---
---

What a day, We got there just as Alaska were on, they were average to bollocks, but it was nice to see the x-snake Mr Marsden again. We were packed in so tight that I was only wet from the shoulders up ! I was standing just in front of the mixing tower all day. The Scorpions were ACE, meat Loaf "stop throwing things or i'll stop singing" was a bit of a wanker. and Deep Purple were amazing. It was worth every penny and I have never seen such a great lineup before or since. How the bands didn't get electrocuted I will never know, or perhaps Richie did and we didn't notice??!!!
Paul Richards
---
Carl Reed
---
Peter Hill
---
---
---
---
---
---
---
---
---
---
---
Contents.
---
Purple at Knebworth links
( external sites )
Brian McPherson's pages on Knebworth 85
Deep Purple Net Collection of images.
More info about this concert can also be found at the Knebworth House site.
---
Can we get a witness ?

We have been endeavouring to collect as many recordings of the artists that featured at these concerts as possible, so we can effectively review the performances, provide set lists and band line-ups. Any info displayed on these pages or which is sent to us for review remains the copyright of the contributor and the Archive makes NO PROFIT from its use. The intention is to also display as many personal histories of the festival as possible for the benefit of readers of the site and we welcome all written contributions, no matter how long or short.

If you can contribute in any way, with tapes, reviews , photos or personal histories, please Contact us.

Knebworth Concerts 1974-85

Knebworth links

---