Dredging up memories of Polgooth Country Fayre is difficult because , while I can remember some very vivid details , the overall picture is quite blurred. I think this is because being on the peripherals of the organisation meant that, like so many others , the event itself was an excuse to let the hair down and just enjoy it. One of the main organisers , Henry was rumoured to have planned to spend the whole event in a specially designed area on top of the main stage scaffolding.

My main role was of programme coordinator, chasing people for info , collating designing and finally printing of the programme with all of the details of the event. So my work was all done by the time the event came about, but my plans to put on a silly costume and just loon about didnt quite work out.
But anyway, I am pretty sure that there were two fayres, the first one being a one day event. I jumped the broomstick at one of them , but can't really ask my then partner for any of her memories. It was probably the first.
I was living in Truro at the time, running various schemes from an semi derelict building grandiosly called The Earth Centre, producing an occasional underground magazine with my pal Kevin (later of the mazing space reggae group , The Is, but then sometime DJ and organisers of latenight discos. I was also working in The Pannier Market, on market days, which is where I first met up with the main organisers. They were mainly incomers from the South East and based around St Austell. I do remember spending the best Christmas Day ever , with all of the organisers , at a place I think was called Happy Valley , a truly amazing timewarp space.
1979 programme courtesy Jo Underhill and Trevor Mortimore

Its a shame that despite typing and retyping and then printing off, by hand. on an old Gestetner all of the details of those who performed my brain refuses to remember any of them. I do know that Al Cooper and Bert Briscoe ( brainiac 5) appearred, because it says so on their respect Myspaces. The Brainiac 5 being local were obligatory at any event on Cornwall , and were blooming good. Kevin Coyne, of course headlined, and I think there were a couple of bands from the Exeter Uni collective.

I got into trouble for spending too much on the programme. I can now admit that this was a bit naughty, as we used the excess to hire a bus to run from Truro each day--but we still ended up with a hefty loss. We had a stall at the event itself , but never got it together to put anything on it except for our free veggie curry......that no one wanted.

I remember also attempting to put on a prepared Street theatre Piece about " One man and his dog" but the Dog ran off straight way , turning up two days later and the only member of the audience claimes ownership of the stick.
I also have a memory of being sent off with a cheap 8mm camera ( used for the broomstick wedding) to follow a person that paranoia claimed was " the fuzz". Other highlights ..Some of the travellers stole our " firepoint", the only one on the whole site, and i have a vivid recollection of seeing them at a great distance, brushes over shoulders heading off into the top campsite. (which was being overseen by someone who was made "sheriff" and given a badge.) My lovely moroccan blanket also went missing from our kipping area at the back of the main tent, which was heartbreaking. At the last minute I was given the job of MC in the tent , mainly to try and get people to stay behind to watch the late night movie...David Bowie's "The man who fell to earth". I watched this in reverse from atop a great pile of straw bales.
It was basically a very weird , but wonderful event for me. It was quite a comedown to go back to Truro, as I was technically homeless and squatting in an old chapel. I got back in the evening of the day after the event after a monster clearing up session, parked the dog and headed for the local chip restaturant. There I bumped into Sid Rawle who I hadn't seen since the original Diggers broke up in 71, and not at the event itself.
There were a couple of other events that somehow spun off or were related to Polgooth. One event in Truro was a complete and utter shambles, originally put on by two local teachers, who had been overwhelmed by Polgooth, at short notice. I remember turning up early with a couple of members of our Housing Coop project to find that they didn't even have anyone to run the gate. A massive storm finished it off with me having to grab the mike and hustle the band off stage before everyone got electrocuted.
The other was the Festival of Fools in Penzance. Malcolm Hardee brought his Greatest Show on Legs down for that one and enticed me to join them and move to London. I had got the performing bug ---all the blame being on Polgooth fayre.
Later on , Bob Butler , one of the main organisers and probably some others went onto the Elephant fayres, invited my later group Cafe De Gaza to perform there.
Even later , whilst touring in the north I came across Henry , working as a Circus Ringmaster.
The whole entity of Polgooth had quite a bonding effect on life in Cornwall at that time and it sowed a lot of seeds for much that came after.
Digger Dave:Feb 08.
---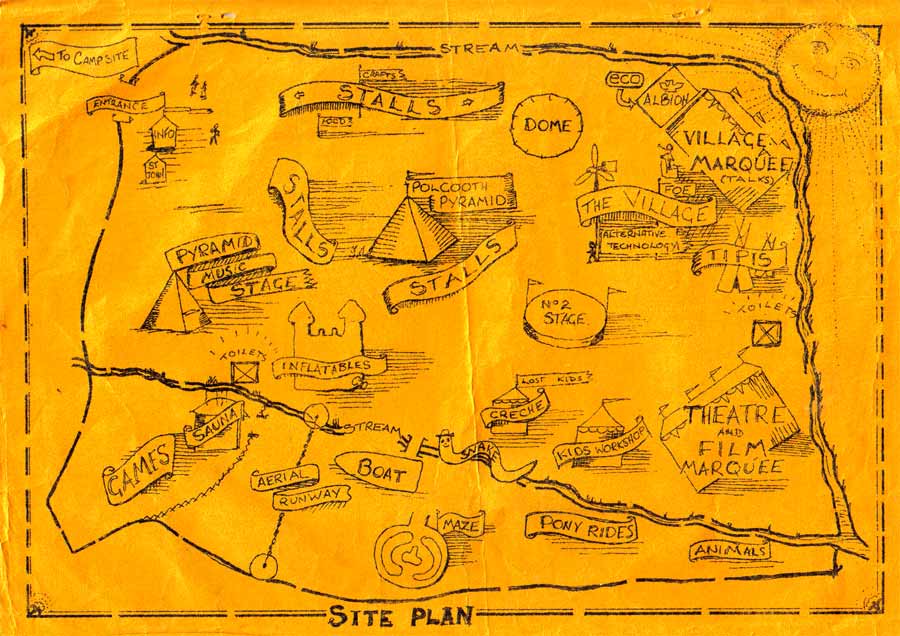 1979 site map courtesy Jo Underhill and Trevor Mortimore
In 1979 Saturday featured the best musical lineup, with most of the headliners playing late in the evening of the 11th.
1979 program items courtesy Trevor Mortimore
Hi,
there were 2 Polgooth Fayres and the main organizer was Bob along with his wife Wendy and their friends Henry and Tina. They all lived in the St Austell area at the time. I lived 2 miles from Polgooth at a place called Tregorrick and along with a lot of other people had a hand in setting up the Fayres.
With my wife Gini, Tim and Lin and a guy called Hilary we set up the kids area and made a huge snake about 50' long that crisscrossed the little stream on the main site. We made it with woven bamboo canes that I cut from the garden I was working in, and covered it with newspaper and glue, painted it and built a wooden boardwalk so that kids could walk inside, a tortuous task that took days, and then the night before the opening it poured with rain and there was a gale that just took the whole thing apart !!
The first Fayre was really low key and not too many people turned up but the 2nd was a lot bigger and attracted a large police presence and also "The Travellers" or "The Albion Free State" led by Sid Rawle. A lot of the people involved in the Fayre were put on fence duty to try and stop everyone getting in free (which didn't work) and also to try and spot any plain clothes police on the site. It became a farce with the odd copper in plain clothes trying to get away from hippies walking behind them pointing and shouting "fuzz" or whatever.
As for the music.... I seem to be like all the rest...can't remember who played except I think The Chieftans played and a band from the Shepton Mallet area with a guitarist called Andy Kinniston . My wife remembers a band playing "Black Jack Davy" but I'm sure it wasn't the String Band.
Actually I think the 1st Polgooth Fayre was a one day festival called "Funday Sunday" and was used to raise funds to get a mutual friend out of prison in Thailand, but I may be wrong, like Digger Dave time has hazed out a lot of detail. As for Brainiac 5, I was their biggest fan and don't remember them playing although they did play at The Festival of Fools in Penzance a bit later.

best regards,
Richard Rowe
---
These fayres were the most influential events in my childhood and experiences I had there shaped me over the following 30 years.
I remember being encased in a ventilated fur-lined coffin size box suspended within a gyroscopic structure slung from wires festooned with charts and drapes depicting important meridians, ley lines and the like. I think magnets and mineral wool were involved too and I was spun gently and then left bobbing in the dark with the festival noise strangely muffled. Before I got in to the box I was told that my forces would be aligned with those of the planet and I would feel different when I came out. Of course my time in the box felt forever and I suppose now it was my first attempt at meditation. But I felt my forces aligning with those of the earth and the magic stayed with me - I remember it vividly still.
A group of us went up into the woods to be shown how to hug trees. We tried different species but the best was the oak. We had to lie quietly next to the tree and approach the trunk slowly and gently then hug tight for a long long time. I stayed with my tree for longer than the others and felt it feel me hugging it. Down in the fayre everything was going on - maypole one year, hay bales, mud bath, stream, tents and tents of organic and home grown ale, mead, food, save the whale and nuclear no thanks stands. Permaculture and leyline divination, and the stage where band after band played - there was always someone on stage and open mike reined, especially when the last fayre was shut down in a flurry of police raid and serial denial and disownership of drugs from the stage.
The fayre wasn't all hippy and us Polgooth people had the best of all times in the two or three days that the fayre and its people and energy were in our village. Especially as kids - Aidan and Gareth Hancock, Kev Dearden, David Dunn, Miles Hsokins , Lenny George, Ellis, Warrens, Gummows, Parsons, Toots, Mark Hiskens, Harvey and Franklin Snell, we ran amok !
Matthew Thomson
---
I spent the final day of the 79 festival in Liskeard Police Station trying to bail out most of my mates and half the performers!
Kind Regards
Bob Butler
---
I remember Robin Williamson played there, so almost ' the String Band' . And Kevin Coynes roadie, when doing the sound check was saying ' cucumber and abba instead of the old ' one, two, one, two stuff. Amusing at the time. You had to be there I guess.
Trevor Mortimore
---
Hi
Have been reminiscing with an old friend and Polgooth fayre came to mind. Found your site and thought you might like to see the programme. Also don't remember too much detail about it…hmmmm! Had a great time (apart from the rain)!

Jo
---
Setlists and Recordings