The Archive.

View at 1920 x1080 min res or higher

For information on today's festivals see eFestivals.co.uk
Last update July 2019.
---
The Eighth National Jazz and Blues Festival
---
9-11th August .
Kempton Park Racecourse.
Sunbury.
---
Sunday August 11th : afternoon and evening sessions.
---
Day two dawned with aching bodies from sleeping on hard ground and putting up with all the party goers the night before. We were so young then that we were probably ignored by all and sundry as being beneath their dignity to tempt with drugs or other vices. Certainly , I don't remember even seeing anyone selling illicit substances at this festival, but they were obviously out there , just well hidden from us. So it was that we turned to legal highs- to wit - the demon drink- , to get the adrenaline going , although for us even booze was supposed to be a no no, as the drinking age is 18 in the UK. Still ,we were not going to let a little thing like that stop us. At eleven , we squeezed into the nearest hostelry - which was packed to the proverbial gills with hippies and alternative types -and the one who looked the oldest ( probably Mac ) braved the everlasting queue to obtain drinkies. Successful, we bolted down as many pints of the foul Watneys Red Barrel or whatever crap passed as beer as we could , before trotting back to the arena to catch the first act of the day.
---
Afternoon session. Incredible String Band , Fairport Convention, Al Stewart, Eclection ,The Johnstons, Sonya .
---
| | |
| --- | --- |
| | Sunday afternoon was sublime with the Incredible String Band in the Marquee . The Incredibles were , as usual off the wall, charming, weird , wonderful and unique . Mike Heron and Robin Williamson played a multitude of instruments, Rose was a good 10 years before her time as a real novelty item on bass- wow a chick playing bass man - I remember some idiot remarking - but she proved she was more than up to the job and Licorice provided sweet backup vocals. A Very Cellular Song was a highlight, but this was their heyday, their whole set was stellar, unique , gems of songs just seemed to spring forth effortlessly from their pens in those days - stuff like Waltz of the New Moon, October Song, Swift as the Wind, Chinese White -were all part of the set list at that time in 1968. In my mind they could DO NO WRONG at this stage in their career.. |
---
But I'm jumping the gun here, as the String Band were the last band to play in the afternoon. I can't remember Sonya at all, or anything much about Al Stewart ,one report says he played some Donovan numbers. I thought Eclection were pretty cool, but then came a band to whom I have formed a lifelong attachment - I speak of none other than the divine Fairport Convention - who pretty much eclipsed everyone else on the afternoon bill apart from the ISB ......
| | |
| --- | --- |
| This show of course featured one of their best ever line ups, with the wondrous Sandy Denny and hugely talented Ian Matthews on vocals, guitar genius Richard Thompson on lead , Tyger Hutchings on bass and the late lamented Martin Lamble on drums . The first time I ever saw Fairport live and perhaps the best, if only because it was the only time I caught them with both Richard and Sandy together on-stage . They were playing many tunes from what would be the their second album What We Did On Our Holidays and some leftovers from the first album. What a treat ! Sandy was of course unequalled as a female vocalist - I'm sure she sang Fotheringay -, and Ian Matthews also gave a unique feel to the bands sound. Although the instrumental prowess of the band may have improved later on with the addition of Dave Swarbrick, the quality of their vocals never got any better than this . | |
| | |
---
I found this a perfect way to pass a sunny summer afternoon , the only downside was that when the afternoon session finished we had to leave and queue again , thereby missing really plum seats , although we did infiltrate towards the front as the evening progressed.
---
Evening session: Tramline, Dynaflow Blues, Fairport Convention, Chicken Shack, Jethro Tull, John Mayall ,Spencer Davis, Traffic.
---
I can't remember seeing Fairport again, so perhaps I missed them through queuing up to get in again. Most bands played very short sets - 30 minutes or less , so we could have missed them when we went to get something to eat. The first band I have any recollections of in the evening session was...
| | |
| --- | --- |
| When Chicken Shack arrived on stage I was tense with anticipation. I'd already seen them at one of their very first gigs, when they were still running around in a little Commer van , so I was well acquainted with their work. I just loved their early material . Stan Webb was one of my fave guitar players. Frizzy haired and rope thin , this guy had a very Buddy Guy style of playing and he loved to stretch out on slow blues numbers such as When my Left Eye Jumps . The rhythm section was, I later thought, a bit pedestrian , seemingly afraid to experiment - but they were rock solid and of course there was the glamour factor of Ms Christine Perfect - later of Fleetwood Mac -on piano . A great band and they played a really cool set . | |
---
| | |
| --- | --- |
| | Jethro Tull were an unknown factor as at the time they had no album out . Fresh from a residency at the Marquee Club , I had read glowing reviews of their act from the MM and was most interested to see them. They blew us all away !. At this time afar more blues based outfit , they really had a huge asset in Ian Anderson, who it has to be said , was one of the most original and outrageous front men of the era. He of the rubber face, loopy one legged flute playing and strange body postures was completely to the fore in this breathtaking performance . This was a totally ON set as the guys flew wildly through their act with numbers like My Sunday Feeling , Martin's Tune , Back to the Family ,Nothing is Easy and Song for Jeffrey really capturing the audience from the word go. |
Tull onstage at Sunbury August 11th 1968 photo provided by Jan- visit his Jethro Tull annotated lyrics website here
It was all fresh and exciting, bolstered by the excellent Blues guitar of Mick Abrahams- later of Blodwyn Pig- and I was an instant Tull fan, an infatuation that lasted for a couple of albums and then waned somewhat as I discovered Anderson had ripped off the breathy flute playing style of the great blind sax player Roland Kirk. I must admit that I just got fed up with his facial expressions and as the material got more complex but less raw and bluesy.
However, at the time I loved them to distraction. Abrahams was in particular a real gem of a player, his slide work was exquisite and he really let rip on Song For Jeffrey. Anderson's vocals were of course most memorable , his flute playing gave a great jazzy and distinctive feel to the music and the rhythm section of Bunker and Cornick were driving and inventive. A band at the peak of their powers, apparently this gig was instrumental in their gaining a recording contract, which would result in the debut album This Was in late 68.
Bassist Glenn Cornick contacted us recently and commented ......

Sunbury was, of course, one of the biggest days in my life as it was THE DAY when we knew we were going to make it. You cannot believe the feeling. I don't have many recollections about the Festival other than our reception. I swear we were all in shock.

I don't know if you remember the circumstances of our introduction. Ian used to have a nasty old carrier bag that he took onstage and in which he rummaged for harmonicas, his flute or whatever - all part of his image. John Gee walked onstage carrying the bag and the whole audience stood up and started cheering even though we hadn't even been announced. What people didn't realise is that we had been playing 5 or 6 nights a week in little 40 or 50 seater blues clubs all over the country and those people had come from all over to see us. The Music Writers were shocked because we had made ourselves famous without their help or without most of them even knowing us!

photo of Jethro Tull at Sunbury © Franz Murer .

Glenn's online site contains much early archival Tull material www.cornick.org

Tull gallery and links here
This was a killer show !
Huge applause followed their set and Traffic must have felt they faced a pretty uphill battle to win over the audience .
---
photo of Spencer Davis at Sunbury © Franz Murer .

However, before Traffic came an act that I had completely forgotten about, until reminded about them by Chris Jones, who sent this excellent recollection of their set

The big omission from your site is any mention of the Spencer Davis Group -always a favourite of mine - who went on before Traffic and had a very hostile reception initially. It was as if people thought that since Winwood had left they were crap. This was the first time that SDG had shared the billing with Traffic since the split and, I recall, they proceeded to win the crowd over number by number. Don't remember the track list but SDG played a mind-blowing Sitting and Thinking and were generally very bluesy. Part way through the set most of the band left the stage, only Eddie Hardin and Pete York were left - (later to have a separate career as The Greatest Little Big Band In The World) and they played magnificently - the standout number being Norwegian Wood. The rest of the band came back and by now the crowd were right behind them. Don't remember much more about this but I know that Traffic had to play their socks off to follow this.

Traffic did play a blinder - which was just as well!
I do remember this set now Chris has jogged the memory, as it was my introduction to Hardin and York- who afterwards did indeed play as a very dynamic duo, both stalwart players and deserving of more fame and fortune.
John Mayall's Bluesbreakers then followed . Mayall was the daddy of British Blues . the person credited with popularising the genre , largely through his unerring choice of truly fantastic players, such as Eric Clapton, John McVie and Peter Green . I have very dim memories of this set, which have resurfaced now that I have been reminded of the line-up of this current band . The Marquee pre festival handout stated that this would be the debut of a new line-up, nothing new for Mayall , who changed band line-ups so frequently I don't think anyone is really sure of when the changes occurred .

This was once again a top line band , with Mick Taylor ( who had been with Mayall since the departure of Peter Green )on lead. . Rather than featuring a lot of new chums the band was a slimmed down version of the previous Bluesbreakers , minus the horn section with which Mayall had worked with in 1967 . Still onboard was renowned jazz drummer John Hiseman , (who had featured on the Bare Wires album ) but bassist Tony Reeves had departed the ship and in his place was Stephen Thompson.

Mayall at Sunbury, click to see a bigger version of the image .
Anyway, as Chris Jones confirms , Traffic were great, which was nothing new, as they really were one of the best bands ever spawned in the UK. The original line-up of Winwood , Wood, Mason and Capaldi were a real treat to the ears. I'd seen them only few weeks before at the Hyde park free concert. Then it was a pleasant dreamy afternoon romp , but tonight was a more extended saga, with high points being more frequent.

Those who are more familiar with Traffic from the 70s may be forgiven for forgetting that at one time they were a brilliant pop band. Sure they were also a psychedelic force, but they were also capable of forging great pop songs , as their second album , Traffic signifies.

photo of Traffic at Sunbury © Franz Murer .
Songs like Paper Sun, Medicated Goo and 40,000 Headmen were singable, catchy , funky and memorable as well as being freaky . Add stuff like Mr Fantasy into the mix and you had a line-up of great songs to hear live. Winwood had one of the great voices of British Rock music and as well as being able to play a totally mean guitar he could also get it down on organ . The late great Chris Wood was a more than capable sax player , Capaldi was a tight drummer and Mason could play hot guitar as well as write great songs .

Overall they got us all off that night. They of course finished with Mr Fantasy, a wonderful version which took me to new heights of admiration for their style and chops . They were very well received - as fest vet Mike Godwin reminisces - Winwood was playing a pale green Telecaster, which was quite unusual in an era when everyone played Gibson Les Pauls and 335s - and I believe he really played well that night.

I saw Traffic a number of times after this and perhaps this was not the best of all those gigs, - the Loughborough show of 72 was the best ever, as Steve was inspired that night - but this had to rank with the best.

I can't remember the entire set list, but to give an indication here's a set list from 68 which is an indication of what they played at the time .

Colored Rain, Pearly Queen , Heaven Is In Your Mind , Feelin' Alright , Don't Be Sad , 40,000 Headmen , No Face, No Name, and No Number , Feeling Good , Who Knows ,What Tomorrow May Bring? , Dear Mr Fantasy
- great list huh ?

It had been a classic weekend, most of the Festival was a great success, well run, and some fantastic music . It was soured by the tragic events of Saturday night , but unless you were up close it was not enough to spoil it for the majority who were there.

Whilst Sunbury did not have the anarchistic bedlam of Bickershaw, the mega acts of Bath or the iconic status of the Stones in the Park, it was one of the best festivals I ever attended and I hope you haven't been too bored by my recollections .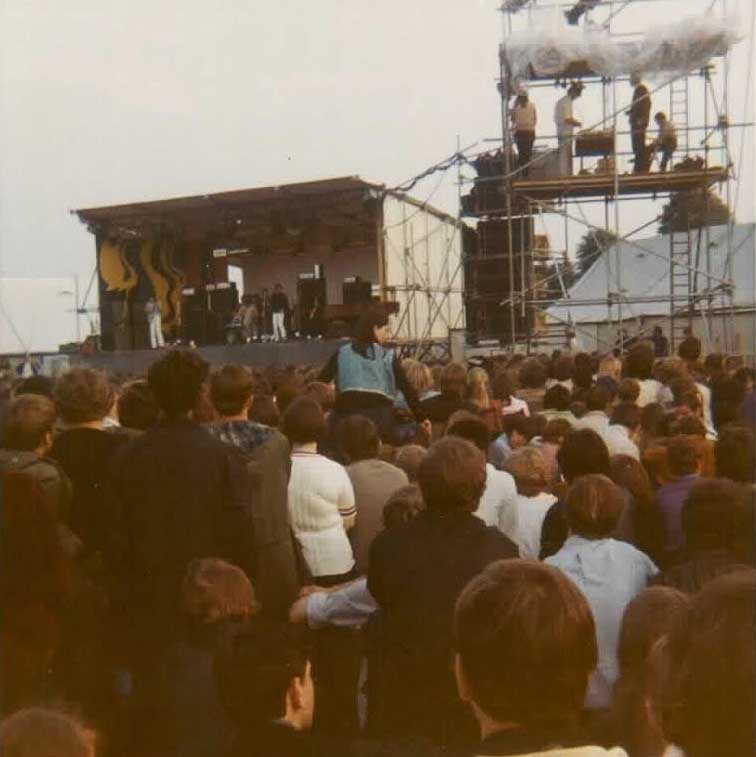 Tramline onstage Sunday Nat jazz fest 1968 © Uli T
Recollections that need confirmation.
Des Murray recollects
Hi there
Brilliant to come across your site .Every time I mention this festival I am looked at as if I am a loony.It was my first major festival,I was 19, and bizarrely at the time playing soldiers in HM forces.The hairies at the time thought our incredibly short haircuts were "groovy and different"
I cannot believe how many acts I had forgotten.I particularly remember Clapton and Arthur Brown,and definitely Tyrannosaurus Rex.Have I lost my marbles or was there not also a marquee/tent where lesser,at the time,acts were performing ? . I am convinced that I saw Joe Cocker and Jethro Tull in this marquee. I was close enough to touch them. And I definitely saw the late Duster Bennett who does not appear on the set list.
I well recall the smell of dope around the place,and our overnighting consisted of trying to sleep wrapped in a tarpaulin underneath a concrete mixer.
Thanks for flashing back the memories.Can someone confirm the marquee and Duster Bennett ? .

Cheers

Des Murray

Editors note : Joe Cocker and Duster Bennett definitely played in the Marquee . John Peel was there as DJ . Its possible Tull played another set in the Marquee due to public demand but Glenn Cornick doesn't mention this set and as they were one of the last acts on Sunday its highly unlikely. To see the full line-up and the venues played by the artistes go here
---
Jon Morrow has memories of Reg Dwight playing in the Marquee ?
---
1968 National Jazz and Blues Festival menu.
---
The early festivals.
You can find out the complete line ups of the first festivals if you follow the links below, but otherwise information is fairly limited.

Festivals 65-83
Most of these have fairly complete documentation .
---