Memories are made of this
We had bought tickets in advance to be sure of seeing this legendary California band about which we knew little, and drove down from Scotland on the Thursday. The promoters had scheduled the festival for early May because weather records showed there was a tendency for dry spells about then. In the event the first two and a half days were grey and wet, turning much the site into ankle deep mud. It wasn't particularly cold, but it was rather grim and with inadequate provision for litter the site quickly got messy and untidy. The backdrop to the site was Coronation Street-style terrace housing. There was no trouble with the local people but they did quietly resent us and had tried to stop the festival. The local working men's club had a Union Jack flying at half mast on our account.

The promoters had provided large marquees for sleeping and I seem to remember that it worked quite well. The toilets worked too, but you could smell them about 70 metres away. They were a whole experience in themselves: look through the seat and there was an open pit containing an amazing stew of colours 'that no one knows the names of').

I don't know what happened to security; they seemed not to have shown up. People soon started to dismantle parts of the corrugated sheeting that formed the only enclosure to the site and it quickly became a free festival. Attendance was estimated at around 70,000, but apart from advanced sales, I doubt that many people paid to get in.

But despite the weather and despite being a financial disaster the show went on and only a couple of advertised acts didn't show (Pacific Gas and Electric was one). Can't complain though, Hawkwind's space odyssey was worth the discomfort, with a light show that was exceptional for the times. Stackridge finished a quirky set with Purple Spaceship Over Yatton, which I thoroughly enjoyed. Dr John in top hat and with a cane, finished off that night but he was way out of his tree on something and didn't give a good performance.
( have to disagee , DR J WAS GREAT )

I think the Kinks were on the next night. Ray Davies was pissed, but functioning well and was clearly enjoying himself. The stage organ was out of tune so he and keyboards player attacked it beer cans and pushed it over, then went on playing with the grand piano while one of the stage crew remonstrated at them. They played a good set. In between sets DJ Andy Dunkley playing good music such as "this oldie but goodie" which turned out to be Subterranean Homesick Blues.

I remember a small, giggly, young Linda Lewis with a huge afro and a huge voice range. Family gave a good set, with Roger Chapman in good form. Quiver seemed pretty average. Cheech and Chong suggested that we all have a minute's silence for J. Edgar Hoover who had just died. It was probably that same night that the stage announced that the Night Assemblies Bill (an infamous private member's bill that was a serious threat to future festivals) had been talked out of parliament. This raised a big cheer amongst Bickershaw's muddy hippies. I didn't stay up for Captain Beefheart, but there was another big cheer when he came on.

Sunday morning was bright with bluish skies, although not too warm. I think Donovan performed sat crosslegged on a mat, but that might be my imagination. Country Joe MacDonald was certainly there, getting us all chanting: "And what have you got?" "Fuck Nixon". He was an excellent raconteur telling about trying to get a U.S. cop to illegally utter the F-word. But the weather soon got grey and wet and I think it was raining again when the Flaming Groovies played. The New Riders came on in the rain but it eventually started to clear and so they tried to charm the clouds away with their country rock before the Dead came on. And it worked. And for the first time during the whole three days there was a clear sky and it was dry for the whole of the Dead's set (around five hours from memory, minus a break of some 40 minutes). There was even a glorious sunset about half an hour after they came on, which was as good as Hawkwind's light show.

Wasn't too warm mind, so they put some sort of giant heater on the stage which made it more comfortable for the band but it also made their guitars go out of tune, requiring frequent tune-ups. (I thought this was supposed to be one of the reasons the Europe '72 album had no tracks from Bickershaw.) Anyway the heater eventually packed up and the band played better in the second set as a result.

Meanwhile the crowd had lit fires and there were huge clouds of marijuana smoke wafting towards the stage causing Bob Weir to remark "I don't know what you're burning down there, but it smells awful". I had never used any illegal substance before, but we split a tab of acid and it started having effects while Bill the Drummer was playing the solo to The Other One. It's quite an interesting number when you are tripping. And then Pigpen took us through Lovelight and then I bopped my way through Going Down the Road Feeling Bad, and into Not Fade Away. This was one of the ten best days of my life and I was buzzing the whole evening and the whole of the next day (the intro to Lovelight going round in my head) as we drove back to Scotland, and I even felt some effects on the Tuesday as I was back at work planting spruce trees in yet more rain up in the Scottish Highlands. Halcyon days.

Postscript: Yeah show ended with Lovelight/Goin down the road/Not fade away. Wow, a never to be forgotten set - from Dark Star on is just out of this world. One More Saturday Night was the encore. The last six tracks on here are the New Riders.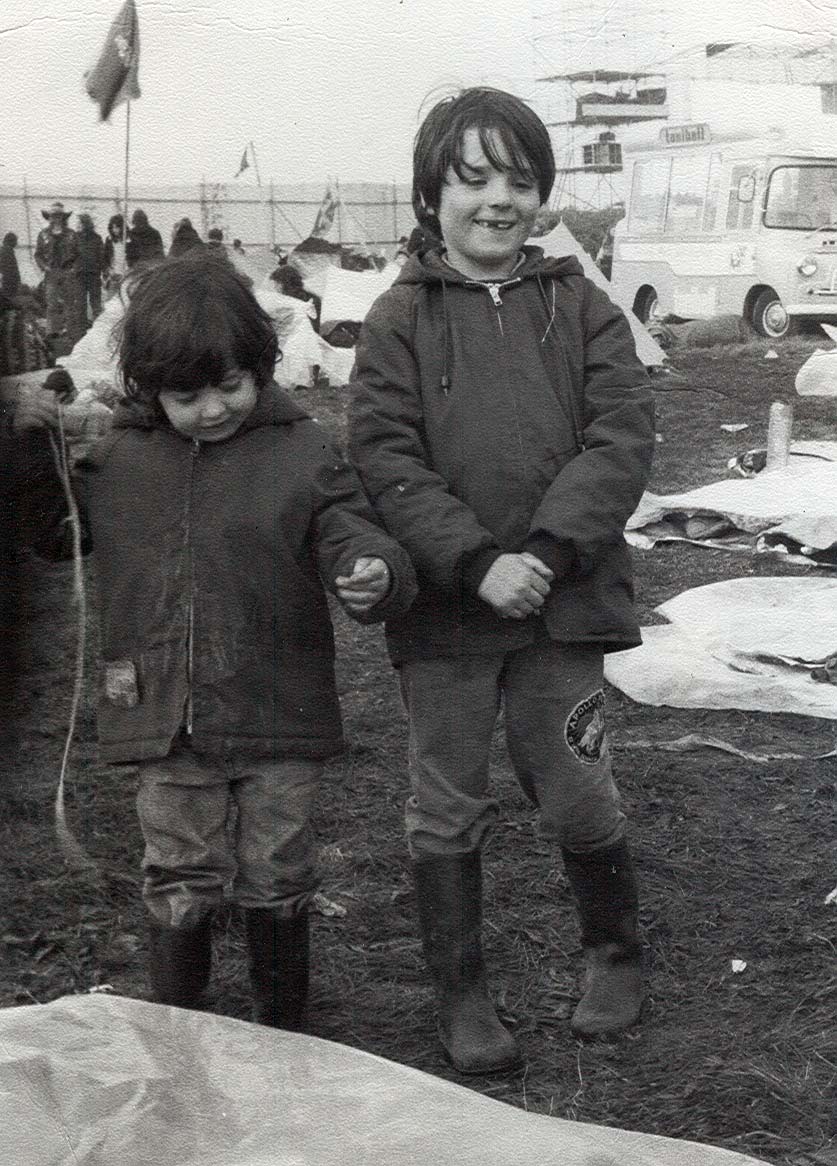 Sent to me by anon, he and his brother at the festival, to show how long ago this was, these lads wpould now be way over 50 !