The Archive.

Best viewed at 1280 X 1024 res or higher
---
Last update May 2015 new photos of all the acts
---
The Knebworth Park Festivals.
6-24-78.

Genesis,Jefferson Starship,Tom Petty and the Heartbreakers, Devo, Brand X, Roy Harper , Atlanta Rhythm Section.
---
The view from the mud.
Recollections of festival attendees .
A view of the crowd at Knebworth 1978, if you spot youself, please let us know :-)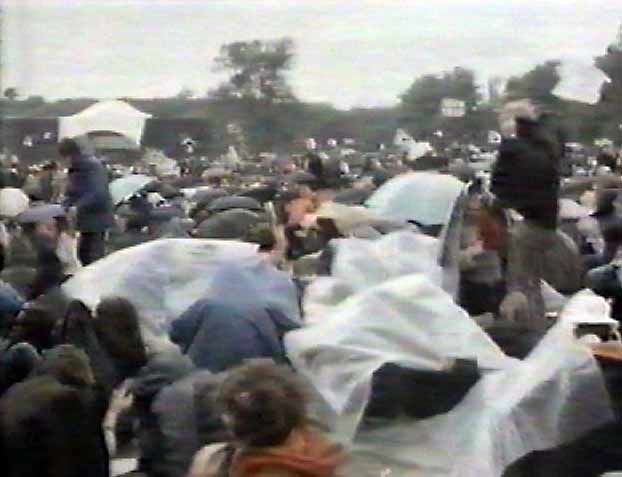 Rain ! What a jolly bad show !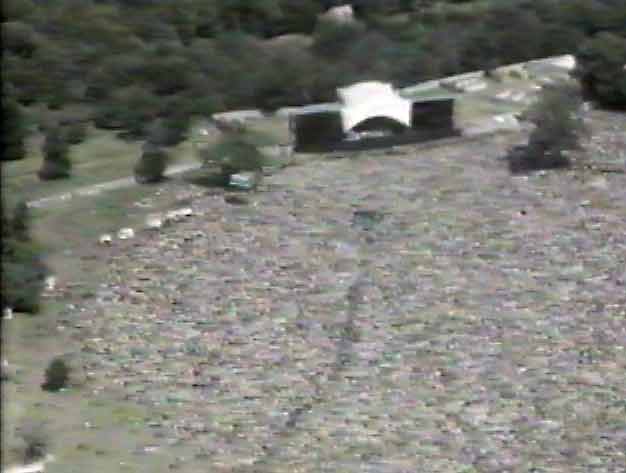 Stills courtesy Freddy Bannister taken from "Spirit of Knebworth" video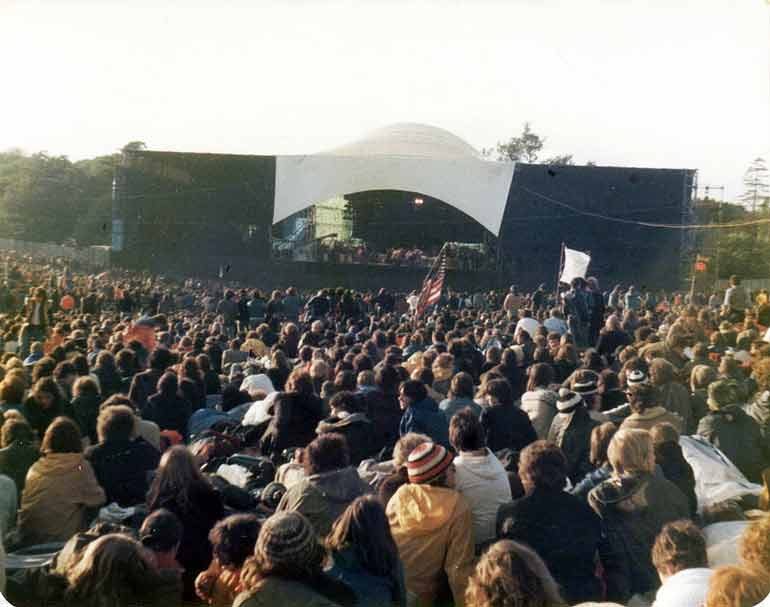 © Martin Starnes
Martin Starnes , who took the photo above and below , has this recollection .
I actually didn't go to see Frank at Knebworth, as I decided after going to see the Starship at the June 78 Knebworth show that I had had enough of big gigs like that (and anyway, I'd seen Frank twice already that year). I had always been a huge Airplane/early Starship fan, but it was a very disappointing show; Grace Slick had fallen out (again!) with the band in Germany the previous week and flown back to America, so they played without her (I never ever got to see her, nor did I ever see the Dead either btw), and the sound simply wasn't loud enough. It was a windy day, and the music just drifted away with the wind............. as you can see from the photos we were some way back from the stage. I remember absolutely nothing about Genesis' set .........in fact until I checked your site I couldn't even remember who headlined that day! Anyway, I had given up on them after Gabriel left, so I really wasn't very interested.

© Martin Starnes

---

Roy Harper was for me the star of Knebworth 78.

Jefferson Starship take off . Knebworth 1978 © Leigh Revell

I went to see Jefferson Starship on their only UK trip and Grace didn't show due to a big fallout I think in Germany. The band played Pride Of Man the old Quicksilver track, but frankly were shambolic and unbalanced. Only wooden ships was up to standard.

Genesis were superb playing in the fading summer light into the darkness but the unsung heroes for me were Tom Petty with some good straight uncomplicated rock and Harper who was the filler through the day.

Harper and his quintessential Englishness was the perfect backdrop for this festival. In fact his unheralded performances were a delightful surprise and captured the mood of the day perfectly, especially with One of Those Days In England.

I had seen Harper 5 years previously, in fact he played my school, Repton. I wondered what the fuss was about, but on this day and in this setting he was magical.

Bill Sowerbutts

---

hey, great stuff on your site...i was in the us air force and went to this concert....saw a clip on the tube about genisis and they flashed to knebworth and was looking for a poster from this concert...i was by the american flag you see in the pics on your site....was one of the best concerts i've ever been too.....we were so wiped out after could not even find the parking lot we parked in until the next morning...awesome tunes for sure every band there that day rocked...even starship......knebworth was really a fantastic concert and partying with the brits was the greatest...memories for a lifetime that day!
Thanks

Jim Pickles

© Claude Boily

---

© Leigh Revell

---

© Claude Boily

I lived 6 miles from Knebworth and always felt it was a bit jammy that we lived so close.In some ways I envied people who'd hitch-hiked down from Scotland or Europe, it was too cosy. On this particular day (my second Knebworth after the Stones in '76) my mate Gerry and I got a lift to the Festival site I'm slightly ashamed to say, by my Dad and his mate George who'd travelled down from Banbury with his son and his pal, who were only 16- I was 19 at the time. So there were 4 of us.There must have been 50,000 plus there but it was a nice manageable crowd unlike the Stones or Led Zeppelin.
I must confess the Atlanta Rhythm Section and Brand X went on a bit- Now I'm older I might appreciate them more but jazz rock noodlings at lunchtime is not going to work- you sometimes wonder who puts these bills together. Phil Collins played drums with Brand X I think, that's how the bill gets put together.

© Claude Boily

I thought Devo were great- the boring Prog Rock audience threw stuff at them as I remember, which they probably enjoyed as part of the theatre, but it showed where the OGWT mentality was, at the time,Are We Not Men We are Devo, dressed up as flowerpots or something- what's not to like?

Tom Petty and the Heartbreakers, as a result of shows like this, were actually bigger here than in the USA. A stunning set, I think Tom wore a top hat and they played truly great songs like Breakdown, American Girl and Listen to Her Heart-Mike Campbell on guitar was fantastic and the audience definitely got it. I saw them 2 years later on the Damn the Torpedoes Tour at Hammersmith Odeon when they became massive.

Can't remember too much about the day although I met a nice girl called Cara from London, we corresponded for a while-then she moved to Canada...

As other folks have pointed out, it was a big disappointment that Grace Slick had left the band in Germany under a cloud(She's sung in this country just a few times I believe) but I enjoyed the Starship's AOR , really liked Marty Balins voice on songs like Miracles.

The only Genesis lp I own is still Trick of the Tail and I'm pleased to say they played a chunk of it in their set, Squonk, Ripples , songs like that- the light show was grand and it was a stirring, uplifting performance with the much maligned Phil Collins in top form. These festivals were fantastic-not always the best scenario in which to listen/watch live music but I only have good memories of these occasions, being able to take your own snacks/beer in , meet people and enjoy the live fare for a relatively cheap price and have priceless memories 30 years on.

Pete Wyatt

Claude and Ariane © Claude Boily

---

Probably Brand X onstage © Claude Boily

That summer I went again to Knebworth for both the Genesis and Zappa concerts. The Genesis set was truly scary. In the middle of 150,000 middle-aged, middle-class, middle-middle fans all singing along with every word. Seeing as I'd seen them in the days of Trespass and Nursery Cryme when Peter Gabriel (A Flower ?) and the band were actually interesting, this was a huge turn off. Much more fun were Devo, although the crowd didn't think so and pelted them with cans.

Noted cartoonist Hunt Emerson's take on Knebworth was , as usual, pretty hilarious

© Hunt Emerson

Used with kind permission from Hunt Emerson who wrote :

I'm delighted that you want to use my strip from all those years ago - I just went and had another look at it. I was a grumpy sod back then...
Please take this as my permission, and go now in peace.
All the best

HUNT

---

Remember it well - quite well anyway.
Just had my 20th birthday and I drove 5 of us, squeezed in my mum's Vauxhall Viva, all the way from, er, Berkhamsted. We were all big Genesis fans but had really embraced punk/New Wave and were up for Devo.


Sat quite near the front on the left hand side of the audience and had a great view, even able to breathe in Roy Harper's "cigarette" smoke which was nice. Don't remember too much about the first 4 hours - ARS passed me by completely - but RH was really good and pretty amusing in his asides as I recall. It warmed up when

Devo came on -they were just hilarious and the can treatment thoroughly undeserved - mind you there were enough cans about. TP went down a storm as I think he was British rock music's new best friend at the time - a bit new wavy, catchy tunes and not known in the US.
JS were not high up my list of favourites at the time and 5 minutes of their set was probably about enough - by the end I was beginning to understand why Grace had gone home.


As for Genesis, bless them, they were awesome. Even if you didn't like the music, you would have been impressed by the power and inventiveness of it all - Chester Barnes' drumming could have been heard in the next county - and the light show was just fantastic. The climax to the show was Los Endos and the break-out to the final chords of the song saw these enormous lights come on and shine out across the audience. Blimey.

Couple of other things stick in the mind:
1) the toilets: a) it was a long long walk to the gents communal toilet and b) said toilet was quite frankly appalling: a huge circular 2 foot deep pool that we stood around filling with varying degrees of accuracy. In theory impossible to miss but the day took its toll and it was not a good place to be by the time Genesis came on.
2) getting out the car park: we got back to the car pack afterwards and it was absolutely grid-locked. So we sat there 5 of us finishing off what was left and promptly fell asleep. I woke up at 4 in the morning and the place was completely deserted. Empty field with one Vauxhall Viva in it. So I drove home. Happy days.

Tim Storer

---
We are short on recollections , can you help ?
---
Contents.
---
If you can add in any way to this material ,please Contact us
---
Not another boring old Knebworth 9-9-78
---
Knebworth festival products
Various versions of promoter Freddy Bannisters Knebworth commemorative setsare now available


( NB : The Archive has no commercial ties with Freddy Bannister or his products , we've found that they are generally quite good value as they are well packaged and of reasonable quality and of course , there is nothing else "official " out there, so if you want a commemoration package and you are willing to spend the dough on it, then go for it. One word of warning though , The Bath Festival T shirts we were sent were nice looking but the print washed out after a dozen washes, so if you buy them, its perhaps best if don't wear them too often.

if you have any issues with the quality or delivery of any of these products please do not ask us to sort out your problems. We include this information to inform our viewers about the availablity of these items .

Please note that some of the audio sets on the bonus discs supplied with the boxed sets are audience tapes and vary considerably in quality . to our knowledge ,most have not been improved by remixing , so they are no better ( or worse ) than the free versions that have been in circulation for many years. Our advice is to check out the sources and read reviews of the items before you buy ) .