The Archive.
Last update Dec 2013>knebworth festiva
---
---

The View from the mud : audience recollections of Knebworth 1974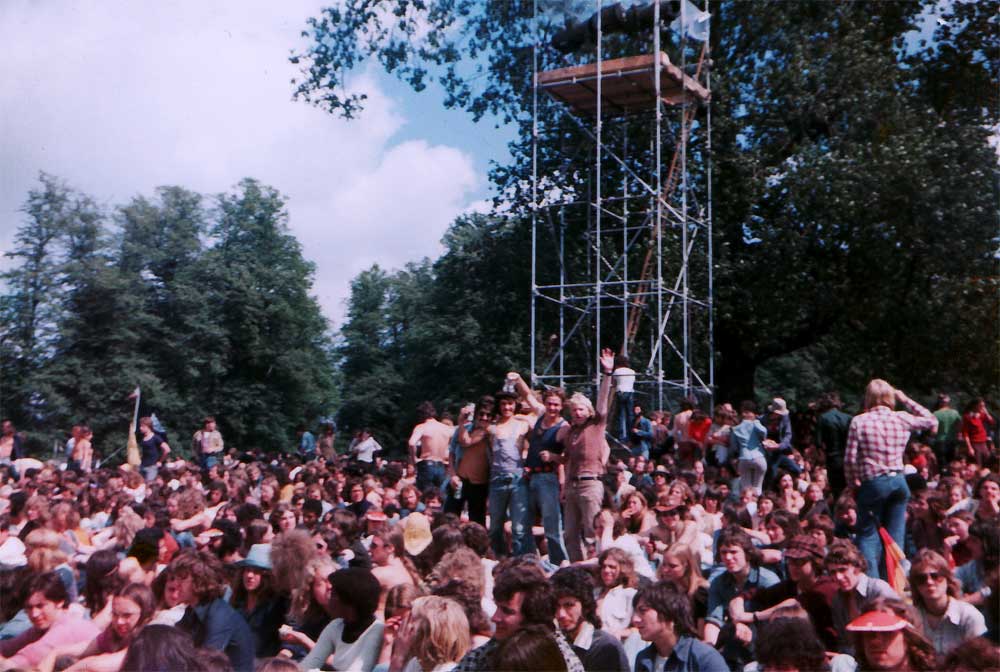 © Nigel Barton
Hi

My name is Mickey O'Connor and I am 50 years old....hard to believe all that water has flowed under the bridge ...but there ya go.

In 1974 I was 18 and lovin it !

I was living in a small Scottish coastal town called Helensburgh, about 30 miles north of Glasgow. We were having the time of our lives. I was part of the happenin crowd (thats what I thought anyhow) .Hair down our backs,loon pants and desert boots were the order of the day.
I can't remember who first suggested going to Knebworth but believe me I didn't have to be asked twice.Giles, one of the crowd had often talked about seeing Hendrix at the Isle of Wight (he was a couple of years older than most of us)...I was green with envy I can tell you. The chance of seeing the Allman Brothers live was not to be missed.

A few of years earlier some local hipdoos had organised the Peaton Hill free festival in an old army barracks a few miles from Helensburgh. A clutch of bands from Glasgow and the local area played....it was my first open air gig and my first spliff...what a combination...I was blown away :)

From memory 14 of us set off for Knebworth the day before the gig. Our transportation was one hired transit van...yup thats right ONE van....no seats other than those at the front. We chucked a couple of old matteresses in the back and piled in. We set off at about 9.30pm ...totally wired with exitement we stopped off in Glasgow to pick up Graham and his girl friend Valery. When I think about it now, that many bodies in one van was madness...if we had had an accident it would have been bloody carnage.
We arrived at the site the following morning in plenty of time to get what we thought was a good spot...we were actually a fair distance from the stage but no one seemed to care...we were just overjoyed to be there. A few of our gang decided to take a trip....Edith, my girl friend at the time and myself decided to remain on planet earth.

I vividly remember John Peel chucking frisbees into the crowd before introducing Tim Buckley who gave a fantastic performance....the sun was beating down by now...it was going to be a hot day in more ways than one. The atmosphere was wonderful and people were there to simply enjoy the music...there was a lot of peace and love around.

Like another festival goer who has submitted his memories of the gig I slept through most of John McLaughlin but have great memories of all the other performances culminating in the appearance late in the day of the Allman Brothers...who were simply amazing..the sound was fantastic I remember...after the show we all piled back to the van in the car park/camping area and attempted to get some sleep... which proved fairly difficult....three or four of the original 14 did not make the return trip but headed off to Cornwall for a holiday so there was a bit more room in the van of the return journey to Scotland.

At the border we pulled into a service area to get something to eat. We opened the back doors of the van and started to fall out.

Un- beknown to me we had parked up right next to my parents car (they had been house searching in Wiltshire prior to moving back down south)....My mum said we looked like a bunch of dirty hippys as we piled out of the van...which of course we were- not having washed for nearly three days.My folks offered me and Edith a lift in their car for the remainder of the journey which we gratefully accepted.

Great memories....love to do it all again :)
---
© Nigel Barton
I was there to see the Allmans and like many others partied too much the night before. The Allmans were ok but I missed Duane.
It was never the same without him. I had tickets for the Rainbow in London and he never made it there - just too late.
My worst recollection of the festival is that me and my mate left our bags in the care of some 'trustfull' older hippies, while
we went off in desperate search of a loo. Lo and behold on our return they'd stolen the bags, our money, our tent and our dope.
I hope one of them reads this sometime - hey, you guys gave hippies a bad name and tarnished a whole ideal for us.
There ya' go - that was then etc.......
Terence Disley
---
Knebworth-1974
I was still at school with one more term to go and was down at Bisley for the schools rifle competition (Eton Rifles!). I'd borrowed my parent's Cortina estate and two of us decided to drive up to Knebworth. I don't recall much from this beyond hours of excellent country rock from the Doobies and the Allmans. The traffic trying to leave was really, really bad and we finally got back to our tents at Bisley at about 3am.
Julian Bond
---
The Allman Brothers, well what can you say.
The only thing that sticks out in my mind about the Allmans is that they played the gig like a bar gig, and after about an hour they walked off and people thought that was the end and some were not too happy after waiting around all day. One of the crew came out and told us they were just having a break and would be back on. Amid all the bands/drugs/people and booze I met a friend from Canberra as I was on the way to the toilets ... It is a small world.
Thanks again
Bazza
---
Hi
I was searching the web for a bass tab of "Stormy Monday" by the Allmans, when I came across your site, which brought back a few memories.
The previous night to the festival, Friday, four of us were sitting in the Woodcutter pub in Hartlepool (NE England) bored. Around 10-30pm, and after several beers, Charlie H said the Allmans were playing Knebworth tomorrow.
At the age of 19, and all being AB fans, this was too much to miss, so we got straight in the car, pissed, and headed the 250 miles south, arriving at @4.30 am.
First stop was the supermarket for several packets of Marlboros and a slab of beers each, but no food.
Getting tickets was easy enough, and we camped next to couple who had their son and daughter with them who fed us plums all day. (Mother in big floppy hat, teenage son on acid and daughter in sleeping bag with boyfriend!)
Weather was excellent, as was the music. Only a few songs we didn't know.
Sadly I slept thro' most of the Mavishnu Orch set, having had no sleep the
night before.
After the AB played, we drove back north, exhilarated, arriving midday Sunday. The exhaust fell off the car two miles before home.
If any of your photos show four guys, dressed in black, hair half-way down their backs and wearing fedoras, that was us.
Regards
Paul Lincoln
---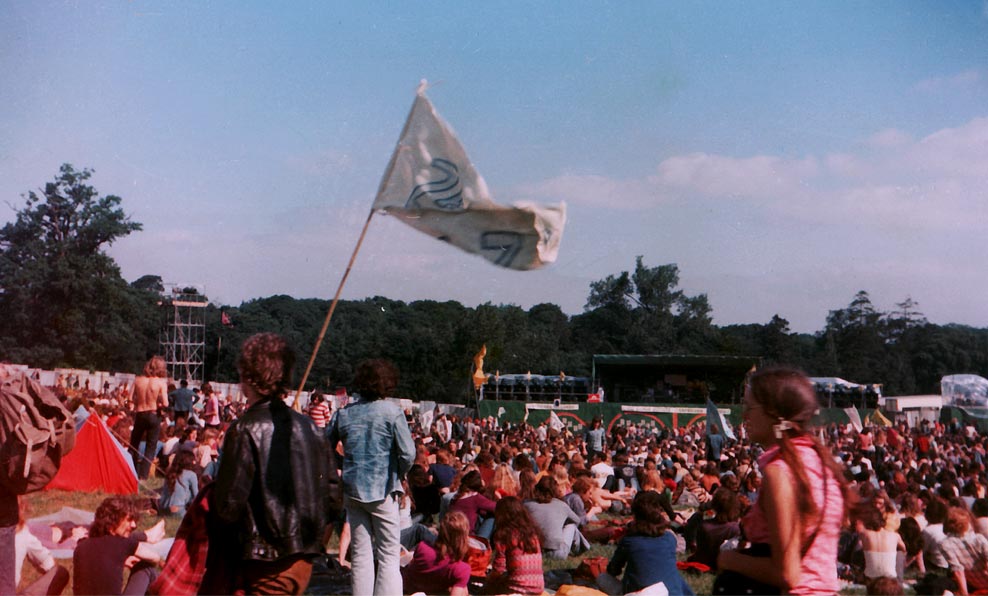 © Nigel Barton
I live near Knebworth and remember the freedom of being able to bring alcohol, crates of wine and jugs of Abbot Ale, into the gig and going back out to the nearby pub, The Lytton Arms, to re-fill the beer jugs when we ran out - those were the days !
My then business partner went home early - I can't remember why -and literally took an early bath at his home in nearby Welwyn village. He recalls lying in his bath with the window open listening to The Allmans 60,000 Watt PA (slightly more powerful than Windsor !) as the wind was blowing his way.
At the time this was the biggest PA ever seen (heard) in England . Sound has since been tempered at Knebworth by the local authorities.
Neil Rice
---
© Frits Niemeijer
PA for the 1974 Knebworth bash was provided by a London company called International Entertainers Services or IES for short. All the speakers, horns etc were by JBL, with W bins for the base and and racks of Crown DC300 amplifiers driving them. The mixing desks were designed in house and were rugged custom designs in shielded steel cases to stop rfi. I worked for IES in London from May 1974 up till late 1976 as a mixer design engineer and was part of the team at the '74 Knebworth gig. Excellent site BTW. Have just spent most of the afternoon in silly old fart mode browsing 60's nostalgia sites ;-).
Regards,
Chris Quayle
---
I saw your page on the Knebworth Concert of July 1974, and it brought back great memories. I was 16, traveling in England on my own, and I heard about the show. I was a big Allman Brothers fan but had never seen them play, so I had to pull together the £10 or whatever it was for the ticket, and the train fare, etc. Unfortunately I had only £5 at this moment.
Using my trusty fake ID that said I was 18, I went into Charlie Chester's Casino in Soho and slowly, carefully, turned that £5 into £50 at the
blackjack table. I then rolled out past the slightly pissed-off bouncers, bought the ticket, and went up to Knebworth.
The crowd was amazing and the weather was great. Mahavishnu were pretty other-worldly. I remember seeing Van Morrison (I couldn't believe he was such a little guy!). A little of the Doobies. Finally the Allmans - I thought they were incredible, and Dickey Betts was particularly great, especially on Blue Sky. I see from the set list that he played Elizabeth Reed immediately after, but I can't remember it as well. At some point Gregg came out and said "We just found out that there's no curfew, so we're gonna play until the cows come home"
and they did play, well over three hours as I recall.
They had laid on a late-night train - 3am or so - back to London, but when we got there, everything was closed, except this one Kentucky Fried
Chicken, and there was a queue of 60,000 people for that. I can't remember how long I waited (we all had the munchies in a serious way!) but I don't think I got any chicken in the end - they just ran out.

Thanks for your page,
Bruno Coppola
---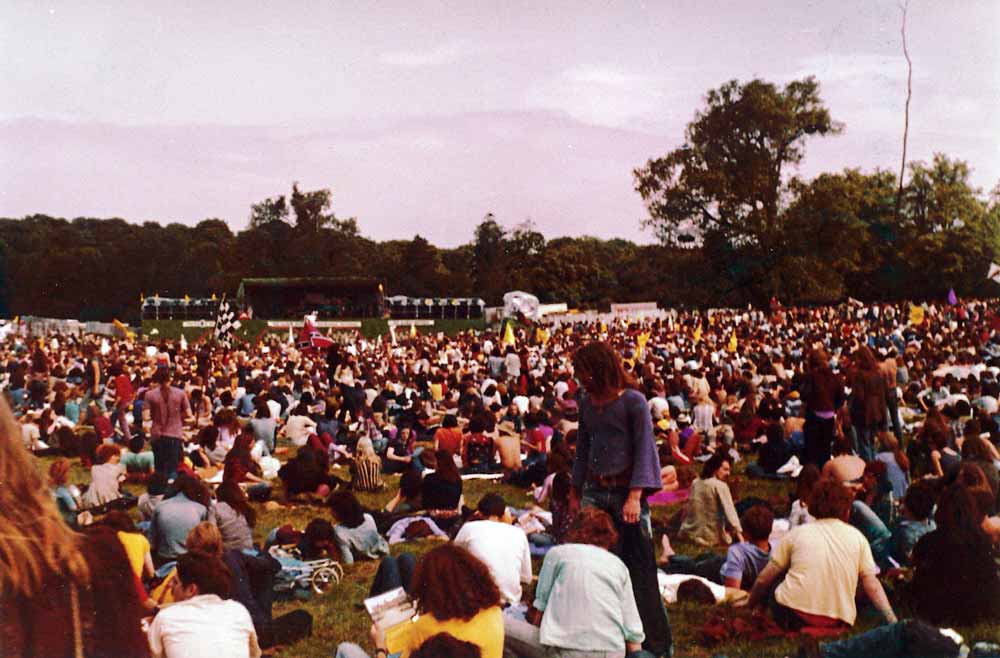 © Frits Niemeijer
Hi,
Just found your site and would like to share my story for what it's worth.
I was 19yrs in 1974 and attending Kingston Poly. Knebworth was on the way back to Liverpool, so I thought I'd stop off on the way. Somehow managed to hitch rides there, the only memorable one being the last leg of the journey with Steve Redgrave the Olympic rower. I didn't know who he was at the time, but he had interesting stories about rowing and his look and tales somehow stuck in my mind, and I finally put two and two together after seeing him enough times on the tv.
Not sure how I got in, but I was just in time to see the first band. However, I had a little something, so I have no memory it. What I do remember is the Mahavishnu Orchestra. John was fabulous and clinical in his all white, then Jon Luc Ponty joined him, and the combo of fire and ice was awesome. The sound was great for an outdoor venue, still the best that I can recall, having now been to many festivals, but of course my memory might be playing tricks. Van Morrison put on a great set, the Doobies were the Doobies, then came the Allmans. They put on a brilliant set and played forever, or at least over 3hrs. The weather was great, and all in all a fantastic event.
Adrian
---
Hi
Just been on your site for the knebworth festivals, the 1974 first festival was my first,i went on the back of my brothers bike and we slept under the bike covered by a sheet of plastic! alex harvey were fantastic and must be one of the best stage performers of all time,but overlooked by many,and it just got better with the doobies then the allmans,it changed my future,maybe not for the best but hey! what the heck.

Everythin' was great till you needed the loo!! like everyone else around us we resorted to empty wine bottles! i feel sorry for the guys who had to clear up afterwards. the photo shows me on the "vino". does anyone remember "jusus jellet" he went to all the big gigs and always stripped off and always got escorted out! great days great music.....

Andy Wild

---

Right : Andy vegges out at Knebworth 1974

One of my most vivid memories of Knebworth 1974 is what seemed like octagonal long drop loos! I remember that The Doobie Brothers and The Allman Brothers were great. I was sure I saw Tom Petty walking along too!

Also remember that backstage there was silver service!

Lindsey McLennan
---
I am a yank, and was station at RAF Lakenheath when Knebworth 1974 came along. Some friends and I camped out overnight at the camping area. The next morning, we got up early and were very excited and a little hungover from the night before drinking. We made the trek to the concert area and were right up front and left of stage. The weather was very hot and amazing. At the end of the day everyone had sunburns. I remember the crowd was great. Everyone was very friendly. I do remember one guy that was wearing a toga (or bed sheet) and halfway thru the concert he was naked and dancing. We nicknamed him "Naked Jesus." The bands were great. Van Morrison sounded great. I really loved and still love "The Sensational Alex Harvey Band." I had never seen anything like the lead guitar player. The Doobies are still one of my favorite groups and still see them in concert often. It was an amazing show, first outdoor concert, and time in my life. Still have the poster and program on my wall at home.
Bill Molash
Wichita, Kansas USA
---
Contents .
or you can read the individual
Band reviews which also contain recording details, set list and band line up info as well as links to each artist where available..
---
Can we get a witness ?

We have been endeavouring to collect as many recordings of the artists that featured at these concerts as possible, so we can effectively review the performances, provide set lists and band line-ups. Any info displayed on these pages or which is sent to us for review remains the copyright of the contributor and the Archive makes NO PROFIT from its use. The intention is to also display as many personal histories of the festival as possible for the benefit of readers of the site and we welcome all written contributions, no matter how long or short.

If you can contribute in any way, with tapes, reviews , photos or personal histories, please Contact us.

Knebworth Concerts 1974-86
Knebworth links
---