The Archive.
---
updated April 2015
---

The Sensational Alex Harvey Band.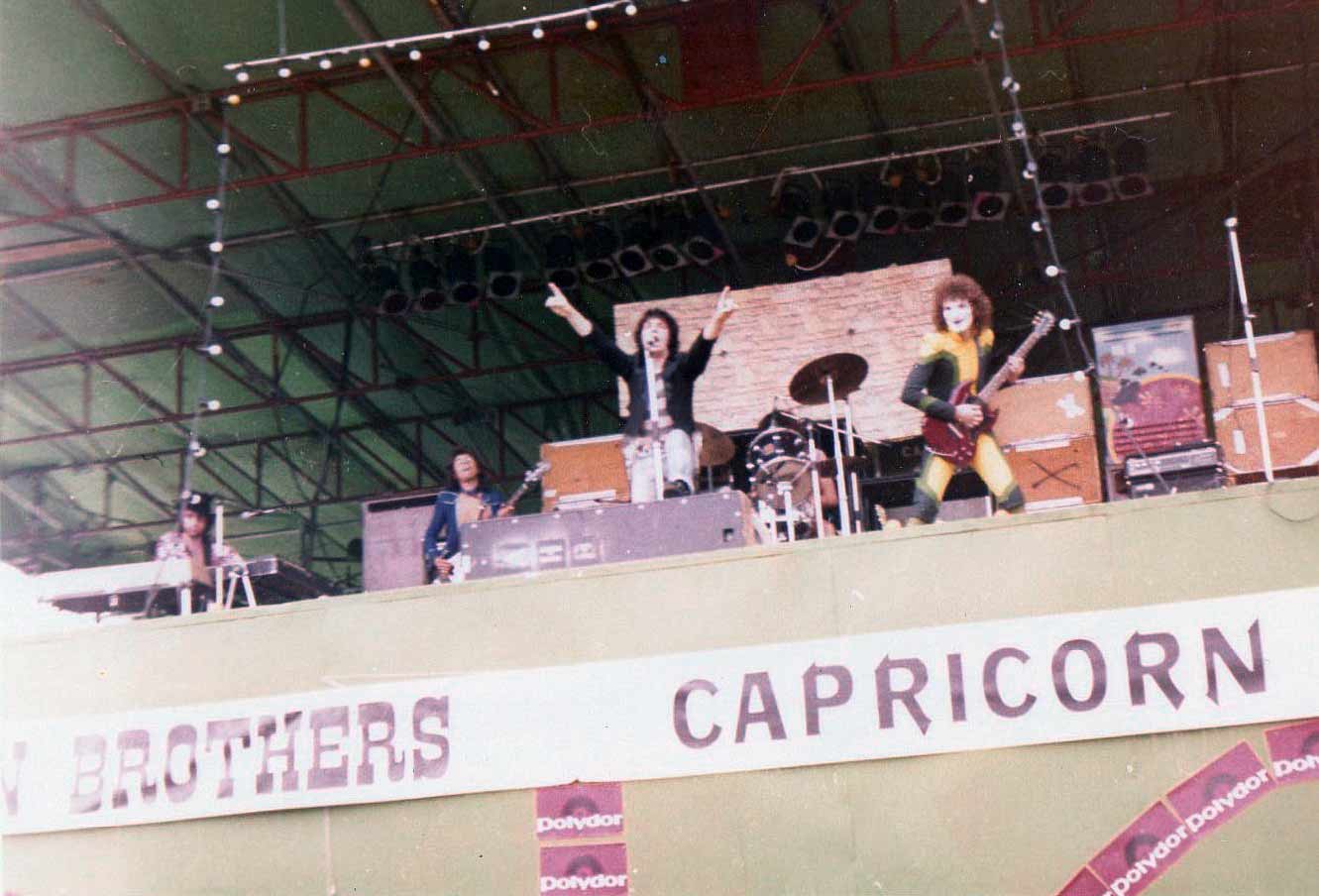 The ever wonderful and utterly Sensational Alex Harvey Band © Les Robson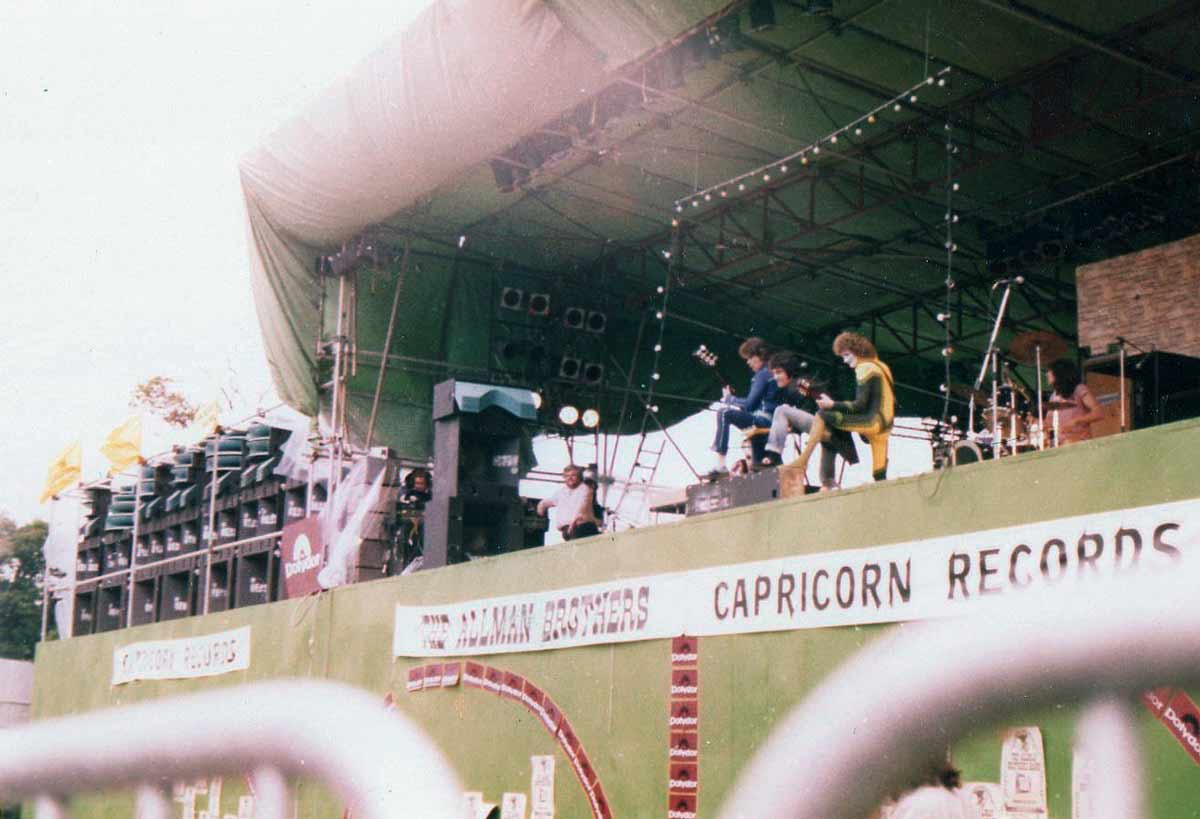 Woohoo !!!! © Les Robson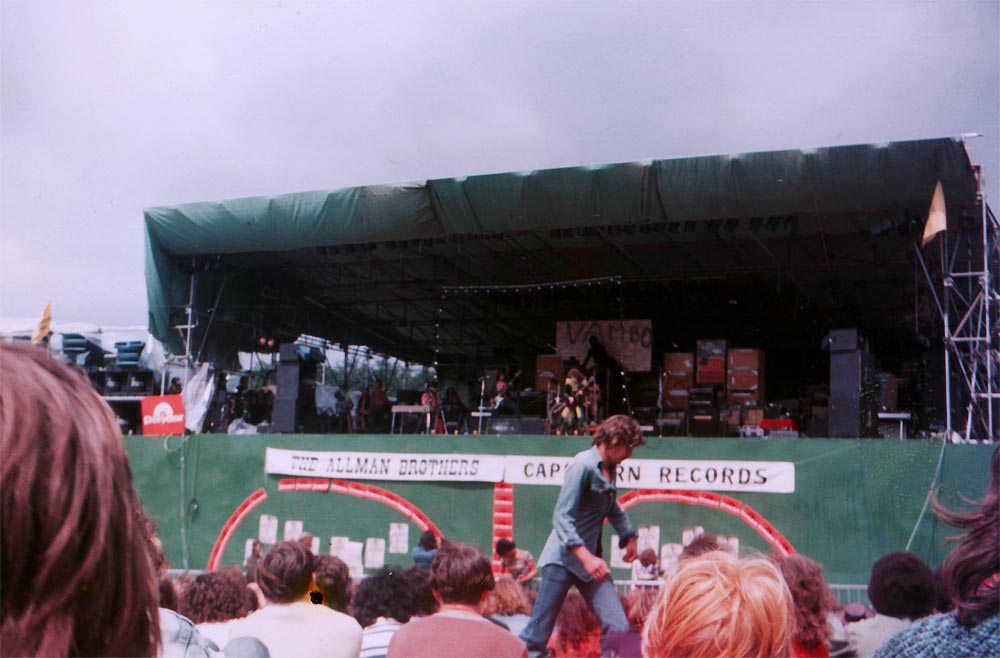 Vambo rools ok ? © Nigel Barton
Personnel.

Alex Harvey

Zal Cleminson

Hugh Mckenna

Chris Glenn

Ted Mckenna

After Tim Buckley, the next act was the Sensational Alex Harvey Band , who proved to be very entertaining - not only musically- but theatrically as well . Alex Harvey, a Scot, now sadly deceased, was a pretty inventive guy, his music was a mix of styles, predominantly heavy , with pop overtones and quite infectious. It was however, the way that he presented it that was innovative. His band was a mixture of Kiss ( with the difference being that Alex had some good tunes and taste) and glam rock, with the guitarists sporting garishly painted faces and lurex costumes and indulging in a campy , choreographed stage act which was sufficiently different to catch the attention of the audience, who although they were there to watch a bunch of Hippie bands ,were able to enjoy the proceedings and give Alex and his merry men a decent reception.
---
Sensational Alex Harvey Band on stage at Knebworth 74.
Photo courtesy of Bazza
To view a (somewhat blurred ) close up of the band click on the photo

Set list
The Faith Healer.
Midnight Moses.
Can't Get Enough.
Give My Regards To Sergeant Fury.
The Return of Vambo >
The Man In The Jar.
Money Honey > To Dream the Impossible Dream > Dance to the Music )
Framed.
52 m 53 s.
From a tape kindly provided by J K.
---
A Sensational set from a very aptly named band. Alex is by far the most communicative of the acts and I've included transcripts of what he said below. The tape shows that my memories were not wrong about how good this show was or the fact that the crowd responded to them - eventually .
A fairly quiet start. Faith Healer bodes well for the coming frenzy . Midnight Moses was hot , with a real momentum and a gnarly infectious guitar hook which resulted in a very healthy crowd response. Can't Get Enough , with its "Can't get enough of that long haired music, can't get enough of that Cherry pie" , was great fun and built to a wild climax.
After this Alex announced "Today our new single came out , which is why they're having this festival. Its true , ye know " - as he launched into the vaudevillian tones of Give My Regards To Sergeant Fury, the chorus of which featured the refrain -" I want to be rich and famous.-" (something that never happened to Alex, although I guess from his attitude he did not really want that to happen anyway)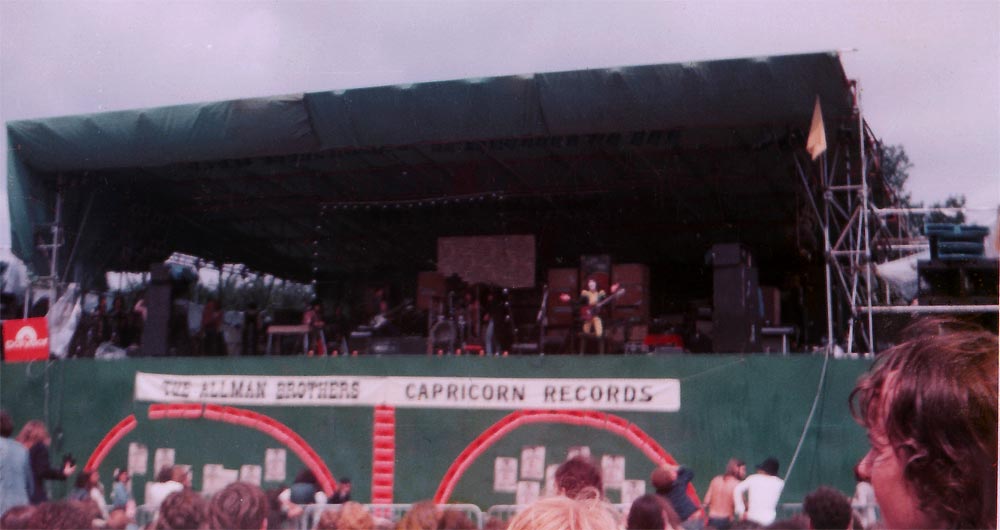 © Nigel Barton
Next, over an ominous bass line Alex began to intone in a very menacing tone of voice ( something that Johnny Rotten later copied in my opinion)
"In the beginning Vambo ruled , this is a tale of two cities, this piece of music,the Hot City Symphony , is on our new album out soon , this is part one The Return of Vambo, because you know something -Vambo rules, in YOUR city and MY city. !"
Vambo was another highlight, with its siren like organ lines and heavy chorus, but was not a big crowd pleaser , not really a dance number. The band then seagued straight into the The Man In The Jar, which had a tasty little guitar solo . Unfortunately the tape cuts before the end of this song.
It resumes part way into the medley of Money Honey > Dance to the Music which finally got the crowd rocking and demonstrates what a great conventional boogie band this combo could be .
Alex managed to get the crowd moving , although it took some time and only after this exhortation
"Will you all get your asses off the ground ? , you gotta make some sort of movement, you're getting stagnant , don't be stagnant C'mon., even if you only slide your ass across the grass. C'mon we want to tell if you're alive, make some movement . C'mon I tell you what we'll do - Dance to the Music !! "

(which gets the audience clapping and to some extent dancing ).

"Its really a gas to be here, its really amazing, there must be 30 or 40 000 people here, we really love you , you may choose to believe it, but we really do , its much better if we all move together, you feel that power, remember Jericho the Walls of Jericho. Well don't piss in the water supply, because its your bottle and we all live in it , and another couple of things don't buy any bullets , don't make any bullets and don't shoot any bullets and then its allright. What we gonna do is this ,you gotta feel it in your heart -DANCE TO THE MUSIC ! "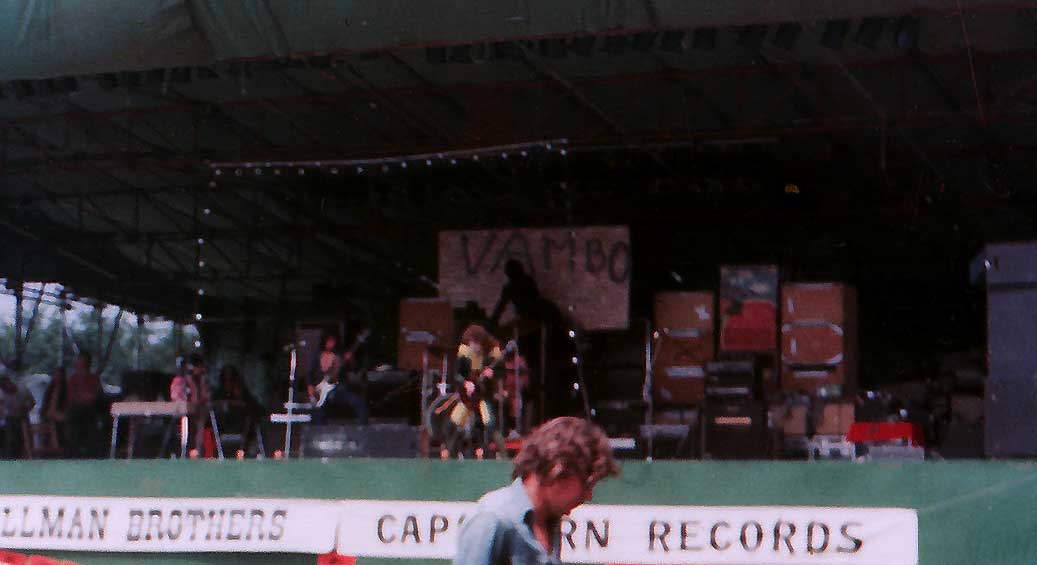 A Blurry Zal does his thing man © Nigel Barton
The band really creamed the ass off this one ,but they didn't really give the audience a proper chance to show their appreciation as they wound up Dance and then moved straight into a giant version of Framed which featured some theatricality towards the end , as there are silences from onstage and the audience can be heard laughing , but I can't remember what was going on . I have memories of Alex being sent up by another band member acting a role from the song , but its very , very vague.
The band departed to huge applause, and they no doubt could easily have gotten an encore , but no luck, as we hear the dulcet tones of John Peel as he announced that the Mahavishnu Orchestra would be on next .
Overall the sound of this tape is really good, less wind noise than the Buckley set although there are minor passages of distortion. The taper was using a mic stand and this helped keep down the crowd noise.(please do not ask to trade for copies as it is not for trade at this time )
I really liked this band - they were something out of the ordinary . Unfortunately , they were one of those bands that were best seen live, their recorded works did not equal their live show. Look for copies of the live album .
When Alex died of a heart attack in 1982, UK rock lost one of its great live performers
---
Sensational Alex Harvey Band links
sahb discussion list
The Faith Healer
---
Contents .
or you can read the individual
Band reviews which also contain recording details, set list and band line up info as well as links to each artist where available..
---
Can we get a witness ?

We have been endeavouring to collect as many recordings of the artists that featured at these concerts as possible, so we can effectively review the performances, provide set lists and band line-ups. Any info displayed on these pages or which is sent to us for review remains the copyright of the contributor and the Archive makes NO PROFIT from its use. The intention is to also display as many personal histories of the festival as possible for the benefit of readers of the site and we welcome all written contributions, no matter how long or short.

If you can contribute in any way, with tapes, reviews , photos or personal histories, please Contact us.

Knebworth Concerts 1974-86
Knebworth links
---