The Archive.
---
Last update June 2009
THE WHO

SUMMER OF 74

The Valley. Charlton Athletic FC

5-18-74.

The Who, Lou Reed , Humble Pie, Bad Company . Lindisfarne, Maggie Bell, Montrose .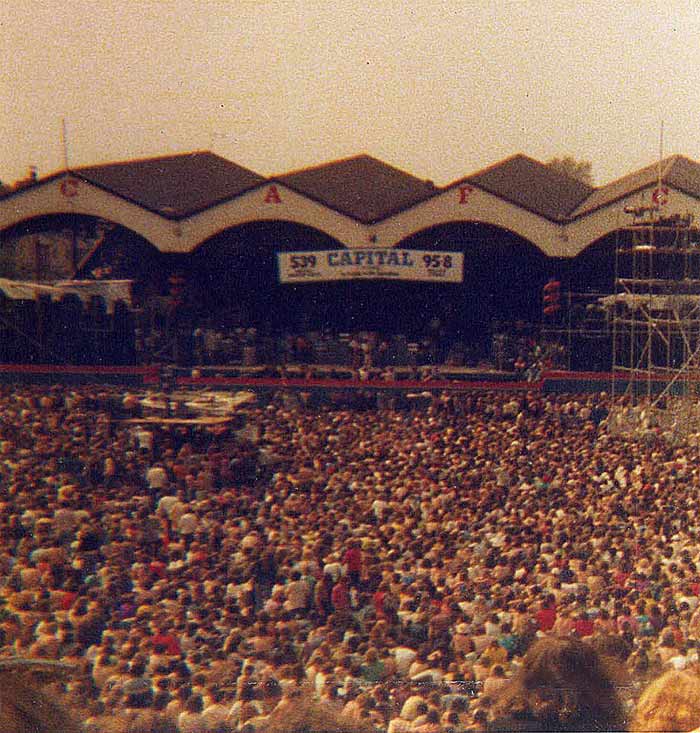 A small portion of the vast crowd at Charlton 1974 © Mark Pitfield
---
Setlists -Audio and video recordings.
Photo courtesy Repfoto© 1974.

You can view many great photos of The Who at Charlton and other venues at Repfoto

The Who

I Can't Explain
Summer Time Blues
Young Man Blues
Baba O'Riley
Behind Blue Eyes
Substitute
I'm A Boy
Tattoo
Boris The Spider
Drowned
Bell Boy
Dr. Jimmy
Won't Get Fooled Again
Pin Ball Wizard
See Me, Feel Me
5.15.
Magic Bus
My Generation
Naked Eye / Let's See Action
My Generation Blues * ( first ever version )

5.15 and I Can't Explain seem to have been left off most circulating versions of this show as they are so sloppy ( due to Pete being drunk )

Broadcast on Capitol Radio -Fm stereo ( apart from 5.15 and Can't Explain).
TV broadcast BBC 2 October 5 1974.
My Generation (part),
Young Man Blues
Baba O'Riley
Substitute
Drowned
Bell Boy
See Me, Feel Me
Naked Eye
Let's See Action
My Generation Blues
Substitute,Drowned, Bell Boy and My Generation feature on Thirty Years Of Maximum R&B Live. Unofficial DVD of rebroadcast from the South Bank Show also circulates containing most of the show and an interview with Pete by Melvin Bragg. Not the best ever show the Who played but it has its moments and is a great record of the day .
---
Lou Reed

A SBD tape of Lou's performance exists but we do not have a full set list . Length 40 mins , B quality

Lou Reed, vocals
Danny Weiss , guitar
Michael Fonfara, keyboards
Prakash John, bass
Pentti Glan, drums

The tape of Lou's perfomance from that day contains the following songs (not the complete show), 40 minutes aprox- B sound quality:
Intro/Sweet Jane-Vicious-Ride Sally Ride-Heroin-Sally Can't Dance-Lady Day
The recording is for sure from the mixer, but the quality is not very good. In some photos you can see a TV camera pointing at Lou, so probably they videotaped Lou's show as well as they did with The Who, but no evidence of it exists.
Hope this helps you
Best

Enrique


"Lou Reed - The Rock And Roll Animal Web Page"


Thanks to Enrique for this info

© Bill Simmonds
---
Bad Company

Place of the King
Little Miss Fortune
Rock Steady
Ready For Love
Easy On My Mind
Bad Company
Deal With the Preacher
Movin' On
Can't Get Enough
Don't Let Me Down
The Stealer

An aud recording exists of Bad company's set.
Great recording but you can definitely hear the crowd in places.

Thanks to Ron Dagwell for set list

Lindisfarne

Breakfast
Steppenwolf
Dealer's Choice
North Country Boy
In Your Head
Tonight
Lady Eleanor
Taking Care of Business
No Need To Tell Me
Fog On The Tyne
Newcastle Brown Ale
Tow The Line
We Can Swing Together

Aud 50 mins -appalling quality, spoilt by constant audience noise .

No known recordings are available by Humble Pie , Montrose or Maggie Bell.
Humble Pie

Thunderbox
Whatcha Gonna Do About It
I Don't Need No Doctor
C'Mon Everybody

Incomplete setlist - no known recording

Bad Company photo courtesy Repfoto© 1974.

You can view and buy many great photos of Bad Company at Charlton and other venues at Repfoto
---
---
---
If you can help with information of any sort on this concert please Contact us