The Archive
---
Festival of the Flower Children

Woburn Abbey. August 26th-28th. 1967.
---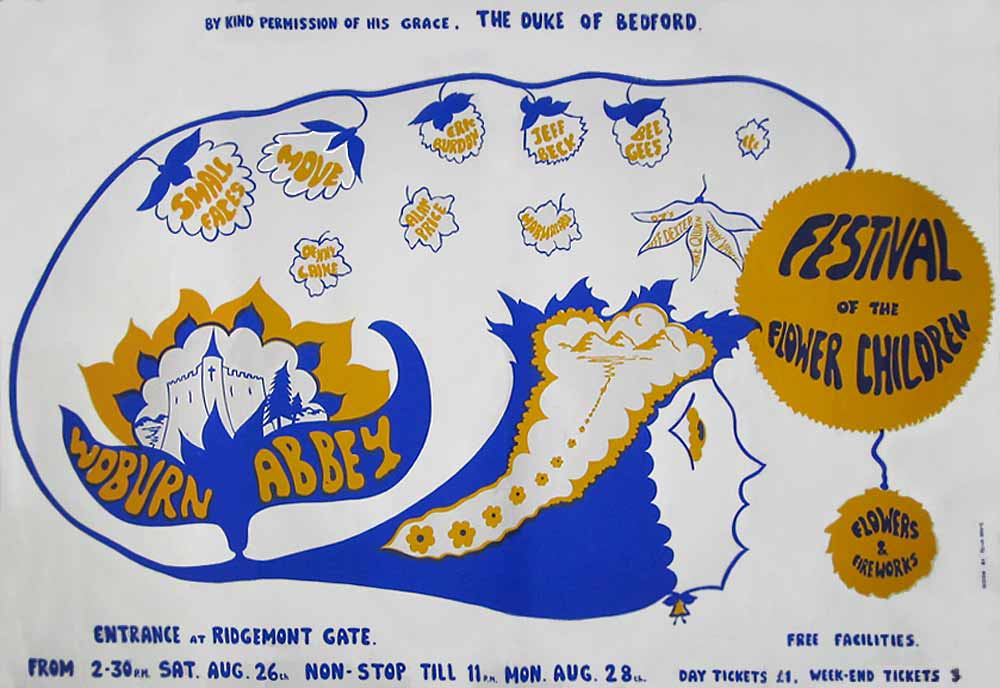 Poster courtesy Oscar Wilson
An almost forgotten festival. Yet it was held at the height of the Summer Of Love and was one of the first festivals to challenge the established National Jazz and Blues Festival held at Windsor. Perhaps it was the lack of overseas name bands in the line-up that has caused it to be overlooked.

It really appears to be more of a tin pan alley Pop/rock festival rather than a truly psychedelic Festival , judging by the line-up that we have at the moment , apart from legendary psych bands Dantalion's Chariot and Tomorrow. Wheres the Floyd for a start ...... and who in hell booked the bloody Bee Gees ? I mean, really....... theres a distinct lack of credibility in the inclusion of those sort of acts.

Not wishing to insult patrons, but the vibe given off from archived images and footage tends to reinforce the feeling that this wasn't a true expression of the underground , but more of a commercial event .A lot of the attendees look more like weekend hippies than the real thing, many dressed in the latest Carnaby street threads bought off the rack rather than having assembled their costume themselves from op shops and their grandparents cast offs.

However, one must also remember that this was 1967 and people did wear some pretty naff stuff then, by the following year a lot of the paisley and beads had vanished as the blues boom took over and the look morphed into wearing slightly less psychedelic materials . When i attended Woburn the following year in 1968 the look was far more subdued.

Estimates of how many attended range from 12,000 to 20,000 . It appears the event was profitable as it was repeated in 1968 ( albeit under a different name- no mention of flower children ).

Right: It was all so very beautiful maaaan, even the car parking was beautifully unlimited .......

Poster courtesy Stroff
| | |
| --- | --- |
| David Black remembers this incident | Breakthru onstage at The Festival Of The Flower Children, photos © John Prior. |
---
I (Jerry Hibbert), my friends Simon 'Yid' Medalia, Jon Owen and Jerry Hughes, decided we'd go. We were sort of hippy-ish, (Art students in Oxford) so we borrowed my Mum's Triumph Herald convertible (No plate XMO 1 which I still own - the plate not the car), borrowed some of her cheap beads because we were a bit short on beads, and sugared off. We arrived very early. We must have been some of the first there. Jon was wearing a kiss-me-quick hat which pissed us all off because it was so un-cool. It was a white sunhat from Margate or somewhere with little pockets all round it with labels saying: 'beer money' 'lunch money' 'bingo money' etc. He knew it was uncool but insisted on wearing it as a rebellion against hippydom.
The first thing that happened was a balloon came over from which hundreds of flowers were thrown (red carnations if I remember rightly). Jon and I fought over them in a rather un-hippy fashion. There were loads of photographers around to whom we paid no attention (more later) I don't remember much of the actual festival. I can remember Marmalade and was a big fan of their hit "I hear the Rain" (or something). (I hated "Obli-di obli-da" - their next one I think). I recall thinking afterwards that Marmalade were the best band there (or 'group' - we didn't call them bands, did we?). Was Tangerine Dream there? Was White Bicycle?

I remember sleeping under a tree and waking up several times during the night to hear the Doors (record) "Light my Fire" - every bloody time I woke. I can't hear that now without thinking of waking up at the Festival.

I can recall hoping that 'free love' would be available. It wasn't. Not for me anyway.

The Dream onstage © David Hatchell
But finally - in the papers next day: certainly in the Daily Mail (when it was a broadsheet - and my photo was nearly full page) but others too - my photograph appeared from just after that balloon had dropped flowers. I am sitting hunched up with a carnation in my hair smoking a Number 6 but in the photo it looks like a spliff - with a title something like: "Look at the folks you meet at Woburn these days" and a lot of blurb about "it's probably disgusting but the reporter couldn't actually SEE anything disgusting going on". "Britain's going to the dogs" - that sort of thing. And Jon got his hat in the papers too. And we were on the Pathe News - Jon and I fighting over the flowers.
The flowerchild fight

Later on there were some TV programmes - "All Our Yesterdays" or "The Rock 'n' Roll Years" or something which featured the Pathe news material - according to friends who phoned up saying "You were on telly last night - did you know?". I never saw it.

One day I'm going to dig out the Daily Mail and the other newspapers with my picture in. Now I've got the date from you I will, anyway. I had them all pinned up on my bedroom wall for ages, but they went yellow and got thrown away.......
That's life.
John Prior reminisces

"I can't remember too much about the Woburn Abbey gig , except that it was hot - I'd joined the Royal Navy a few weeks before, and can remember being there, thinking - what the f##ck have I done!! As I said, I think we were only there for one day - did I see The Small Faces there, and miss seeing Hendrix?? I definitely saw Tomorrow though! "

Steven Chibnall

I went to with a small group of (feuding) Bedford mods on, I think, the Saturday (possibly Sunday). I remember Marmalade, who I considered far too poppy and uncool, Eric Burdon singing San Francisco Nights and, best of all, Dantalion's Chariot in white robes and white backcloth and the most amazing light show. I believe I also saw David Hemmings and Gale Hunnicut sitting quietly under a tree, again in white robes (I could be mistaken, but it looked like them).
© David Hatchell

Dicky from oz

I went there with a couple of my mates -we had an old Bedford van and was picking up hitch hikers on the way. I remember a lady refusing to serve us in the village pub because we were " beatniks".

Can you remember the strobe effect on Zoot Money as he floated in the air ? Didn't Eric Burden have a guy called Fagin that played the fiddle in a version of Paint it Black?. If I remember rightly there was a problem with the Small Faces and they came in by chopper.
---
jeez, now you can buy frigging jigsaws and mugs of this festival, is nothing sacred ?......

Hi,
My name is Frank (Torpey) I was at the Woburn Abbey festival in 1967. I was in a band called The Dream, there's a picture of us on your site. To give you a bit of info. This band actually started life as The Tribe and in the summer 0f 67 we secured a 3 month residency at the Marquee. We changed our name to the Dream because of the hippy/summer of love thing, everybody went mad. When our band finished I formed the Sweet. Dennis (Cowan) our Bass player went on to join the Bonzo Dog Doo Dah band. Malcolm (Wolffe) Drums Joined Geno Washington then Alan Price. John (Neighbour) Vocals quit music, Martin (Slavenik) Keyboards ditto.
On our day (Sunday) the best bands were Zoot Money's Dantallion Chariot, Andy Summers on guitar brilliant. They did(Traffic) coloured rain, a great noise, just superb. Eric Burdon's new animals came on to a storming start 12 bar standard blues. Vic Briggs playing the first solo, straight jazz. Then John Weider taking the second solo, awesome blues, lovely sustained guitar. The mixture of these styles was just brilliant to hear, never mind Burdon's vocal, the best.

Frank

---

Lindsay clifford

---

Hugh Fairs
My first trip (of many to come) to London, centre of the world, famous Marquee Club et al. I read about the Woburn Abbey "Festival of the Flower Children", somewhere 30 miles north of London. I took the tube, on whichever line I don't remember, to its last stop, and went to the nearby motorway, hitch-hiking for the rest of the way – proudly wearing my "Jimi-Hendrix-Salvation-Army" jacket, bought on Portobello Road Market.
Soon a car with a bunch of colourful hippies stopped – and off we went together, straight to the Festival! We left the car somewhere at the parking lot, "let's have a look around first, you may leave your bag and things in the car." I did so, we lost sight of each other after a while, and somewhat later, I wanted to fetch my belongings – the car was gone! Shit, those bloody bastards … I had a few pennies in my pocket, but nothing else. Hey, there's one of them … "oh, hi, there you are, we had to go shopping, our car's now over there, come along!" Nothing was stolen or touched, my faith in the world of hippies was restored, nice guys they were.
A bit later and by pure chance (!) I met Angelika, my good friend and schoolmate from my little German hometown – she was a beat and rock aficionado same as I was.
When the famous Move played their set, someone had the glorious (bad) idea to toss a sparkler (which were distributed for free) on the canvas roof of the stage, another one followed, and another one … and soon the stage was ablaze! Somebody came running up to me, "would you please hold this for a minute". A bit puzzled I was given a huge cymbal, that guy ran away, came back soon with some other gadget, took the cymbal, "thanks", and off he went. Quite a polite thief he was. I guess this was not the only equipment stolen during the turmoil, from Bev Bevan's drum kit in this case.
The fire was extinguished, the stage rebuilt, the overall damage was moderate, I think. The festival could go on, for three days, sleeping under the open sky in my sleeping bag. However, I left in the early afternoon of the third day – in London, my sweet, cute and cuddly girl friend Jean was waiting for me. The female temptation was more attractive than the sound of Ten Years After, as great as it was, and long to be heard after I had left the festival grounds on my way to the railway station.
Ferdinand Kother
---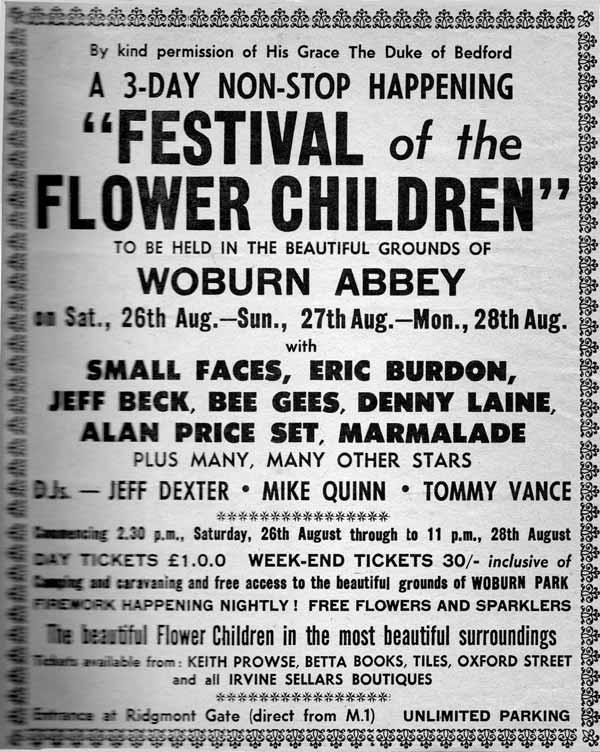 courtesy Ferdinand Kother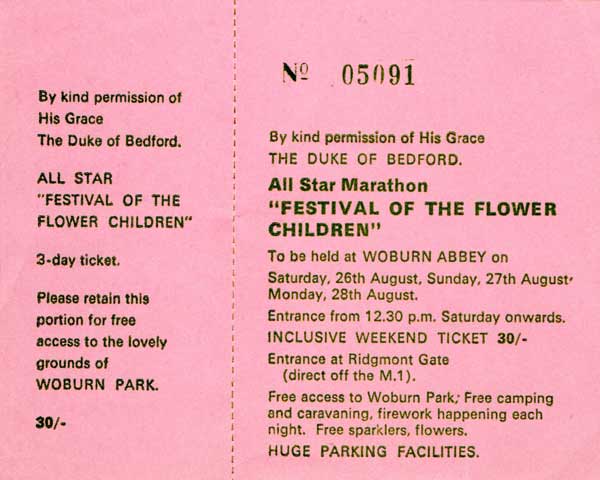 courtesy Ferdinand Kother
The Small Faces topped the bill on Saturday night , and the stage caught fire at the conclusion of their set . Eric Burdon headlined Sunday and Jeff Beck was the final act on Monday according to Ron Woods timeline. Alan Price also probably played Monday.
| | |
| --- | --- |
| | New Animals Bassist and lead guitarist at Woburn |
Eric Burdon's set was filmed and the number "Hey Gyp" ended up in a film called Rock City . He also played "San Franciscan Nights" and "House of the Rising Sun "at Woburn but these are probably not included in the Rock City film which is a bit of a ragbag collection of clips from 1964-73, some of which have been seen regularly on video shows (Cat Stevens , Joe Cocker ) others being much rarer to find.

Rock City : directed and produced by Peter Clifton; photography by Richard Mordaunt, Peter Whitehead, Graham Lind, Michael Cooper, Peter Neal, Bavin Cook, Ernest Vincze, Ivan Strasburg, Charles Stewart and Bruce Logan; edited by Thomas Schwaln; a World Film Services Ltd. production; a Columbia picture. Running time: 104 minutes.
WITH: the Rolling Stones, Eric Burdon and the Animals, the Crazy World of Arthur Brown, Otis Redding, Peter Townshend, Cream, Steve Winwood, Blind Faith, Cat Stevens, Jimi Hendrix Experience, Donovan, Joe Cocker, Tina Turner, the Ike and Tina Turner Revue, Pink Floyd and Rod Stewart and the Faces.

AKA :Sound of the City and Popcorn

Dancers get it on at Woburn 1967
It really WAS a festival of Flower children

*Breakthru
Russell Thomas
Press comments

The festival was quite widely reported by the conventional press as it was seen as a bit of a novelty , being the first of its kind, most of the coverage was condescending , even the music paper NME was critical, calling the event "WOE-BORE."

" a three-day frolic billed as the world's largest love-in, admission $2.80 per day, hot dogs $2:50 each. More than 12,000 tinkling hippies and mods made the sad scene, went away unloved (boy-girl ratio: 5 to 1), unstoned (200 constables prowled the premises in search of pot), and unmoved by the 15 jangling psychedelic bands. Though the flower children wilted, the duke got a large charge ($14,000 net) out of the love-in, and the duchess was pretty jolted herself. "I was away from Woburn," she said. "I thought these people were holding a flower festival."

'The three day 'Festival of the Flower Children' faded out at Woburn Abbey, home of the Duke of Bedford yesterday, to the tinkling of necklace bells and cash registers ringing up more than £20,000 profits.' (Daily Telegraph, 8/29/67)

'It has been the pop festival of the year. It has been wonderful.' -(Mr. Cyril "Flower" Power, Daily Sketch)

'It is not a 'love-in'. It's a 'cash-in'. A hot dog is costing 1/9d...We are disgusted.' (Hippie spectator , Sunday Mirror)
if you have any info to help build this page please ; Contact us
---
More photos of the festival here