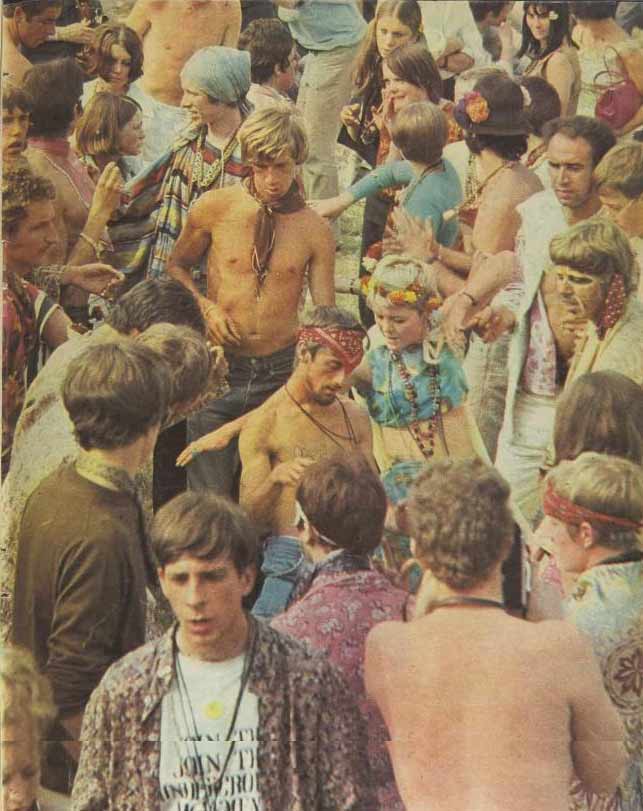 One flower family had made a weekend of it ,mother in long flowing gown of orange and lilac, father in an embroidered jacket, and the two little daughters in full length floral dresses.
One rather aging gentleman with a bow tie and an elaborate headpiece of drink cans, empty cigarette packets, and paper flowers danced alone with a look of extreme beatitude.
A San Francisco hippie, who had spent all weekend at the love-in, thought it was quite good, though it wasn't like the love-ins in California.
he said, "
A group of teenagers in floral shirts, headbands, flowers and bells liked the idea, too.
Flower dancing involves much weaving in and out of crowds, ecstatic expressions. No one really cares who his partner is - or even it he has one or not. For many, flower-power is strictly a weekend game, bells and flowers just tokens of a new fad.
ANNE WOODHAM,
LOVE-IN AT WOBURN ABBEY
Flower children, in their flower-power gear, moved into the grounds of the Duke of Bedford's stately English home for a three-day love-in during Bank Holiday weekend.
It was going to be all sweetness and light, rose petals and tinkling bells, and the gentle murmur of the flower people sitting in the sun.
In fact, 25,000 aspiring hippies who had paid £1 a head (30/- for ihe whole weekend) to join the Festival lay in the sun and listened to blaring music from bands like "Who" and "The Gass."
Some of them danced, weaving their hands in and out with floral grace, with expressions of complete oblivion. A couple of girls found they could put more expression into their dancing if they sat on the shoulders of their boyfriends.
There were flowers for everyone - paper ones selling at 5/- each, and bells galore-10/- a tinkle from hawkers who stood on the outskirts crying, "Come on, buy a bell, and go to hell."
And there were Mr. Whippys to refresh hot hippies, and mini teasets for the cup that cheers, and Carnaby Street stores selling instant flower-power gear.
There was even (for those who found the joys of meditation had begun to pall) a tent labelled "Little Vegas," where slot and poker machines clanked cheerfully.
And there were mountains of rubbish -empty soft-drink cans (no liquor was on sale at the love-in), cartons, and paper bags. The flower children didn't seem to care. They sat around quietly minding their own business.
Some filled in time painting flowers on each other's faces. Some listened to the music. Some sat and watched. They were very beautiful, sitting in their flower-power gear - which seemed to be almost anything so long as there were flowers and bells attached. Several girls wore what looked suspiciously like their mothers' bedspreads. One groovy group turned up in their fathers' dressing-gowns.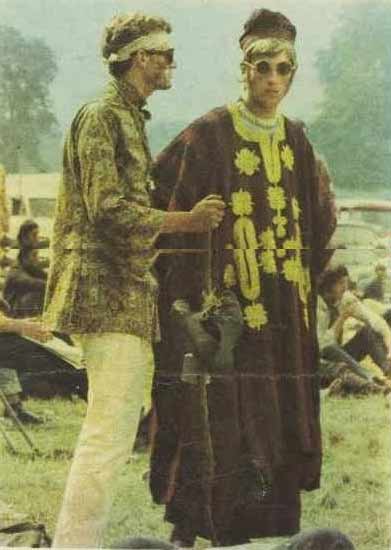 © David Graves