The Archive.
Updated Oct 2012 .View at 1280 X 1024 res for best results.
---

Crosby Stills Nash and Young

Joni Mitchell

with

Tom Scott and the L.A Express

The Band

Jesse Colin Young.

Wembley Stadium , London.

Sept 14th 1974
---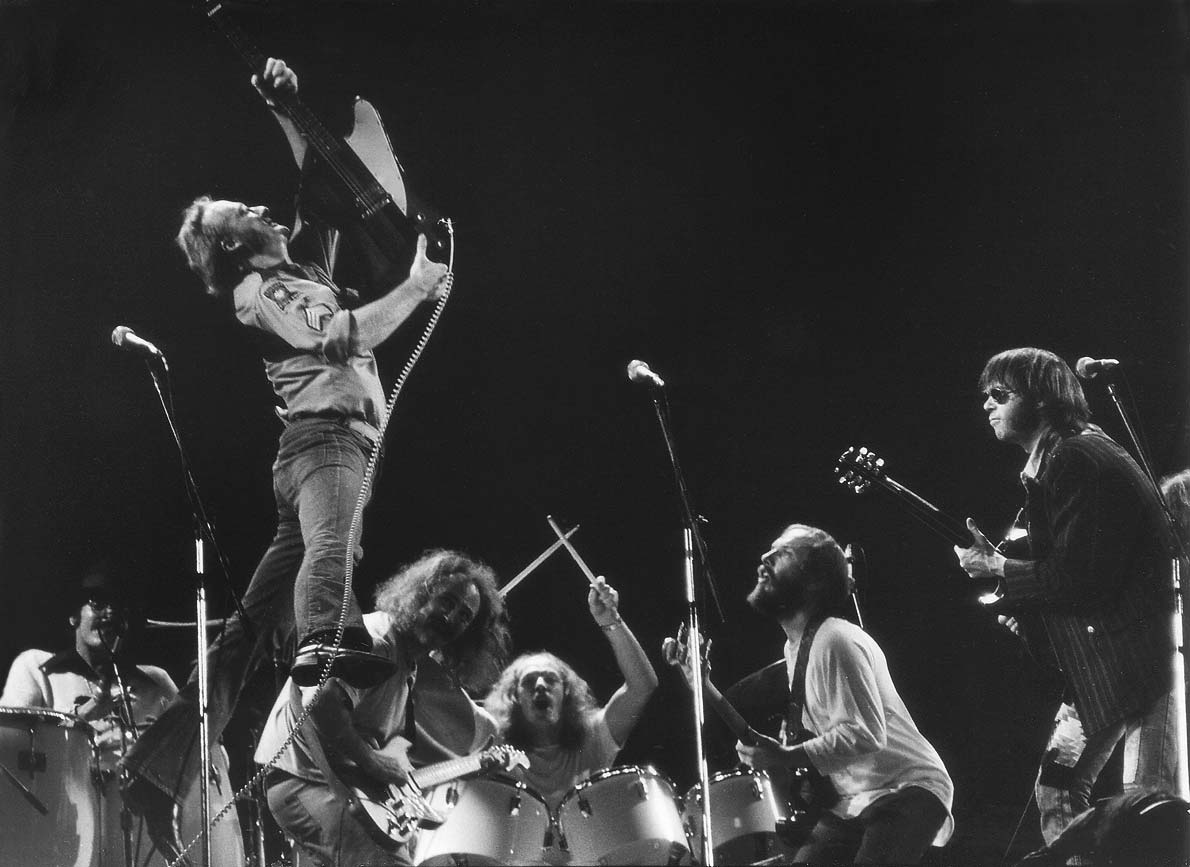 The last chord of the CSNY set -Wembley 1974 © Vin Miles
Another huge outdoor stadium concert in London's Wembley Stadium, but this was a fairly rare event inasmuch as it featured a bevy of infrequently seen West coast superstars who managed to attract a laid back crowd of around 80,000 ( some sources say 72,000 ) , largely due to the fact that Crosby Stills Nash and Young had finally reformed , so this show would be their first in the UK since 1970. As the band had an " on ,off " reputation , nobody knew just how long the reunion would actually last (the group would disband again for some time after this 1974 stint ) so the impetus was there to attend if you were any sort of fan .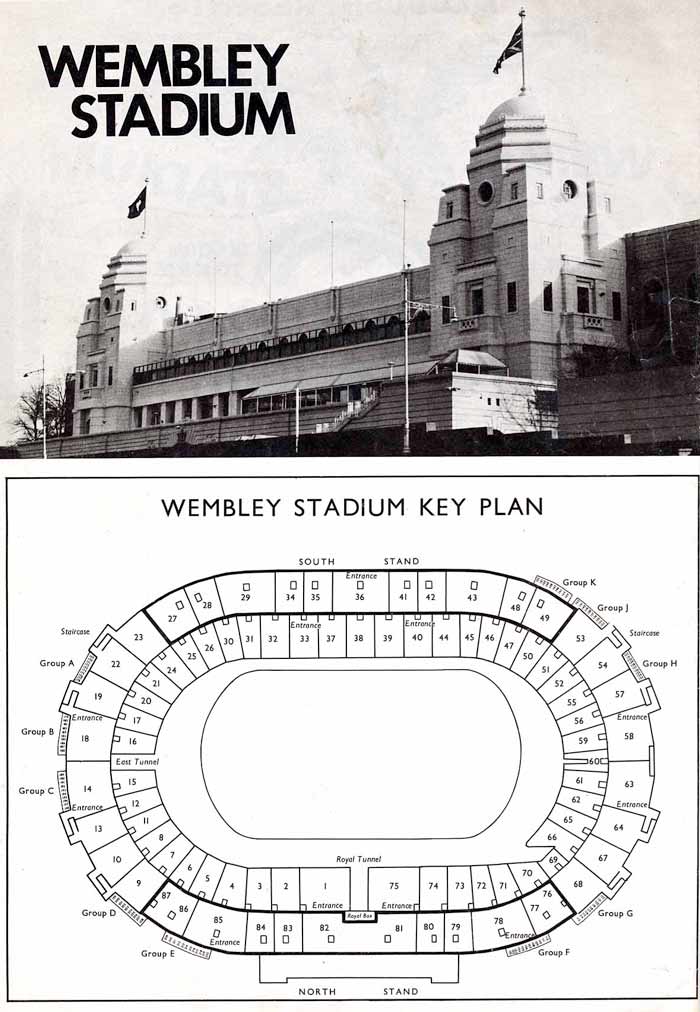 Logic would suggest that the stage for this event would have been at one of the narrower ends of the stadium, (can anyone help pick out which end ? ) .The event would be filmed for a possible commercial film release but Nash was reportedly so disappointed with the results it was never distributed (although fans got hold of copies of the CSNY set and they are out there in trading circles, now on DVD format and on Youtube.)
Read more about the organisation of this concert here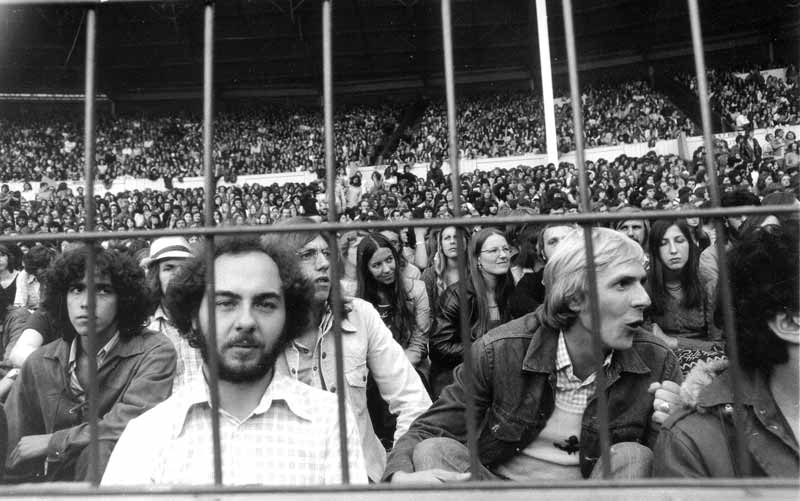 Tiny section of the crowd Wembley 1974-Wembley 1974 © Vin Miles
Critical reaction to the show was mixed, some raved enthusiastically others were more cynical but one thing they all agreed on , after weeks of virtually non stop rain , the weather was exceptionally good at this show. The biggest criticism was that it all seemed a bit laid back and some of the music lost its power in such a large setting. This was before there were video screens of course so its hard to get 72.000 to focus on soft rock- really hard rock bands are better in this sort of scale show and even they have a hard time getting people inspired on occasions ....
The event started a half hour early as promoter Harvey Brooks was worried about the show over running , no doubt there were penalties for going past the agreed time. This was unfortunate for the opening act Jesse Colin Young ( ex Youngbloods ) , but they worked hard and received an encore for their pains.
---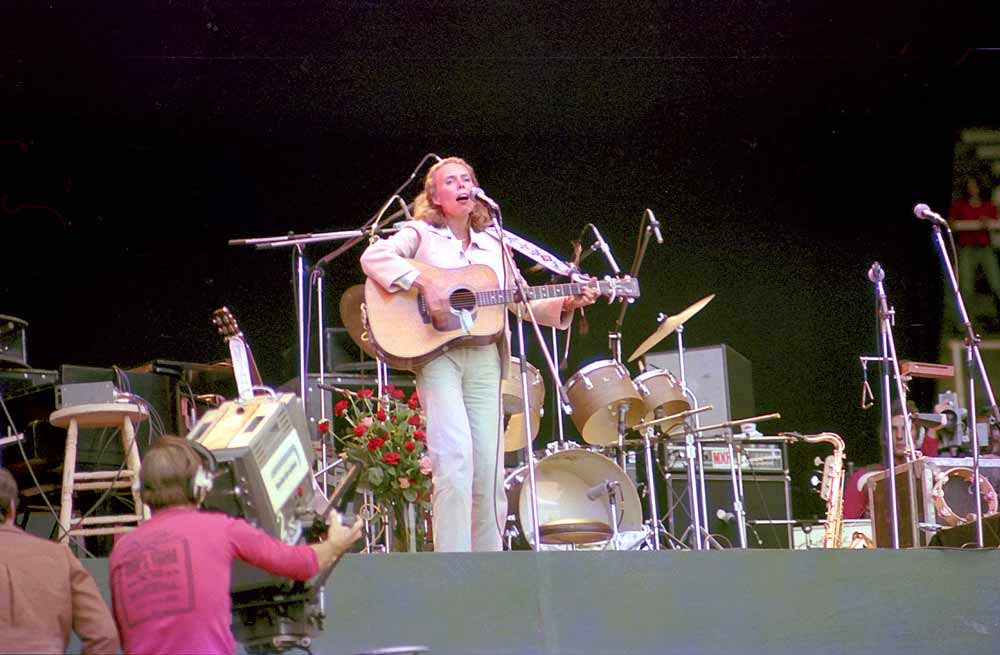 Joni Mitchell and camera crew -Wembley 1974 © Vin Miles
---
---
Wembley 1974 pages
---
Who can help flesh out the festival with reviews , information, recordings and photographs ? e-mail if you can help. Contact us
---