---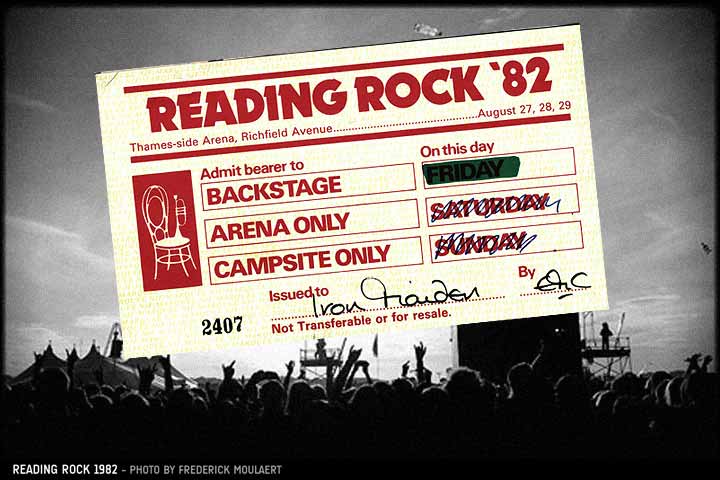 © Frederick Moulaert
---
Recollections
I am reminded that it is 25 years since I went to my first Reading, just after our A level results about 8 of us went to the festival ground (by the river actually in the town at that time) and went wild for three days away from home unsupervised in that blissful carefree time before heading off to university. Fantastic.

Bow Wow incidentally were a Japanese heavy metal band not any one of the similarly named acts you will have heard of.
I ended up sharing my tent with a squaddie we met on the train down; the worst organised soldier in the world apparently as he didn't have a tent. In return for the occasional Spangle (a boiled sweet before you ask) or garribaldi (biscuit, fruit) he got a tent to sleep in. I got to sleep with my feet sticking out the bottom of my tent 'cos it was only 6' long (I was going to sleep diagonally across it) and caught a stinking cold as a result. Mercifully I had some Tiger Balm with me and enough money to keep me in vodka for the duration.
Celebaelin
---
Reading '82? I recall one of our party, a school acqaintance by the name of Chezloy, parading around our tent area in pyjamas, dressing gown and slippers and becoming affectionately known to our tent neighbours as 'Slipperman'. I haven't seen him since. The bands? Well, for the record, Diamond Head, much to our relief, stepped into the gap left by the non-appearance of Manowar, and thus saved us from the spectacle of muscles, loin-cloths and metal fantasy nonsense. I still think our butch friends from the U.S. were still a bit faint after the much publicised record contract signing, done in their own blood.
Band of the weekend were Blackfoot, the perfect festival band, good time (southern) rock'n'roll that lifted the spirits of everyone gathered. Tight band and what a master of ceremonies, singer and guitarist in Ricky Medlocke. When they came back to the UK, some years later, they were a different band, sold out to hair-rock, which, in a way, makes the Reading performance such a great memory. To this day I can still recall turning around to see numerous confederate flags being waved by the crowd.
As for the rest? Maiden, without doubt the most popular band of the weekend, solid entertainers and riding high on the success of 'The number of the Beast', on the way up and up and now living legends. The Tygers of Pan Tang put in a good performance but had the unenviable task of being sandwiched between Blackfoot and Maiden, if I remember rightly. Gary Moore, I remember for looking utterly disgusted by the bottle/can throwing antics of some of the crowd. Quite rightly so as these idiots injured quite a few people in the process.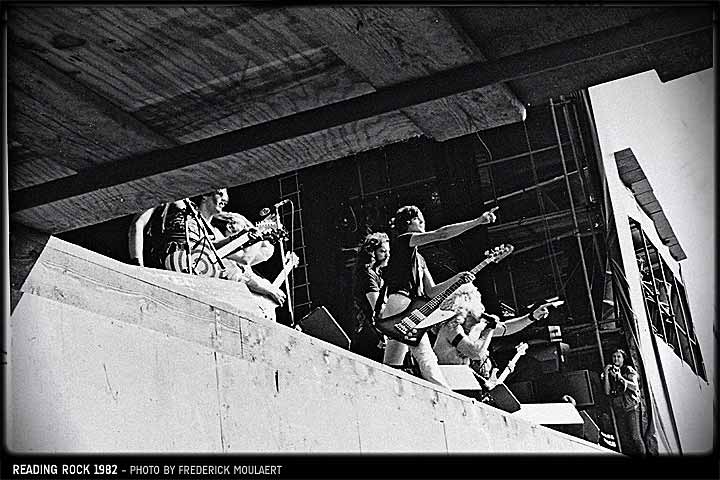 The jam, Lemmy and co give Sister a hand © Frederick Moulaert
Elsewhere, Marillion announced to a sizeable and loyal folowing that they'd signed their first recording contract, Pete Way turned up along with Lemmy (?) to jam with Twisted Sister, and who could forget Dee Snider offering the missile throwers out for a fight after the gig? The Enid were, well, The Enid, very eccentric, like a dotty aunt, good fun and a breather amidst wall-to-wall rock.
Me and my mate Mick, turned up at the proposed Snider-versus-the-rest fight venue, hoping to catch a glimpse of the 6ft plus mascarra'd Widow Twanky in full flight, but alas, no show.
Michael Schenker closed the proceedings and with a surprise too, with Gary Barden returning to singing duties after the recent, hasty departure of Graham Bonnet, tail between legs but at least behind his zipper. Good, but not great. By this time I'd seen a few MSG gigs and was beginning to feel that MSG were yet another super-group without soul, technically brilliant but lacking in the collective spirit and chemistry which define great bands with half the talent of accomplished musos.
Regards,
Barry.
---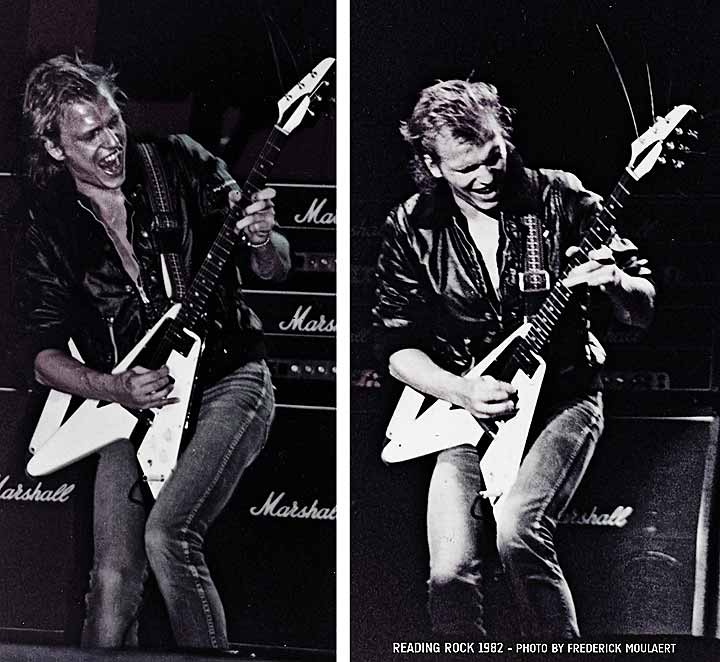 Mr Schenker © Frederick Moulaert
Dear Lord, I thought my recall of Reading 1980 was poor. Looking at the line up for 82 I was even worse, and I didn't drink or take anything so no excuses sadly. I'd forgotten all of them bar Dave Edmunds who was outstanding and after visiting your website the mighty Y&T. Forgotten Twisted Sister, Marillion, Terraplane all of them!

The day started with the hike from Reading station and the insane thought - this was pre mobile phones - that I would find my festival mate Chris who was there for the weekend. Walking into the site first person I met was Chris! Marvellous, first job done. Forget how I got home, Reading was three trains from home. Never mind!

I alternated between Reading & Donnington through the early 80's, as a teenage with a saturday job I couldn't afford both. I went for Reading in 82 purely for Michael Schenker and I know they've had some duff reviews but I loved the set, which needs to be set in context. It probably was the beginning of the end with the band having to promote Assault and later recording the poorly received Built to Destroy. It was never really the same again, but 2008 sees Michael, Gary, Chris and Ted back in harness so who knows.

Gary Barden, vocals had been canned after the On the Rack Tour in 81 and mighty lungs Graham Bonnet, fresh from Rainbow, brought in to help the band crack the world. The new MSG single, their first and last with Bonnet, came out on the Friday and I played it to death trying to learn the words. Sadly Dancer never got an airing and nor did Bonnet! In a warm up GB had some sort of a drink fuelled moment, flashed the audience and that was that. None the wiser I stood stage centre waiting for MSG. The lights dropped and they opened with two instrumentals and no sign of a singer. Enter Gary Barden welcomed like a long lost son and MSG were off and running. True Rock you to the Ground from the Bonnet voiced Assault Attack made the set. Not knowing the words Gary was later accused of being drunk and slurring, poor sod.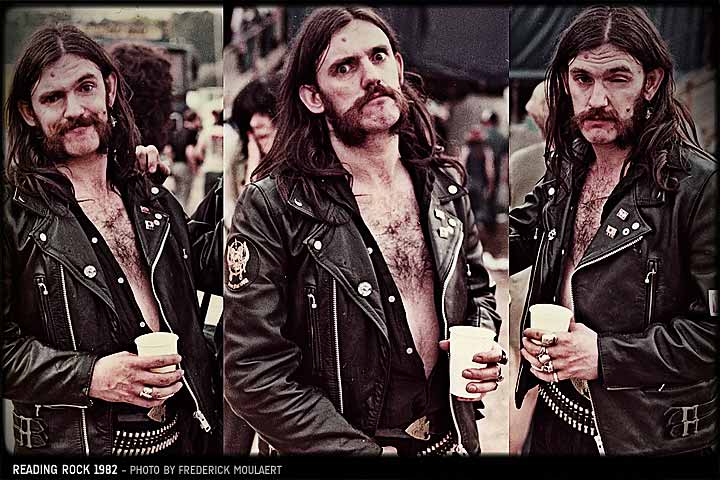 Lemmy "enjoying" himself backstage © Frederick Moulaert
Looking at the photo's on the website the memories are starting to flood back. Strange after 26 years I can suddenly recall individuals from the crowd - a guy from school in full flow for Y&T with his earthshaker shirt on - the crowd for Dave Edmunds and feel the excitement as MSG hit the stage.

Forget why but 82 was my last Reading, which considering I was at gigs most nights of the week is hard to imagine.
Paul Nathan
---
Am I the only one who remembers Lemmy coming on stage with Fast Eddie, and this was soon after the Motorhead split, roar of approval from all the Angels. Think it was during the Twisted Sister act.
| | |
| --- | --- |
| © Frederick Moulaert | |
Abiding memories – vodka and ginger beer, meat paste sandwiches for 3 days, everyone was friendly, some great bands. Yes Schenker was technically brilliant but god was he boring to watch. Give him his due he did play a good Dr Dr. Some of the 'little' bands had more enthusiasm. Loved Grand Prix and Tygers - less polished but much more raw enthusiasm. Seem to recall Rock Goddess getting a lot of drooling males watching. Had completely forgotten Diamond Head were there. Was it me or was there more space than at Donnington, seem to remember being able to lie back and listen without getting trampled on.
Oh and the 'official' T-shirts were £5, a fortune back then. Picked one up for £2 on the last night, it finally disintegrated in 1992
Anyone remember the press reports of non-stop riots between bikers and police? I got back home to find the parents worried sick. I didn't see any riots but I did see three Angels wading into the river to rescue a swan that was tangled in a fishing line and then looking after it until a very nervous RSPCA man arrived.

So what set this reminiscence off – my 8yr old's school friend is into Iron Maiden and Motorhead, so suddenly boring old Mum is interesting…and I'm getting who did you see, what was it like, and who's Ozzy ? I feel old.

Nicola
---
Me and my mate Murdock hitch hiked to reading from Maesteg in South Wales. We were about 17 at the time, and couldn't wait to see Maiden and MSG.

Memories that stand out are:-

Standing by the M4 sliproad near Bridgend, waiting for a lift.

Climbing out of a transit van that we had hitched a lift with and throwing up on the pavement outside the festival as Budgie strutted their stuff :-)

Camping near the river. The sunshine. The people. The alcohol. The smell of dope in the air.

Blackfoot

Maiden

Cheetah

Y&T

MSG

Meeting Lemmy, Yanick Gers and the old rocker Jo Brown backstage on the Sunday night, and bumping into Bruce Dickinson in the car park late Sunday night.

On the Monday, we were tired, dirty, hungry, penniless and far from home. We were lucky to get a lift from the festival to the motorway slip road from some chap in his smart silver Volvo. He was driving with his little son in the back seat. As we approached the slip road to the M4 motorway, we got out and thanked him.

There were about 20 odd people in little groups, all thumbing lifts. They were all older and bigger than me and Murdock, and they shouted at us to get to the back of the queue for a lift home. Me and Murdock didn't argue, and got to the back of the queue, behind these long haired pissed off looking people.

We had only been there for about ten minutes, and were thinking that we were in for a long wait when a camper van pulled up on the slip road near the motorway. One chap poked his head out of the van and shouted to me and Murdock 'Do you two want a lift'? They thought that we were at the front of the queue ! We looked at each other and ran like hell to the camper van - with the screaming threats of the others behind us. We jumped in the van and told the driver to put his foot down and drive!

Ah yes, it was a long time ago, but I have good memories of Reading 82.

Regards,

Andrew Rice
---
| | |
| --- | --- |
| More fun backstage © Frederick Moulaert | |
God, it's so 'Tap meets Woodstock: they say if you can remember it you clearly weren't there. Well, allegedly, I was there roadying for Chinatown, but since I thought we were there in '80, and I now find it was '82, that's not a good start. I remember nothing at all of the festival, only of being wedged between two massive drum flightcases, and sundry other bodies in the back of adilapidated white transit van. I remember the whole thing grinding as ittilted round roundabouts at about 15mph on the way back.
All I can fill in is Chinatown's names: Steve, Steve, Danny, Pat and John (Vocals, Drums, Guitar, Guitar and Bass respectively) and odd bits from there. I think they played both songs from their single which had come out about a year earlier, the A side of which was 'Short and Sweet', and the B side... Nope, it's gone. They also may well have done their version of 'Doctor Doctor', which with all due respect to the other groups present then was truly kick arse, and honestly the best version of the song I've ever heard.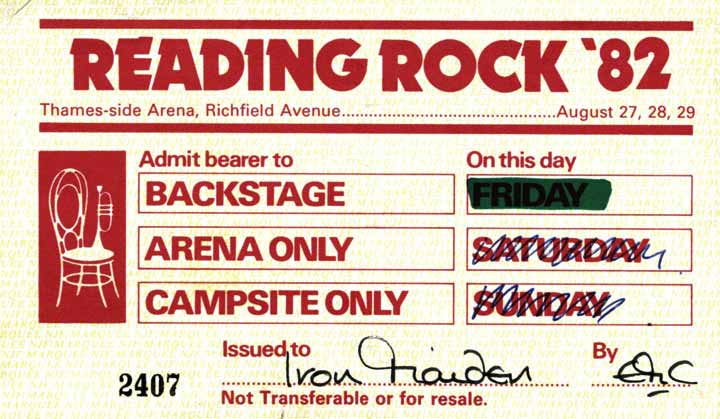 © Frederick Moulaert
I do have a recollection of can and bottle throwing, though not at Chinatown, just generally, but then it was really common at that time - it
was a weird world of insane tribal nonsense about which band was better/louder/more authentic/sold out/etc than another, and bands would come in for massive vitriol and abuse simply for a crowd's perception of them before they even played a note. I just never 'got it' (though I was on the receiving end of it in a couple of bands down south, and got so p*ssed off with bothering to play for retards that I moved away).
The worst case I saw was the audience for Christian rockers 'After the Fire' pelting the (very good) support band with bottles at the Rainbow Theatre gig in 1980. Crowds are so much better these days!
Did anyone else join bands or go into the music biz because of those heady times?
All the best
Phoenix
---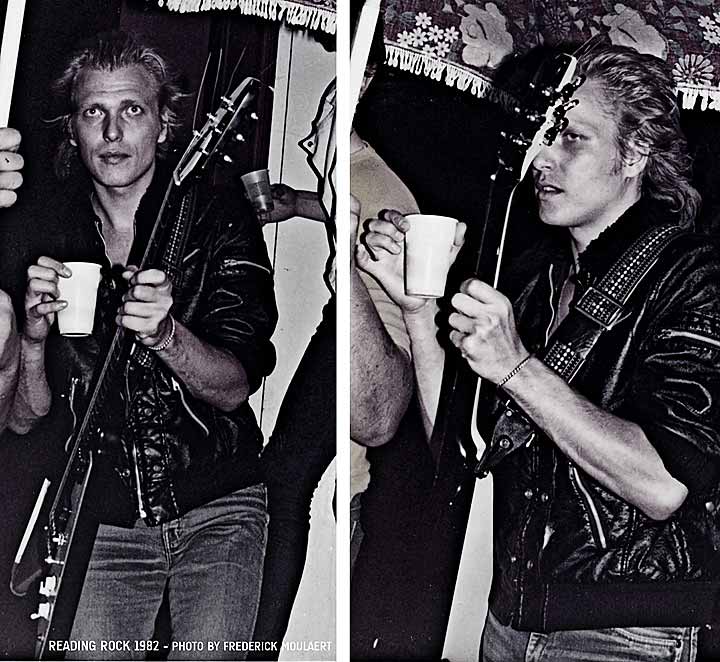 Schenker backstage © Frederick Moulaert
was at Reading on the Saturday, with my mate Kevin.

Grand Prix were on as we arrived, I think.

Remember Bernie Torme who I rated from his Gillan days. He was on quite early and tried hard but people were still waking up.

I think Suzy Quattro was on at some stage. I remember the band introducing Suzy Q.

The Gary Moore Band was a work in progress at the time. Charlie Huhn had a powerful voice, but wasnt there for long, replaced by John Sloman who had been with Lone Star & Uriah Heep previously.

They played well and included a version of Free`s "Wishing Well" in the set, but I got the impression that Huhn didn`t know whether he was the front man or Gary. He looked a bit wooden - didnt know whether to lead from the front or stand aside while Gary introduced songs and did some singing.

Ian Paice & Neil Murray were always a class act.

Good musically but did not project as a band.

Can`t remember Tygers of Pan Tang at all (must have done a tour of the stalls while they were on), but I do remember being won over by Blackfoot, who were fronted by the charismatic Ricky "Rattlesnake" Medlocke. They included a great version of Free`s "Wishing Well" in their set, yes the same cover that Gary Moore had done an hour or so before.

They also played Spirit`s "I got a line on you" in the set I think. I know Ken Hensley joined the band at some stage but cannot remember whether he was with them at this time.

They really got the crowd going. Until Blackfoot came on things were a bit slow.

Iron Maiden were, are and will remain very popular but are not my cup of tea. The only time I ever saw them live was from a distance through some trees as we drove away.

Pat Barry
---
Good God - this takes me back but memories are crystal clear:-
1. Travelling in our friend Ben's red Avenger estate - fully loaded with all the camping gear, booze, food etc. Still don't know how we made it there and back - thanks Ben!
2. Drinking a terrible mix of Glyva (spelling?) and cider - I puked up right outside the entrance to my tent.
3. Buying an ice cream seller's entire stock as he strolled through the campsite because we all had the munchies.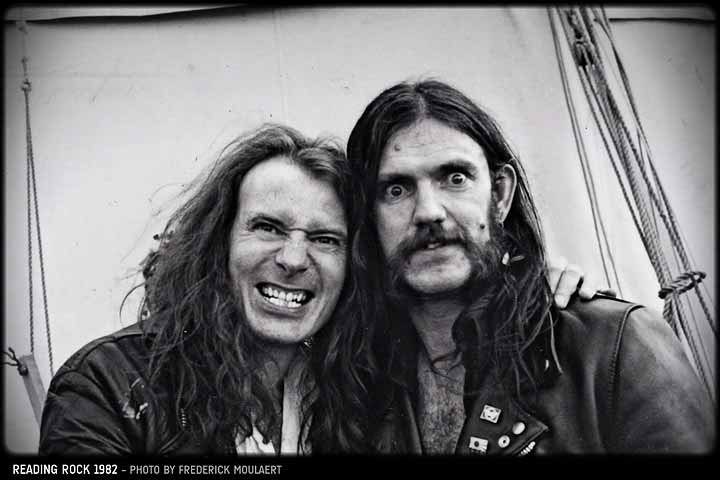 Lock up your daughters . M'Head's around ! © Frederick Moulaert
Music and bands
The afternoon bands were a bit hazy then and worse 27 years years later but I remember Grand Prix being pretty good, Spider being a dreary Quo like boogie band and Dave Edmunds being an up market pub rock band.
1. Diamond Head - it was another one of their potential big breaks but they never built on it which was a real shame.
2. Cheetah - masses of whistles and chants of "get your t*** out for the lads"
3. Blackfoot were fabulous - really got everyone going - we had seen them with the Scorpions at Hammersmith earlier in the year and they had been filmed then and shown on OGWT so we knew how good they could be. They then played Donington after Reading ( I think) and were great again. This was way before SIOGO and Ken Hensley was added to the core band of Charlie Hargrett, Ricky Medlocke, Greg T Walker and the wonderfully named Jackson "Thunderfoot" Spires.
4. Twisted Sister - sweary, pantomime dames - funniest looking of all was the lead guitarist - Mendoza?
5. Maiden - OK and the crowd favourite but they seemed a bit plodding to me.
6. Y&T - best of the weekend - we'd got Earthshaker on import a year or so earlier so were looking forward to their appearance. They had played a great gig at the Marquee the week before and had great reviews. They did not disappoint.
7. MSG - my friend Tim had broken his leg in a motorcycle crash that summer but staggered around Reading on crutches. He said he wanted to sit out MSG because Bonnett was due to sing so I left him at the campsite and went alone. As soon as I saw Gary Barden was back I went and got Tim and carried him back to the arena and we had a great night.
Happy days and a great site
David
---
ahh memories memories.i think some of the previous contributors might be correct in saying if you can remember it you wasnt there as i cant recall some of the bands untill i saw your listing,diamond head? nope dave edmunds? nope etc.
i was 16 and scrounged a lift down with two mates from hull, i remember walking into the campsite by the river and the first view of my first festival was that of this hippy dude sprinting hell for leather alongside the river totally bollock naked apart from a welly shoved over his todger with this mad bird (unfortunately dressed )chasing him! welcome to reading!
i can remember paying a quid at midnight to enter this tent and watch a screening of the exorcist ,everyone sat on the floor crosslegged ,very civilised!
ironmaiden blew us away,i remember twisted sister getting a lot of abuse for the way they were dressed and the bloody bottle fights, remember the big model flying v of msg and budgie were good but i cant remember fuck all else,still into the same music i feel sorry for the kids now having to pay hundreds to watch medicore artists at download etc, the spirit seems to have gone .
good days my friends!
mark.
---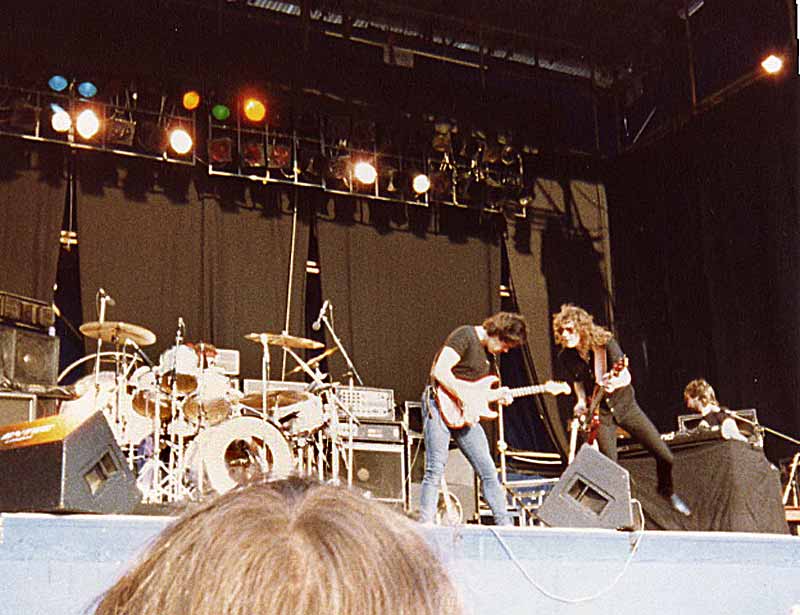 Gary Moore © David Batty
Oh god....I'm an old bugger now, but I was proudly at Reading '82 when I was 14.
Memories - telling my parents I'd bought a ticket THEREFORE WAS GOING a week before on holiday in a B&B.
Arrived, camped with my buds, the 'Manchester Morgue Attendants', just behind the back stage. We had a big flag, flown off my mums washing line pole. She never saw it again.
Whole bottle of brandy Thursday night, sicked up all over my tent mates immaculately painted Maiden denim waistcoat. Not good.
Anyone remember the Budgie huge flying V firework malfunction? Twisted Sister were awesome, even bigging up the crowd with the Falklands stuff. Awesome weather, occasional dips in the Thames it was so nice. So happy Diamond Head appeared unannounced, loved that band. Yep, as others have said, Ricky and Blackfoot were a standout memory, fun, rocking, and a band of the people at the time. Gary with MSG?! I screamed my young head off I was so happy.
I actually got to see the band I loved on record play live and furious. Maiden were amazing....as I remember it was the UK unveiling of Bruce, and the 2nd chapter of the band. Shit knows where that T shirt is with Eddie planting a flag just left of London?? Somehow got backstage late and had to try and deal with Lemmy harassing me for a lift back to London...mate, I'd have loved to, but I was 14.
I may have the year confused here, but does anyone else remember a big crowd singalong from the dj between acts mentioning a wee furry creature, and a humorous rhyme to the phrase 'bucket'?
'Kin good times - amazing people, so welcoming. It formed the strong basis, along with many other festivals/gigs, of why I happily took my goddaughter to Audioslave at the MEN at aged 6. My girlfriends daughter did the Rock n Blues aged 4, hopefully we will doing AC DC at Download 2010 with her aged 6. Rock fans - you are brilliant. A warm, welcoming family. Thank you.

Taff x
---
I was working as a sound techie for Turbosound on the Iron Maiden tour that year. They asked me to go along and help the monitor man, Phil Wilkie, at Maiden's Reading '82 show (the sound equipment being supplied by Entec).
Considering I drove there from Bromley (in a really beat up Vauxhall estate) and so drank very little (or did anything else), I don't remember a great deal! Must've been something in the air!
Remember lots of bottles and cans being hurled. This was common around that time and very dangerous for all of us on stage.
Blackfoot were great. They also supported Maiden on part of the European tour that year (I have photos). Really nice guys to work with too.
Gary Moore - I was standing on stage left watching his show and he seemed to get very upset about something (no change there then, i've heard). He raised his guitar above his head and threw it down on the stage, snapping the neck. He looked a bit surprised then picked it up and threw the pieces in to the audience! Seconds later a roadie followed and retrieved the bits!
Cheetah - I didn't know it but an old bandmate of mine was in Cheetah - Ant Glynn - ran into him backstage and had a good old catch up!
Maiden- were excellent, thoroughly professional as always.
Backstage afterwards I ran into Jo Jo Laine, who had been married to Denny Laine, with whom I'd toured previously. She was looking for a lift home to Laleham, so I gave her one…
"Rockit99"
---
---
Can we get a witness ?
We need more info on this and the other Reading festivals, we are now in the curious situation of having better documentation on some of the earlier festivals, so c'mon headbangers, get yer photos out and fire up whats left of the aging braincells .Send your recollections and scans to us NOW ! !! Contact us
---
External Links
Reading in the 80s to date- Fat Regs excellent site covers Reading from 1982 onwards .
Photos of Reading in the 80s at the Reading Musuem.
Thanks to photographer Alan Perry for allowing us to use his excellent photos of Reading 1980, you can purchase copies of these pix at his website where he has oodles of top photos of metal bands from the 70s to date.
---