The Archive.
Big thanks to our sponsor Neil !

For information on today's festivals see eFestivals.co.uk
Updated July 2021 view at 1920 x 1024 for best results
---

Richfield Avenue.
Reading
August 27-29th 1976.
---
The 1976 Reading Festival.
---
Reading Recollections:The View From The Mud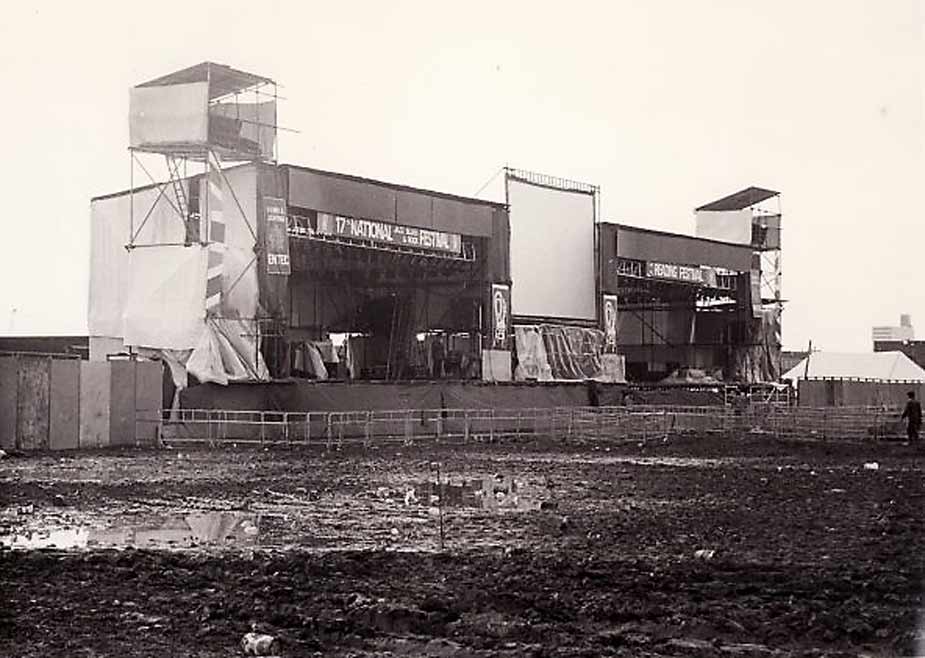 Afterwards ..... © Alan Brown
I was there and remember the African band Osibisa closing the show. They are not mentioned on the site. They were totally brilliant.
Show best remembered by the UK mag NME featuring as Eddie and the Hot Rods saving rock and roll - NME was gagging for a change and of course it was already happening, under their noses. The Sex Pistols were up and running by then!
For me the young Aussie band AC/DC stole the show but again I remember them earlier, maybe the Saturday. They certainly played in daylight. Camel used fireworks and closed the Saturday show, Rory G was on the other stage before them - your order is wrong.
For me it was a very important Reading. Punk was already in the wind (hence NME's comments) a sea of change was about to happen and that particular Reading had a lot of what was going on in those days, why rock was going up its own arse and dying - Camel! It had the mega boring creative - Van de Graf Generator and 801 (I was a huge Roxy Music fan so seeing them minus fart Ferry was good but I thought they sucked a little) and all the crap in between. What was great though was Osibisa - I guess they filled in for someone but they were more or less the only black act then. The show was totally white, totally rock and roll but for them. Oh, and did it rain!
Yours
Garry
---
Hi there-
you have omitted Osibisa who played on Saturday or Sunday night...........how odd! And a one man band on Sunday - Tom Jackson I think he was...... There was also the legendary john peel is a cunt chant started by the great man himself over some mistake or other...... Not to forget the awful Wally chant that continued at gigs for a while after.........good times tho'........ted nugent what a bore!I remember cries of 'get on with it'.... haha he was the hot act -
Paul
---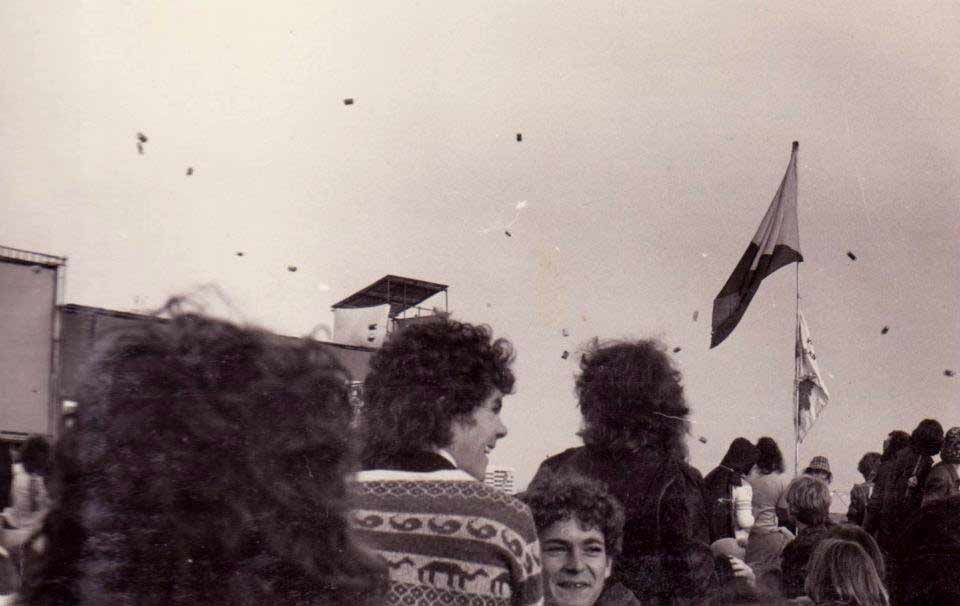 Can rain ..... © Alan Brown
Wow, a rock festival. I just turned 16 and I have my own back pack and tent – a road warrior with no packed lunch. There was no drinking age in the 70's right?... The spirit of Woodstock arriving late in Britain – it arrived intoxicated on Newcastle Browns, Watney's Party Six's and Woodpecker Cider.
I am wide-eyed staring at bra-less breasts in cheese-cloth tops. Bell bottom blue jeans have red Coca Cola patches sewn to them and cowboy boots with wooden heels rub all the hairs off your calves. "You're ok with Us" was the deodorant advertising slogan and we all ignored it. There was no health movement and women were wider and somehow more naked - "tightly undone" as The Who had it.
The only good thing about being a teen is that you get to do things for the first time. People live on double-decker busses. Its Cliff and the Shadows summer holiday, but they are all on acid. Every woman looks like Stevie Nicks and this is a good thing. I am part of something. Underground comics and fanzines. John Peel's a c*nt. Underground is cool. Wally! – shout it loud – we had no idea why. I still don't.
As we listen to the afternoon shows a beautiful Stevie-Nicks stranger walks out of the crowd towards me. She is maybe 18 – she smiles and French-kisses me for what seemed like 5 years then walks away saying only "I love you" as she leaves. My friends ask me "who was that"? I have arrived.
John Connell
Brooklyn Ny
---
The mystery band on Sunday was Osibisa, rumours of the Stones turning up were sadly misguided, the festival site was almost empty before Osibisa left the stage.
Andrew Rees
---
I also recall that Black Oak Arkansas actually headlined the Sunday night. Osibisa played half way through one afternoon. I know this because they were almost pelted off the stage with a can fight when they sang Smile will bring a sunshine day....it was raining and it continued to rain. John Peel was the DJ and his bad language was hillarious along with him frizbeeing out records of Bay City Rollers etc. The song he kept playing whilst the rain fell was Hey Jude by McCartney.
Alan Brown
---
By now I was working and I could afford to go to Knebworth and Reading. In fact The Rolling Stones at Knebworth was the preceding weekend of 21st August. I got back from a knackering few days there with what I thought was a summer cold and prayed I'd feel better in a few days. I was now driving and had offered to give some friends a lift so the pressure was on to go to Reading anyway. Over the weekend of the festival I got more and more tired and ended going back to my tent on a few occasions during the day to sleep. When I got back I was diagnosed with Glandular Fever - so I wasn't just being a whimp! But that put a dampener on the whole event for me and I don't remember that much. Fridays line up seems a bit weak looking back. Saturday was better and I do remember a fantastic drum solo by Jon Hiseman (who's band featured a young and very talented Gary Moore on guitar). AC/DC were buzzing; Angus young really did look like a school kid in those days (how old was he in '76?) and Rory Gallagher gave his usual 'fizzing' high energy performance (I saw him 5 times all told) and Black Oak Arkansas on Sunday night were very entertaining "Go Jim Dandy, go!" I don't remember a special guest band after that - but maybe I'd crashed by then.
Chris Tucker
---
1976 festival pages
---
If you can contribute anything to further develop these pages from 1976-90 please Contact us
---
The early festivals.
You can find out the complete line ups of the first festivals if you follow the links below .
Festivals 1965-1990
Most of these have fairly complete documentation .But new contributions of any sort are always welcome regarding any of the festivals.
---
This site is non profit making , its a site for die-hard fans- and run as a source of information for those interested in Rock music of the past .We are completely against the sale of bootlegged artefacts , especially musical ones .We attempt to obtain permission to use articles and photos wherever possible, but on occasions , due to the age and obscure origin of some items , we have not been able to ascertain the owner of the copyright .It is also possible that occasionally we are sent material from sources that assert that they own the copyright of material, but their claims are spurious - If you see any material on the site that you believe you own the copyright of - please send us an e-mail with proof that you have ownership of the image and we will remove the offending item from the site immediately.
Contact us