The Archive.
The Archive.
Updated July 2021
---
The Fifteenth National Jazz ,Blues and Rock Festival.
Richfield Avenue.
Reading
August 22-24th 1975.
---
The 1975 Reading Festival.
Passes, tickets , site plans , plumbing and behind the scenes stuff .
courtesy Mick Davis unless otherwise stated.
items courtesy Mick Davis

The Hole

courtesy Mick Davis

© Mick Davis

This is the 'Plumbers Bar' as shown on the site plan I sent earlier. The large chap with the hat and beard sitting on the left is Ron Bartholomew otherwise known as "Our Glorious Leader" boss of the plumbing crew. He had been doing the Plumpton festivals and building work on the Marquee club for Harold Pendleton for years and this year he demanded that we have our own bar backstage as we would not be allowed in the artists one and he was "buggered if he was going have his men queue up behind a load of hippies after a hard days work".

Harold agreed, providing we share it with our sworn enemies - the sparkies -Pat Chapman and his lads from Entec. Most of our evenings were spent in largely successful battles to out drink, out smart, out fornicate, out drug, out smoke and stay up later than this bunch of light bulb changers. They are the lads on the right hand table in the photo probably drinking milky tea.

Ron had some firm's t-shirts printed which consisted of a yellow hammer & sickle on a red background with the words "The Real World". This logo was repeated on the sign board above the tent and one night Entec got a pot of paint and changed the hammer & sickle into a bog and plunger! Great bunch of lads.

We also had a couple of t-shirts that said "Festival Director" printed to wind up Harold and his men in suits. You can see one of them seated next to Ron.

© Mick Davis

Concreting in one of the septic tanks. Reading August 1975. I'm on the extreme left (I've put on a bit of weight since then),and Ron is standing on the tank with a large concrete vibrator. Shortly after this was taken Jack Barrie came over and we chased him around the concrete truck with the vibrator............

© Mick Davis

courtesy Mick Davis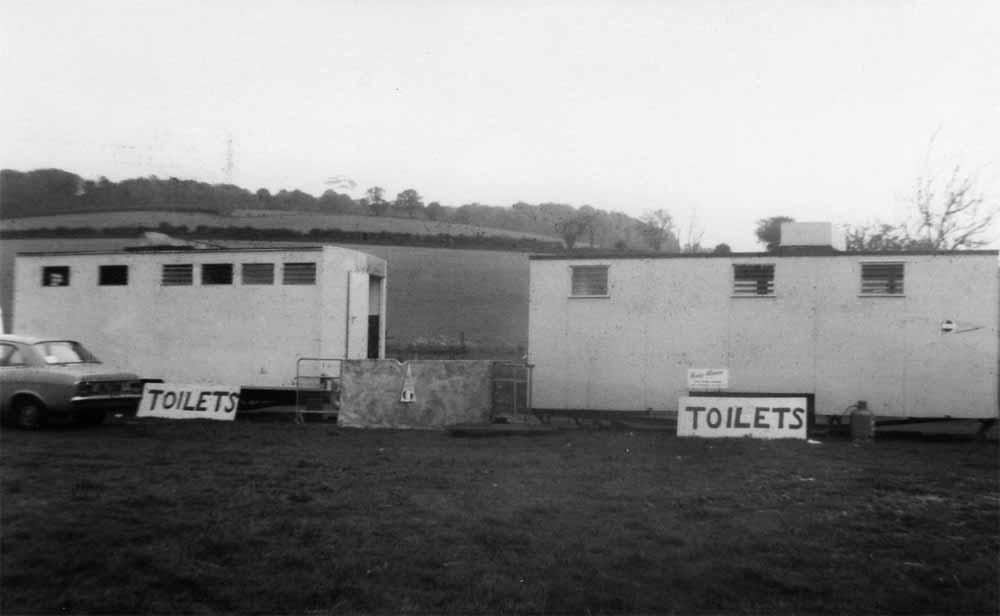 courtesy Mick Davis
can you contribute ? Contact us
---
1975 festival pages and links
---
The early festivals.
You can find out the complete line ups of the first festivals if you follow the links below .
Festivals 1965-1990
Most of these have fairly complete documentation .But new contributions of any sort are always welcome regarding any of the festivals.
---
This site is non profit making , its a site for die-hard fans- and run as a source of information for those interested in Rock music of the past .We are completely against the sale of bootlegged artefacts , especially musical ones .We attempt to obtain permission to use articles and photos wherever possible, but on occasions , due to the age and obscure origin of some items , we have not been able to ascertain the owner of the copyright .It is also possible that occasionally we are sent material from sources that assert that they own the copyright of material, but their claims are spurious - If you see any material on the site that you believe you own the copyright of - please send us an e-mail with proof that you have ownership of the image and we will remove the offending item from the site immediately.
Contact us