Theakston Music Festival

Nostell Priory .

West Yorkshire

August -27th-28th 1982
---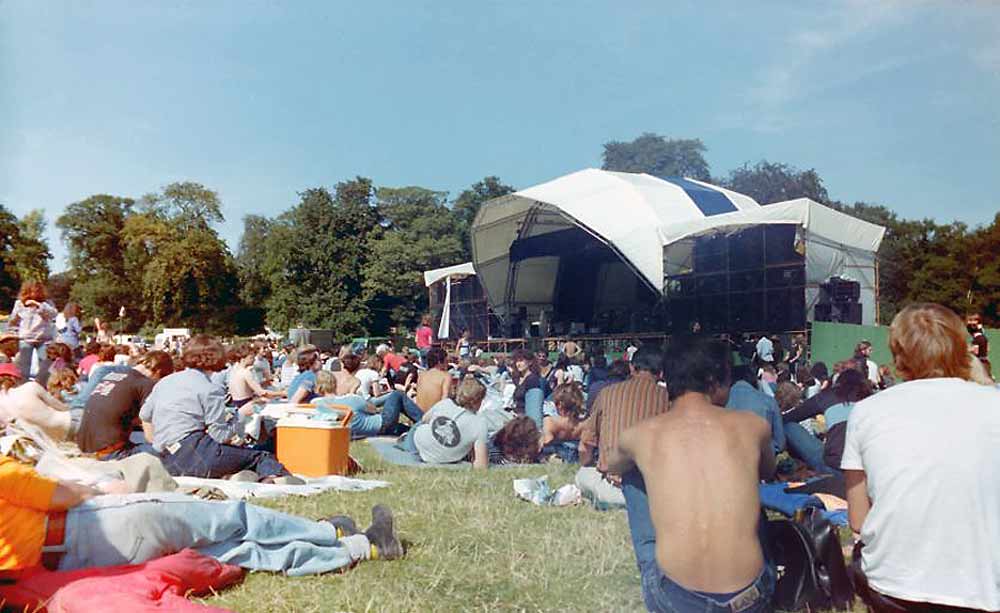 The audience sip their fine pints of Theakstons best in the Yorkshire sun © Gerald Sables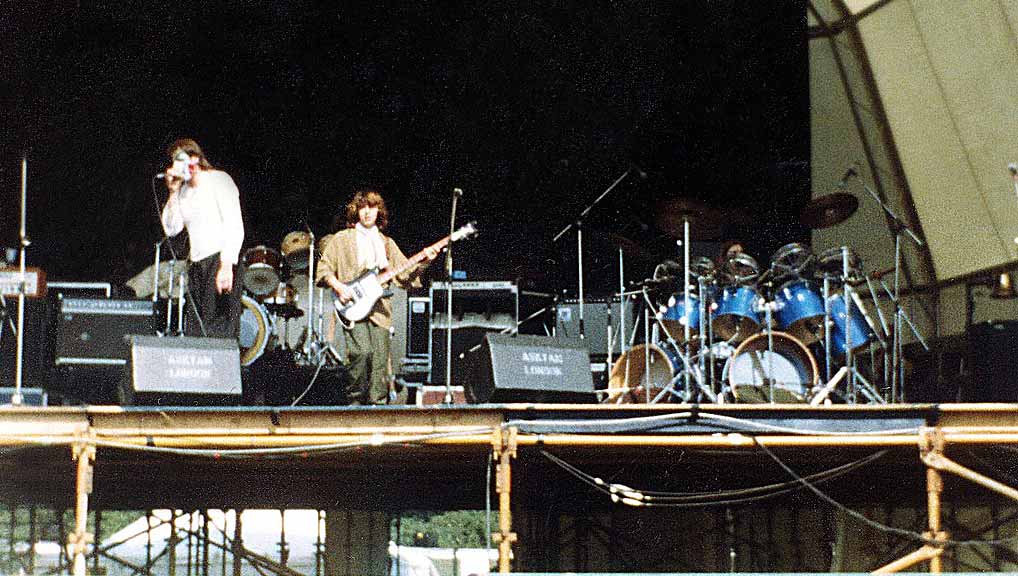 Marillion were the first act onstage on the Saturday © Stephen Vaughan visit his Flickr site to see more
Priory and arena taken from the car park © Phil McHoul

Nostell Priory 1982 is mainly remembered for the performance by Jethro Tull and almost all the other performances by a number of fairly prestigious artists seem to have been lost in the mists of time . The exception is Marillion, whose obsessive fans have documented their set in both audio and visual form.

The weather gods smiled on all the Nostell Priory festivals, warm sunny days were the norm , audience numbers were respectable, 11,000 on Saturday and 16,000 on Sunday for Jethro Tull . Fortunately we have the FWS report for this festival, which fills in organisational matters but not the performance details. We would like to obtain more photos of the crowd and acts and more recollections to flesh out this part of the website.
Timeline
Friday 27th August 1982

Earl Okin : 7:30 PM
Michael Chapman : 8: pm
Dave Swarbrick and Simon Nicol :8:55PM
Ralph Mc Tell: 9:45
Jam session with McTell, Swarb, Nicol and others

Friday 27th August 1982

Marillion : 2pm
Huang Chung : 2.45pm
Lindisfarne :5:30pm
Blues Band :7:30pm
Jethro Tull:9:pm
Despite being advertised on posters, it appears from the program that Huey Lewis and the News did not perform.
A festival was also supposed to have been held in 1983 at Nostell Priory, between the 26-28th August , called "Nospop", can anyone provide details ?
---
Festival Welfare Report .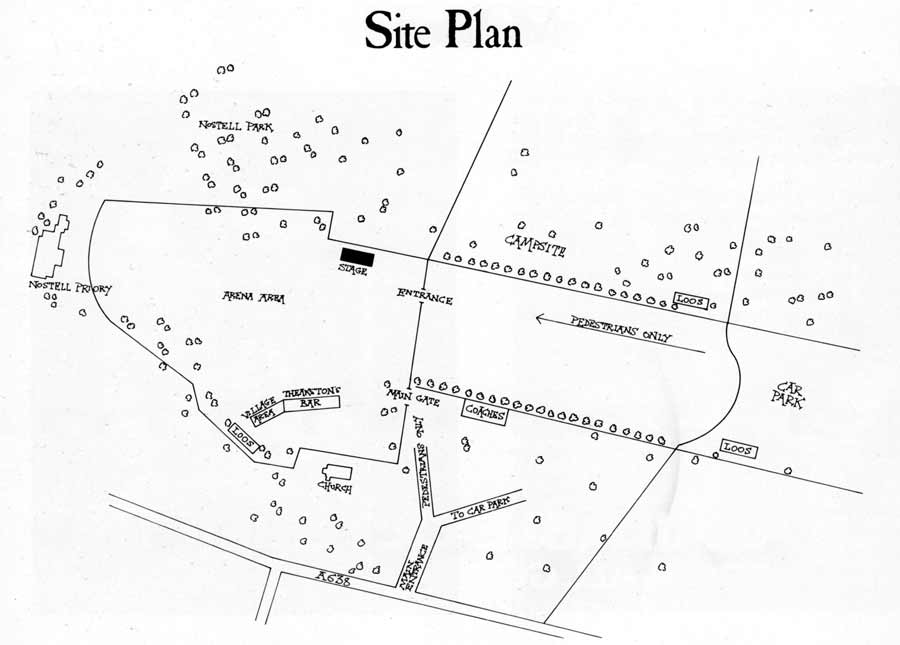 Original Nostell Priory music festival T shirt courtesy Phil McHoul

This music festival was held at Nostell Priory in a country park 6 miles south of Wakefield, featuring Jethro Tull and other acts, mainly acoustic or folk orientated . It attracted approximately 11,000 on Friday and 16,000 on Saturday, with many people camping over the weekend. The festival was well organised and very successful for a first-time event.


The site was divided into arena,camping and overspill camping areas and car park. There was a good pass-out system allowing access between all areas during the event, but the arena was cleared at night.
The facilities in the arena were adequate, except rubbish collection, although the facilities on the campsite were not sufficient to cope with the number of people camping.

Toilets :

There were plenty of Portacabins positioned together at the back of the arena. These coped satisfactorily but they were not lit internally at night and became very fouled. They were kept clean during the day by a maintenance team and emptied regularly. The flexible units allowed interchange between Ladies and Gents, as demanded. There were two sets of Portaloos on the campsite and car park, not lit at night, consequently becoming fouled and campers were very reluctant to use them.
There were insufficient units on the campsite, particularly to cope with the "morning "rush", and campers had to be let into the arena early to use the toilets there.
For next year we recommend that all toilet units are lit after dark and that more units are provided on the campsite.
Water :

Drinking water in the arena for the audience was supplied by one unmarked standpipe in the top corner of the field. Traders in the arena also had access to a standpipe in the site crew's camping area. The toilet blocks in the arena had a non-drinking water supply. There wore two marked standpipes in the main camping area with drinking water. There was a cattle trough in the overspill campsite and despite effort to block it off, some people were attempting to get water out of it to drink. We suggest in future there be a drinking water supply near all toilet units (where ever possible)and all water points be clearly signed.

Welfare Services

St John Ambulance Brigade provided first aid cover in the arena during the festival and volunteers patrolled the campsite at night. There were few casualties or serious accidents. The Samaritans had a base in the arena and befriended distressed people, particularly those who had lost friends or were suffering the effects of too much alcohol. They also organised a small team on the overspill campsite near the exit, on Saturday night.

Saturday crowd © Stephen Vaughan
At future festivals it would be advisable for both St John and the Samaritans to have bases on the campsite which could be covered at night, as people were moved out of the arena after the concerts.
There was a church on site which held an open service on Friday night and remained open for the duration of the festival. Local volunteers were there to talk to people and festival goers without tents could sleep in the church, or sleep off hang-overs. The church provided a very friendly and useful service.
| | |
| --- | --- |
| The stately home was constructed in 1733 and has played host on several occasions to music festivals | A team of FWS volunteers from London, Oxford and Wakefield ran an information service in the aren4, providing a notice-board and message books for people wanting to meet friends. The local bus company had supplied details of their services and special buses for the festival. Unfortunately the concert over-ran, finishing after the special buses were scheduled to leave the site. The Information Point also had details of train services', local bed and breakfast accommodation, taxis and maps of the site facilities and surrounding area. The point was busy during the days and operated a skeleton service on the main gate as people were leaving the site on Saturday night. Although the arena welfare facilities were well sited for emergency access, they were too far away from the main body of audience , especially the info Point, which would have been better sited near the main entrance. |
Rubbish :
Rubbish was a problem on site, although the local Boy Scouts were employed to clear the site. Skips were provided in the arena on Saturday, too late for rubbish already spread, and they were not sited close enough to the caterers to take their bulky refuse. There should have been skips behind the caterers and next to the bar, as much of the litter was plastic glasses supplied by the bar. There should also have been smaller rubbish bins inside the arena, which would have been used, as many people asked where to put their litter. Corrugated iron bent into triangles, or oil drums would have been suitable. Containers and a skip should also have been supplied on the campsite.
Security :

Site security staff were very helpful and pleasant and dealt with lost people and gave distressed people access to the promoters and police where necessary. No bottles or cans were allowed in the arena and people were searched at the entrance. There was a pass-out system in operation, so people had access to the campsite and car park. It was a difficult site to secure, as it was part of a large estate, but there were few incidents of people attempting to break in. The police were present in large numbers on the site, as well as some plain-clothed officers. There was a control centre in front of the Priory where the Police were handling lost property and looking after lost children. They made several arrests in the arena and someone was taken away in handcuffs. Neither the Police nor security were at the arena exit when the crowds were leaving the arena through the turnstiles after the concert on Saturday night. It would be advisable to arrange to have someone on duty there to slow down the crowds as they leave, as there was a danger of people being crushed as they squeezed between the turnstiles. Otherwise the crowds were very peaceful and a large police presence was unnecessary.

Tull 1982 UK tour program
There was an adequate selection of food and drink in the arena, although there was only one whole food vegetarian caterer. Beer was the most popular drink, available in plastic glasses. Food prices were reasonable and the caterers clean. Most stalls stayed open until the arena concerts finished. There were no covered food places, which would have meant people eating in the rain if the weather had not stayed dry. There were few traders on the campsite, and in future it would be a good idea to have some basic refreshments available there during the night.
Haung Chung © Stephen Vaughan

General :

It was a very good idea to have a string of lights in the dark leading from the arena to the campsite and car park. The lights provided illumination and directed people, being a good landmark and easily identifiable. The programme had a nice site plan showing the layout and toilets, although the water points and first aid were not shown. A more detailed site plan would be better next time. This will require more pre-planning and careful siting of services and will also facilitate the provision of large site plans to be erected on site (in an illuminated area), showing people where they and the services are. Not everyone can be expected to pay for a programme in order to find out where things are.


There were no public telephones on site, and the closest one was approximately a mile from the arena. It would be a good idea if mobile GPO units can be provided on site next year.

Penny Mellor, Field Worker.
---
Recollections.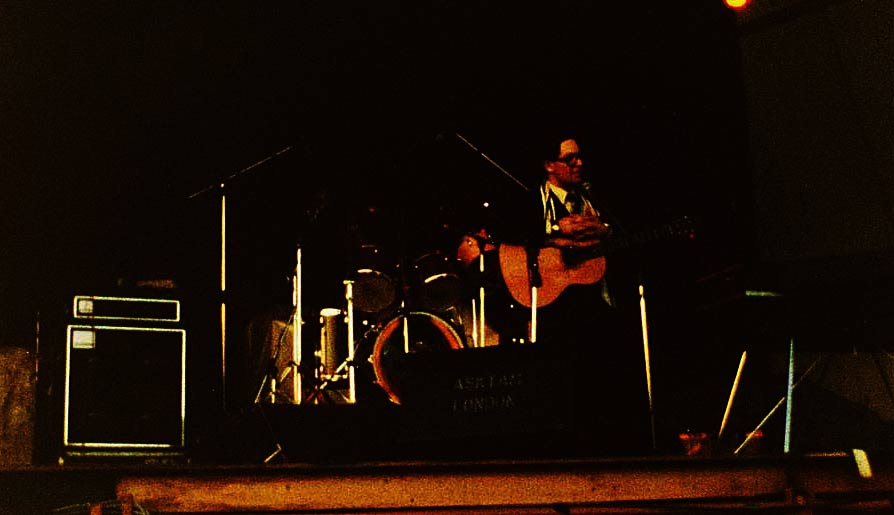 Earl Okin © Stephen Vaughan
Hello, there.

I've been admiring your festivals website for about nine months but I've been very interested in the updates to the page about the Theakston Festival at Nostell Priory in 1982.
This took place about a week before my 21st birthday and was my first experience of festival going.I went with two of my old school mates; Dave and Alan. Dave was the only one of us who had a job and on the Friday of the festival we had to wait for him toget home from work, have his tea, and wash his hair before driving us to Wakefield in his Vauxhall Viva.
We got there in time to set up the tent just before it got dark then we went to catch the end of Swarbrick and Nicol's set.
I can only say that the atmosphere that night was absolutely electric. A hugeconga snake was working its way through the crowd. Hard to imagine that a pairof folkies could get a crowd going like that but they did.
Ralph McTell followed with a mellow set. I distinctly remember him covering Dylan's I Want You. The evening finished with a jam session between (if Iremember rightly) McTell, Swarb & Nicol, the bassist from Lindisfarne and possibly Dave Pegg and Earl Okin who did his trumpet impression thing. The last song of the night was the drinkers' favourite Good Night Irene. Richard & Linda Thompson were originally scheduled to appear on the Friday night but they cancelled after their rather acrimonious separation.
On the Saturday, we joined the queue to get into the arena and when it opened we ran in and got a spec with our backs against the barrier on the RH of the stage. We immediately set about basking in the warm sun and drinking flagons of Old Peculier at an eyebrow raising £1 per pint. Marillion was the first band on. I think they might have replaced Huey Lewis. At this point, they'd not even made their first LP and I was quite impressed even though they were more the sort of thing for a damp dark nightclub.
In between the bands, they kept playing the same three or four records over thePA. Two of these were Solsbury Hill and Let It Be. Huang Chung didn't go down quite so well. Being perhaps a touch New Romantic for a festival crowd, they were canned off rather viciously.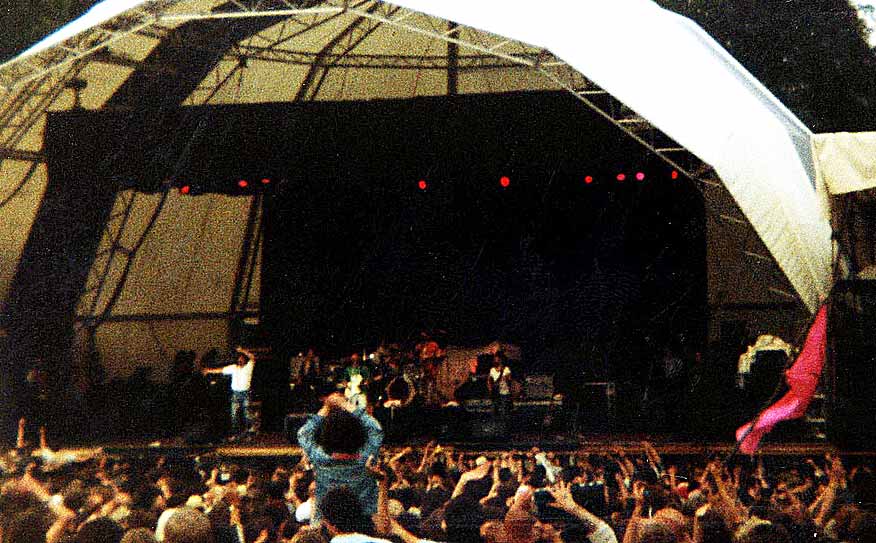 Lindisfarne directing traffic © Stephen Vaughan
Of The Blues Band I remember nothing but Lindisfarne went down a storm - particularly with the large Geordie contingent who'd obviously travelled just to see them. Just before Tull were due to go on, Dave disappeared and was not seen again until the next day. Yes, the sun and beer had taken their dreadful toll.
I was a big Tull fan in those days and this was probably the first outdoor gig they'd done in the UK since the Isle of Wight in 1970. They played a very good set, the stage performance being in the pantomime vein of things with strange props and such. They also did a great little acoustic set on a wooden bench just in front of us. It was quite a squash down at the front at this stage and my abiding memory was that I was dying for a pee all night but with a bladder of steel I managed to stay and keep my place.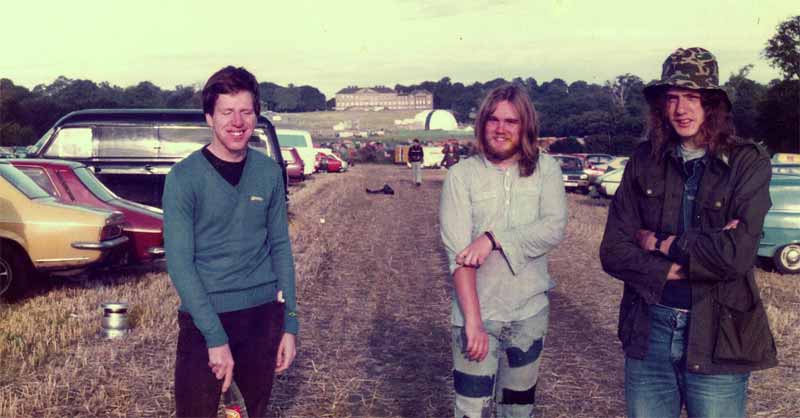 The three musketeers on Sunday morning . © Phil McHoul
The attached photo was taken in the car park on the Sunday morning just before we set off home. I'm the handsome one with the hat on the far right. The stage and stately home are just visible in the background. I've still got my t-shirt from the festival too. I'll photograph it if you're interested.
Best regards:
Phil McHoul.
Wirral.
---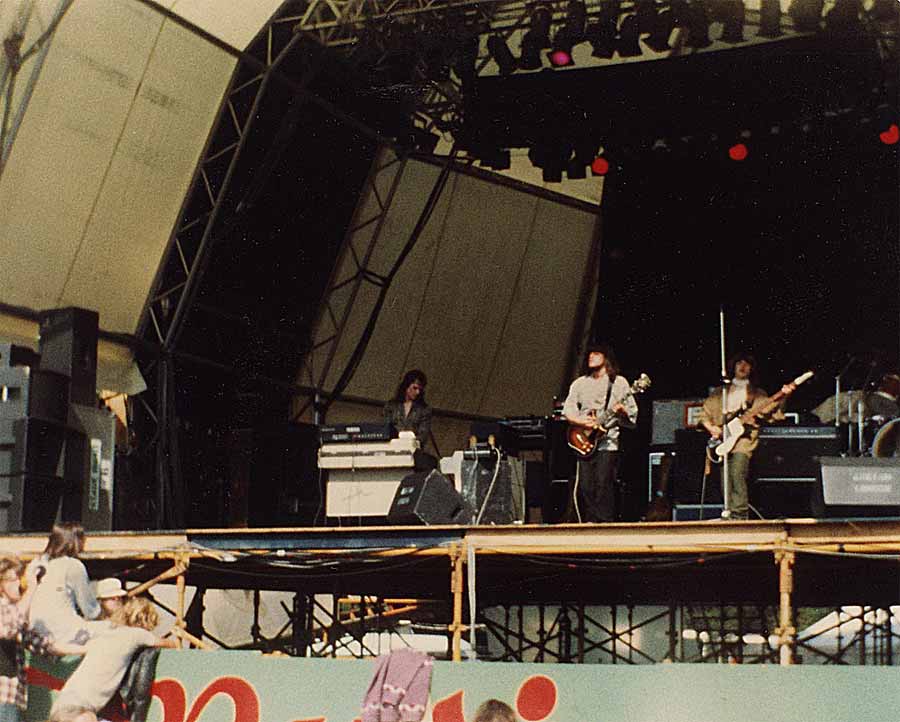 Marillion again !© Stephen Vaughan
First time I saw Marillion was at the Theakston Festival, Nostell Priory, August '82 (They played reading the next day too). Jethro Tull were top of the bill. If I recall correctly, the PA broke down during Marillion's set but Fish did what he did best and entertained the crowd with his banter. I was hooked.
---
One of the first live music gigs I remember going to was the Theakston's beer festival at Nostell Priory nr Wakefield, it was way back in August 1982, I really went to see Jethro Tull, it was a 2 day music festival as I remember and the lineup was awesome, as well as Jethro Tull who were promoting their latest album Broadsword, other artists included Lindisfarne, Dave Swarbrick and Simon Nicol, Marillion, The Blues Band, Huang Chung, Simon Nichol and Ralph McTell if my memory serves me right. A Fantastic music event.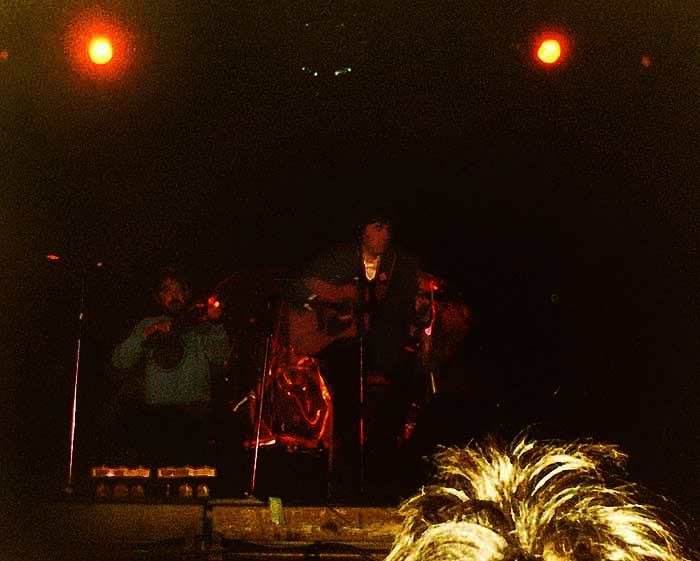 Dave Swarbrick and Simon Nicol © Stephen Vaughan
The sun was shining, the beer was flowing, the live music was excellent and a fantastic time was had. I didn't take a tent to that festival, I remember myself and a few friends took what were called bivvy bags, which were big orange plastic bags, big enough to get a sleeping bag inside and supposedly meant to keep you dry, ha ha, no such luck, the condensation was ridiculous, and I woke up soaked and a fair way down the field in the morning, no doubt sliding down the field in the night.
Jethro Tull fulfilled my dreams, I thought they were brilliant, I remember them doing Aqualung with Ian Anderson dressed up as the dirty old man, they performed fantastically.
---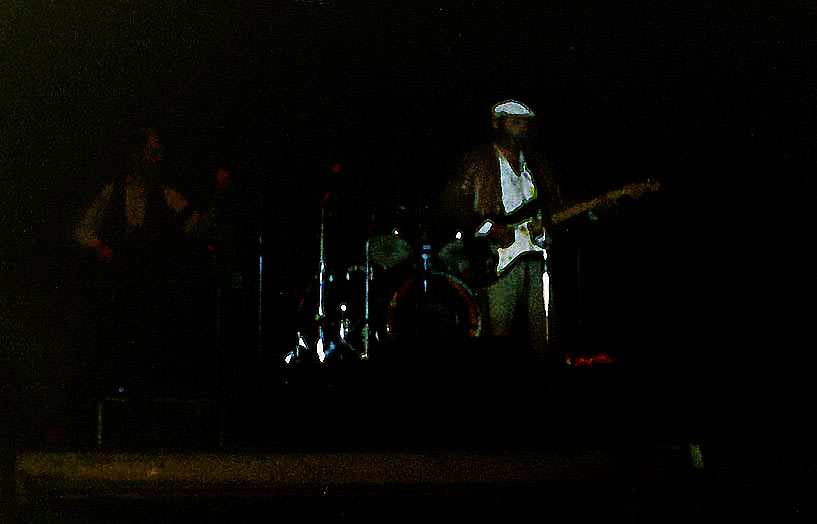 An indistinct Michael Chapman and band © Stephen Vaughan
Ian Anderson : Nostell Priory 1982 © Gerald Sables

Memories of Nostell 82.
Ah, the mighty Jethro Tull playing in my own back garden. Well not literally you understand, there's no way I could afford the mortgage on Nostell Priory, but I do live in Wakefield. I'd been a fan for a few years and got to see them at the Albert Hall in 1980, but I never thought they would turn out in Wakefield. I was also a fan of both Lindisfarne and The Blues Band so I thought it would be a good day out. It was to be a two-day festival with the more folk orientated material on the Friday night of which I wasn't really interested so I only bought a ticket for the Saturday.

Come the big day and the local bus company was laying on special busses from Wakefield to Nostell, but it still left quite a treck through the campsite and car park to get to the concert area. It was quite a warm sunny day and remember topping up my sun tan before the first act (I hadn't been that long back from holiday in the South of France). The festival was sponsored by Theakston's the North Yorkshire brewery, so there was quite a bit of alcohol about. I remember moving a bit closer to the stage before Tull came on and somebody kept nudging me, a little bit harder each time. I was just about to berate the culprit when I realised it was an old friend but he was that drunk I could hardly recognise him (I had abstained for the day by the way).
Marillion – I must admit I had never heard of Marillion at this time and wasn't sure if they had released anything independently or not, but they certainly hadn't released their first single with EMI. They seemed to have a touch of Gabriel era Genesis about them and went down really well with the crowd.

Huang Chung – I think it was a case of wrong time wrong place for these guys. They did have a problem with their backing tapes, which didn't help their cause, but they were really out of place on the bill. Little did we know though that a little under eighteen months later and with a slight name change (Wang Chung), they would have an UK hit single with 'Dance Hall Days'.
Lindisfarne – Good old Lindisfarne. The hits may have dried up but they could always be relied upon to turn a show into party. Today was no exception.

The Blues Band – I love blues music and I've seen these guys's several times over the years. The better known members (Jones, McGuinness and Flint) had had a good twenty years in the business by then and the professionalism showed.

Jethro Tull – As I said earlier, I'd seen Tull in 1980 at the Albert Hall when they were touring the 'A' album. Ian Anderson had totally revamped the group for that album and to me that show lacked a little bit of the humour that Tull was renowned for. Two years on and it was back to form. The main memories are around the song 'Watching Me, Watching You' where the stage gradually filled up with people wearing white smocks and glasses following each other. They also had a little acoustic section where the band first pulled instruments out of dustbins and somebody pulled out a cat (stuffed of course). Towards the end, Anderson introduced a guy on stage and was bowing to him. I can't remember if he was the boss of Theakston's or the owner of the priory though.

Lindisfarne : Nostell Priory 1982 © Gerald Sables
I can't remember if there were any busses put on for the show finishing or not, but I had decided to take the hour-long walk home. The lad that was with me lived at the other side of Wakefield but took a wrong turning after he left me and walked in totally the wrong direction. Doh!
All the best
Steve Bastow.
---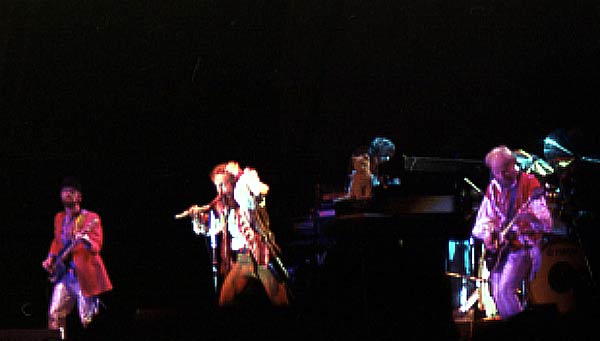 Jethro Tull : Nostell Priory 1982 © Gerald Sables
The festival took place over a very warm weekend in the grounds of Nostell Priory. We attended all the days of the festival but living about 15 miles away we travelled each day by car. I remember that due to the warm weather we needed constant refreshment which was provided by way of wonderful Theakstons beer. This was supplied via a very long wooden table with dozens of hand pumps, I believe that at the time it got the record for the longest bar ever.

One late afternoon whilst we were sitting on the grass, a chap came up to us with a Cinema type wire basket around his neck, the type that usherettes have with Ice Cream etc. In this particular basket there were dozens of CD's. This guy said 'do you want to buy some Dave Swarbrick cassettes?' we replied 'No Thanks' he persisted ' Oh! go on, there great, his best stuff ever' we again refused ' Oh come on' he said' they really are good!' I replied ' Well you should know you made them!' He asked what I meant, I replied 'Well you're Dave Swarbrick!' He said ' No I'm not!' I said 'Yes you are' 'Oh well!' he replied 'They're still good tapes' We still didn't buy any.
Of the acts at the festival I particularly remember Marillion, This guy came on with a painted face and I wasn't impressed at all, I'm still not, but I was surprised when a year or so later I saw them again and realised I had seen them live, at the time of the festival they were virtually unknown.

I remember that Lindisfarne did a great set, they had arranged with the organisers to change their appearance time as they wanted to go on whilst it was still light so that they could see the audience. As it was warm some girls at the front who were being piggy backed on their boyfriends shoulders took off their T-shirts and went topless, Lindisfarne burst into a chorus of 'All Swing Together' with the extra line 'I must I must improve my bust!' It was certainly one of their best performances and I saw them perform on numerous occasions.

Right : Marillion at Nostell Priory 1982

© Gerald Sables
Jethro Tull at Nostell Priory 1982

© Gerald Sables

Ralph McTell was somebody I didn't appreciate at the time and I was sick to death of 'Streets Of London' I watched his set but wasn't very impressed, at the end as we were leaving there was an impromptu jam as mentioned already on the site, with Dave Swarbrick etc, they did another version of 'Streets Of London' and this time it was the most marvellous version, truly stunning, I hope somebody recorded it.

The Headliners were Jethro Tull, it should be remembered that at this point in their career they were one of the biggest bands in the world and were only playing large stadium gigs in the US, so it was quite a feat to get them at the festival. They had just done the first simulcast ever broadcast which was from Madison Square gardens. Tull's set was the best I ever saw, I have seen them more times that I can count, but this performance was by far the best.

On stage they had a cat on top of one of the amps (stuffed by the way) The stage show was brilliant, there was so much going on with men in white coats running about with choppers etc, then at the end of a song, the lights went out, a cat was heard screaming and when the lights came back on it was gone, and men in white coats with blood stains were running about.
One last memory was of leaving the festival grounds, the car park had a dozen rows of cars, but the exit was one small gate, so all the rows of cars had to filter down to one lane to get out, whether it was drink, drugs or just tiredness I don't know, but there were a few prangs. I remember one that happened right in front of us, this car ran into the back of the other, both drivers got out and a row ensued, with threats of violence. A security guard came over and told them they were holding up the queue and to sort out their arguments outside the ground, so off they set. the first car got outside the ground and then stopped, the second didn't, well not until he ran into the back of him again, unfortunately we were driving past, the end result might have been quite interesting.

I have heard of police heavy handedness and some trouble, but all I can say is I never witnessed any and it was a totally happy event with a very good humoured audience enjoying a beer and good music in wonderful warm surroundings
Gerald Sables
---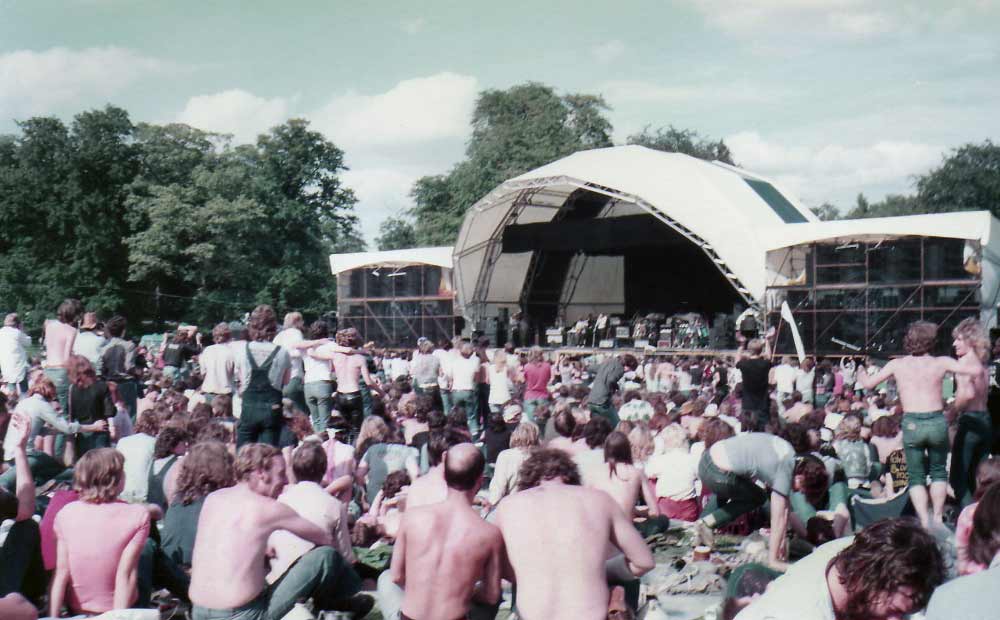 The audience in the process of attempting to break the Guness book of records incidence of mass sunburn © Keith
I'm pretty sure I saw the Theakstons festival advertised in the music press and though none of my mates fancied making the journey, I booked myself a ticket and coach transport at the Royal Court theatre in Liverpool. I can't recall the price but I think it was in the region of £20. It can't have been much more as I was a pauper in those days due to the fact I was only 20 and in a poorly paid job at the time. The day arrived, I made my way to the departure point and I got chatting to some folk on the coach, from the "Legs of Man" pub in Liverpool (now demolished but it was next door to the Empire Theatre) The weather was fine and spirits were high. I'd gone primarily to see Jethro Tull, I'd purchased their new "Broadsword" album only a couple of weeks earlier and was really looking forward to the gig.
Me and my new mates picked our spot, we were miles from the stage, up the hill, but we could sit/lie down in comfort. There was a couple in front who were older than my grandparents, they even had a shooting stick and a checked picnic blanket. Just to our left there were a group of leather clad aged bikers, I remember them dancing a jig right through the Lindesfarne set (even the bloke that only had one leg). We spent the afternoon reading "fabulous furry freak brothers" comics that were on sale at the hippy stalls and listening to bands we had never heard of such as Marillion and Huang Chung. There were stalls selling very acceptable slices of pizza and I distinctly remember that was the first time I ever ate a donner kebab. Another first for me was Theakstons Old Peculier. I drank "dark mild" in those days and as I went to the bar and asked for a four pint flaggon of mild, I was told they weren't selling it. "What's that dark stuff then?" I asked. It was Old Peculier and it was so good I distinctly remember I managed to drink well over a gallon in the twelve hours that followed!
My memories of the music are mainly the top three headline acts. I can't remember the set lists but The Blues Band were awesome, good professional stuff from some well experienced pro's. There was even a bloke near us who kept shouting for them to play "doo wah diddy". Lindesfarne whipped up the crowd well, we were all stood up and foot tapping by this time. They even made mention of the "fartonium" It was difficult from where we were to see what the instrument looked like but I'm sure you can imagine the sound it made. There was a good deal of singalong too.
We seemed to wait for an age for Tull to come on, there was some technical difficulty or something. In typical fashion, I think Ian Anderson's greeting to the audience was something like "Good evening ladies and gentlemen, boys and girls, thank you for waiting". I seem to recall that one of the regular band members was not there and replaced by a stand in, it could have been Martin Barre's son but I may be mixing this up with another Tull gig I attended?
There were many highlights of the Tull set, "Broadsword" & "Aqualung" were top drawer and a nice little acoustic rendition of "Fat man" with all the players sat together at the front of stage. "Watching me" was strange, with men in white coats being added every time Ian went stage left or right, I think the last man in a white coat was dressed in a goose outfit !
Nostell Priory 1982 was a truly superb event, the only thing that marred it was the windscreen of our coach being smashed on the M62 on our way back to Liverpool. You've no idea how cold it is sitting on a coach with no windscreen. I had a nice warm glow for a couple of days after the event, but maybe that was the beer! It's a shame it didn't develop in to an annual event. Sadly I chucked the programme out only a couple of years ago, why?

Best of luck with the site.

Regards
Nick
(from the Wirral)
---
When i stumbled on your site it triggered all the memories of that weekend.
I went there with three mates, in a 1962 VW Microbus, and we camped in an ex-WW2 Red Cross tent.
Jethro Tull was fantastic the flute solos always blew my mind.
Lindisfarne were still the gods of electric folk then, i was in a folk band, we did a lot of Lindisfarne, it was like watching God at work.
I remember Ralph McTell coming on. He was the spawn of satan by then, he'd had a hit single with Streets of London and therefore by our reckoning sold out toThe man. I remember he walked onto stage at about 10 at night and 60,000 people got up and went back to their tents.
Other random memories -Red lebanese resin was £40 an ounce. I think the beer was about 50p a pint. I think we all chipped in £2 each for petrol for the van, there and back.
One of my mates called steve was a pop festival virgin.He also didnt drink. We sat down and started to listen (in fact if you look at the picture of the crowd with the sound tower right distance, we were sat at the base of the front left leg of the sound tower). He had two pints of Old Peculiar, smoked a joint, passed out and didnt come to until sunday morning.
Those were the days. Thanks for the memories!!!
Steve
---
Setlists and recordings.
Marillion

8-28-82 Nostell Priory

He Knows You Know
She Chameleon
The Web
Three Boats Down From The Candy
The Institution Waltz
Garden Party
Market Square Heroes
Forgotten Sons
Margaret
Jethro Tull

8-28-82 Nostell Priory

Bootleg cover of Jethro Tull's performance

Intro,
Something's On The Move,
Hunting Girl,
Fallen On Hard Times,
Broadsword,
Pussy Willow,
A Song For Jeffrey,
Instrumental,
Fat Man,
Jack-In-The-Green
Clasp/Too Many Too,
Watching Me Watching You,
Instrumental, Beastie,
The Swirling Pit,
Weathercock/Fire At Midnight,
Seal Driver,
Sweet Dream,
Too Old To Rock and Roll,
A New Day Yesterday,
Aqualung,
Minstrel In The Gallery,
Locomotive Breath/Black Sunday (inst.),
Cheerio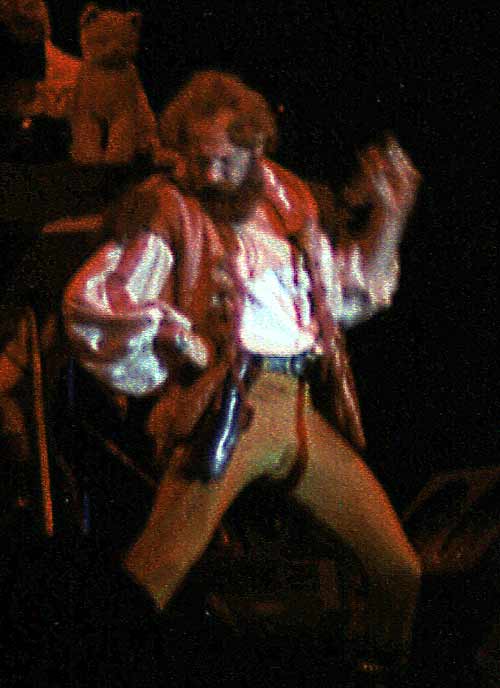 Ian Anderson : Nostell Priory 1982 © Gerald Sables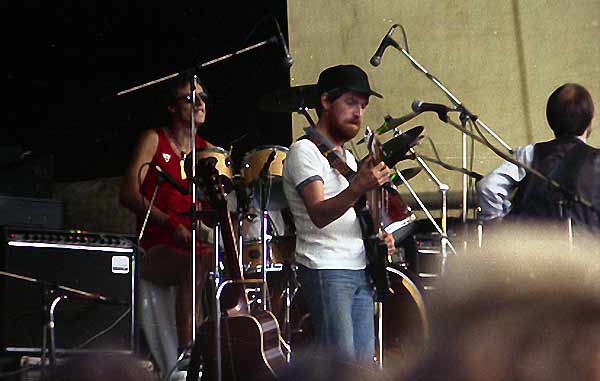 Lindisfarne : Nostell Priory 1982 © Gerald Sables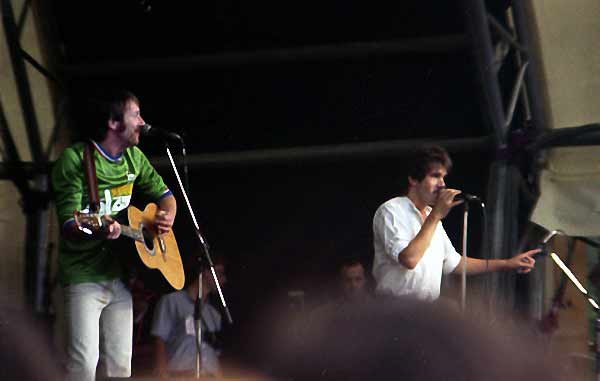 Lindisfarne : Nostell Priory 1982 © Gerald Sables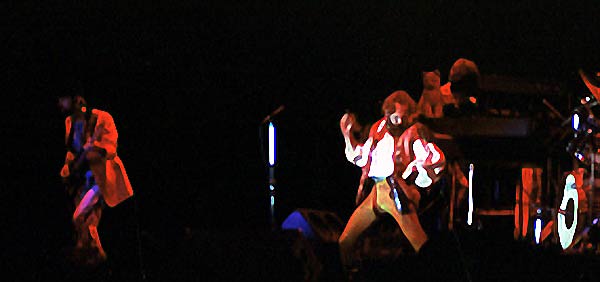 Tull : Nostell Priory 1982 © Gerald Sables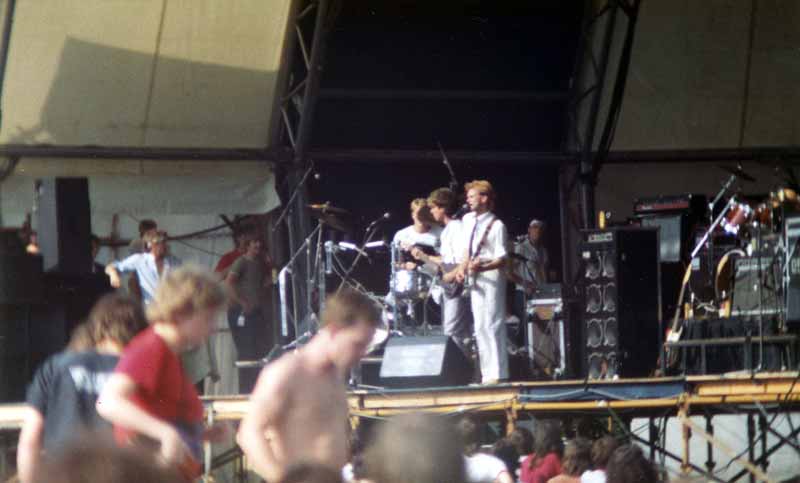 Huang Chung © Gerald Sables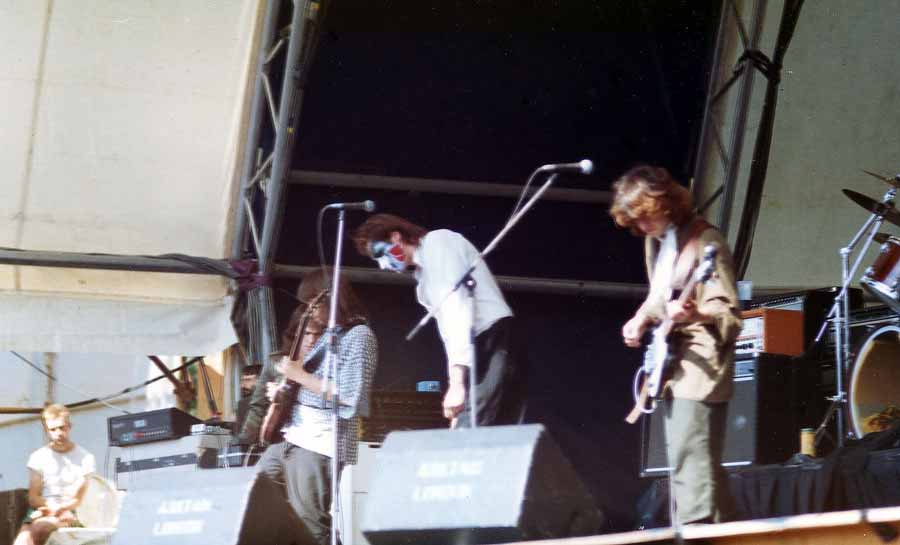 Marillion© Gerald Sables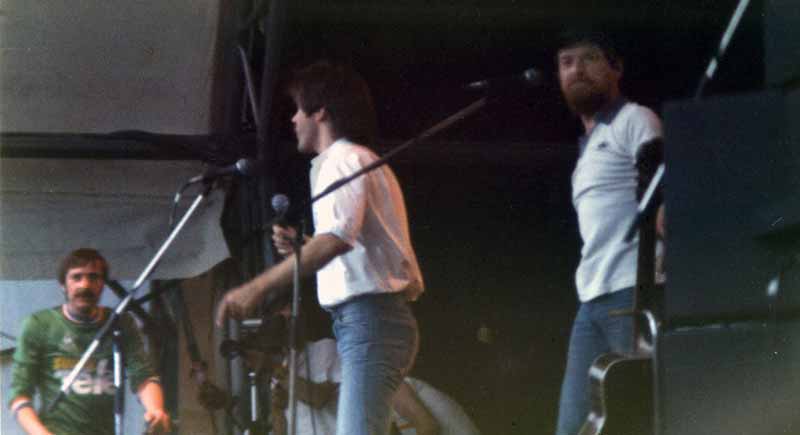 Lindisfarne ( note presence of video camera ......) © Gerald Sables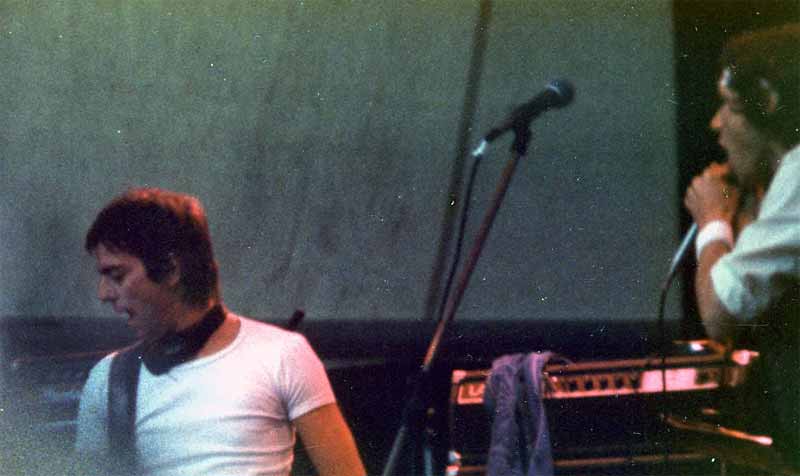 The Bluesband © Gerald Sables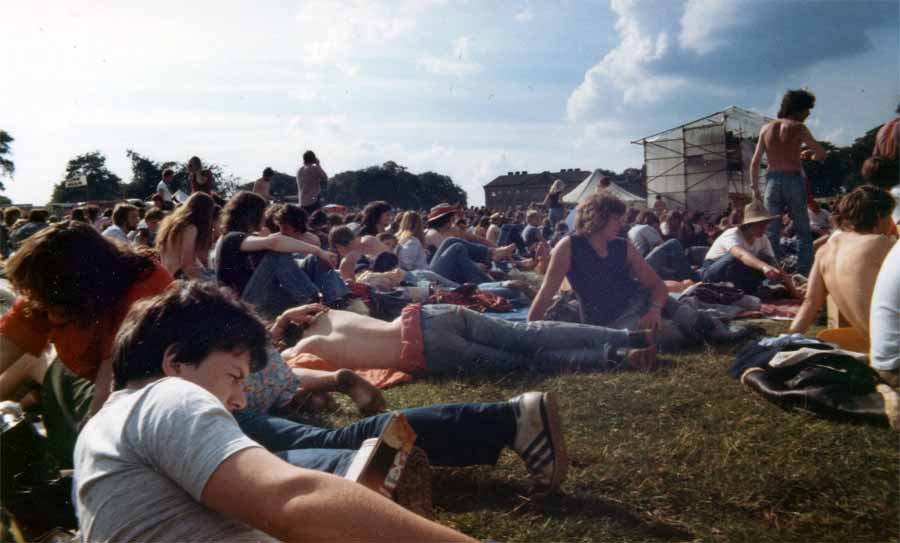 © Gerald Sables