The Archive
Last update September 2009 .
---
East Anglia Rock and Blues Festival
Speedway Stadium
Mildenhall
---
A fairly long running , largely forgotten blues rock festival held at the non-picturesque arena of Mildehall Speedway that appears to have gradually mutated into a metal fest 2nd East Anglia Rock Festival, Mildenhall,Cambs. 24-25 1982
September 20
East Anglia Rock Festival, Mildenhall Stadium, Cambs. 1981
1988
Dr Feelgood
5th August 1989 – Mildenhall, Speedway Stadium, Rock Festival
» Pay
» Bands: Uriah Heep Rory Gallagher
8-5-1990 Tigertailz
3rd August 1991 – Midenhall, Speedway Stadium, Rock Festival
» Pay
» Bands: Hawkwind, Mamas Boys, Atom Seeds, New England
9th July 1988.
---
Cardiff Castle was the venue for a series of outdoor concerts in the 70s, held rather infrequently and occasionally against opposition from the local council, the first proposed concert- by those sons of Satan , the Rolling Stones- was unfortunately cancelled due to this outbreak of wanton puritanism by those in government. Fortunately, this proved to be a temporary state of things and the first concert to go ahead was held in 1975.

The Castle itself is a weird sort of mutant beast that is a melange of various architectural styles. Some of it is very old and other bits date from Victorian times when the Marquis of Bute made a fortune in the coal trade and , instead of improving the lot of his workers by providing better accomodation, spent a fortune on the castle , with gilt ceilings and other fripperies providing a mind melding experience for visitors. Later on the family gifted the castle to the City of Cardiff, so the Welsh taxpayer is now responsible for its upkeep.

There is a large open lawned expanse in the centre of the castle grounds and this is where the one day concerts were held .

Left : Poster for the cancelled Rolling Stones concert that should have been held in 1973
---
12th July 1975.
10cc

Steeleye Span

Thin Lizzy

Man

Dj Pete Drummond
A truly wet festival, it sluiced down for much of the day . but the event went ahead anyway. Apparently the crowd was 15,00 strong , but thousands could not get tickets and were turned away at the gate. It only stopped raining at the start of Steeleye Span's set ,otherwise the grounds were saturated and the audience were repeatedly warned to stay away from any electrical devices as there was a distinct danger of electrocution. 10CC began their set with a volley of flares and overall , despite the rain, the bands were given a good reception by the audience.

Judging by the program, this event was some sort of benefit, but just who for seems to be shrouded in the mists of time, can anyone provide more information ?

Also has anyone got any photographs of the gig?
---
Status Quo

The Strawbs

Curved Air

Hawkwind

Jackie Lynton

Budgie

MC John Peel

July 24th 1976
By contrast, the first concert of 1976 was blazingly hot . Openers were Welsh act Budgie ( it seems that the promoters took the chance to give local bands an opportunity to get some big exposure time at a large venue as Man has also been given a slot in 1975 ).
paul hancox
BOUT THE BROKEN ANKLE INCIDENT AT CARDIFF CASTLE. WHAT HAPPENED?
It was simple, during the sound check, on a scaffold stage, I went to get off stage and someone had put a swivel chair to step down on, and yes, stupid me, I stepped down, swivelled and broke my ankle in the fall. I remember a Doctor coming forward and driving me down to the local hospital. They strapped it up and I returned to play the gig. Nothing to do with booze or drugs, just a fall!!! I recall being in bloody agony and having to play bass drum with my left foot - lucky I had been used to playing a double bass drum kit in 'Shack'.
0CC – Cardiff Castle – 1975

'Breaking all the house rules'. My jaw dropped, Burke Shelly (who I'd never heard of at that time) belting out the lyrics backed by his own faultless bass riffs which formed the backdrop of the whole idea complimented by Tony Bourge' brilliant lead breaks with Steve Williams kicking the other two up the arse with solid rock drumming. It was awesome. The naive youngster was now not quite so, the eyes opened by this fantastic sound that belted out across the castles surroundings.
quo setlist
Cardiff Castle (Cardiff 24-07-1976)
Junior's wailing Castle
Backwater
Just take me
Is there a better way
In my chair
Little lady
Most of the time
4500 times
Roll over lay down
Big fat mama
Qualité son: 1+/5 Don't waste my time
Roadhouse blues

1sept 10th -76 rainbow-cancelled
Queen Manfred Mann`s Earthband, Andy Fairweather-Low, Frankie Miller`s Full House Bob Harris
Uncle Sam's On Mars" evolved from the Neu!-esque "Opa Loka", with a Calvert anti-US rant over the top of it. Its first performance was at the Cardiff Castle Festival, (Summer 1976) as 'Vikings on Mars' read by Calvert from his clipboard notes, and with the aid of a megaphone, on stage after Opa Loka. Robots also made a brief appearance as a poem at this historic gig.
Rain at Queen gig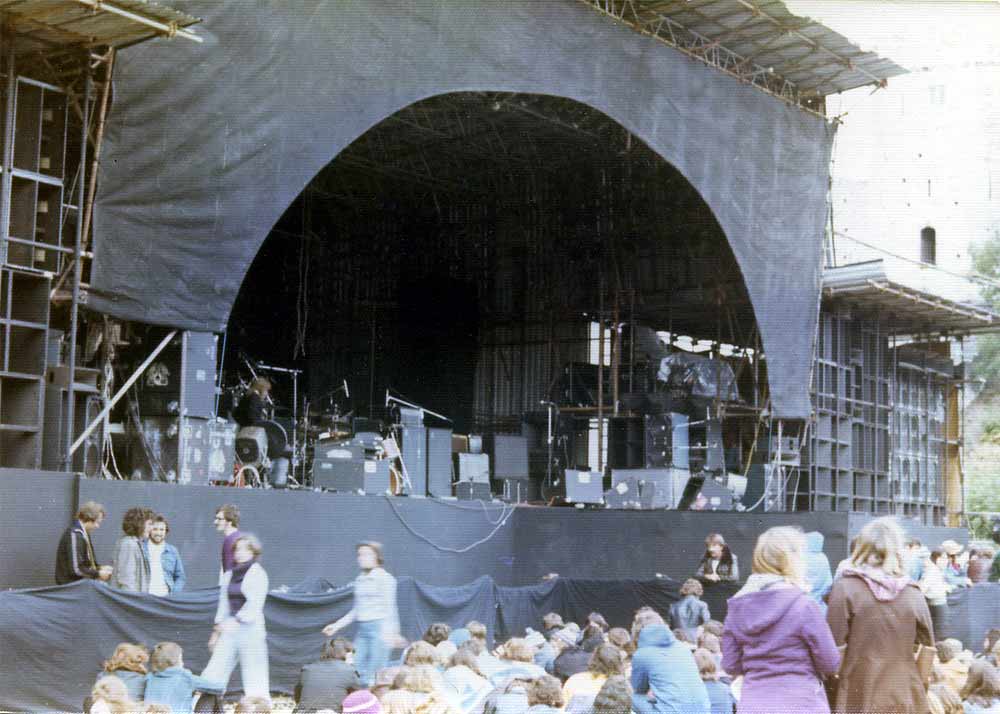 The stage at the Queen concert 1976
Hi festivalers
I went to this gig. There were six bands due to play (from about 2 in the afternoon) including Richie Blackmore's Rainbow (who may have pulled out), Andy Fairweather Low and the other support bands I can't remember. Queen came on in the evening. It was raining badly throughout their set and many of the crowd were forced to buy plastic sheets to cover the rain. Well worth it though. Queen were spectacular. I have a few photos of the gig. It would be good to see a listing as other people may have other information.
Regards.
Greg Litjens
Bohemian Rhapsody, Ogre Battle, Sweet Lady, White Queen, Flick Of The Wrist, You're My Best Friend, Bohemian Rhapsody, Killer Queen, The March Of The Black Queen, Bring Back That Leroy Brown, Brighton Rock, Son And Daughter, ë39, You Take My Breath Away, The Prophet's Song, Stone Cold Crazy, Doing All Right, Lazing On A Sunday Afternoon, Tie Your Mother Down, Keep Yourself Alive, Liar, In The Lap Of The Gods...revisited, Now I'm Here, Hey Big Spender, Jailhouse Rock, God Save The Queen

Another obscure event of short duration , reasonably priced but seemingly never repeated .

The Worcester Charter Festival in 1971 was held in celebration of the town of Worcester's charter of 1621, it seems that the local authority decided to get 'with it " and add a festival to appeal to the young as well as the usual high jinxs common to these events such as flower shows and a plethora of council junkets.

We are looking for eyewitness accounts, info and photos of this event

---

Please feel free to contact us and contribute towards building pages about each festival by Contacting us . We try to reply to all messages, but sometimes it takes a while .Usually we wait until we have enough new material to warrant a page upgrade , so posts may take quite a while to emerge on the page .

---

Return to Archive