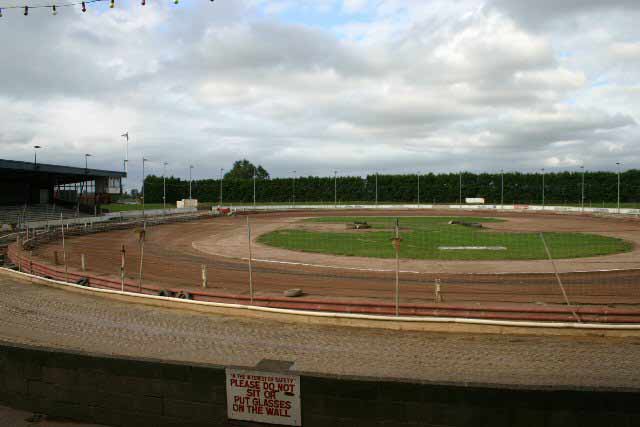 The Speedway stadium
© Copyright Bob Jones and licensed for reuse under this Creative Commons Licence.
A fairly long running , largely forgotten blues rock festival held at the non-picturesque arena of Mildenhall Speedway , that appears to have had the odd year or two off, but which managed to exist intermittently through the 80s . The nearby US air base no doubt provided the event with a large local following as servicemen are more often than not hard rock fans .
The bands playing at Mildenhall were always at the more pointed end of the rock spectrum , headliners such as Dr Feelgood and Rory Gallagher alternated with the likes of Uriah Heep and Hawkwind . At first, only shots we found of the event showed a fairly small audience watching the Welsh glam rock outfit Tigertailz, who understandably bombed as they were completely out of their element.
However, early 2013 we began to acquire more images , so now we have expanded the site over several more pages to include galleries of some of the acts at the 1982 and the 1988 shows . There is also video of Rory Gallagher playing at the event in 1989 out there somewhere on the net, we will see if we can find a link to this online and when we do we will post it here.
There are a fair number of hard rock/metal boots circulating out there ,as well as a couple of official live releases for those of you who are interested in hearing just what this obscure but long lived event sounded like on the day.