The Archive.
view at 1280 x 1024 for best results
last update June 2009
Big thanks to our sponsor Neil !

For information on today's festivals see eFestivals.co.uk
---
The Crystal Palace Garden Parties.
CRYSTAL PALACE GARDEN PARTY-7.
July 27 1974.

The Winkies

Wally

Gryphon

Procol Harum

Leo Sayer

Rick Wakeman

with the
London Symphony Orchestra and the English Chamber Choir
---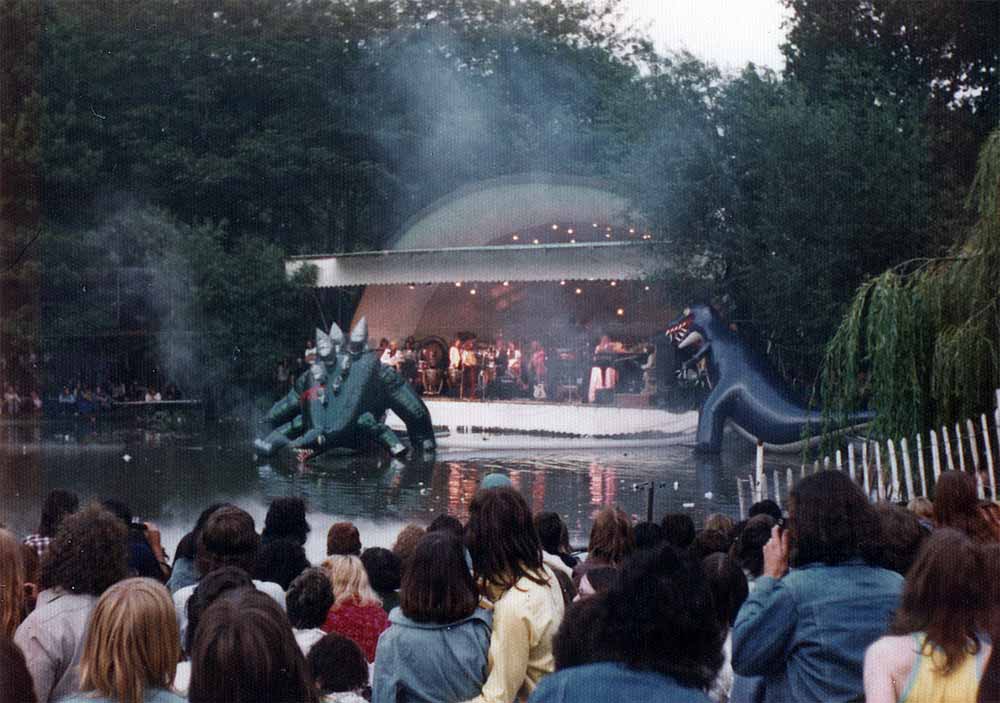 The Journey © Hubertus Duwensee
Photo © Laura

Another rather wildly varied line up which continued the Garden Party tradition of making eclectic choices when it came to organising a bill. The inclusion of the strictly pop orientated Leo Sayer on this generally prog rock leaning bill makes one wonder just how he was received by the crowd, which invariably would have been mostly made up of rabid Rick Wakeman fans .

Fortunately , the intrepid Joseph Kolmanski ventured forth to the bowl and braved inflatable dinosaurs, orchestras and much pomp , emerged relatively unscathed and has, thirty years on , with the aid of a few field recordings to jog the memory , produced a really comprehensive report of the goings on.
You should be able to sate your curiosity if you peruse his lengthy review of the show and you can find out just how Little Leo , Big Rick , Procol H , the abysmally named Wally and the unfortunate Winkies fared if you read his account below .
Hi there - your message reached me as I was checking the shape of my tapes of yet another "festival" which took place on July 27 1974, about three weeks after Knebworth. That one wasn't called bucolic frolic it was called "Garden Party VII" at Crystal Palace .It used to last only one day, but repeated itself over the years, I seem to recall Lou Reed playing there in 1973.

The first band , The Winkies (?!) totally flopped though they tried really hard to deliver some basic rock, ( remember at the time you had to be either straight, glam or stoned german rock) anyway the end of the show is really pathetic; the singer desperately trying to have the audience clap, stomp or give any sign of sympathy which they refused to do in stubborn silence after seven numbers. You couldn't expect much more from an audience who had come to listen to Rick Wakeman playing "Journey to the center of the earth"with the L.S.O, could you?

Next were Wally who were produced by the above Wakeman and who sounded like a cross between a regular gaelic folk rock band and America with a touch of E.L.O. They sang their admiration for David Crosby and other West Coast bands in a song called "right by me" and left accompanied by polite applause from the crowd who seemed to appreciate the harmony vocals which were so trendy back then. I confess I bought their first LP which is still very listenable today.
Then along came Gryphon. I must have taped their first two numbers and later decided to erase them to record the following sets which shows how much they affected my interest for their post-college-classical-mellotronic-pop-rock. Nothing to rave about as far as I remember.

Strangely enough Procol Harum was scheduled next. You'd have expected them just prior to Wakeman's pi*ce de r*sistance but I suppose Chrysalis, their record company, wanted to promote heavily Mr Leo Sayer who was a "promising singer composer" teaming with David Courtney. Anyway, Procol Harum delivered a very honest set (13 numbers) starting with their very own version of "Music for the funerals of Queen Mary" freely adapted from Walter Carlos's version of Purcell's as heard in Kubrick's Clockwork Orange. This led into "Bringing Home the Bacon" "Shine On Brightly" "Homburg" "Grand Hotel" and culminated with the last two numbers "Butterfly Boys" and "Simple Sister"he drive of the band contrasting with Garry Brooker's apparent delusion with the rock world.

I was never a fan of this band but was strongly impressed by their performance and bought "Exotic Birds and Fruits" which they had come to promote. I remember reading an article by a british music weekly critic who said both Procol Harum and Leo Sayer sounded as if the snare drum had been mixed in stereo through the P.A and like there were two snare drums; listening back to the tapes today I must admit the sound is weird but altogether very pleasant .

courtesy Hubertus Duwensee
| | |
| --- | --- |
| Leo Sayer was pompously announced as if he were already the superstar he longed to be. You can't sell your songs to Roger Daltrey and expect to get recognition just for singing them live. The star suit was too big for him ,he tried to have the audience respond too early in his set and the result was nearly as pathetic as for the Winkies (they were also on the Chrysalis Label). Eight numbers are left on my tape; the last one is cut ("The Innocent Bystander") so I can't remember how many are really missing. He started at full blast with "Everything's Gonna Be All Right" then he did "Reasons" and from then on Daltrey's shadow was upon him; when he did "Giving It All Away" everyone agreed that he was a nice composer but certainly not a performer, let alone a star. He tried to wake everybody up with "Oh Boy What A Night" but made a fool of himself. He tried again with "One Man Band" and "Step Back" but evidently the audience was willing to let him go. | |
Photo © Laura

Rick "of Yes Fame" Wakeman met an already conquered crowd. They had come for him, to watch him moog madly over the London Symphony Orchestra and the English Chamber Choir who, since the Who's Tommy had well sold, were into Wagnerizing every rock band who was willing to experiment with string and choir arrangements. I wonder how E.L.P avoided indulging in the craze.

Tuning his synthesizer rack took him ages because the sound crew were trying to clear some RAF frequencies the P.A was picking up on. DJ Nicky Home, from Capital Radio, asked for a warm welcome for Rick Wakeman and obtained it. They did four numbers including "Catherine Howard" and "Anne Boleyn", tuned the moog again and launched into "Journey To The Center Of The Earth".
The vocals were better than on the original recording which had taken place only 6 months before. As the stage in crystal palace gardens faces a small pond- Wakeman had put some of the production into two inflatable prehistoric monsters which were supposed to materialize the scene of "the battle" in Jules Vernes's book. Surprisingly enough the audience reacted positively , accepting it as it was meant to be : humoristically.

The show closed on the Pearl & Dean suite which featured all the most famous commercial themes rearranged and linked into a concerto (?!) this one aroused a tremendous response from the crowd who had obviously come to have fun.

Not one of my greatest musical emotions but a nice day on the green, no more no less -with a mention to Procol Harum's Mick Grabham for some nice licks.

Josef K.

Photo © Laura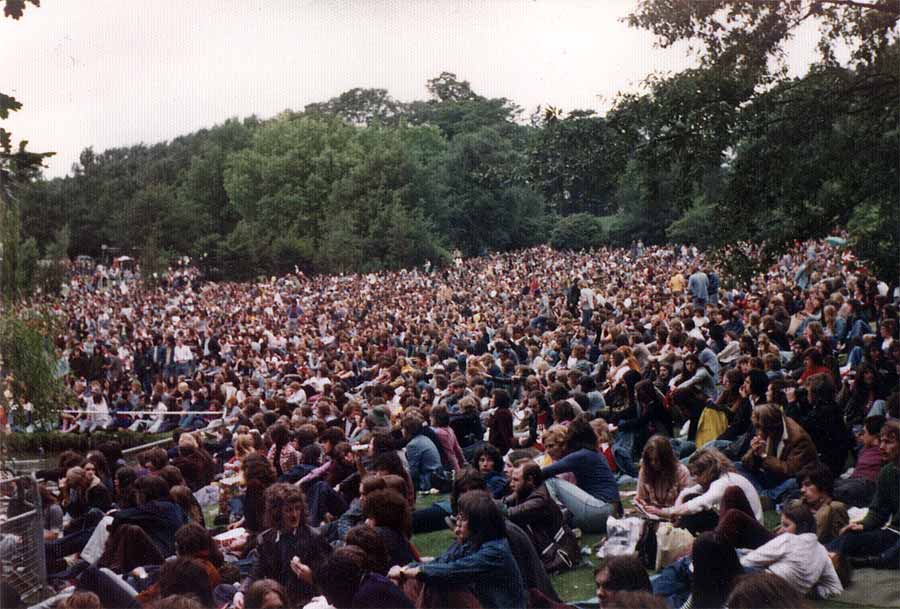 The crowd © Hubertus Duwensee
From David Minette
Also I was at the Rick Wakeman Party. My main memory of this gig was walking out of the park after the show. a small group of us walked with Rick until we reached his car, when he was getting in and he just said "thanks for coming lads see you again ".What a nice bloke and a great musician.
Recordings.
Rick Wakeman - Journey to the Crystal Palace - London - 7/27/74
Length: 70mins , Quality: B: Aud
Catherine Parr, Catherine Howard, Anne Boleyn, Intermission, Journey To The Centre Of The Earth I, Journey To The Centre Of The Earth II
---
Garden party features
---
We have been endeavouring to collect audience or sbd tapes of the performances at this festival , so we can effectively review the performances, provide set lists and band line-ups. The intention is to also display as many personal histories of the festival as possible.
Any info to add ?-well don't just sit there , Contact us
---